.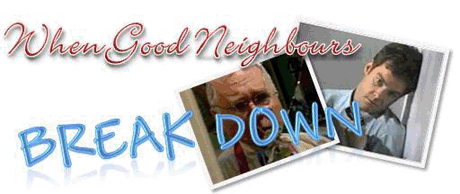 Features > When Good Neighbours... Break Down by Moe
There've been many common themes and plots in Neighbours over the years, ranging from long-lost relatives and love triangles, through to serious illness. Our new When Good Neighbours... series examines some of those themes, and we begin with a look at the characters who suffered nervous breakdowns.

Eileen Clarke


Fiercely proud, Des Clarkeís interfering mother Eileen was mortified when her attempt at remarrying her estranged husband Malcolm fell flat. Malcolm had walked out on her when they lived in Perth years earlier, and Eileen had never forgiven him for abandoning her and her son. But when Des tracked Malcolm down and re-integrated him into his life, Eileen was quickly won over by Malcolm again and they agreed to give things another go. But on the wedding day, Mrs Mangel stuck her oar in and unwittingly gave Malcolm cold feet, causing him to flee Erinsborough. A humiliated Eileen tried to put on a brave face, but she couldnít contain her rage and broke down, flinging a coffee table across the room as the reality sunk in that Malcolm had let her down again. She turned to tranquilisers to ease the pain, and just as she was starting to show signs of getting on with her life, her daughter-in-law Daphne was killed in a car accident, pushing Eileen over the edge. She had to be hospitalised where she was diagnosed as suffering from a nervous breakdown, and spent several weeks in a rest home before starting a new life in London.

Paul Robinson


To the outside world, Paul Robinson had it all in 1991. A beautiful wife in Christina and a new son in baby Andrew, and to top it all off he was crowned Businessman of the Year. But behind it all, Paulís world was collapsing. He had gotten heavily into debt, used a failed robbery at his offices to claim money from his insurance company and was faced with a massive compensation claim when his estranged half-brother Glen Donnelly was paralysed from a fall off the Lassiterís Hotel roof. Having reached his lowest point, Paul contemplated suicide. Although he never got as far as jumping off the bridge from which he had considered ending it all, Paulís inner torture finally came to the attention of Christina and she had him checked into a clinic to help him overcome his breakdown. When he checked out, he spent a few weeks in South America getting to know his eldest daughter Amy before returning to Ramsay Street a new man.

Luke Handley


After leaving Ramsay Street to start a new life with girlfriend Ren Gottlieb in Japan, Luke returned to Erinsborough in a daze after the couple broke up within months. Unable to face his family or friends, Luke took to living like a hermit in a disused bus at the local allotment and even caused Billy Kennedy to think the bus was haunted when he started hearing strange noises around the place. When Sam Kratz finally discovered him, he took Luke to see Karl who diagnosed him as suffering from a mental breakdown as a result of his break-up with Ren and failed attempt at living in Japan. Luke was taken in by the Robinsons, who helped nurse him back to full health and he even went on to bravely win a battle with cancer and become a police man.

Harold Bishop


After losing his son David, daughter-in-law Liljana and granddaughter Serena in a plane crash in 2005, Harold Bishop simply couldnít come to terms with losing even more of his family (he had already lost two wives and a daughter). His grief was compounded by the fact that Paul Robinson had been having an affair with Lil in the months before her death and had caused deep unhappiness in the Bishop family during what turned out to be their final months. As Harold faced his first Christmas without his son, and watched bitterly as Paul spent his first Christmas reunited with his estranged daughter Elle, something in Harold snapped and he attempted to strangle Paul to death.

Max Hoyland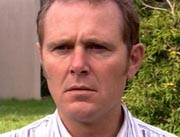 Having caused the death of Cameron Robinson by running him over, Max Hoyland initially showed signs of being able to deal with what had happened and the prospect of a prison sentence for manslaughter. But then a vengeful Elle, Cameronís sister, started an elaborate campaign to make Max think he was going crazy. Her plan worked and he was hospitalised by the doctors who diagnosed him as suffering from post traumatic stress. But by the time Elle confessed all to Max, he had gone too far in his belief that everyone was better off without him in their lives and he walked out of the lives of wife Steph and children, Boyd, Summer and Charlie. He did eventually return to Ramsay Street to attempt a reconciliation with Steph, but it was never the same and he ended up moving to Sale.

Away from Ramsay Street...
Famed for being a hard-nosed international business success, Rosemary Daniels showed a rare weaker side in 1995 when she suffered a breakdown and Helen had to rush to New York to support her in her hour of need. It later emerged that Rosemaryís niece Debbie Martin, who she had taken under her wing and offered a new life with her in the Big Apple, had been having an affair with Rosemaryís boyfriend Joel Supple. By the time Rosemary next appeared in Erinsborough, she had bounced back to her old self and even forgave Debbie for what had happened between her and Joel.

Des Clarke had spent his five years on Ramsay Street as the resident loser in love, notching up four broken engagements and losing his beloved wife Daphne in a car crash. But when he started a new life in Perth in 1990, everyone in Ramsay Street breathed a huge sigh of relief as he had fallen in love with a woman called Fiona and even married her a few months later, with Paul and Melanie flying to Perth for the wedding. But when his son Jamie returned to Erinsborough as a troubled teenager in 2003, he revealed that he had been living in care for a few years as Des had suffered a nervous breakdown after his marriage to Fiona collapsed and he could no longer care for his son. Luckily, Harold Bishop tracked Des down in Adelaide and back to full health, he welcomed Jamie home to him with open arms.

Beverly Marshallís sister Annette suffered a nervous breakdown after the collapse of her marriage to husband Bob in 1988 and while she recovered, Beverly took charge of her kids Todd and Katie. Although Annette eventually made a full recovery and was rejoined at her home in Adelaide by Katie, she was knocked right down again when Todd tragically died in 1992 and she had to make her way to Erinsborough to bury her only son and face an awkward reunion with Bob.