.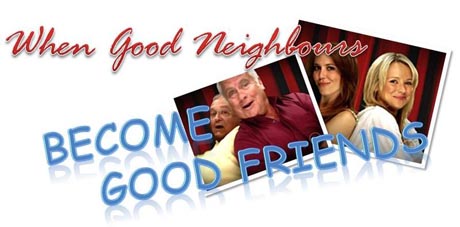 Features > When Good Neighbours... Become Good Friends by Matt
Over the years, we have seen many Ramsay Street friendships flourish, and fail, and here's a look at two of my favourite friendships - Steph and Libby, and Rosie and Pepper.

Libby Kennedy & Steph Scully


You'd think that a chalk and cheese pair like Steph Scully, a woman with an intense passion for motorbikes, and Libby Kennedy, a pure school brainbox would strike up such a great friendship, but you'd be wrong. Never have two close, but independent, women gone through so much happiness, heartache, boyfriend trouble, squabbling and ice-cream eat-a-thons as any other duo on earth! In the beginning months of their friendship, they had become so close, so quickly, and all because of Libby's long-term partner Drew. With her best friend secretly in love with her fiance, there was sure to be fireworks! Following a motorbike accident that left Libby infertile, and a breast cancer diagnosis for Steph, things couldn't get much worse, could they? Steph learned that husband Max had fertility problems. However, with soaps being as they are, occasionally unrealistic, both Steph and Libby eventually found themselves celebrating the birth of their first child.

But, after years of living on the same street and even sharing a flat together, Steph and Libby's bond was about to be stretched, as Libby left Erinsborough behind to be with her son Ben, and teenage crush Darren Stark, following the loss of her husband Drew in a horse riding accident. But, Miss Kennedy couldn't detach herself from her roots for too long, and returned three years later. In Libby's absence, Steph gave birth, was sectioned and split from Max to get together with Toadie, but she never really replaced the strong female friendship she had with Libby.

The two have had their fair share of squabbling and tantrums, including Steph confronting Libby over another criminal Mitch Foster being allowed to stay at Number 22 with them, Drew and young Ben, without Libby's knowledge. Libby accused Steph of always being attracted to the more dangerous men of Erinsborough, and so Steph decided to move out. Was that the end for the two – no, of course not!

2008 saw infamous Jay Duncan, fireman and killer go on the rampage. Being discovered as the starter of the bushfire, and a serial love-rat and menace, he had eyes for his next victim, Steph Scully. As Jay tightened his grip on Steph, much to her ignorance, he took her on a 'relaxing' retreat to a wooden lodge on the bush, with Steph's son Charlie. However, Steph soon realized Jay's agenda, and was rescued by lovable Toadie; one of Steph's other very close companions. And who was there at the end of it all? Libby! Time to snuggle up on the sofa, and eat more ice cream, safe and sound, away from Jay!

Libby couldn't stay on the sofa for too long though, because Dan Fitzgerald, teacher at Erinsborough High was incapable of focusing on just book marking, or observing Libby teaching next-door. He wanted both at the same time. Although, so did his brother Lucas, who has recently tried to ruin any chances of Dan and Libby getting together. Brothers never learn to stop fighting! But, with wise words from Steph, and mother Susan, Libby and Dan have finally been able to realise their love for each other. Could 2009 finally see both girls sort out their love lives? It's unlikely, but at least they'll always have each other.

Rosie Cammeniti & Pepper Steiger


With Libby in Shepparton and Steph focused on her ailing marriage, another pair of independent, but feisty women made their mark on Ramsay Street, in the form of highly-opinionated, but caring Rosetta Cammeniti, or Rosie, and ditsy but loveable teacher Pepper Steiger. Back in 2007, the House of Trouser saw some new 'roomies' bring in their suitcases, Will Griggs, Frazer Yeats, along with Rosie and Pepper, and, over the next few months, we saw Rosie and Pepper develop a loving affection for each other, but in more ways than one!

Pepper came to Ramsay Street, pretending to be engaged to Frazer, in order to secure their place at Number 30, hopeful that a young couple would make more appealing tenants. But as the truth about the bogus engagement came out, Frazer seemed to show more interest in slightly calmer and dignified Rosie, and it was during a moment of confession with Pepper that Rosie learnt of the 'engagement' and Pepper learnt that Rosie was still a virgin. From then on, the two began to develop a very close bond, spilling the beans on their feelings for the men of Ramsay Street, in particular Paul Robinson and Frazer.

Like Steph and Libby, Rosie and Pepper have had their fair share of crying marathons and comfort food binges, all over one thing; men. And it was over a heart-to-heart about men, in particular, Paul Robinson, who had messed around with both of them, that Rosie and Pepper unexpectedly shared a kiss. Though they both tried to forget about it as quickly as possible, they were accused of having an affair, as word spread around Ramsay Street, thanks to Ringo.

However, like all best friends, there are times when there has been the occasional misunderstanding, and in Rosie and Pepper's case, it was all over Carmella and Ringo. Following Rosie and Frazer's wedding, the guests' minibus crashed, and whilst Ringo was being treated at hospital, Carmella admitted to kissing Ringo. Rosie, being highly-opinionated, was kicked off her high horse by Pepper, for being so hypocritical, after refusing to forgive Carmella. Yet, Rosie had managed to fall into bed with Paul, just before he wed Lyn. The girls were close for their year living together in Ramsay Street, before Pepper headed up north for a new job, just in time for Libby to return and resume her place with Steph as Erinsborough's number one set of gal pals.

Also...


Other strong Neighbours friendships have included Susan Kennedy and her various female friends - Ruth Wilkinson, Liljana Bishop, Rebecca Napier and Miranda Parker, though arguably her strongest and most interesting bosom buddy was Lyn Scully. Like their daughters, Steph and Libby, Lyn and Susan were very different, yet their friendship, and all its highs and lows, was never less than convincing. Similarly, Helen Daniels had some close friends, including Dorothy Burke and teenager Brett Stark, but it was her friendship with Madge that endured longest. Like Susan and Lyn, they had their share of arguments, but always managed to patch things up over a cuppa. Other notable friendships have been those between Harold and Lou, Madge and Lou, Paul and Des, Toadie and Billy, and Tad and Paul.