.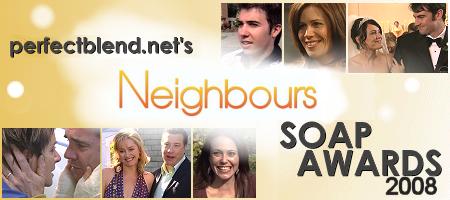 Interactive > Perfect Blend's Neighbours Soap Awards 2008
Now in their third year, Perfect Blend's Neighbours Soap Awards were inspired by the UK's British Soap Awards, for which Neighbours is not eligible. Using the same categories as those awards, Perfect Blend's readers have spent the last few weeks voting through our messageboard and by email. Only votes for actors and storylines from the 2007 season (episodes 5121-5365) were counted. Here are the results...

Sexiest Male
Ben Lawson (Frazer Yeats)
As half of one of the most popular Neighbours couples this century, it's no surprise to see Ben Lawson pick up this gong for his turn as Frazer Yeats. His dark good looks are something of a contrast to the tanned skin and sunbleached hair of 'typical' Ramsay Street sex symbols, but this certainly hasn't put you off – Ben scored nearly twice as many votes as his nearest rival, James Sorensen (Declan Napier). An actor who can pull off drama and comedy with equal skill, it's perhaps Ben Lawson's popularity with viewers as much as his looks that have helped him score in this category; mind you, that famous scene of Frazer clad only in tight white pants may have helped…

Sexiest Female
Natalie Blair (Carmella Cammeniti)
Retaining her title, Natalie once again had to fend off strong competition from Eliza Taylor Cotter (Janae Timmins), Nicky Whelan (Pepper Steiger) and Natalie Saleeba (Rosie Cammenetti) to take the crown of sexiest female. Now settled down with Marco (possibly the luckiest guy in the world), Carmella is finally starting to enjoy life. And it seems that even with baby Chloe now on the scene, Carmella still finds plenty of time to be looking her best.

Villain Of The Year
Rowena Wallace (Mary Casey)
A convincing win for Rowena Wallace's portrayal of 'Scary' Mary Casey. In a surprise storyline featuring elderly Mary stalking and then kidnapping PE teacher Pepper Steiger, we were shocked that it wasn't actually Pepper's ex Kevin, but his mother Mary who had become mentally unstable and obsessed with the idea of Pepper and her son having a baby together. Rowena gave a great performance that was believably unhinged and at times very creepy. Refreshingly, after Mary was captured and sent to prison, we followed her progress when Sky Mangel and her baby Kerry spent some time in incarceration. During a prison riot Mary and baby Kerry went missing and the worst was feared, but rather than harming her, Mary had saved Kerry from potential harm and we the viewers were shown there may be some hope of recuperation for her as she handed the baby back over to Sky.

Best Comedy Performance
Joan Sydney (Valda Sheergold)
Despite only being back for a few months, there was one clear winner for this years award - the inimitable Valda Sheergold, wonderfully portrayed by Joan Sydney. Returning to Neighbours after a two year absence, Joan slipped back into the role of larger-than-life Valda with ease. Whether it be her fantastic one-liners, her numerous arguments with sparring partner Lou Carpenter, her undecipherable accent or her disastrous fashion sense, Valda has always held a place in the hearts of many viewers. Joan is a talented actress who brings a real warmth to her performances, shares brilliant onscreen chemistry with her co-stars and brought a new sense of fun to the show in the latter half of 2007. Although Nicky Whelan's portrayal of kooky Pepper Steiger notched up a fair number of votes, Joan blew away all competition for a convincing win.

Best Newcomer
Jane Hall (Rebecca Napier)
2007 saw many new faces hit Ramsay Street, but one of them stood head and shoulders above the rest with our voters. Rebecca Napier (played by the excellent Jane Hall) turned up halfway through the year, tracked down by her son, Oliver Barnes. Since then, she's won over the viewers with a mix of drama - getting to know Oliver again, becoming involved with Paul and moving on from abusive Richard - and comedy - plenty of banter with son Declan and new friends Susan and Miranda. All of this, combined with the energy and personality of actress Jane Hall, has made Rebecca the deserved winner of 2007's Best Newcomer.

Best On-Screen Partnership
Alan Fletcher and Jackie Woodburne (Karl and Susan)
Another win for Neighbours most enduring partnership. The year gone by saw the newly rejoined couple getting married again in London, discovering that Karl had fathered Izzy's baby Holly, raising teenage step-children Rachel and Zeke, going through an eco phase with a noisy cockerel, welcoming home grown up daughter Libby and grandson Ben, and coping with Susan's car accident and her illness. A combination of comedy, romance, tragedy and family issues helped to cement this win for a second year running. Ben Lawson and Natalie Saleeba's popular portrayal of Frazer Yeats and Rosetta Cammeniti were a close second place.

Spectacular Scene Of The Year
The roof collapse
Appearing in the penultimate episode of the season, you decided that the illegal dance party roof collapse was 2007's most spectacular scene. Featuring one of the soap's biggest teen gangs attending a dodgy warehouse rave where journalists Riley Parker and Elle Robinson were trying to get a scoop. They all ended up in peril when the music and overcrowding caused the nuts and bolts holding the place together to slowly come undone. As the episode ended, large metal girders began falling causing screams from the revellers. The final image of Declan looking up and the screen going black sent chills down the spine.

Best Single Episode
Cop Ya (Episode 5175) & Births, Deaths and Marriages (Episode 5179)
This category features an unusual tie between one of the saddest and one of the happiest episodes of 2007. Cop Ya followed on from the previous episode which saw Stingray Timmins die from a brain aneurysm. Through the ingenious device of a video message to his baby niece Kerry, Stingray was shown telling her all about the family and how much he loved them, while the family themselves were shown grieving and watching the video back. Births, Deaths and Marriages saw the culmination of the London episodes featuring Karl, Susan and Izzy. The couple remarried on a boat on the Thames but were gatecrashed by Izzy going into labour. Karl then delivered his own child and Susan then discovered the paternity as the episode ended. Two fantastic episodes which successfully stirred multiple emotions.

Best Exit
Nell Feeney, Sianoa Smit-McPhee & Joe Clements (Janelle, Bree and Steiger)
Although we saw several cast departures in 2007, the exit of Janelle (Nell Feeney), Bree (Sianoa Smit-McPhee) and Steiger (Joe Clements) really stood out. After Janelle decided to move north to be closer to the rest of her children, Steiger made sure her leaving day was an eventful one by organising a surprise wedding; complete with an appearance by Daryl Braithwaite singing One Summer. The final farewell was done in typical Timmins OTT style as they were waved off in a helicopter; it was a memorable goodbye for one of Neighbours most memorable families.

Bitch Of The Year
Nikola Dubois (Kirsten Gannon)
Winning the award for best bitch is mother to Ramsay Street's cutest newcomer, Kirsten Gannon. And it's an award well-deserved, for the woman who dumped her son Mickey onto his bewildered father Ned, who hadn't even been aware of his existence before then! Then, upon her return to Ramsay Street some months later, she proceeded to make an enemy of Ned's partner Janae, allowing for plenty of catty comments and bitchslaps along the way. She put the couple through a hellish custody battle, concluding in the kidnapping of her own son, with planned to take him away from his father and his new friends, to Adelaide, although she did later briefly show a softer side, by allowing Mickey to stay in Erinsborough as he wished. However, now working at Charlie's, Kirsten's back to her old bitchy self. And who doesn't love to hate this character while she relishes in other people's breakups? Or stumble upon other people's secrets and use them for blackmail? It really is like watching Izzy Hoyland all over again. Almost.

Best Dramatic Performance
Jackie Woodburne (Susan Kinski)
No contest. Jackie Woodburne provided some of the finest acting ever to grace Neighbours in its 23 year history. The fallout from Didge's accident and the subsequent heartbreaking diagnosis of MS sure pulled at our heartstrings. Still affected in her everyday life with the MS, Susan doesn't give up and admirably vows that the MS will never stop her from living a normal life. Jackie did an excellent job at portraying the MS diagnosis and would've certainly touched many people watching who are in some way affected with the debilitating illness. Gripping stuff.

Best Dramatic Performance from a Young Actor or Actress
Fletcher O'Leary (Mickey Gannon)
The under-10 age range had been somewhat under-represented for several years until young Mickey Gannon moved in. The son that Ned Parker never knew he had, Mickey quickly settled into Ramsay Street, but was caught between Ned and his mum, Kirsten, who was struggling to cope. Given some difficult material, Fletcher O'Leary handled the custody battle scenes with maturity, proving that he wasn't just hired to sit in the background being cute, but could act. And the addition of Fletcher's younger brother, Blake, as Ben Kirk, shows that talent runs in the O'Leary family.

Best Storyline
Susan's MS and the car accident
One storyline that had viewers gripped throughout 2007 was the diagnosis of Susan Kinski with multiple sclerosis. The story was a bit of a slow burner by Neighbours' standards, and began with Susan suffering from overwhelming tiredness which caused her to fall asleep at the wheel of a car and run over Ramsay Street teenager Bridget Parker. Fans saw Susan's health deteriorate further as she battled through a court case - determined to plead guilty and face the consequences of her actions - and she eventually collapsed under the pressure. After following numerous lines of enquiry, doctors (with a nudge in the right direction from Susan's husband, Karl) diagnosed MS, and the reactions of Susan and her family made for gripping television.
Best Actor
Alan Fletcher (Karl Kennedy)
It came as little surprise to see popular medical all-rounder Dr. Karl Kennedy be awarded the title of 'Best Actor' in this years awards. A favourite of students and grannies alike, Alan effortlessly fought off competition from fellow fans' favourite Frazer Yeats, who took just two thirds as many votes in this category. 2007 has been a busy year for Dr. Karl - he has remarried wife Susan, added another child to the family tree, seen Susan battle MS and a court case, and endured the terrifying ordeal of being trapped in a collapsing warehouse without first getting to enjoy the party that preceded it. It's Alan's convincing, emotive performances throughout each of these storylines that have helped him along the way to taking the 'Best Actor' award. But it's probably just as likely, if not moreso, that after 15 years on our screens as the loveable Karl Kennedy, the thought of voting for anyone else didn't enter most fans' minds.

Best Actress
Jackie Woodburne (Susan Kinski)
For the third consecutive year, Jackie Woodburne once again takes the award for best actress. No one could have predicted that the final few months of the 2007 season would see much-loved Susan face a serious illness and almost kill a fellow neighbour. Though wonderfully written, it was Jackie's outstanding performances that won her this award and ensured the storyline will go down in Neighbours history as one of the best. From the very moment of Susan's realisation that she was the one who ran over Bridget, Jackie delivered a series of sensational performances culminating in the heartbreaking scenes where Susan was diagnosed with multiple sclerosis. Throughout, Jackie never failed to move viewers with her powerful and realistic portrayal of Susan's situation. However it wasn't all high drama, and as always, Jackie is more than capable at handling comedy and romance. Easily one of Neighbours' strongest ever all-round actresses, she truly deserved this award for an amazing year of acting.

Lifetime Achievement Award
Tom Oliver (Lou Carpenter)
He joined the cast of Neighbours for a five-episode guest stint; now over 20 years on, Tom Oliver was your overwhelming choice for this year's Lifetime Achievement award. Joining the cast permanently in 1992, Tom has been there as Lou Carpenter virtually ever since, bar a brief period in 1996 in which he was politely asked to leave from the show (a decision reversed after fan outcry within weeks). If we discount this period, Tom's tenure is the longest continuous run by any actor in the history of Neighbours. In his time on Ramsay Street, Lou's been married twice, had four further fiancées, gained and lost a daughter, been Mayor and been to jail. But it's for his brilliant comedy 'triple act' with Ian Smith and Anne Charleston that Tom is perhaps most fondly loved for – although it shouldn't be forgotten how impressively subtle a dramatic performance he can turn in. For 20 years of laughter and tears, Tom Oliver is a highly deserving recipient of this award.