.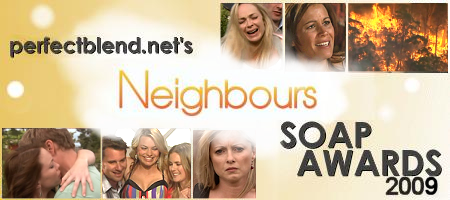 Interactive > Perfect Blend's Neighbours Soap Awards 2009
Now in their fourth year, Perfect Blend's Neighbours Soap Awards were inspired by the UK's British Soap Awards, for which Neighbours is not eligible. Using the same categories as those awards, Perfect Blend's readers have spent the last few weeks voting through our messageboard and by email. Only votes for actors and storylines from the 2008 season (episodes 5366-5605) were counted. Here are the results...

Sexiest Male
James Sorensen (Declan Napier)
2008 saw the exit from Erinsborough of last year's Sexiest Male, Ben Lawson, but young James Sorensen was more than ready to take up the mantle. Winning many fans with his portrayal of bad boy with a soft centre Declan Napier, James was one of the few hunks left in Erinsborough, following the mass exodus of Frazer, Ned, Oliver, Riley and Marco, but he still had some close competition, only narrowing beating Scott Major and Brett Tucker to the title. But with his romance with Bridget going well, a baby on the way and seemingly a new attitude to life, could Declan, and James, continue to see his popularity grow and take the Sexiest Male award two years running?

Sexiest Female
Pippa Black (Elle Robinson)
Stopping Natalie Blair from picking up a 3rd consecutive gong, Pippa Black stormed to a comfortable victory. As Elle turned a corner in 2008, so to did the voting as after years of coming close, Pippa finally managed to beat the competition to be crowned sexiest female. Her sexy poses for PETA may have helped her cause, but she still had to fend off strong competition from yummy mummy Kym Valentine and of course, Natalie Blair. In the end Carmella's plans were spoilt as she failed to bow out of Neighbours with a 3rd straight award, but these 2 sexy vixens won't hold it against each other for too long as they remain great friends out of work. But with Natalie now out of the picture, few would bet against Pippa retaining her award next year.

Villain Of The Year
Charlie Clausen (Jay Duncan)
A comfortable win for psychotic arsonist fireman Jay Duncan. Charlie Clausen gave a creepy performance as the man who started the devasting bushfire, but he began his time on Ramsay Street as Steph's rugged and charming new boyfriend. Little did we know that this new fella was about to turn vulnerable Steph's world upside down. Duncan's villainy caused the death of Marco Silvani, the severe burning of Kirsten Gannon, Steph getting drenched in petrol and, lest we forget, the destruction of Callum and Toadie's psychedelic playhouse. A worthy winner.

Best Comedy Performance
Margot Robbie (Donna Freedman)
Getting nearly double the votes of her nearest rival Jane Hall (Rebecca Napier), fresh face Margot Robbie (Donna Freedman) has brought a smile to many of you voters in 2008. Zany Donna was introduced as a stalker of wannabe pop star Ty Harper, but her quirky persona and bizarre monologues quickly won fans over and she's now an integral ingredient of Neighbours comedy. Where other laugh inducing girls such as Sindi Watts and Melanie Pearson left off, Donna has picked up their batton and run with it.
Best Newcomer
Margot Robbie (Donna Freedman)
There were some popular newcomers to Neighbours during 2008, as Dan gained a brother in the form of Lucas, and young Callum Jones was taken in by Toadie, but it was dizzy teenager Donna Freedman who stole the title of best newcomer. Originally only a minor character, Donna took a few weeks to show her true self, after stalking Ty and being blame for the bushfire, it quickly became clear that Donna desperately craved attention. And as she started to find friends in Ramsay Street, her scatterbrained persona won everyone over, and Margot Robbie proved that she could do drama just as well as comedy, as Donna dealt with a hit-and-run and her corrupt father, Matt, and found romance with Ringo Brown.

Best On-Screen Partnership
Alan Fletcher and Jackie Woodburne (Karl and Susan)
A third consecutive win in this category for fan favourites Karl and Susan Kennedy proving that, after fifteen years on our screens, they're still as popular as ever. Despite challenges such as Susan's MS and supporting two teenage stepchildren, the duo continued to banter their way through 2008 in their own inimitable style. While Dr. and Mrs. K took over twice as many votes as daughter Libby and her partner Dan, the 'will-they-won't-they?' pairing of Lucas Fitzgerald and Elle Robinson came extremely close to a win in this category. Perhaps they'll be the ones to steal the crown in next year's awards?

Spectacular Scene Of The Year
The bushfire
Getting nearly three quarters of the votes, the spectacle of the bushfire was a roaring success with you. Seeing Ramsay Street's favourites running around in a blazing forrest and choking back the smoke had us all on the edge of our seats. Marco and Ned got to play the heroes while Paul left Kirsten for dead; although he did later rescue Karl and Susan. Poor Kirsten ended up needing specialist treatment in Perth for her burns and Marco only lasted a few days in hospital before succumbing to his injuries. The fire itself was impressively realistic and very well filmed, and as a story it sadly proved to be prescient as a few months later Australia suffered some of it's worst bushfires on record.

Best Single Episode
Episode 5483 - Samantha's Departure
In a hotly contested field, Samantha's departure episode narrowly proved to be more popular than other big moments such as the bushfire or Marco & Carmella's death bed wedding. After months of "will they or won't they" romance between Libby Kennedy and Daniel Fitzgerald, it looked as though third wheel Samantha had finally convinced her husband Dan to give their marriage another go, and with bags packed and two tickets for New Zealand purchased, Libby was going to be left out in the cold. However, as the moment for Dan to leave arrived, Libby said all she needed to simply by following him out to his waiting taxi and giving him a meaningful hug goodbye. This special moment was witnessed by Sam, who couldn't help but recognise the true feeling between them, and so, she left Dan behind at the airport. On his return to Ramsay Street he discovered divorce papers waiting at home. A moving episode which proved to be a pivotal part of one of the year's biggest storylines.

Best Exit
Jesse Rosenfeld (Marco Silvani)
He was only a Neighbour for six months, but Italian stallion Marco Silvani certainly got one of the more memorable send-offs of recent years, and fans agreed, as he polled more than twice the number of votes of nearest competition, Carmella and Janae. Marco's romantic proposal to Carmella, followed by being roasted alive in the bushfire, then marrying her in hospital before dying hours later, made for an emotional few episodes. As if all that wasn't enough of a tearjerker, Marco continued to appear, as Carmella had visions of her dead husband, who comforted her, until the poignant moment when she sang Amazing Grace to him at his funeral, and he disappeared from her life.

Bitch Of The Year
Imogen Bailey (Nicola West)
Bitch may be a bit of an understatement where Nicola is concerned. In the end, she proved to be stark-raving bonkers. Her madness aside, Nicola had an eventful 6 or so months on Ramsay Street as she seduced her nephew Riley, attempted to steal her sisters husband, almost ended Karl's medical career and nearly poisoned Steve to death. She's now in care and the Parkers life can now go back to some form of normality. Dan's estranged wife Sam Fitzgerald racked up an impressive number of votes, but Nicola was still the clear winner.

Best Dramatic Performance
Simone Buchanan (Samantha Fitzgerald)
By a landslide, guest star Simone Buchanan romped to victory with her depiction of bi-polar estranged wife Samantha Fitzgerald. In an unusually sensitive portrayal of mental illness, Simone had us all sympathising with her character; even though she was the only hurdle in popular couple Dan & Libby's path to happiness. The character of Samantha had particular resonance with Buchanan as her own brother Miles has lived with the bi-polar condition for many years. This familiarity with the situation revealed itself in the nuances of the actress' performance. Particular credit should be given for the scenes following Sam's decision to give up her medication, causing "manic episodes" where Simone pulled out all the stops to convey her character's inner turmoil.

Best Dramatic Performance from a Young Actor or Actress
Morgan Baker (Callum Jones)
Last year's winner of this category, Fletcher O'Leary (Mickey Gannon) has been put in the shade by cheeky new kid on the block Morgan Baker, who plays Callum Jones. He dominated the poll thanks to his charisma and natural talent. Paired up with adopted Dad Toadie, Callum has proved to be a very popular newcomer with an emphasis on comedy. But Morgan's also able to handle the more serious stuff too, as we saw during Callum's gran's illness, Nicola's breakdown and when Toadie gave him up to his Auntie in Ballarat.

Best Storyline
Libby & Dan fall in love/Sam's bi polar
It was a love triangle of epic proportions, as Dan and Libby suddenly found their new relationship under threat from the return of his wife, Samantha, but what really made this story special was the handling of Sam's bi-polar disorder. Thanks to some beautiful performances from Simone Buchanan, Sam never felt like just a plot device to keep Libby and Dan apart for a few months, and strong performances from Brett Tucker and Kym Valentine left viewers struggling to take sides, ultimately wanting all three characters to be happy. Such was the popularity of this story, that it polled more than double the votes of nearest rival, Bridget's shock pregnancy.

Best Actor
Ian Smith (Harold Bishop)
Having won our Lifetime Achievement award in 2006, it was perhaps a fitting tribute that Ian Smith claimed the Best Actor prize this year as he left our screens for good. As one of Australia's best loved and iconic soap characters, Harold Bishop packed up his things and said a sad farewell to Ramsay Street one last time. In his final months on the show poor Harold had to battle bravely against Prostate Cancer that led to some heartbreaking scenes, showcasing once again Ian's huge talent. He made sure his legacy would never be forgotten though, handing down his History of Ramsay Street book to Toadie, who incidentally came second in this vote. After more than 16 years on the soap, Harold will be greatly missed, but as he said himself, "my story ends here, but the story of Ramsay Street is far from over".

Best Actress
Jane Hall (Rebecca Napier)
A well-deserved but ultimately surprising win here for Jane Hall, given her short tenure, and the calibre of her opponents. Last year's Best Newcomer fought off stiff competition from Jackie Woodburne - who has claimed the Best Actress award for the last three years running - and the ever-popular Kym Valentine. For Rebecca, 2008 was an eventful year, dominated by her break up from philandering Paul Robinson, the departure of Oliver, the long-lost son who prompted her move to Erinsborough, and a new relationship with high school principal, Andrew Simpson. Equally convincing in delivering comedic moments as well as dramatic, Jane Hall has proven herself to be a terrific addition to the cast, and it's a testament to her acting abilities, and likeability, that she has been taken into fans' hearts so quickly.

Lifetime Achievement Award
Alan Fletcher (Karl Kennedy)
A decade and a half after joining the cast, Alan Fletcher has firmly established himself in the Neighbours hall of fame. In fact, even non-fans are aware of the legend that is Dr. Karl. Probably best known for his partnership with the wonderful Susan and his astounding ability to turn his hand to all areas of medicine, the Doc is a hugely watchable character....and despite the fact that we've all lost count of how many affairs he's had, and how many patient confidences he's broken, we just can't help but love him. A clear winner in this category, Alan took almost twice as many votes as his closest competitor, onscreen daughter Kym Valentine.