.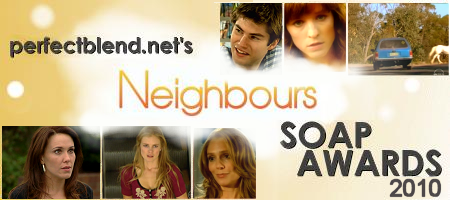 Interactive > Perfect Blend's Neighbours Soap Awards 2010
Now in their fifth year, Perfect Blend's Neighbours Soap Awards were inspired by the UK's British Soap Awards, for which Neighbours is not eligible. Using the same categories as those awards, Perfect Blend's readers spent several weeks voting through our messageboard and by email. Only votes for actors and storylines from the 2009 season (episodes 5606-5835) were counted. Here are the results...

Sexiest Male
James Sorensen (Declan Napier)
For the second year in a row, James Sorensen takes the Sexiest Male award. And it's hardly surprising given the relentless fitness programme James has been undergoing in the past year in preparation for joining the Australian army. He's toned up as evidenced when he treated viewers to a glimpse of his abs during the schoolies beach scenes towards the end of last year, but the past 12 months have also seen James move away from teen heartthrob into young adult amongst the cast of hunks such as Brett Tucker and Scott Major, thanks largely to one of the year's biggest storylines which have seen his character Declan mature into a widowed single father.

Sexiest Female
Pippa Black (Elle Robinson)
Although she has recently bowed out for a new life in the States, Pippa Black has mirrored her on-screen stepbrother James by chalking up a second year in a row in the Sexiest category. With stiff competition in the cast from blonde stunners such as Margot Robbie and Carla Bonner and longtime favourite Kym Valentine, Pippa's sultry and subtle good looks have made her a winner in the eyes of most viewers. No wonder Lucas moped around for a weeks after Elle left for New York.

Villain Of The Year
Damien Aylward (Johnno Brewer)
The man responsible for Bridget Parkerís death was never going to be popular and, despite only being on screen for a few weeks, Johnno Brewer has taken the title of Villain of the Year. Looking to settle some gambling debts with mechanic Lucas Fitzgerald, Johnno decided to scare him by tampering with his car, unaware that it actually belonged to the Parker family and was being serviced before they set off on holiday to Queensland. Of course, the car crashed, resulting in Bridgetís death and leaving her new husband Declan as a single father to baby India. Looking for someone to blame, Declan lashed out at mechanics Lucas and Steph, who believed it was their fault, until the truth about Johnno came out. Viewers were stunned as Declanís stepdad Paul told Johnno to confess, promising to find him an excellent lawyer who would see that he didnít spend a minute in jail. But, as Johnno was led away, Paul was straight on the phone to Erinsboroughís number one evil lawyer Tim Collins, promising to pay him to lose the case and make sure Johnno was sent down for a very long stretch.

Best Comedy Performance
Ryan Moloney (Jarrod 'Toadfish' Rebecchi)
As Toadie has primarily been a comedic character during his fifteen year history on Neighbours, it's perhaps a little surprising that it's taken him five years to win this award! Ryan Moloney has always been able to raise a smile as the cheeky fun loving lawyer with a heart of gold, and over the last year, it's been especially enjoyable to see him work alongside his "mini me" Callum (played by Morgan Jones). Even when the double act lost their third musketeer Bob the dog to cancer, the tragedy of the event was turned to comedy when the canine's ashes were dropped and had to be vacuumed up.

Best Newcomer
Ashleigh Brewer (Kate Ramsay)
There was plenty of pressure on the character of Kate Ramsay from the very start of her time in Erinsborough. Orphaned, along with her two younger siblings, she was forced to take care of Harry and Sophie, spending most of her first few months complaining about the amount of ironing she had to do. But that was nothing compared to the pressure Ashleigh Brewer was under to prove herself to Neighbours fans Ė the character was set to take the place of popular Bridget Parker, both in the set-up of the teen gang and ultimately as Declan Napierís girlfriend. All this plus she was a descendant of the two original Erinsborough families Ė the Robinsons and the Ramsays. Thankfully Ashleigh won over viewers with a confident and likeable performance, giving Kate just enough edge that she didnít feel too much like the perfect girl next door, and making it feel churlish to oppose her blossoming relationship with single dad Declan.

Best On-Screen Partnership
Alan Fletcher and Jackie Woodburne (Karl and Susan)
It's perhaps getting a little predictable now (they've won this four years on the trot), but it just proves that Alan Fletcher and Jackie Woodburne's work as Karl and Susan is as popular as ever. 2009 was a difficult year for the Kennedys as Susan took on the risky task of being surrogate mother for Libby and Dan's baby, in spite of Karl's disapproval. This sadly ended up damaging Susan's health and the miscarriage of another child for Libby and Dan. As always, Alan and Jackie's great acting skills and wealth of experience working together made yet another moving and believable performance as the family came to terms with the tragedy and later Libby and Dan's split. On a lighter note, Karl and Susan have once again also provided great comedy this past season, particularly with their "blue box" shenanigans. Alan & Jackie had three close rivals; they were Carla & Kym (Steph & Libby), Stefan & Jane (Paul & Rebecca) and James & Eloise (Declan & Bridget).

Spectacular Scene Of The Year
The Parker's Car Crash
In a departure from the normal Neighbours format, the episode in which the Parkers crashed their car en route to Oakey last July actually started with a flash forward to what was going to happen at the end of the episode. Steve, Miranda and Bridget were happily driving through the countryside to show baby India off to the relatives up north when a horse galloped out across the road in front of them. Steve swerved to avoid the horse as Bridget screamed at him to watch out before the episode cut back to the beginning of the day and went on to show what had happened in the hours building up that fateful moment. The scene was also cleverly symbolic in that the scene that had introduced the Parkers to Neighbours two years previous had also featured the family running into a distressed animal while driving from Sydney to Erinsborough.

Best Single Episode
Episode 5812 - Elle's Departure
Although soap legend Harold Bishop's departure and tragic teen Bridget Parker's death were both popular episodes, the award for 2009's best single episode goes to 5812 - Elle Robinson's farewell. Since 2005, Elle has come to be one of Neighbours most popular characters. From starting out as a scheming teenager, she's developed in to a conscientious career woman who's left Erinsborough to follow a path of international journalism. Pippa Black gave some great final performances as she bid goodbye to her screen dad Paul, played by Stefan Dennis, and her boyfriend Lucas, aka Scott Major. Airport au revoirs always seem to work well in Neighbours and this was no exception; many a tear was shed as Elle disappeared on the escalator. In her four years on screen, Pippa has made Elle a classic addition to the Robinson family who should be as well remembered as any of her 1980s predecessors.

Best Exit
Eloise Mignon (Bridget Parker)
After two action packed years in Ramsay Street, the Parker family packed up their bags and headed off to Oakey, but it took the death of daughter Bridget to drive them away, and it was her departure which was most popular with you fans. In a tragic twist of irony, Didge's purpetual strong will ended up causing her own death when she decided to stubble off in to the bush alone rather than staying near the Parker's crashed car. This error of judgement left her weak and the medical attention she eventually recieved after being found was just a little too late. She got to say a final good bye to her husband Declan and baby India in a mystifying episode featuring a dream sequence of clocks, white clothing and lots of shimmering white light.

Bitch Of The Year
Tottie Goldsmith (Cassandra Freedman)
Playing it pure panto, Tottie Goldsmith strutted into Ramsay Street in 2009 as the money grabbing mother from hell Cassandra Freedman. Donna's negligent mum got a great arrival episode as she instantly attempted to get her talons into rich Paul Robinson by "accidentally" catching her dress in her car door and having to strip down to her underwear in the middle of the street. This was enough to catch Paul's attention and she soon got herself settled into the street. Over the next few months Cass managed to manipulate Paul and later accuse him of stalking her, infuriate Rebecca, embarrass Donna, blackmail Sam, flirt with Ringo and Kyle, make Teagan into the school skank, send Simon into an ipod obsessed world of his own, and even annoy nurse Jodie. Eventually the street had enough of Cassandra and she left in a memorable blaze of attention seeking glory by knocking everyone's wheelie bins over with her car.

Best Dramatic Performance
James Sorensen (Declan Napier)
Neighbours has had several iconic scenes and moments through the years and James Sorensen's gut-wrenching performance as a stunned Declan digesting the awful news that his beloved Didge had died is certainly up there. Just as it had looked as though Bridget would survive the injuries she had sustained in the car crash, something went wrong and the family watched in horror as a team of medics rushed to her bedside to try to revive her. As Dr. Newton emerged from Bridget's hospital room and broke the news to the Parkers and Declan, James managed to capture in a very raw and real way the impact the shock news had had on Declan. Falling back against a chair for support, James perfectly and memorably captured the cruel blow that had been dealt to the young husband. In the weeks that followed, James took viewers through a range of emotions as Declan dealt with the anger, resentment, guilt and remorse that his wife's death had left him to struggle with.

Best Dramatic Performance from a Young Actor or Actress
Morgan Baker (Callum Jones)
Young Morgan Baker has put in another great performance as Callum Jones to win this award for the second year in a row. His nearest rival was newcomer Kaiya Jones who has made a welcome addition as the youngest of the orphaned Ramsay kids, Sophie. However, Morgan's work alongside Ryan Moloney as his adoptive father Toadie, remains hugely popular and in 2009 the two of them had some very emotional scenes to tackle as they said goodbye to long running pet dog Bob.

Best Storyline
The Kennedy-Fitzgerald Surrogacy
The Kennedy family have been through plenty of turmoil in more than 15 years living on Ramsay Street, but itís hard to deny that episodes with them as the focus are some of the best Neighbours is capable of. Their latest dramas began as Libby suffered a miscarriage shortly after marrying Dan Fitzgerald, and an emergency operation left her unable to have children. Seeing how desperate her daughter was to have a child with her new husband, Susan stepped forward and offered her services as a surrogate. Though it caused controversy in the neighbourhood, and Karl was initially strongly opposed, the plan went ahead and Susan was soon pregnant, but this proved to just be the beginning of their problems, as Dan struggled to find his place in the close-knit Kennedy clan, feuding with Susan, who eventually lost the baby. As if that wasnít enough drama to cram into a few months, this also proved to be the final nail in the coffin for Libby and Danís short marriage, but thanks to some strong writing and beautiful performances, particularly from Kym Valentine and Jackie Woodburne, the whole story felt painfully real.

Best Actor
James Sorensen (Declan Napier)
James Sorensen easily beat his co stars to this award following some incredibly taxing work as his character Declan married Bridget, welcomed his first child India into the world, and then saw his wife die following a car accident. And all that was in the space of just 30 episodes! Sadly 2009 proved to be Sorensen's last full year as Declan, as in early 2010, he left to join the Australian army, and Declan was recast with Erin Mullally. James gave us over two and a half years as Declan, and his brilliant acting skills mean Erin now has a very difficult task in replacing him.

Best Actress
Kym Valentine (Libby Kennedy)
Beating the regular competition from her on screen mum Susan (Jackie Woodburne), Kym Valentine makes a very deserved winner for her performance as Libby in 2009. It's been a year of huge ups and downs for Libby as she's been rescued from a river rafting accident, married handsome Dan, become pregnant with baby Grace, had a miscarriage, had a hysterectomy, decided to accept her mother's offer of acting as a surrogate, witnessed Susan's miscarriage of Dan and Libby's baby Sean, and seen the disintegration of her marriage as Dan walked out on the family at Christmas. Kym Valentine has always been utterly believable on every step of this dramatic journey. It was especially nice to see her returning so well after her period of ill health in 2008 which led to her sadly being recast for the last few weeks of that season. In 2009, Kym proved that nobody else can ever really be Libby.

Lifetime Achievement Award
Stefan Dennis (Paul Robinson)
It seems perfectly fitting that as Neighbours celebrates it's milestone birthday of a quarter of a century in 2010, this year's Lifetime Achievement award should go to the series' only original star, Stefan Dennis. Stefan first featured as eldest Robinson sibling, Paul, in the very first scene of the very first episode, way back in March 1985. Back then Paul was an ambitious young man looking for his true direction in life and it didn't take him long to find it as he entered the world of big business in 1986. It was then that Paul became the J.R. Ewing-esque character we have grown to know and love over the course of a generation. Stefan Dennis has reveled in this role ever since, and it's given him huge scope to play the daring wheeler-dealer, ruthless tycoon, and the broken man when he lost his fortune in the early 90s. All this has been balanced with his character's intense love of family and general lust for life. These qualities have created a complicated and flawed character which Stefan has made utterly compelling to watch and, even when being badly behaved, almost impossible not to enjoy. So Mr. Dennis, having won this award we have to ask the question; don't it make you feel good?