.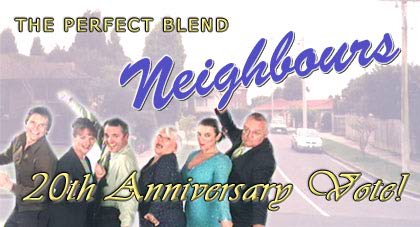 Interactive > The Perfect Blend 20th Anniversary Vote Results: Favourite Female
1. Susan Kennedy Smith: With 17% of the final vote, Susan was the runaway winner of most popular female character. Arriving in Ramsay Street with her family back in 1994, Susan has been on a long journey during her time on the show, and, with Helen and Madge having passed away, she has certainly taken on the role of street matriarch. Currently, she's single, having divorced Karl, and showing just how strong she is.
2. Sky Bishop Mangel: Sky first arrived in Ramsay Street in 1989 with her mother, Kerry, who died the following year. She left in 1991 with stepfather Joe, but we suspect that it's the more recent incarnation of Sky – played by Stephanie McIntosh since 2003 that's proved most popular, receiving 10% of the votes. Sky's slightly unusual take on life has made her into one of the most popular teen characters the show's seen.
3. Helen Daniels: Original character Helen was only just behind Sky, with 9% of the votes. Played expertly by the late Anne Haddy, Helen was mother, grandmother, friend and confidante to almost everyone in Ramsay Street until she passed away at the end of 1997. Her memory still lives on, as her grandson, Paul Robinson, has recently returned to Erinsborough.
4. Madge Ramsay Mitchell Bishop: Arriving at the beginning of 1986, Madge proved to be a huge hit as she squabbled with her brothers, Max and Tom, then became one half of the enormously popular couple, Madge and Harold, before leaving in 1992. In 1996, both characters were brought back and Madge enjoyed a new lease of life, until she tragically died of cancer in 2001. Madge received 8% of the final vote.
5. Libby Kennedy: One of the few younger characters to remain in Erinsborough into her adult years, Libby was extremely popular, leaving in 2004, exactly ten years after she arrived. Libby received just over 7% of the vote and was part of two very popular couples during her reign, first with Darren, then with Drew. She went through almost every soap drama imaginable and constantly came through it stronger than ever.
6. Stephanie Scully Hoyland: In a similar way to Libby, Steph has also gone through some interesting changes during her six years in Erinsborough – from a young woman who was seriously unlucky in love to a confident woman with a husband and two stepchildren. Steph's final vote count was very close to Libby's, with 7% of the final vote.
7. Daphne Lawrence Clarke: An original character and the first regular to die, Daphne received 4% of the final vote. As well as being a former stripper, dedicated Coffee Shop owner and wife to Des, Daphne was also able to move effortlessly between being a friend to the older characters and a confidante to the youth of Erinsborough. Few could have held back the tears when Daphne died in 1988, following several weeks in a coma.
8. Julie Robinson Martin: Another original character, interfering Julie Robinson didn't even make it until the end of the 1985 season before she left to be with the man of her dreams, Philip Martin. Seven years later, she was back in town and she hadn't changed one bit. After a couple of years, Julie finally lost the plot and died after falling from a ledge at a hotel. She received 4% of the final vote.
9. Charlene Mitchell Robinson: Still one of the most famous characters that Neighbours has produced, probably in part due to being played by Kylie Minogue, Charlene received just under 4% of the final vote. She turned up in Erinsborough in 1986 and her relationship with Scott Robinson, and the parental disapproval it overcame, was what truly made the character popular, culminating in their 1987 wedding.
10. Isabelle Hoyland: One of the more recent additions to Neighbours, scheming Izzy quickly earned herself a reputation around Ramsay Street and ended up with just under 4% of the final vote. Her exploits have mostly involved running rings around Karl Kennedy, convincing him that the baby she was carrying was his, then walking out on him on their wedding day.
11. Nina Tucker: Songbird Nina received 3% of the final vote. Played by hugely successful singer Delta Goodrem, Nina arrived in 2002 and her shy, unassuming character made her very popular. Viewers were happy for her as her musical career began to take off and the character finally found happiness with Jack Scully.
12. Nell Mangel: From the moment she arrived in 1986 – complaining that Daphne's pancake competition was rigged – Mrs Mangel made it her business to know everything that was going on in Erinsborough and to disagree with most of it. Despite many viewers dislike of her, Mrs Mangel holds a certain cult status in Neighbours history, which explains why she received just under 3% of the vote.
13. Felicity Scully: Played by Holly Valance, Felicity, or Flick, Scully spent three years in Ramsay Street and for much of that time, she could be found in a romantic entanglement of some kind. Her relationships with Joel Samuels, Marc Lambert and Stuart Parker were all very popular and there was hardly a dry eye when she set off for New York and a job at Lassiter's in 2002. Flick received just under 3% of the final vote.
14. Sindi Watts: Several guest stints introduced us to dizzy Sindi Watts before she became a full-time character in 2004. Her fun personality has obviously proved to be very infectious in that short space of time, as she received just under 3% of the vote. Recent storylines have seen Sindi's humour slightly quashed by her involvement in a bank siege, then almost dying when the pub burnt down.
15. Dione Bliss: Dee's sense of humour quickly made her a popular addition to Ramsay Street, and her involvement with dodgy Darcy Tyler soon earned her the sympathy vote, too. Dee received 2% of the final vote. She is fondly remembered for her relationship with Toadie Rebecchi and their tragic wedding day which ended in her disappearance and suspected death.
16. Lyn Scully: Dippy hairdresser Lyn Scully arrived in Erinsborough with her family in 1999 and proceeded to offend most of the neighbours as she fumbled in her attempts to fit into the new neighbourhood. Although the character has grown in confidence, seen most of her family leave and developed less of a comic edge and more of an interfering one, she still managed to attract 2% of the votes.
17. Dorothy Burke: Stern headmistress Dorothy Burke arrived in 1990 and became something of an enigma. Once she let her guard down, however, she showed that she had a wonderful sense of humour and a soft side, displayed when she gave a home to her niece and nephew, as well as other homeless youngsters in the years that followed. Dorothy received just over 1% of the vote.
18. Eileen Clarke: Des' interfering mother had two distinct sides to her character – one minute she could be absolutely hilarious, the next she showed her devious side. Eileen was played by the late Myra de Groot, an expert in comic timing. Whenever there was a scandal in the early years, Eileen would be first on the scene, along with her friend, Nell Mangel. Eileen received just over 1% of the final vote.
19. Bronwyn Davies: Quiet nanny Bronwyn arrived in Ramsay Street just before Charlene left, but the two characters couldn't have been more different. Bronwyn was a country girl with perfect manners and her relationship with loveable Henry Ramsay proved extremely popular. Bronwyn managed 1% of the final vote.
20. Summer Hoyland: With 1% of the final vote, Summer Hoyland is a character who is growing up on screen. From her early days in 2002, when she rivalled Lou Carpenter as the biggest scammer in town, Summer has changed into a slightly awkward teenager, facing many of the typical problems. With a very level head on her shoulders, the future of Ramsay Street looks promising.