.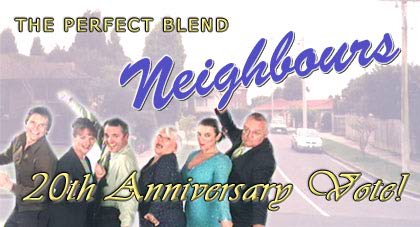 Interactive > The Perfect Blend 20th Anniversary Vote Results: Favourite Guest
1. Valda Sheergold: By far the most popular guest character, Valda received 29% of your votes. Since her arrival, for Steph's wedding to Marc in 2002, Valda has made regular visits to Erinsborough and the revelation that she was actually Lyn's mother showed that she wasn't only a comedy character. Her on-off relationship with Lou, and marriage to Charlie Cassidy have kept her in the thick of things for the past three years.
2. Lana Crawford: When Neighbours decided to bring in a young, gay character in 2004, it was met with some disapproval and a lot of anticipation. That the character received 13% of the votes for favourite guest character shows that Lana made a huge impact on viewers, most of whom hope that she'll be back from Canada in the future.
3. Rosemary Daniels: Rosemary's annual visit to Ramsay Street, between 1986 and 1998 was obviously very memorable to many viewers, as she received 12% of the vote for favourite guest character. Her business deals, as well as her disastrous love life, meant that she was always at the centre of the action, and the news that she'll be returning to Erinsborough this year means that there could be a new deal going down soon.
4. Tom Scully: Father Tom Scully couldn't have been more different from his brother, Joe. He turned up in the street and was soon involved in a clandestine romance with Susan Kennedy, which really grabbed the viewers' attention and bagged him 9% of the votes. Although he turned his back on the church, he was lost without his faith and decided to leave.
5. Svetlanka Ristic: Serbian witch Svetlanka first parked her broomstick in Ramsay Street at the beginning of 2004 and she quickly made life hell for her daughter, Liljana. But Lil's father-in-law, Harold, saw a different quality in the woman and they began a romance. He stood by her, even when it was revealed that she had stolen Lil's son when it had been born and given it up for adoption. Svetlanka received 5% of the votes.
6. Larry Woodhouse: Steph Scully's relationship with jailbird Woody found a lot of fans, as the couple struggled to stay together and he was eventually shipped off on a witness protection programme. They then made plans to disappear together, until he 'died' in a car crash. He wasn't really dead, but trying to protect Steph from more heartache. Woody received 5% of the votes.
7. Geri Hallett: Libby's arch nemesis and rival at the newspaper, Geri received 4% of votes for favourite guest character. Her recurring appearances saw her involved in romances with Joel Samuels and Drew Kirk, before making her final guest stint – when she followed Drew and Libby on their honeymoon, taking photos for the paper.
8. Trixie Tucker: Famous stage star and mother to Erinsborough songbird Nina, Trixie was involved in a whirlwind romance and marriage with Ramsay Street veteran Lou Carpenter. It all ended in disaster, when she convinced him to invest in a show which flopped badly, leaving her to disappear into the night, and him bankrupt. Trixie received 3% of the final vote.
9. Olivia McPherson: The double life of Olivia 'Mac' McPherson was certainly a highlight of the 2004 season, and it earned her 3% of the vote. With Jack Scully knowing her as Mac the clubber and Stuart as Olivia the police officer, it was only a matter of time before it all went wrong for her. When she was revealed as corrupt and reported, she was forced to beat a hasty retreat from Erinsborough.
10. Rocco Cammeniti: Head of, what was believed to be, the Erinsborough Mafia, Rocco ended up with just under 3% of the final vote. Although Rocco was jailed in 2004, after a string of crimes including kidnap and racehorse ringing, members of his family, including daughter Carmella, are still around in Erinsborough.
11. Gus Cleary: Mentally unstable Gus spent several months in 2004 stalking the Hoyland family and drugging Max as revenge for being sacked from his job several years before. He then managed to get Izzy pregnant before finally being taken away to a psychiatric hospital. His brief return at the end of 2004 marked the end of the character when his body was found in the burnt out remains of Lou's pub. Gus received 2%.
12. Fiona Hartman: The scheming mother of Annalise Hartman, Fiona was generally only out for what she could get. And she got 2% of the vote. Her biggest moment came when she decided not to help Jim Robinson, who was dying of a heart attack, and rather clear out his bank account. She disappeared soon afterwards, but got her comeuppance when she was killed in an off-screen car accident later that year.
13. Rose Belker: Little old lady Rose Belker has had very little to do with Ramsay Street life, but she still managed to get just under 2% of votes. We've seen her in hospital and the doctor's surgery on many an occasion, but her biggest moment came in 2004 when she discovered the body of Darcy Tyler at the bottom of a flight of stairs.
14. Henry O'Rourke: Supposedly the father to Lyn Scully, Henry, or Gump as his grandchildren called him, had a terrible year in 2003 when his wife, Connie, died after a stroke. It was then revealed that he wasn't Lyn's natural father, and she briefly turned her back on him after lying to her for so many years. Henry received just under 2% of the final vote.
15. Phil Hoffman: Played by Shane Connor, several years before he turned up as Joe Scully, Phil was a dangerous criminal who was trying to prevent the Alessi twins from giving evidence about a crime they had witnessed. After befriending them, he ended up holding them hostage at number 22. He received just over 1% of the vote.
16. Penny Watts: Clumsy Penny worked at the Coffee Shop in 2002 and had a dangerous doctor-patient relationship with Darcy Tyler. She received 1% of the vote. Penny ended up reporting Darcy, after she stumbled upon him secretly spending time with her sister. However, the sister, Sindi, is still around, causing comical chaos wherever she goes.
17. Lisa Jeffries: Summer Hoyland's little Canadian friend has been a recurring character since 2003 and received 1% of the vote. Lisa has a tendency to cause problems for Summer, not least of which when she stole her boyfriend, Declan, but their friendship always seems to be miraculously recovered within a few days.
18. Chloe Lambert: The Lambert family took over Lassiter's hotel in 2002 and was headed by Chloe, who received 1% of the vote. She was quite ashamed when her son, Marc, cheated on his fiancee Steph with her own sister, but managed to cause some controversy of her own when she became involved with younger man, Darcy Tyler. She hasn't been seen since she called off the relationship.
19. Vikram Chatterji: Newsagency worked Vikram spent a long time working for Philip Martin, but was rarely seen outside the shop. Still, he managed to grab 1% of the vote. One of his few storylines involved his younger sister, Lata, who came out to live with him in Australia and had a secret romance with Brett Stark. When Vikram found out, he packed her off to live elsewhere.
20. Kelly Morgan: Wild child Kelly Morgan made a dramatic entrance to Neighbours when she snatched Eileen Clarke's handbag. Kind Daphne Clarke took Kelly in and tried to help her get back on her feet, although many of the neighbours didn't think it was possible. In the end, Kelly found herself work at a retirement home and bid farewell. She received 1% of the final vote.