.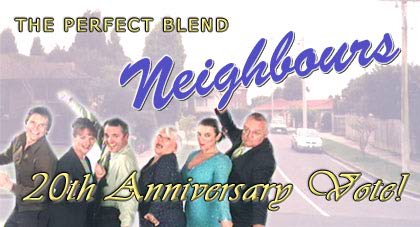 Interactive > The Perfect Blend 20th Anniversary Vote Results: Favourite Male
1. Harold Bishop: He was a regular fixture on Ramsay Street from 1987 until 1991, when his character disappeared, presumed dead. In 1996, he was resurrected, suffering from amnesia and gradually integrated back into the neighbourhood, where he's been a popular member of the community ever since. So popular that he received 13% of the final vote for favourite male character.
2. Karl Kennedy: His ex-wife, Susan, was voted most popular female character and Karl was only just beaten by Harold for the title of most popular male, receiving 10% of the vote. Karl arrived on Ramsay Street in 1994 and his marriage to Susan created one of the most popular double acts in years. They're now separated and he's with younger woman, Izzy Hoyland, but most fans are still hoping that he has a future with Susan.
3. Toadfish Rebecchi: He's been a Ramsay Street regular since 1995, and he received 8% of the final vote. Like Libby Kennedy, we've watched Toadie grow up on screen and he's one of the rare breed of young characters to stick around. We've seen Toadie change from a trouble-making young teen to a responsible lawyer, taking care of his young cousins, Tad and Stingray.
4. Paul Robinson: One of the original Neighbours characters, Paul Robinson wasn't always the ruthless businessman he turned into. It wasn't until his wife, Terry, turned on him and shot him in the shoulder that he became bitter and twisted, favouring business over personal relationships. After three marriages and several children, he left town, only to return and commit fraud the following year. After several years on the run, he returned to Australia, spent some time in prison and, recently, came home to Erinsborough. Paul received 7% of the vote.
5. Billy Kennedy: The youngest child in the Kennedy family, Billy received just over 6% of the final vote. Arriving in 1994, it wasn't until he grew up a little and found on-off love with Anne Wilkinson that he saw his popularity soar. Billy ended up leaving school and becoming a carpenter, a career which saw him leave Ramsay Street. A few weeks later, Anne was unable to live with him and went up to Queensland for a romantic reunion.
6. Lou Carpenter: Lou made his first appearance in Erinsborough back in 1988, when he tried to win his childhood sweetheart Madge back from Harold. He failed, but he was back in Erinsborough as a permanent fixture in 1992 when he took another shot at winning her over. This time, he almost succeeded, until she decided to go back to Brisbane. Lou's stuck around ever since and has seen his children, women and businesses come and go, but, since 1996, he's always had best friend Harold to rely on. Lou ended up with 6% of the final vote.
7. Drew Kirk: Nice guy Drew Kirk arrived on Ramsay Street in 1998, working for Lou Carpenter at the garage. It was his unwavering devotion to Libby Kennedy, even when she didn't return his feelings, that endeared him to many viewers, and gave him 5% of the vote. Drew's death was also a highlight for viewers, featuring amongst the 20 favourite storylines.
8. Jim Robinson: An original resident of Ramsay Street, Jim Robinson's family meant everything to him – and were usually at the root of his problems. Jim received 5% of the vote and was one of only two original characters left (along with Helen Daniels) when he died of a heart attack early in 1993. His memory now lives on in the form of his eldest son, Paul, who has recently returned to Erinsborough after a 12-year absence.
9. Max Hoyland: Nice guy Max arrived in Ramsay Street in 2002, having abandoned his children a few years earlier following the death of his wife. Fortunately, this indiscretion was quickly forgotten and he's managed to forge a strong relationship with his children, Boyd and Summer, as well as finding new love in the form of Steph Scully. Max received just under 5% of the vote.
10. Scott 'Stingray' Timmins: Newcomer Scott 'Stingray' Timmins has made quite an impact during only one year as a Ramsay Street resident. His fun-loving, carefree nature and his tendency to speak in a language all of his own led to him receiving just under 5% of the final vote. The character has proved so popular that the 2005 season has seen him joined by other, equally bizarre, members of the Timmins clan.
11. Stuart Parker: Stuart Parker joined the show at the end of 2001 and the character quickly became popular as he went through various romantic entanglements in the years that followed. He has since become involved with a bogus self-help group and joined the police force, while his most recent storyline has seen him battling problems with his sight following a fire at the pub. Stuart received just over 4% of the vote.
12. Lance Wilkinson: Nerdy Lance was never the coolest of characters, which probably contributed to his popularity. His biggest storyline saw him develop a gambling addiction, while his relationship with Amy Greenwood came to a sad conclusion when she left town to marry someone else. Luckily, Lance found happiness with Allana Truman and left town himself the following year. Lance received 3% of the final vote.
13. Boyd Hoyland: The character of Boyd Hoyland received 3% of the vote. Boyd is someone who has changed a lot during his three years on the show, from a geeky kid on an accelerated learning programme, Boyd has since found himself a girlfriend, Sky, and has now left school, a year ahead of his friends.
14. Joe Mangel: Joe Mangel couldn't have been more different from his snooty mother, Nell, but his character still proved to be just as popular when he moved into her house on Ramsay Street. Joe received 3% of the vote, and his time in Erinsborough seemed to consist of one tragedy after another, as his wife Kerry died, he briefly lost custody of Kerry's daughter, Sky and then he was nearly framed for murder.
15. Todd Landers: Todd first came to Ramsay Street with his sister Katie, as they attended their Aunt Bev's wedding to Jim Robinson. Although Katie didn't hang around longer than a year, Todd grew up in Erinsborough and found himself battling many problems, the biggest of which came when his girlfriend, Phoebe, fell pregnant. Todd's death brought a sad end to the character after four years. He received 2% of the vote.
16. Henry Mitchell Ramsay: Larrakin Henry Mitchell came to Ramsay Street straight out of prison at the beginning of 1987. His happy-go-lucky nature won his plenty of fans, receiving 2% of the vote. Henry left Erinsborough after two years to work as a DJ in New Zealand, and was later joined there by the love of his life, Bronwyn, who he married.
17. Scott Robinson: Another original Neighbours character, Scott was recast with Jason Donovan at the beginning of 1986, the year which then saw the beginning of Scott and Charlene, arguably the show's most famous couple. They married in 1987 and Scott remained in the show for another two years, although Charlene left in 1988. Scott received just over 1% of the vote.
18. Joe Scully: The head of the Scully family, brash Joe was surrounded by women for most of his time at number 26 and often looked lost amongst them. He received 1% of the final vote and was at the centre of all of the family's dramas until he left early in 2004 to look after his father's farm, where he decided to stay, signalling the end of his long marriage to Lyn.
19. Des Clarke: Des lived at number 28 when Neighbours began and was jilted four times before he finally found happiness with ex-stripper, Daphne Lawrence. They had a son, Jamie, before Daphne died in 1988. Des struggled to find happiness after that, and ended up leaving Erinsborough for Perth in 1990. Jamie returned to town briefly at the end of 2003. Des received 1% of the final vote.
20. Michael Martin: One of Ramsay Street's nastier characters to begin with, Michael tried to get rid of his stepmother, Julie, before becoming a reformed character and leaving to work and study in the outback. The character made several return visits to Ramsay Street in the years after he left, for weddings, funerals and the like. He received just under 1% of the vote.