.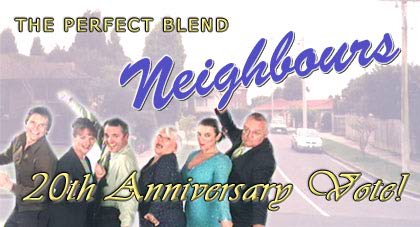 Interactive > The Perfect Blend 20th Anniversary Vote Results: Favourite Season
1. 2004: The most recent season proved to be the most popular, with 35% of the final votes. It's not difficult to see why, as the year saw some huge storylines, including Gus' stalking of the Hoyland family, Karl and Susan's divorce, Izzy's pregnancy and Lana Crawford coming out as a lesbian, as well as the returns of several favourites, including Michelle Scully, Darcy Tyler and Nina Tucker.
2. 2003: 2003 was the voters' second choice, but still a long way behind 2004, with 11% of the vote. The year saw the series suddenly utilising its past much more, with the returns of characters like Sky and David Bishop, and a storyline which saw Des and Daphne's son, Jamie, back in Erinsborough.
3. 1988: Many viewers seemed to consider this their favourite season, with 6% of voters choosing it. It was the year that saw Charlene and Mrs Mangel leave Ramsay Street, along with the arrivals of many classic characters including Joe and Toby Mangel, Bronwyn Davies and Todd Landers. The weddings of Jim and Beverly, and Madge and Harold and also Neighbours' first death, Daphne Clarke, also took place in 1988.
4. 2002: It was the year that saw Neighbours celebrate its 4000th episode, and just over 5% of you chose it as your favourite. 2002 also gave us Steph's disastrous wedding to Marc, Drew's tragic death, the arrival of the Hoyland family and the departure of Flick Scully.
5. 1999: The year that saw Neighbours receive a new look and a considerable cast shake-up got 5% of the votes for Favourite Season. The Martin family, as well as sultry secretary Sarah Beaumont left Ramsay Street, to be replaced by the end of the year with the brash Scully family and battered wife Teresa Bell.