.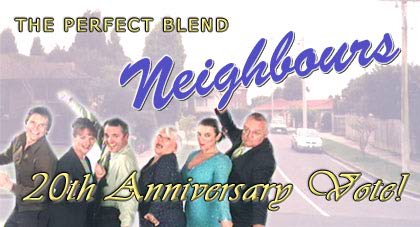 Interactive > The Perfect Blend 20th Anniversary Vote Results: Favourite Theme Tune
1. 2002-present: The current theme tune was deemed to be the best version by voters, with 34% of people choosing it. This version debuted with the 'pink' opening titles at the beginning of 2002. Although the titles were ditched after a few months, the theme tune remained. Read more about this theme tune in our interview with the singer, Janine Maunder.
2. 1985-1989: The original version of the Neighbours theme tune, sung by Barry Crocker, received 24% of the votes. It's still regarded by many as one of the best, and most recognisable, theme tunes of all time, lasting for the first 1000 episodes.
3. 1999-2002: 15% of voters felt that the version of the theme tune sung by Paul Norton and Wendy Stapleton was the best. It debuted at the beginning of the 1999 season, lasting three years, until the end of 2001. Read more in our interview with Wendy.
4. 1992-1998: 13% of you thought that the version of the theme tune which heralded Neighbours early 90s revamp was the best. This version, sung by Greg Hind, lasted for six and a half years and through three different revamps of the show.
5. 1989-1992: When Neighbours hit 1000 episodes, the theme tune underwent a very slight revamp, making it a little quicker and bouncier. 9% of you chose it as your favourite version.