.
Magic Moments > 1986 > Mrs Mangel's Arrival Episode 242

Written by Ysabelle Dean, Directed by Paul Moloney
At number 28, Bradley rushes into the house but doesn't say anything and just goes straight into his room. Andrea is concerned that one of the neighbours has been shouting at his again, so Des starts knocking on the door and telling him to open up. Des says that they're worried and he won't get into any trouble if he just opens the door. Bradley finally comes out and they all sit down on the couch. Bradley says that he has to go away, but Des tells him that it can't be that bad. Des tells Bradley that nobody's going to take him away, and a concerned Andrea suggests that they drop the subject for now.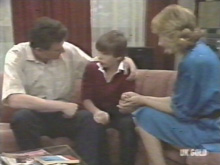 . . .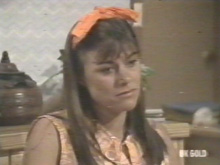 At number 26, Zoe is over for dinner with the Robinsons and Nikki compliments her on her outfit. Zoe says that she bought it on impulse, which is usually when she gets all of her favourite outfits. Zoe then goes to take her serviette, but Lucy bluntly points out that it's Scott's and that Zoe's is on the other side. Everyone glares at Lucy, who says that she was simply trying to be helpful. Charlene then walks in and apologises for being late. Helen explains to Zoe that Charlene is Madge's daughter and she's staying with them as there isn't room at number 24. She then tells Charlene that Zoe is Jim's friend, but Lucy says that she's actually his girlfriend. Charlene tells everyone that her dad has a younger girlfriend too and nobody should be ashamed. Jim quickly changes the subject by complimenting Helen on the soup, whilst Zoe feels extremely awkward.
At number 22, Clive and Daphne are preparing for the pancake contest the next day and Daphne is sad that she's still going to lose the shop, despite all of her plans and her dreams. She tells Clive that she just can't fight Paul Robinson. Clive then tells Daphne that Mike just needs a letter from his dad and he can get government benefits. Just then, Mike angrily hangs up the phone and tells them that his dad won't provide a letter. Daphne asks him if he's just going to give up, but Mike says that it's a hopeless situation.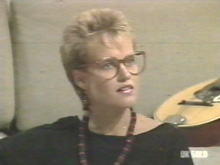 . . .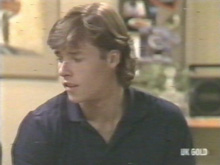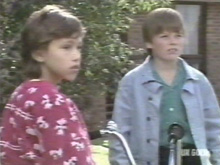 . . .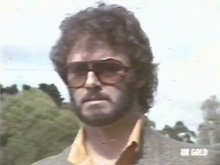 The next morning, Lucy is returning from her paper round when Bradley calls her over and asks her if she's seen a strange man. She says that she hasn't, but he should tell his mum if there's a stranger lurking around. Bradley says that it's not that simple and if he tells his mum, she'll make them leave again. As they're talking, a car pulls up and a man gets out. He tells Bradley that they need to talk, but Bradley runs off inside and the man leaves.
Inside, Andrea finds Bradley moping at the kitchen table and he says that he doesn't want to go to school as he doesn't feel well. Andrea isn't taking him seriously, until he says that he had a bad dream last night about Gavin. He asks what would happen if Gavin found them, but Andrea assures him that that won't happen. Des and Zoe both then walk in and interrupt the conversation. Bradley says he doesn't feel well, but agrees to go to school when Des offers to give him a lift. Des then asks Zoe how her night was and she sarcastically says that it was wonderful.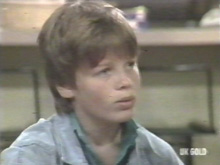 . . .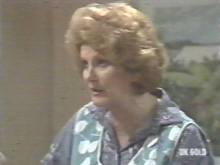 At number 24, Madge is telling the boys to hurry up with breakfast, as she needs the space. Clive and Daphne then arrive, and Clive, Shane and Danny all leave for work. Max complains as Madge and Daphne throw him out so they can use the table for the pies, and Madge explains that she needs the pie money for pay for Charlene's support. Daphne mentions that Mike's dad is refusing to help with his son's support. Madge says that it's typical of a man to behave like that.
Nikki, Charlene, Scott and Lucy are leaving for school, but they decide to wait for Mike. Lucy then looks worried as Scott mentions that he saw Bradley leaving in a car earlier, until Scott explains that it was Des' car. They see Mike and catch up to him and he tells them that his dad is refusing to sign the benefits support letter. Scott then trips and grabs onto Mike's shirt, ripping it in the process. He apologises and Charlene suggests getting some second-hand clothes as replacements after school. Mike is grateful but Nikki isn't happy to see them getting along so well.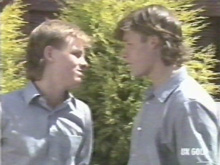 . . .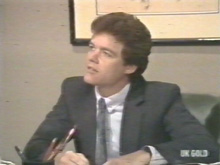 At the Daniels Corporation office, Andrea arrives looking for Paul. Zoe explains that he's just popped out and Andrea asks if he left a cheque for her. Zoe isn't sure, but then Paul returns and gives Andrea the cheque. She says that she'll be in touch and she leaves. Zoe is intrigued, but Paul refuses to give her any information as she can't be trusted. Zoe quickly figures out that Andrea is sweet-talking Jack into selling the hotel, and then she leaves to go to the pancake contest.
At the Coffee Shop, Clive is busy getting everything ready when Mrs Mangel walks in and Daphne is horrified to see her, as all she does is complain. Clive wants Danny to draw the winning tickets, but Danny says that he has nine tickets of his own, and Mrs Mangel tells Clive that it would be against the rules. Andrea comes in and tells Eileen that they need to have a chat about Perth, but they're interrupted by Mrs Mangel, who's complaining to Eileen about Clive bending the rules. Max is busy telling an impressed Jack that the draw was all his idea. Clive then quietens everyone down for the draw, and Danny pulls out the tickets bought by Madge and Max. Mrs Mangel is horrified that both winners are related to Danny and she storms out of the shop, leaving Clive and Daphne worried.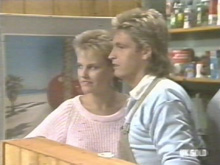 . . .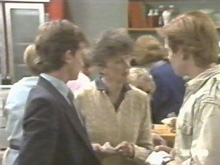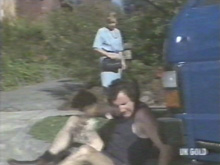 . . .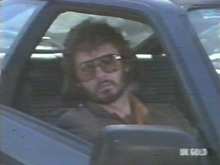 Eileen is walking up Ramsay Street when she spots Max trying to fix his van. She congratulates him on his win and suggests that she lend him a recipe, if he's ever going to be able to compete with Madge. Eileen then fishes for some gossip on Jim and Zoe, before mentioning that Mrs Mangel is going around the entire neighbourhood telling everyone that the contest was rigged. As she leaves to see Des, Gavin sits and watches her go into number 28.
Inside, Bradley and Lucy are doing a jigsaw, when Eileen arrives. Andrea asks the children to play outside, so that she can have a word with Eileen in private. Bradley isn't keen, but Andrea tells him to go. Andrea then asks Eileen who she contacted in Perth, and Eileen explains that she rang every McKinley in the phone book, as that's the name of Bradley's real father. Andrea becomes concerned that Bradley wasn't dreaming and he really did see Gavin, just as they hear screaming coming from outside.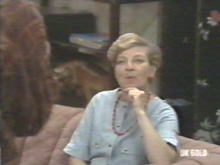 . . .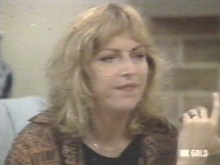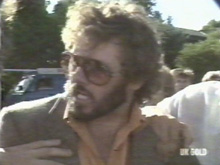 . . .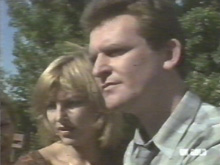 In the street, Lucy is shouting for help as Gavin drags Bradley away. Max and Jim run outside and stop Gavin, as Andrea also appears and tries to get her son back. Gavin says that he has custody and he wants his son. Des comes walking up the street and Eileen is quick to tell him what's going on. Des and Andrea take Bradley, and Des tells Gavin that nobody is taking the boy anywhere.
Summary by Steve