.
Magic Moments > 1986 > Paul, Scott and Mike's Car Crash: Part 2 Episode 392

Written by Tarquin Scott, Directed by Peter Andrikidis
Des is swatting flies in the Coffee Shop, and he says heís taken time off work to paint the nursery. Scott is thrilled that Jim has got him a car. Scott asks Paul to take him and Mike out in the new car. Clive and Sam meet up with Susan and he gives her an engagement ring. Neither of them notice the pram roll away down the hill, and it goes straight into the path of Scottís car. He swerves to avoid it, and the car flips overÖ
Susan is happy to find that Sam is ok, but Clive rushes over to the car. He tells Susan that itís Paul, Scott and Mike, and to take Sam and call an ambulance. He tries to help, and both Mike and Paul seem to be a little bruised but fine. Paul is shocked as he realises that Scott in unconscious. Clive asks Paul and Mike if they can feel any pain in their backs or necks, and when they say that they canít, he helps them to get out. Clive gets in the car to check on Scott, and says that heís breathing, but only just. Paul barges in and says that theyíve got to get Scott out as quickly as possible, but Clive says that they donít know how badly heís injured, and have to wait for the ambulance.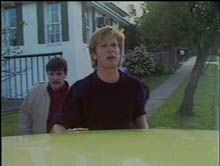 . . .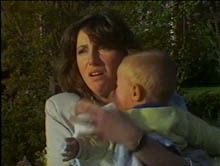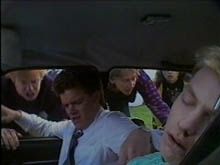 . . .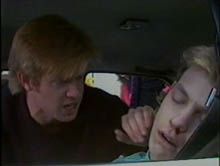 At the Coffee Shop, Des arrives in sunglasses and a loud shirt. Daphne asks him whatís wrong with him, and he says that he was just feeling happy. He tells a really bad joke to the customers, and they discuss ante-natal classes. They then both begin to wonder why Mikeís been gone for so longÖ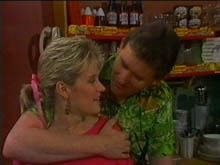 . . .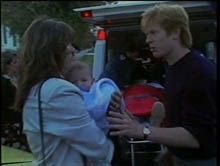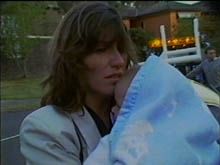 . . .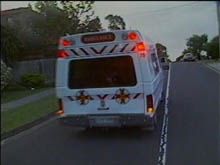 Scott is taken away on a stretcher, and Clive goes with him, giving Susan instructions to tell the Robinsons whatís happened.
At number 26, Lucy is talking about when she passes her HSC, that sheíd like a trip to Paris to see Bradley. Helen tells Jim how surprised Paul was with the car, thinking that Scott didnít really deserve it. Susan then arrives at the door, and says thereís been a car crash. Jim leaves with her.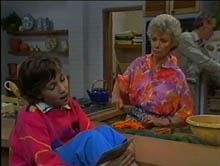 . . .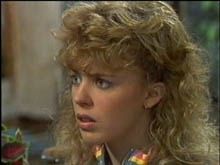 Madge congratulates Charlene for getting through all of her exams. She says that she might buy herself an old car so she can work on it herself. Madge gives Charlene a locket as a present and they get started on dinner. Thereís a knock at the door and itís Helen asking if they can look after Lucy. She explains about the accident and Charlene wants to go, but Madge tells her to just stay at home for now.
Des and Daphne arrive at the hospital and Clive explains that Paul and Mike are fine, but Scott is in emergency surgery with a possible fractured skull. Jim arrives, and Clive explains that Scottís injuries are still being ascertained. He then goes with the doctor, while the others try to work out whatís happened. Clive reappears with Paul and Mike and everyone wonders if Scottís going to make it.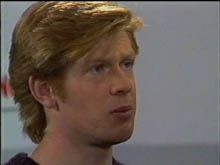 . . .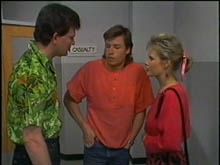 Madge arrives to visit Susan and Sam, and suggests that they wait with her for a while. Susan explains that sheís waiting for Clive to call. Susan admits that all she was worried about was Sam, and she feels so guilty.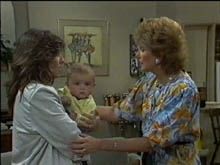 . . .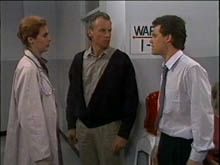 Paul is furious with Clive, as his neglecting the pram caused the accident. Helen tells Paul to stop shouting. The doctor appears and explains that Scott has a punctured lung, and needs Jimís permission for the operation. Clive offers to assist, and Paul says that Clive isnít competent. The doctor says that Clive is more than competent, and they go. Des and Daphne take Mike home. Paul tells Helen that Clive is an idiot.
At number 24, Charlene and Lucy are upset that they canít be at the hospital. Lucy suggests that they get a cab and go themselves. Helen then phones them and Charlene answers, she hangs up and tells Madge and Lucy that Scottís in surgery, but they arenít sure what will happen yet. Lucy is worried that heís going to die, but Madge tells them not to be so silly. Charlene says that she still loves Scott and she wants him to know.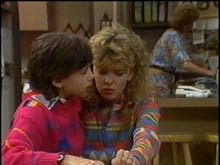 . . .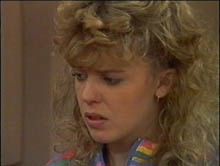 Paul, Jim and Helen are waiting when Charlene arrives at the hospital. She says that itís taken this accident to make her realise how important he is to her. The doctors appear and explain that the operation went well, but itís still touch and go. She says that the family canít see him quite yet, but will be able to when his condition stabilises. Charlene is told that she canít go in as she isnít family.
. . .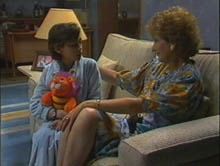 At number 26, Lucy canít sleep and comes out to speak to Madge. She tells Madge about all the fun she had with Scott and she hopes that heís going to be alright. Madge says that heíll be home before they know it. Madge starts telling Lucy stories about when Henry and Charlene were children. She says that one day, Henry disappeared, and she found him jumping out of a tree in the garden, pretending to be Superman, but he wasnít hurt. She finishes the story, and finds that Lucy has fallen asleep on her shoulder.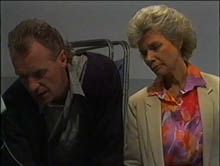 . . .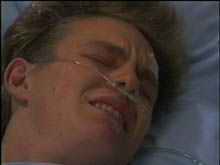 At the hospital, the doctor tells the Robinsons that Scott is off the critical list and is going to be fine. They go in to see him and he asks what happened. They tell him about the accident. He suddenly remembers, and asks if Sam, Mike and Paul are ok. They assure him that everything is fine. He starts crying, and says that he canít move his legs at all. Jim says itís probably just the anaesthetic and to try and move his knee a little, but Scott says that itís no good, heís paralysed.
Summary by Steve