.
Magic Moments > 1986 > The 1986 Season Finale Episode 400

Written by David Phillips, Directed by Mark Callan
Paul and Jim are placing bets on whether Mike or Shane will win the boxing match, and Helen tells them they're being ridiculous, and reminds them that it's Christmas. Both men end up storming out of the room.
At number 26, Paul says he's going to back Shane. Madge walks into the kitchen and tells Helen that Jim was almost attacking her father, but Helen says that Dan was the one who started all of this. She says that Dan, Tom and Max are all the same. Madge reminds Helen of all the problems she's had with Paul, Scott, Laura and Nikki, until Helen then mentions Charlene's name. Madge then storms out, while Paul and Scott stand smirking on the other side of the kitchen and start singing 'Silent Night'. Helen is not amused and tells them to shut up.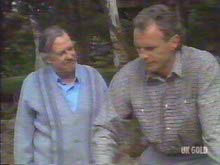 . . .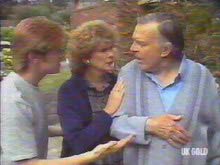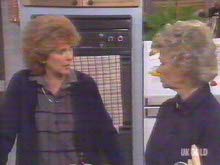 . . .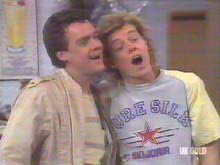 At number 24, Charlene says that this whole thing has gone too far, but then Madge storms in and tells Charlene that from now on, they're having nothing to do with the Robinsons. Clives reminds them all that this is supposed to be a peace conference. He says that the boxing match should never have taken place, and he was hoping that everyone would come to their senses before it even happened. However, before he can even finish, Shane and Mike have started brawling, with Des and Dan holding them apart.
Later on, Clive tells Shane that you can't win a girl with violence, and that he should just shake hands with Mike. Shane says that it's no longer about Jane, it's about family.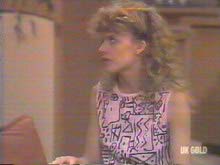 . . .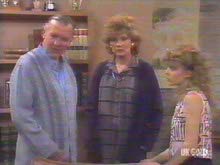 Later, Dan is getting Shane ready for the fight, while Madge says she has to leave for work. Charlene reminds Madge that Paul is her boss, but Madge explains that she has no problem with Paul, as he's backing Shane in the fight. Charlene then goes outside to get the washing in, but Dan suspects she may be going to see Scott. Jane then arrives to thank Shane for calling off the fight, until she realises that it's still on. Jane says that this macho nonsense is doing nothing for her and if it goes ahead, she'll never want to see him again. Dan says that no Ramsay man walks away from a fight, so Jane walks out. Charlene reminds Shane that he's lost the girl, and most of his friends…
At the boxing venue, Des is giving tips to Mike, but he asks him to get off his back. Clive tells Des and Daphne that he's looking through the rule book for some kind of excuse to call off the whole thing.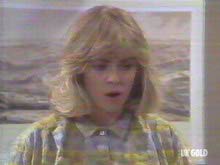 . . .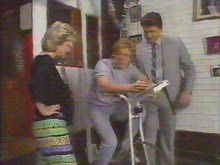 Later on, Dan is telling Shane to take Mike apart, and Charlene accuses Dan of using Shane to win his battles. Charlene suggests that both families agree to shake hands and forget all about it after the fight, a suggestion which horrifies Dan and Madge. Madge says that if Jim and Helen are prepared to apologise, she'll accept it. Clive comes in and says it's ten minutes until the fight.
Mike and Shane get their gear on ready for the fight. Lucy and Helen arrive to watch the fight, and Paul is horrifed to see his little sister there. Jane and Susan then arrive. Jane tells Charlene that her nan isn't too good since her grandad left. Everyone then cheers as Mike and Shane enter the ring. Paul goes to wish Shane good luck, but Dan tells him that he's still a Robinson and that he can clear off. Lucy accuses Paul of being a traitor, so he goes to stand on his own. Scott and Charlene then start having a fight across the ring, and Madge says that she warned Charlene about going out with a Robinson. Everyone starts shouting, and Clive screams at them to be quiet. He reminds them all that they used to be friends and that it's nearly Christmas. Nobody says anything, so Clive gives the bell to Susan and asks her to keep time. Clive says that the round will begin when Susan rings the bell, at which point she does. Clive steps out as he's not ready to start yet, but Mike and Shane both come straight at him, and promptly knock him out.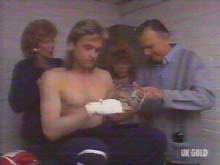 . . .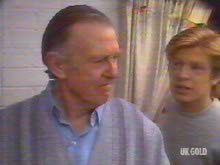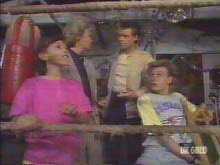 . . .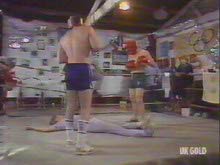 Everyone is gathered around Clive trying to wake him up, when he suddenly says "Ho ho ho"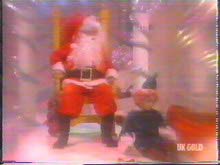 . . .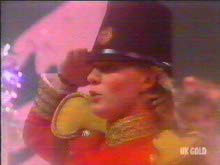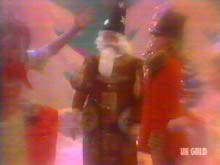 . . .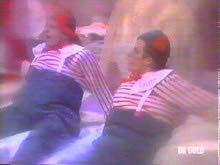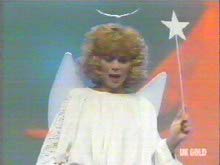 . . .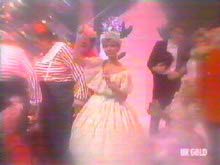 In Clive's dream sequence, everyone from Ramsay Street is dressed as Christmas characters. Lucy the elf tells Santa Clive to hurry up as everyone is waiting for their wishes. Scott the toy soldier asks for a kiss from Charlene the clockwork doll, which he promptly gets, and she tells him to behave himself. Madge the pantomime dame says that she doesn't think the soldier and the clockwork doll should be kissing, so Jim the wizard sprinkles some fairy dust over her to get rid of her. Shane and Mike, as Tweedledum and Tweedledee are arguing over who should get a kiss from Jane, the Christmas fairy, while Dan the clown encourages them to keep on fighting. Helen the Fairy Godmother steps in and uses her magic wand to freeze them all. Santa asks Mrs Mangel, as Mary, Mary Quite Contrary, if there's anybody she'd like him to find, but she says that nobody will be able to find him, as he's disappeared. Des and Daphne, as a Bride and Groom, then come to ask Santa if their baby can be happy and healthy and cute and cuddly. They ask Santa what he wishes for at Christmas, and the Fairy Godmother waves her wand and makes Susan and baby Sam appear. Everyone is happy, until suddenly evil Paul appears and kidnaps Susan, and the whole situation turns to chaos…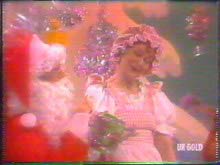 . . .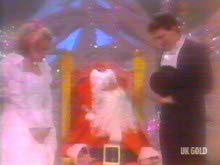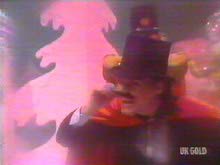 . . .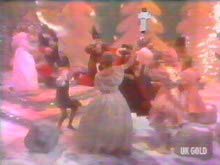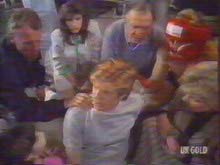 . . .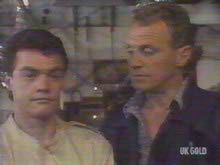 . . .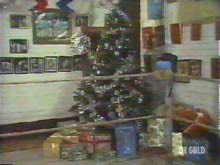 Back in the boxing ring, Clive wakes up and asks who won the boxing match. They tells him that it didn't happen, and Mike and Shane agree that Clive could have been seriously injured, so they shake hands instead. Paul and Jim decide to forget about their bet, but Helen tells them that the Christmas tree could do with some more presents under it anyway. Helen and Madge make up and they all agree to go back to Ramsay Street for a Christmas drink together. Susan asks Clive what he wants for Christmas, and he says that a pair of socks will do. Lucy goes to sit with Dan, and he tells her there are no hard feelings.
To read the next episode in this sequence, click here.
Notes: This episode featured shots of the cast dressed as their pantomime characters over the end credits, instead of the usual house shots.
Summary by Steve