.
Magic Moments > 1987 > Susan's Departure Episode 413

Written by Ysabelle Dean, Directed by Peter Andrikidis
Charlene is at number 22, telling Jane that Sam can't sleep without Clive's teddy, so she takes it. Jane is trying to convince her to leave it, when Clive comes home. Charlene is trying to leave when she drops the teddy and Clives sees it. He realises what's going on and begs with Charlene to tell him where Susan is.
Charlene says that she promised not to say anything, but Clive says that he would tell her if the situations were reversed. He says that he just wants a chance to say goodbye. Charlene says that she'll try to convince Susan to meet up with him. Charlene leaves, and Jane assures Clive that it'll all be ok.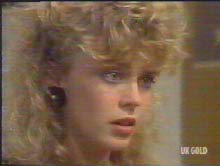 . . .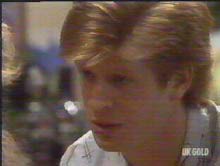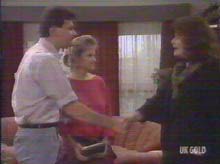 . . .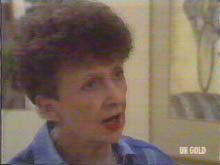 Des and Daphne are going through their bills, while he plays with one of the toys for the baby. Daphne is worried about how big the bills are, and she leaves Des to do them while she makes dinner. The doorbell rings, and it's Matron Mercer from the retirement home where Kelly is working. She explains that she wanted to meet them to discuss Kelly's future. Daphne is worried, but the Matron explains that she hasn't come to complain, and that she isn't sure how they managed without her.
Jane is preparing dinner, while Clive worriedly waits for Charlene to call. There's a knock at the door, and it's Mrs Mangel, who is back from her holiday and complaining about the heat in Queensland. Clive is ignoring her, and looking out the door for Charlene. Nell thanks Clive for looking after Jane and keeping her away from Shane. Jane tells her nan that she's not going home yet, not until she knows that Clive is ok. Clive explains that Susan and Sam have gone, and Mrs Mangel is shocked to hear that Clive and Jane were alone in the house all this time. Clive is furious and tells Jane to get rid of her grandmother, who tells her to gather her belongings. Jane says that she's staying at number 22 for as long as Clive needs her, and the local gossips can think what they like.
Charlene is on the phone to Susan, who thinks it's better if she doesn't see Clive. Charlene explains that it's breaking Clive's heart not getting to say goodbye to Sam. Susan says she's flying out tomorrow afternoon, so she'll meet Clive by the lake tomorrow morning. Madge then takes the phone and asks Susan if she's ok, before telling her to look after herself. She says she'll miss them both, and Susan tells Madge that she'll never forget her. Shane arrives home, and Madge explains that they've just said goodbye to Susan. Shane thinks she'll come back one day, but Madge is doubtful, and says that Fred Mitchell has a lot to answer for, before showing Charlene her decree absolut.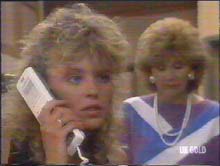 . . .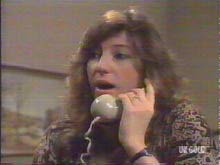 . . .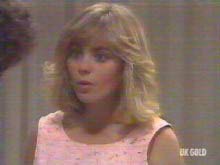 Mrs Mangel is still trying to convince Jane to return home, and says that she feels a migraine coming on. Jane says that she didn't leave her alone after that big fight with Len, and she won't do the same thing to Clive. Nell allows her to stay for one night, and warns her that people will talk. She then says she'll bring over some groceries, before leaving.
Matron Mercer is explaining to Des and Daphne that she had her reservations, but Kelly is wonderful with all of the people in the home, apart from those who give her a hard time. She explains that one man complains all day about everything, and he threw his breakfast at Kelly, so she threw it back at him. Daphne is worried that the man complained about Kelly, but the Matron explains that the residents would cause havoc if Kelly left. She explains that they want Kelly working full-time. Then Kelly arrives home and is concerned that somebody has complained about her, but Daphne and Des tell her about the offer and she's thrilled to accept.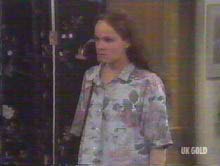 . . .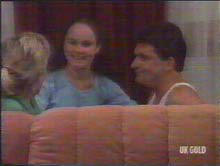 The next morning, Des, Daphne and Kelly are all doing aerobics behind the sofa and Des is complaining, but Daphne warns them that they need to be fit to raise a baby. They all then go to have breakfast and Kelly tells Des that he's not a bad bloke, and thanks him for putting up with her. She says that she's going to really enjoy it at the retirement home, and Des tells her she's always welcome back at number 28 if things don't work out. She reminds him of the letter she found in his pocket, and Des warns her not to say anything to Daphne. Kelly tells him that she'll flatten him if he ever cheats on Daph, and he says he wouldn't do that. He continues to play with the toys while the toast burns behind him…
Shane and Charlene are making pancakes, and Madge gets up. Shane says that Dan phoned and he got home alright, and he ran into an old friend, Harold Bishop, who's going to call in next time he's in Erinsborough. Madge explains that she hasn't seen Harold since she moved to Coff's Harbour. There's a knock at the door and it's Mrs Mangel, who has come to borrow some flour, whilst also trying to get the gossip on Susan leaving. She talks about Jane spending the night at number 22, but Madge says that Clive was probably just grateful to have a friend on hand. Kelly then arrives to tell Shane and Charlene that she's leaving and can't work for Shane anymore. When Mrs Mangel hears what retirement home Kelly is working at, she says she's won't be moving in there during her twilight years.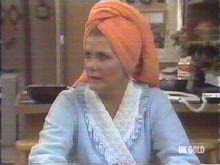 . . .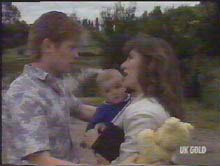 Clive, Susan and Sam meet by the lake, and he promises he won't talk her into staying. She asks him to look after Sam briefly while she goes to do something important. Clive tells her that Paul's in his office, and she explains that she only wants to say goodbye to him, face to face.
At the office, Paul tells Jane to go out and get some morning tea, just as Susan arrives. She tells Paul that she's booked on a flight to Coff's Harbour, and Paul gets annoyed with her, so she goes to leave. He asks her to wait, and says that if she stays, he'll make it up to her, and that he loves her. She says that it's too late, and that she isn't going to ruin Clive's life any longer. She says that he's been hurt enough. She says goodbye and then walks out.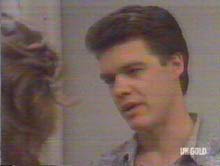 . . .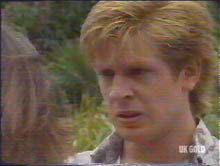 . . .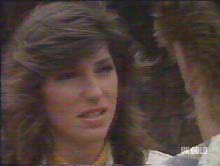 Clive is telling Sam that he should eat pumpkin, and always look like he's enjoying life, even when he isn't. Susan then comes back and Clive asks if Paul talked her out of going. She tells him that nobody could do that, and tells Clive to just forget about her. He says that he always has to look on the good side, and he'll never forget all of the happiness that she and Sam gave her. She gives him back the engagement ring and they kiss, before she leaves.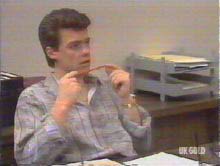 . . .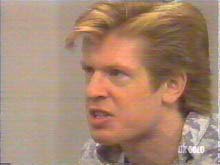 Clive bursts into the office to see Paul, with Jane trying to stop him. Paul tells him he can't just barge in, but Clive says that he's ruined Susan's life, telling him that things were fine until he stuck his nose in. He tells Paul that one day, he'll have trodden on all of his friends and family, and then he'll have nobody to turn to when he really needs them.
Summary by Steve