.
Magic Moments > 1987 > The Ramsay Street Olympics Episode 449

Written by John Upton, Directed by Andrew Friedman
Mrs Mangel starts asking for Paul's understanding, believing that he knows about her speaking to the journalist, and Jane steps in and tries to stop her. However, Mrs Mangel then mentions Derek Morris, and Paul wants to know exactly what's going on…
Mrs Mangel tries to quickly cover, but Paul refuses to believe her and asks why she mentioned Derek Morris. Jane tries to explain, but Paul tells her to keep out of it. Mrs Mangel says that she did have a conversation with Mr Morris, and Susan Cole's name was mentioned. He asks her if she ever thought about the damage it would cause, and she mentions the article that Scott wrote about her, and how she was justified in her actions. Paul wants to know exactly how she was justified…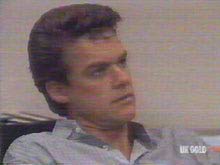 . . .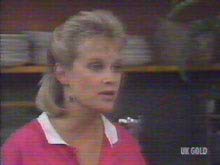 At the Coffee Shop, Daphne is furious that Mike has to pay to train in the public pool, and then Madge comes in and Daphne takes out her frustrations on her. Madge says that Daphne shouldn't take it personally, just because Des can't beat Jim Robinson, and she storms out of the shop.
At number 24, Charlene sees Henry taking bets on the race, and realises that he's backing Mike over Scott to win. Scott then comes in from the pool, and Charlene tells him about Mike being favourite. Scott doesn't think it's anything personal, but Charlene sees it as a family thing. Madge then comes in and starts taking out her anger on Henry, saying that it is personal and she is going to beat Mrs Mangel.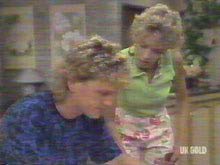 . . .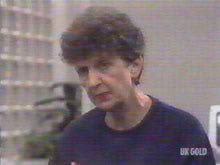 Paul wants to know why Mrs Mangel spoke to the journalist. She explains that she was desperately short of money after her husband left, and Paul had refused her for a pay rise. She says that she's deeply ashamed, and asks for Paul's forgiveness. She tells him how efficient she is at her job, and asks for one more chance, but he says that she bit the hand that feeds, and he has to sack her.
Later on, Paul phones Gail to come to the office. Jane brings a file in for Paul, and says that he should fire her too, as she covered for her nan. Paul is annoyed with Jane, and tells her that he needs to rely on her, but he doesn't believe she'll break his trust again. Paul tells Jane that she'd better hurry up if she's going to catch the race, and she thanks him for his help with the rollerskating.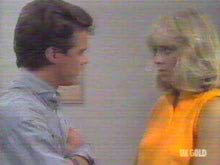 . . .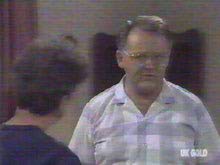 At number 32, Harold tells Mrs Mangel that he's acting as judge for the race. She then breaks down and tells him that she's lost her job. She asks him not to mention it to anyone, as Paul did have his reasons. He tells her that she shouldn't have been sacked, and she thanks him.
At number 26, Jim, Charlene, Scott and Madge are gathered to work out the order of the race. Jim explains that Scott will do the swimming, and pass the baton to Madge, who will cycle around the course, then pass the baton to Charlene. She will skate to the oval, where Jim will finish the relay with a run. He reminds them all that this is to be a friendly contest, and Scott says that it's about time somebody cut Mike down to size.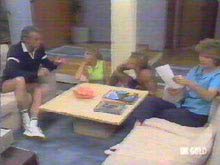 . . .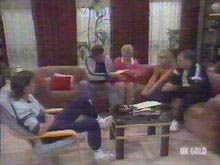 Meanwhile, at number 28, Des, Daphne, Jane, Mike and Harold are discussing their plan. Harold mentions that Mrs Mangel may not be able to cycle, and Daphne offers to replace her. Des won't hear of it, and then Mrs Mangel arrives and says she's eager to do battle with the Robinsons. Helen comes in the back door and reminds everyone of the safety issues with the race. She says that if everyone's sensible, no blood should be spilt.
Charlene brings out a couple of Shane's old motorbike helmets for Madge and Mrs Mangel to wear on the bikes. Madge tries hers for size, and warns Henry not to get carried away with the gambling, as it will lead to trouble. He tells her that half the neighbourhood has turned out to watch. Harold comes in and tells Madge that Helen's idea for the bike helmet was very sensible. He then mentions seeing Mrs Mangel at number 28 and Madge is jealous of him spending time with her. Scott comes running in and says Madge looks like she's ready to kill someone. Henry offers Harold some odds, but he says that he must remain impartial. Scott and Charlene then wish each other luck.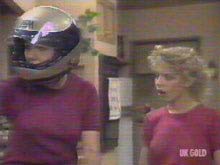 . . .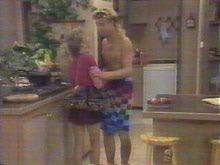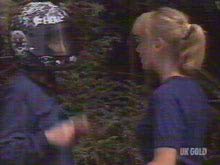 . . .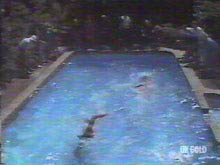 Outside, Mrs Mangel gives Henry $100 to put on her team winning the race. Daphne and Jane offer Mike luck in his race, while Charlene goes to give Mrs Mangel her helmet. She refuses to wear it, until she realises that she has little choice in the matter. Harold checks that everyone's ready, and he begins the swimming race. Everyone cheers on Mike and Scott, but Scott eventually wins the swimming, much to Henry's horror, and hands the baton to Madge, who runs off. Mike then finishes and gives his baton to Mrs Mangel.
Out the front, Mrs Mangel and Madge take off on their bikes. Charlene asks Henry what's wrong, and he says that Scott winning has just cost him a fortune. Jane and Charlene get ready for their part of the race…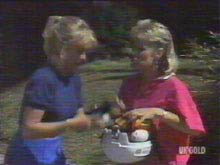 . . .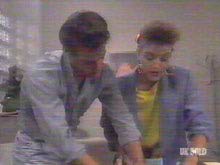 At the office, Gail tells Paul that he picked a fine time to sack the housekeeper, with a group of travel agents arriving next week.
Mrs Mangel pulls into Ramsay Street ahead of Madge, and passes the baton to Jane. Madge arrives moments later and Charlene sets off. Harold tells Madge that there can only be one winner, and she sets off to the oval to see who wins.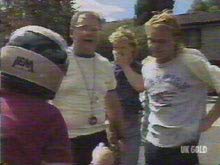 . . .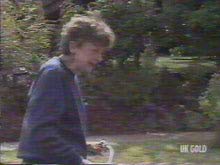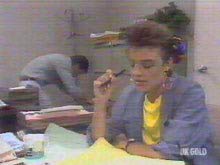 . . .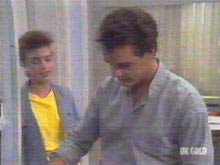 Gail asks Paul why Mrs Mangel was sacked. He explains about her selling the story, and Gail asks if it was true about Paul and Susan Cole. He tells her that he couldn't cope with another commitment after Terri. Gail thinks that Susan sounds nice, and they both vow that they're never going to get married again.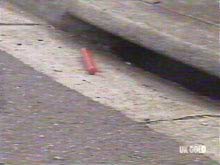 . . .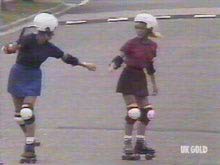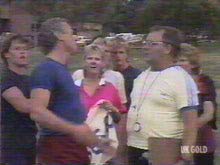 . . .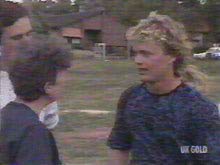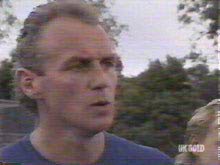 . . .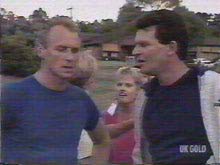 Jane and Charlene are level, but Jane nearly falls over. Charlene goes to help her, but drops her baton and it rolls down the storm drain. Jane gives her baton to Des and he runs off, but Harold stops Jim and tells him that without a baton, he has forfeited the race. Everyone begins to argue about the rules, and Mrs Mangel says that her team has won and she wants her winnings from Henry. He gives her her original $100 and says that there was no winner. She calls him a cheat. Des runs up and asks Jim if there's some kind of problem. He explains that World War 3 is about to break out in Ramsay Street.
Summary by Steve.