.
Magic Moments > 1987 > Paul and Gail's Wedding Episode 513

Written by Ray Kolle, Directed by Chris Langman
Mike, Paul, Helen and Lucy are in the Lassiter's office, and Mike is telling them what he found out about the bone Lucy found - rather than belonging to a dinosaur as Lucy was hoping, they are rather disturbed when Mike tells them that it is a human bone. Charlene is dragging Madge down the High Street to the bridal shop to show her a dress she likes. However when they arrive there, the dress is gone, and the assistant is sorry to say that she has sold it. Madge says it was too expensive anyway, and tells Charlene that they can make a dress just as smart from their own materials - Charlene is crushed...
Back at the Lassiter's office, Paul finishes on the phone to the police. Lucy asks what they said, and Paul tells her nothing - they just want him to bring it in. Lucy says she reckons the bone is from a murder, and that she'll be interviewed by the police and so on. She jokes that Mrs. Mangel murdered her estranged husband Len and buried his body. Jane walks in and Helen tells her to be quiet. Jane tells Helen about the wedding dress fiasco with Charlene, and says how Charlene's no longer in the mood to go shopping with her and Madge, but will still have lunch. Helen and Lucy leave to catch up with them. As Helen goes to leave, Paul tells her to not bring anything special to his dinner party tonight, just herself. He says how it will be a dinner party she won't forget.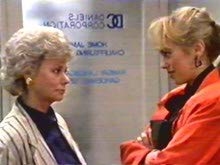 . . .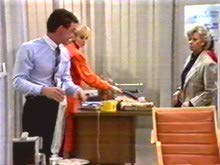 Gail is at Rob's petrol station filling up her car. She invites him to dinner and says it's all arranged. He asks what she's up to, and Gail shrugs him off - she tells him not to be late and drives off.
At 32, Jane enters and finds Mrs. Mangel sitting in a daze. She says how she's trying to come to terms with losing her memory. Mrs. Mangel says that she can only rely on what Jane tells her, and says how she knows Jane has been keeping something back from her about Len. Jane says she didn't know how to tell her, and before she can continue, Mrs. Mangel assumes that Len has died, when in reality he has left her. Unable to break her nan's heart, Jane says he died peacefully. Mrs. Mangel says it must be strange for Jane, seeing her grieve a second time, but she says it's like the first time. The doorbell rings and Helen barges in with some groceries for Mrs. Mangel. When Helen calls her Nell, Mrs. Mangel realises they must have been good friends. She tells Helen she has learnt the news of her husband, and when she says how he has gone to a 'better place', Helen strongly agrees!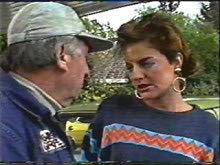 . . .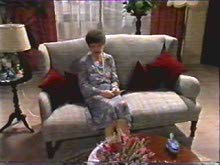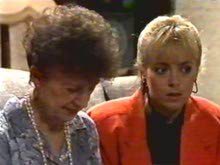 . . .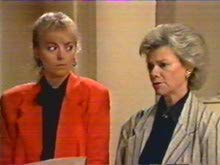 At Number 26, Jim is ironing his shirt for the dinner party at Paul's. Jim complains about having to get dressed up, and they speak about if they've invited them around to discuss their wedding plans. Lucy walks into the kitchen and Jim says she looks too grown up for his liking. Lucy brags about her stupid bone and Helen tells Lucy to hurry Scott up. They speak about Mrs. Mangel, and Helen says she has an awful feeling she thinks Len is dead.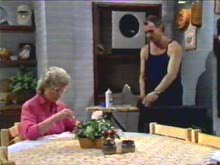 . . .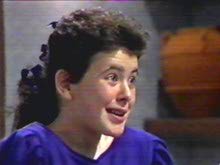 Jane heads out to Daphne's to return a casserole dish. Mrs. Mangel says the casserole was probably given to her out of guilt after she caused her accident. Mrs. Mangel questions Jane when she says she'll be half an hour, and Jane informs her that she'll be spending some time with Mike, her boyfriend, who Mrs. Mangel approves of. Just as Jane goes to leave, Mrs. Mangel asks who Mrs. Mitchell is, as she'll be teaching her her job again - when asks if Madge is her friend, Jane skates around the answer and quickly leaves.
The doorbell rings at 28 and Daphne lets Jane is. She asks after Mrs. Mangel, and Jane says she still hasn't told them about Len, and says she told her that Len was dead. She says she feels awful about it. Daphne says she'll pass the word around about the truth about Len.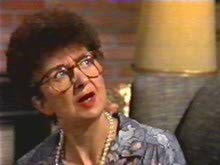 . . .
At 22, Paul comments about how nice Gail looks. Rob arrives and Gail tells him to get ready quickly. Paul answers the door and the Robinsons enter and say hello to everyone. Paul tells everyone that they are gathered here for a wedding.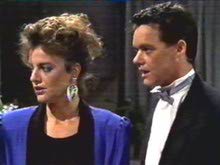 . . .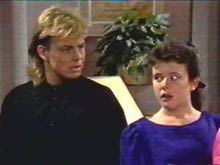 . . .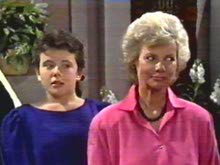 After a while, they are pronounced man and wife, and everyone claps and says how much money they have saved. The Robinsons welcome Gail to the family, and Lucy says they should have had a proper wedding. Jim asks for a word with Paul, and asks how he could have the nerve to do it, saying other members of the family would be devastated. Paul said he didn't want to take the limelight off of Scott and Charlene's big day. They say they haven't got a honeymoon planned as they have too much work to do. Rob goes to get his camera and Jim kills the moment by saying it isn't much of a wedding.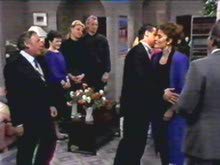 . . .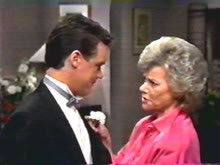 . . .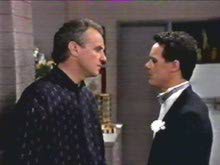 . . .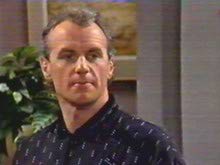 Across the road at number 32, Jane is looking through some records when Mrs. Mangel appears and starts asking questions about Len. Jane says that she should let Harold move back in, and Jane says she is over it. Mrs. Mangel says she'll be able to accept it when she sees his grave. Jane says there isn't a grave as he was cremated, and Mrs. Mangel says he would never have done such a thing. She is appalled when she finds out his ashes were scattered. When asked where they were scattered, Jane tells her under the rose bush, and Mrs. Mangel says how Len hated that bush. Jane says he changed his mind and Mrs. Mangel accepts her word. She says he's out there in the front garden.
At 26, Lucy heads off to bed and Jim, Scott and Helen retire to the kitchen. They all speak about how shocked they are, and how they don't know how to explain it to Julie and Hilary. Jim says he's disgusted with Paul and Helen says she hopes they're happy and goes to bed.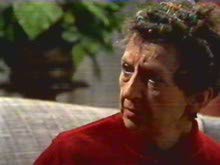 . . .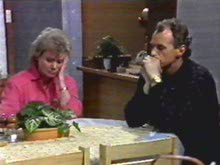 At 22, Rob leaves and says goodbye to Paul and Gail - he says he's so happy they're hitched, and has a moment alone with his daughter. He asks if she's over Jamie's death, and she says she is. He hopes they have a wonderful life together and leaves. Gail says she'll head up to bed, and says she's made up Paul's bed in the spare room. After she leaves, Paul takes the flower from his suit and drops it in Gail's disgarded glass of champagne. He sarcastically toasts himself a Happy Honeymoon.

. . .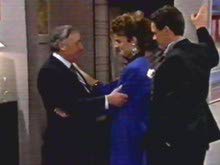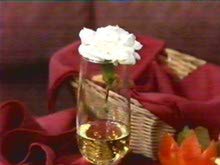 . . .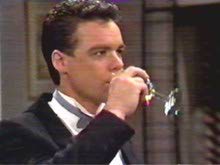 Summary by Billy