.
Magic Moments > 1987 > Scott and Charlene's Wedding Episode 523

Written by Ray Harding, Directed by Roy Hardy
Hilary knocks on Paul and Gail's bedroom door with a tray full of breakfast for them, and is confused when Paul emerges from the spare room. Paul quickly comes up with an excuse and tells Hilary he and Gail spilt some coffee on the bedclothes in their bedroom and stayed in the spare room instead. But just as Hilary is fretting about the stained bedclothes, Gail comes out of the original room, and Hilary is shocked...
Hilary is furious at being lied to, and runs down the stairs, with a panicked Paul and Gail in pursuit. Hilary hints that she finds it strange for two newlyweds not to be sharing the same bedroom, and Gail announces that she thinks its time Hilary was told the truth. Paul is shocked by Gail's apparent intention to confess all to Hilary, but is relieved when Gail tells Hilary that she and Paul had a row the night before about Rob, which led to them sleeping in another room. Paul and Gail fake another argument, and Hilary breaks it up, warning Paul to respect Rob - despite his faults - because he is Gail's father. Hilary then demands the pair sort things out while she takes the bridal bouquets next door, and after she leaves, Paul and Gail laugh off the situation, before tucking into the breakfast Hilary had prepared.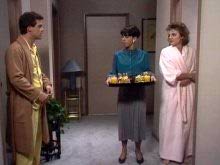 . . .
Over at the Robinson house, final preparations are underway for the wedding, with Jim and Mike setting up tables in the living room for the reception, Scott running around the house in a state of panic and Lucy searching for Emma's pet mice, Victoria and Albert. Lucy wants to pluck her eyebrows for the wedding, but Jim forbids her. Helen intervenes, and allows Lucy given the special day that's in it. Hilary calls in with Lucy's bridesmaid bouquet, and informs Helen and Jim about Paul and Gail's row. Jim prepares to go next door and have a word with them, but Hilary assures him she had sorted it all out, before heading next door to No. 24.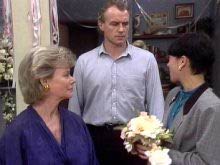 . . .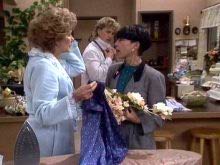 The Ramsay house is in a similar state of frenzy. Henry complains about Charlene clogging up the bathroom, but Madge is more concerned about Henry racing up the altar with Charlene. Henry tries to make Madge relax and stop worrying. Hilary walks in the back door with the bridal bouquet, and immediately insults Madge by classing her hair as 'adventurous'. Dan enters the kitchen, demanding breakfast, and Edna and Charlene emerge hot on his heels. Charlene has a ladder in her panty hose, and Madge sends Edna to fetch a clean pair from her drawer. Henry teases Charlene about the skin cream on her face, and when Charlene keeps picking at food, Hilary tells her its nerves, which prompts Charlene to check for a return of her rash again. Jane arrives over, and Edna presents Charlene with a blue garter. Charlene thanks Edna, and declares that the wedding will be 'the best ever.'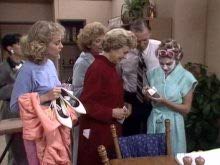 . . .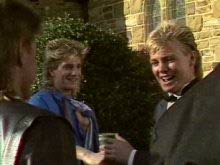 Scott pulls up in the grounds of the church with Mike, Paul and Jim, and is surprised to be greeted by a group of his old friends from school. After a quick catch-up with them, they all head inside, and Mike explains to Scott that he and Jane arranged for the old school gang to come to make up for so many of Charlene's family missing the big day. Scott thanks Mike, before nervously going into the church.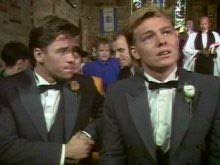 . . .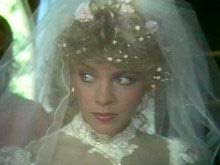 Inside the church, most of the guests have taken their seats, and Scott starts to fret about Charlene not showing up. Paul and Mike assure him that she will be there, and Reverend Sampson then invites everyone to stand up. The door of the church opens, and Charlene walks in on the arm of Henry. As the wedding anthem, 'Suddenly', begins, Henry walks Charlene up the aisle, followed by Jane and Lucy, and the service begins. There are shots of all the family and guests looking on, including a knowing look between Paul and Gail. As Suddenly reaches its drumbeat fuelled climax, Scott and Charlene exchange their vows, and after Reverend Sampson pronounces them man and wife, they kiss.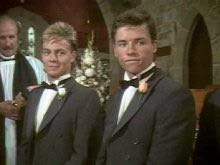 . . .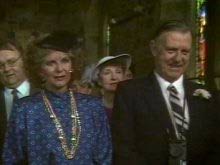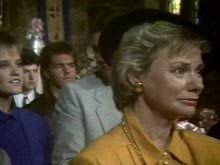 . . .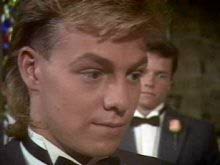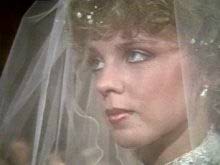 . . .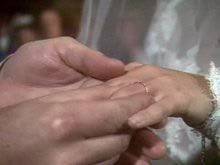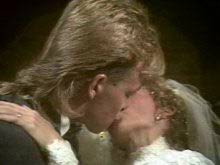 . . .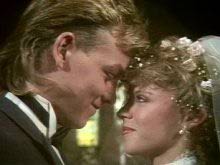 The reception begins back at the Robinson house with Dan popping open a bottle of bubbly. Edna urges Dan to lay off the drink, and he insists he's only filling the glasses. But after Mrs. Mangel declines his offer of a glass, Dan drinks it himself. Des and Daphne congratulate Scott and Charlene. Jim tells Scott he is proud of him, and then tells Charlene he is delighted she wore Anne's cross, before welcoming her to the family. Daphne thanks Mrs. Mangel for calling off the law suit, but realises that Des settled out of court when Mrs. Mangel comments that her solicitor didn't think $1000 wasn't enough compensation. Hilary tells Gail she noticed Rob was missing from the service, and Gail tries to excuse him by suggesting he was probably busy at work.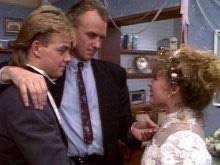 . . .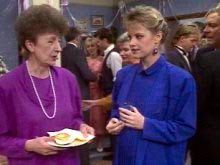 Harold finds Madge crying in the kitchen, and comforts her as she laments 'losing' Charlene. As Harold hugs Madge, Mrs. Mangel interrupts in a disapproving tone to announce the telegrams are to be read out. Madge apologises to Harold for upsetting his landlady, but Harold reminds Madge that they were engaged. Madge points out Mrs. Mangel probably wouldn't remember that.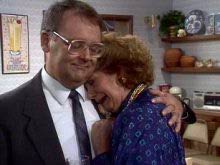 . . .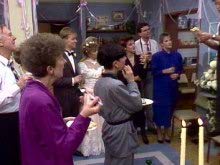 Everyone gathers in the living room to hear Mike, Paul and Henry read out telegrams from Max and Maria, Rosemary and Clive. Hilary is horrified by Clive's leading reference to Bertha, and Mike has to explain that Bertha is just a car. As Jim makes his speech, Daphne pulls Des aside and lets him know that she knows about the out of court settlement. While Jim is in the middle of his speech, Dan spots one of the missing mice under a table, and gets under the table to pick it up. He accidentally hits off Mrs. Mangel's foot, and she is outraged, accusing him of groping her leg. Dan protests that he was looking for the mouse, but an argument erupts between most of the guests, and in the midst of the pandemonium, Scott and Charlene welcome each other to their families.
Scott and Charlene are seeking refuge from the fuss in Scott's bedroom, and Gail comes in to give them a gift from Rob. Charlene opens the envelope, and is thrilled to discover it's a four-year apprenticeship at the garage.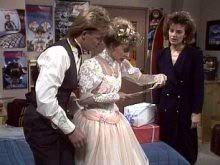 . . .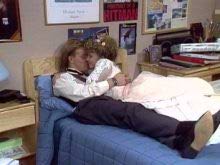 Later, Scott and Charlene are kissing on their bed, and hear giggling. They realise Paul and Lucy are at the door looking at them, and stop. Jane comes in to tell Charlene its time to get changed, and they leave. Paul brings the bags out to the car, leaving Lucy alone with Scott. Lucy tells Scott she will miss him and things won't be the same without him at No. 26. Scott cheers Lucy up by giving her his skateboard, and she vows to be able to ride it properly before he gets back from his honeymoon.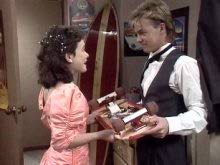 . . .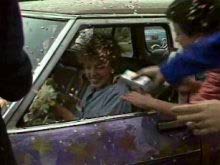 Everyone is out on the street waiting to see Scott and Charlene off on their honeymoon. The happy couple emerge from the Robinson house, and get into a foam covered Bertha. Madge and Charlene exchange a poignant look, before Scott and Charlene start driving off. Madge realises Charlene forgot to throw her bouquet, and yells after her. Charlene gets out of the car and throws it over to the crowd - and Mrs. Mangel catches it. She turns around and looks coyly at a worried Harold, while Scott and Charlene drive out of Ramsay Street.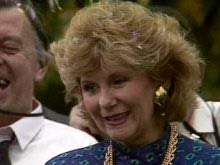 . . .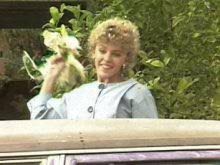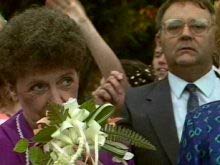 . . .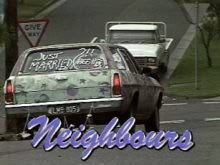 Notes: Scott and Charlene's Wedding Theme, Suddenly was performed by Angry Anderson, and went on to become a Top 10 hit in the UK. Kylie Minogue apparently selected the piece for the episode. The wedding was recorded at the Holy Trinity Anglican Church of Doncaster, a location previously used for a wedding on the Grundy soap Prisoner.
Comment: Scott and Charlene's wedding episode is considered by many to be the defining episode of the series' heyday in the late 1980s. The episode featured the entire cast, demonstrates the programme's unique penchant for humour and showcases the many classic characters of that period, such as Mrs. Mangel, Madge, Harold, Paul, Des and Daphne and Henry, at their best. It was also the climax to the long-running Scott and Charlene relationship which viewers had taken to their hearts, and the off-screen romance between Jason Donovan (Scott) and Kylie Minogue (Charlene) only served to whet the viewer's appetite even further. Put simply, this episode epitomises Neighbours.

Summary by Moe. Captures by Karl