.
Magic Moments > 1987 > The Lassiter's Video Episode 563

Written by Rick Maier, Directed by Paul Moloney
At the office, Paul tells Gail about Rosemary's idea for a promotional video, and that she'll be doing it. Jane stares at herself in the mirror, and then at a photo of herself, before removing all of her make-up, changing her clothes and putting on her old glasses...
Jane comes out of her bedroom and Amanda is calling her from the lounge room, telling her that the restaurant booking can't wait. Jane appears infront of her mother, who tells her that she looks much better now and her clothes are a lot more suitable for her age. Jane tries to talk to her mother, but the taxi arrives…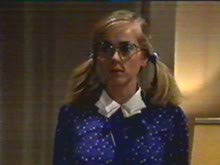 . . .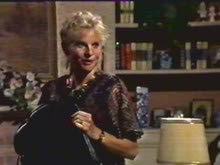 Jim and Helen discuss his plans for a new workshop business. Helen talks to him about Beverly and how he misjudged her at first, and says that she's delighted for him. Jim talks about his trip and says that Bev has some secrets. He explains that they were out shopping in Adelaide when Bev saw a mysterious man and pulled Jim in the other direction. Gail arrives and tells Helen about the Lassiter's video, asking if Helen will appear to promote Home James. Jim suggest that Helen will be discovered as a movie star…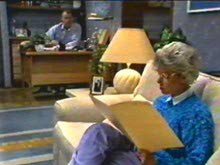 . . .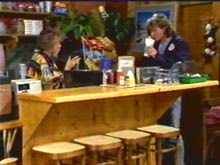 At the Coffee Shop the next day, Charlene gives Henry a milkshake, when Harold comes in, all dressed up for the video shoot. Harold tries to brush it off, as Charlene and Henry take the mickey. Henry then reminds Charlene that she's got her favourite outfit stashed out in the kitchen, until she notices that he's advertising his gardening business on the back of his overalls. Harold reminds Charlene that Eileen is helping out today and is rather despondant after Mrs Mangel's heart attack. Suddenly, Eileen bursts in going on about what a wonderful day it is and how happy she is to be alive…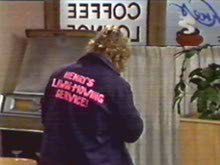 . . .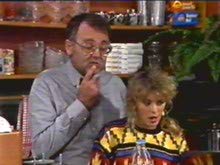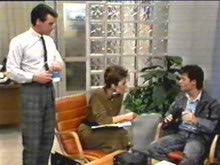 . . .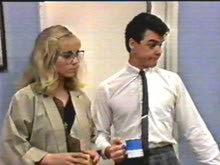 Gail and Mike are at Lassiter's and she's running through what and who they're going to film. Paul says that he doesn't want this to mess with the running of the hotel. Gail suggests that Jane appears in the video, but then Jane arrives with her new look and everyone seems surprised. Jane tries to brush it off, and then disappears into the office. Gail says that they have a problem, but Paul suggests that Gail could appear instead.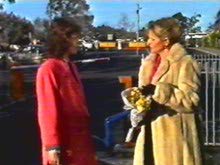 . . .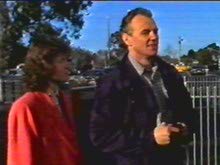 In the hospital car park, Amanda bumps into Beverly, who reports that Mrs Mangel is showing a great deal of improvement at the moment. Amanda asks if this means that she'll be released soon, and Bev explains that Nell will still need a lot of care, and certainly won't be able to cope with any excitement for a good deal longer. Amanda asks how long this will take, and Bev explains that she'll just need to be patient. Jim arrives and Amanda asks him if he's following her, but he says he came to see Bev. Amanda goes inside, and Jim asks Beverly out to lunch with him.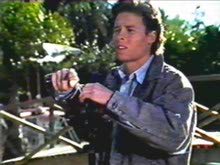 . . .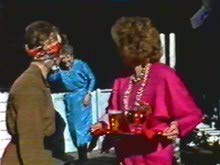 Madge and Eileen are outside The Waterhole preparing for the shoot. Mike tells Eileen that she's in the way. Gail begins introducing the pub and Madge starts talking, but calls it a 'balloon' instead of a 'saloon', so Eileen comes rushing on and tells her not to panic. They start shooting again, but while Madge is talking, Eileen 'accidentally' appears in the background of the shot. They have to start again…
In the office, Paul is searching for a file when Henry appears, asking if they need any help with the video. Paul tells him to see Gail about it, and Henry says that everyone wants a piece of the action. Jane appears and Henry says that while everyone else is all glammed up, Jane is looking like that. Paul tries to stop him, but Jane tells Henry to keep his opinions to himself.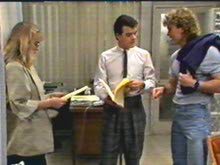 . . .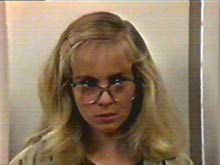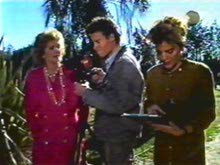 . . .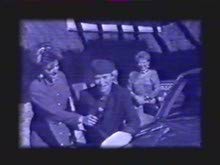 The video shoot continues, and Madge is trying to hurry Helen along, saying that they can't all be professionals. Gail introduces Helen and Helen starts talking about the Home James service, until Eileen once again wanders into shot. Gail goes to talk to her, and Eileen says she's adding authenticity by making the hotel look busy. Gail tells her that if she wastes any more time, she'll take no further part in the filming.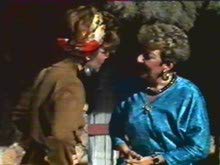 . . .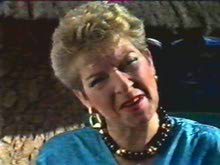 Gail walks over the bridge, talking about the hotel facilities and as they end the shot, Eileen makes a lot of noise while picking up some cups outside the Coffee Shop. Gail prepares to do the Coffee Shop shoot, and Jim and Bev sit outside for lunch, making sure that they appear. Henry tries to talk Mike into letting him appear in the video. Meanwhile, Eileen takes Jim and Bev's order, and Bev asks Eileen if she can interview her for a university paper she's preparing. Eileen is very flattered, and agress to it. However, she gets a nasty shock when Bev tells her that the subject is the ageing process. Eileen rushes off, saying that she's far too busy to help, while Jim and Bev both burst out laughing.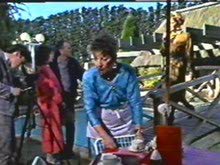 . . .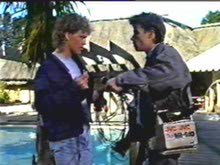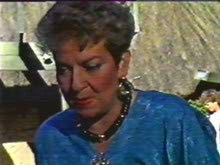 . . .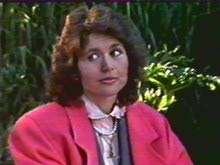 Inside the Coffee Shop, a lady goes to pay for her lunch and tells Harold that she'll be back tomorrow, as she's staying at the hotel for another couple of days. As she leaves, another woman comes in and Harold says he'll be right over. Suddenly the coffee machine explodes and Eileen gets soaked, and is worried about the imminent video shoot. Harold offers to appear in her place, but she says she'll do it. Jane and Amanda come in, and Jane introduces her mum to Eileen. Harold starts sneezing and blames it on Amanda's fur coat. She insists that it's fake, and she'd rather keep it with her, but they hang it up so it's out of the way.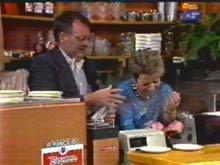 . . .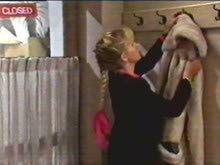 Gail arrives at the office, saying that she's exhausted and she recounts all the problems she's had. She then says she wants to film Paul for the video, but he's reluctant. Gail says that they currently have nothing more than a home movie, and it needs something extra to impress Rosemary. He eventually agrees and she tells him he won't have to wear too much make-up, before leaving…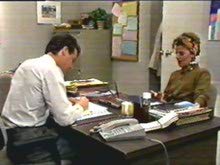 . . .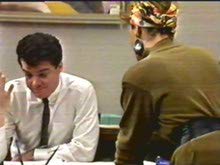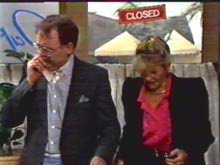 . . .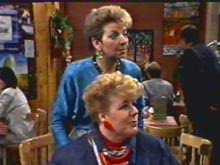 In the Coffee Shop, Amanda suggests that Jane takes some time off to help look after her grandmother. Harold comes over and Amanda asks for the bill, as he walks off, Amanda notices that her coat is missing. Harold insists that there'll be an explanation, and Amanda then notices a woman's bag and tries to look inside. The woman is reluctant, but when they look inside, they find that she's hiding a dog. Jane starts to laugh, until her mother tells her that it's not the coat she's worried about, but the fact that she sewed all of her money into the lining…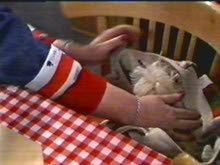 . . .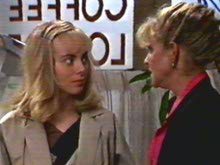 Summary by Billy