.
Magic Moments > 1987 > The 1987 Season Finale Episode 637

Written by John Davies, Directed by Gary Conway
Shane has a go at Paul, saying how stupid he is to let Gail walk out of his life because he doesn't want to tell her how he feels about her. Paul insists that Gail's feelings for him aren't reciprocated and consequently sees no point in telling her that he is in love with her. Scott says that Gail isn't like Terry or Susan, and that he knows she loves him, but that she's scared too...
At the Waterhole, Harold, Jim, Madge and Helen are busy decorating the joint for the Christmas party due to take place that evening. Madge and Helen chat about the history of the country and Henry joins them and larks about. When he insults Helen, Madge shoves a lemon in his mouth. Madge hands Henry some mistletoe to hang up and says he may never know his luck -- Sally may turn up. Henry says he hopes she doesn't, and when Helen asks why, he starts to tell her before Madge shuts him up.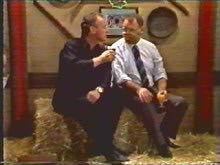 . . .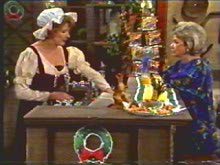 Lucy and Mike are outside, and Lucy tells him that the decorations are now all up, and they wonder why no one has wanted to buy the "almost pure bred" puppies they are selling. Lucy makes Mike assure her he'll find good homes for them. Henry joins them and when Scott walks along, Henry tries to sell him one of the puppies. Scott looks distracted and asks Mike to hand out some calendars for him. Mike says he can't as he has to try and sell the puppies. Scott manages to lumber the job on Henry and rushes back to Ramsay Street. Mrs. Mangel and Eileen then arrive in their bowls attire and snap at Henry when he makes fun of their clothing. They head inside as Paul approaches Henry and Mike and says that with Mrs. Mangel and Eileen selling raffle tickets, Mike and Lucy selling the puppies and Henry selling the calendars, it'll be more like a fete than a grand re-opening.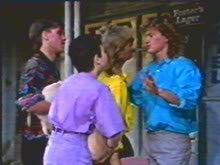 . . .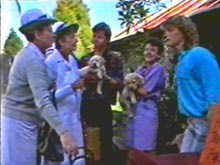 At Ramsay Street, Gail answers 22's door to Scott. She says if he's come to reconcile her and Paul, he can forget it. Gail has packed all her belongings and asks if she'll be at the party. She says she can't attend as she has an early flight to catch. Scott offers to drive her to the airport, and when she says that means he won't be able to make the party, Scott tells her that his family will be there tomorrow, Gail won't. She says she'd love him to drive her. They hug and she says she loved having a younger brother. Scott erupts and tells Gail that Paul said he loved her, but she shrugs it off as Scott making an excuse for her to stay. She asks Scott to head back to the pub as she still has some packing to do. He says he'll pick her up later and heads out. Once he is gone, Gail cries.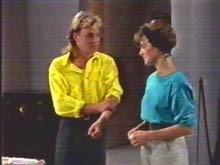 . . .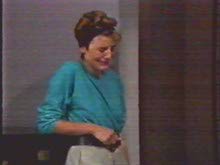 At the Waterhole, Eileen is trying to sell raffle tickets to Jim and Beverly. He gives in and hands Beverly some money to buy some and heads to the bar to get some drinks. On his way to the bar Paul approaches and jokes around with his dad. Jim snaps at him saying Christmas is ideal to spend time with the people you love - referring to Gail. Des and Malcolm enter after Paul storms off, and Eileen clams up and shrinks away to hide from him. Eileen calls Des over and asks why he's invited. She says she doesn't like him being there, to which he responds 'tough'.
. . .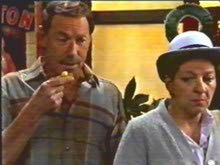 Back outside, Mike says to Lucy that they should have asked Mrs. Mangel to help them sell the puppies. Lucy moans that she wants one, but that the house hasn't the room as Madge and Henry will be moving in with them. Scott arrives and tells Mike about his encounter with Gail. Lucy says they're dumb for not admitting their feelings. Mrs. Mangel hobbles over and tries to sell Scott a ticket - he cuts her off mid-sentence and sprints back to Henry's car. Mrs. Mangel remarks that she hopes he's run off because he has an appointment at the hairdresser's.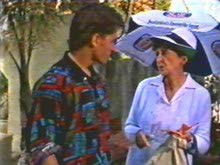 . . .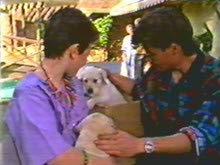 Mrs. Mangel enters the Waterhole and Eileen beckons her over, telling her that Des has bought Malcolm to the party. She thanks Mrs. Mangel for being there, as she needs the moral support. Helen stalks over to Paul and chats to him about his marriage with Gail. Henry makes fun of Mrs. Mangel and Eileen as they're standing under the mistletoe together. Henry coaxes Harold into giving Mrs. Mangel a kiss. He goes over and charms the socks off her. Malcolm tells Harold that 'Hurrican Eileen' is jealous. Eileen snaps at Mrs. Mangel for allowing herself to be canoodled in public. Mrs. Mangel says that she's just jealous - Eileen cuts her off and says they have to get prepared for the bowls game. As she picks up her bowls bag and swings it around, it hits Malcolm, who was on his way over to kiss her, and strikes his shin. He doubles over in pain, and Eileen desperately tries to tell Des it wasn't her fault, but one annoyed look from Des is enough to shut her up.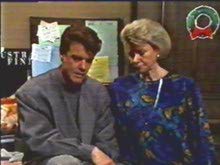 . . .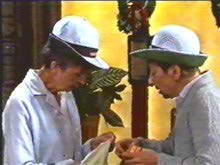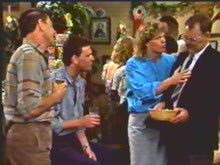 . . .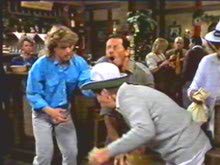 Back at Ramsay Street, Scott goes to pick up Gail. She asks him to carry her luggage for her as she takes on last look around and quickly gets a photo of her and Paul together.
Over at 28, Malcolm, Des and Eileen are joined by Beverly, who tends to his leg. She says his arthritis has made the knock a lot more painful. Beverly tells them he'll need looking after, and when Des says he is unable to, Eileen is horrified to learn she has to nurse him back to health.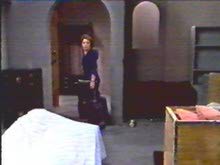 . . .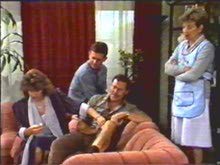 Scott has driven a shocked Gail to Lassiter's instead of the airport, saying she has to say goodbye to the others. She says she's too ashamed to face them. She eventually gets out the car and says she hopes that he enjoys putting her through all this.
Back at 28, Eileen puts an ice pack on Malcolm's leg. They start bickering and Eileen says they have to put up with each other for Des' sake. Eileen starts about making dinner, and Malcolm asks if she'd consider making one of her apple crumbles. She bluntly says she won't be making one, as she had no intention of baking. However, when Malcolm fakes a twinge of pain in his leg, she caves in and says she will.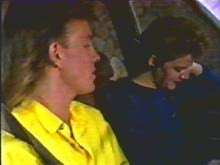 . . .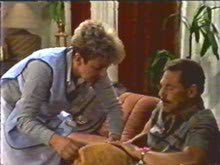 At the Waterhole, Mrs. Mangel is complaining to Helen about how she had to miss her bowls because of Eileen. Henry and Tony Romeo start arguing about Sally being at the party, and Helen interferes and forces them to shake hands, as it is Christmas. Gail and Scott enter and Gail says she had to say goodbye to Helen, and that her feelings for the Robinsons was never an act. Paul emerges from the back room and Scott says she has to say goodbye to him. She storms out, and Scott says he blew it again. Paul heads outside to speak to her and says to her that he wants her to stay and that he loves her. They hug and she says she loves him too.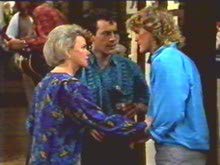 . . .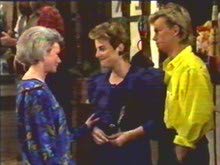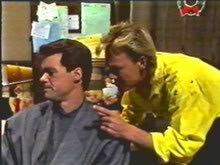 . . .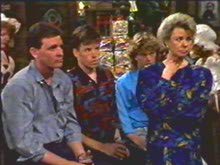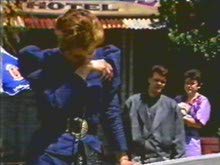 . . .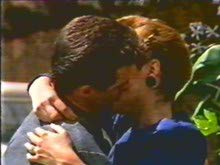 Inside the Waterhole, Jim is giving a speech about how much he appreciates everyone lending a hand for the party, and says the drinks are on him - but on one condition: that everyone puts in their car keys. Lucy comes in and tells him about Paul and Gail -- Jim announces to everyone that they are back together. Everyone cheers and Jim wishes everyone a merry Christmas. The residents all start docey-doeing around the Waterhole.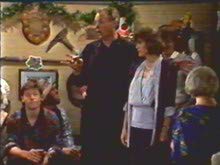 . . .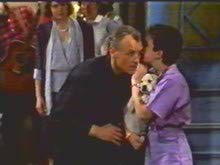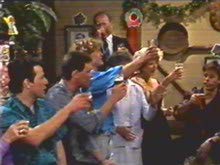 . . .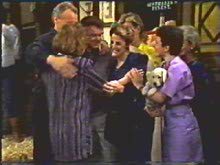 Notes: At the end of this episode, the credits scrolled over the last scene, rather than showing the standard shots of the houses, and the traditional theme tune was omitted.
Summary by Billy