.
Magic Moments > 1988 > Charlene's Departure: Part 2 Episode 777

Written by Ysabelle Dean, Directed by Tony Osicka
Madge is bringing Henry's dirty washing into the kitchen and he tries to stop her. As they're arguing, a gun drops out of the washing and Madge demands to know what's going on.
Harold says that they're waiting for an answer, and checks the gun to see if there are any bullets in it. Henry says he found it in Mrs Mangel's backyard and didn't know what to do with it. Madge says that it can't belong to Mrs Mangel, as if she was going to kill someone, she'd put arsenic in their tea. Madge says that Henry can't take it to the police, as he already has a record, but he either takes it there or to Mrs Mangel, but it's not staying in the house.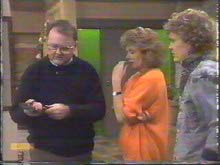 . . .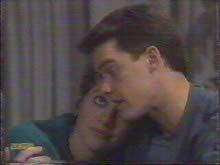 At number 22, Paul suggests to Gail that they take a break from the IVF, but Gail flies off the handle. Paul says it would be worth it if Gail kept her sanity. Gail wonders if she would ever have succeeded, and says she can't give up now.
At number 26, Beverly is on the phone to Hilary, explaining that she can't visit, as she has to go to New Zealand. Jim keeps looking at his watch, so Bev says she has to go. He admits that he'll be phoning her every night while she's away though. Beverly says she feels bad, but this conference in New Zealand is very important to her. She remembers how she offended all the neighbours with her research on the ageing process.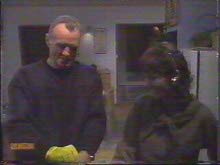 . . .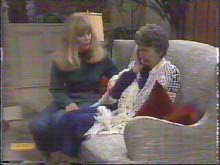 At number 32, Bronwyn suggests to Jane that they go cycling the next day, but Jane says she has to see Charlene off and has some housework to do. Mrs Mangel asks if she can come, but Jane says it's probably best that they stay home. Bronwyn goes to answer the door, while Mrs Mangel says how lovely it is to have a quiet evening in with the girls. She is stopped in her tracks, however, when Henry walks in. He explains how he found something in her yard with his metal detector, and Nell tells him to hand over her rightful property at once. When she looks in the bag, she is appalled and Jane has a look too. She accuses Henry of playing a sick joke, but he says it isn't, and asks Nell if she knows who owns the gun. Jane tells Henry to leave, while comforting her grandmother.
At number 24, Henry is convinced that Mrs Mangel recognised the gun. Madge wonders if she buried it herself, and that perhaps it belonged to Len. Harold tells them to stop making up gossip, and he is sure that however the gun got there, it had nothing to do with Mrs Mangel. Henry suggests that Harold calls in there to find out if Nell has taken the gun to the police, and if not, there's something suspicious going on. Jim then arrives, and tells Henry that a graffiti artist has ruined the fence at the garage. He asks him to re-paint it the following day.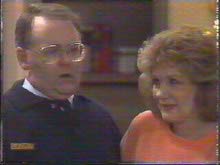 . . .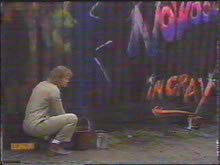 At the garage the next morning, Mike and Henry are painting the fence, and Henry accuses Mike of slacking off while he talks to Jamie. Henry reminds him that he's going to mow Des' lawns for nothing. Bronwyn then arrives and offers to help out. She tells Henry that he doesn't really deserve it after what he did last night. Henry insists that Mrs Mangel is the one in the wrong here, and that Harold is going to find out all about it.
At number 32, Harold arrives to see Mrs Mangel, and Jane admits that she's furious with Henry. Mrs Mangel suggests that Madge put Henry up to it, while Harold defends her and says that he'll take the gun to the police. Nell refuses and says she won't have the police snooping around, as her health isn't up to it. She says she's got the gun in a safe place and goes back to her room, while Harold leaves.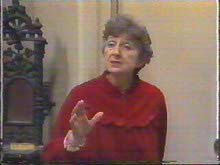 . . .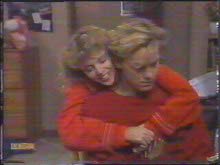 Scott is in his room, looking at a photo of Charlene and listening to their song, when she sneaks up on him and tells him they'll only be apart for a short while. She says that the house will be great by the time he arrives to stay and they can talk every night. He says he loves her heaps, then Madge walks in with some washing. She apologises and says she won't come in again. They start kissing.
At number 26, Beverly arrives home and says that Gail is depressed, but coping. She comments that the house is very quiet and then mentions that she's about to start a full-scale row. She explains that this family has one woman who wants a child but can't have one, and another who also wants a child, but has an unsupportive husband. Jim says that they've discussed it, but Bev says that this time, they're going to resolve it.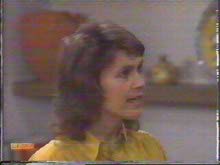 . . .
At the garage, they've just finished the painting and run inside to shelter from the rain. Henry goes to take Jamie to the car, while Mike asks Bronwyn what's wrong. Bronwyn says she's very fond of Jamie, but she's not trying to replace anyone within the family. He says he's going to see Charlene off, then he'd like to take Jamie and Bronwyn for an ice cream.
Charlene is finishing her packing, and Madge says that Scott can bring up anything she leaves behind. She also gives Charlene her hairdryer to take. Madge is starting to cry and Charlene hugs her, saying that she can't believe all the people she's leaving behind. Harold and Henry appear from the bedroom, followed by Scott, and Harold presents Charlene with a cheque. She and Scott are thrilled.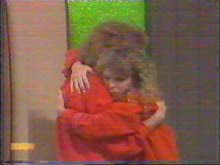 . . .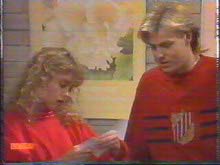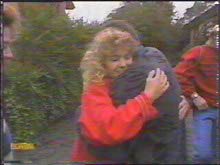 . . .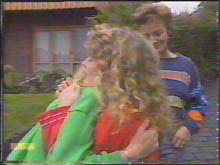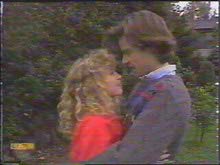 . . .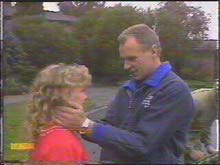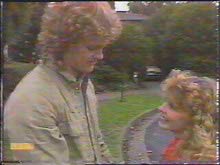 . . .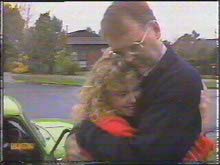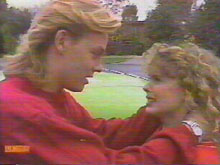 . . .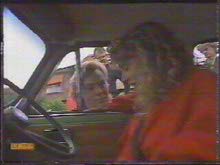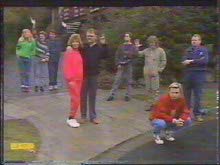 . . .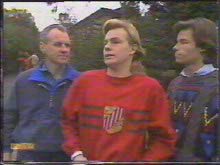 Out in the street, Jim, Paul and Gail are waiting to see Charlene off. Gail has a go at Jim about not wanting a baby, then Jane arrives. Charlene comes down the drive, and everyone hugs her and tells her to take care. She says she hates goodbyes. Scott tells her they'll be together soon and they kiss, before Charlene gets in the car. Scott leans in the window and tells her he loves her. They kiss again and then she starts up the car and drives out of Ramsay Street with everyone waving. Madge is in tears and everyone starts to go back inside, while Jim comforts Scott.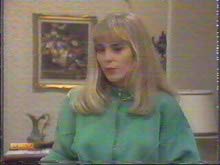 . . .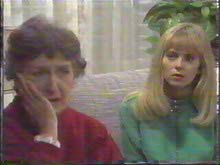 At number 32, Mrs Mangel is looking at the gun when Jane comes in and catches her. Jane wants to know where the gun came from, but Mrs Mangel says she's feeling weak and has to sit down. Jane asks if it belonged to Len, but Mrs Mangel denies this. Jane then mentions her Uncle Joe and Nell finally admits that it belongs to him, but demands that Jane stop questioning her, as she simply can't take it.
Summary and captures by Steve