.
Magic Moments > 1988 > Mrs Mangel's Departure Episode 842

Written by Unknown, Directed by Steve Mann
Joe gives a very embarrassing speech at his mum's wedding reception, before everyone raises a toast to the newly married couple.
At number 24, Harold is complaining the Madge that he isn't sure about Beverly using hypnotism on him, calling it the devil's work. Madge tells him not to worry, and she'll probably find nothing in his head anyway. He remembers a girl he knew at school called Marjorie Bennett who got hypnotised at a carnival and ended up thinking she was a chicken. Madge assures him that Bev knows what she's doing, reminding him of the wonders she worked with Gail. Just then, Bev arrives and explains that she won't be hypnotising Harold – she'll be hypnotising Madge into getting some sleep. Harold laughs and Madge looks stunned.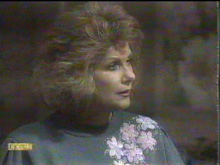 . . .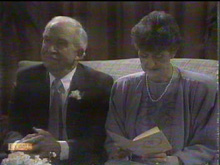 At number 32, John and Nell are going through their wedding presents and cards, while Jane says that she should go if she's going to give them the house to themselves on their wedding night. Nell thanks her and says that it was the least Joe could do aswell, after hanging out the Mangel's dirty linen during his wedding speech. She then stops herself and says that nothing can put her in a bad mood today. The doorbell rings and Joe goes to answer it, to find Des with his spare house keys. He tells Joe that he and Mike will be out tonight, so he'll need to let himself in. Jane and Joe then decide to make themselves scarce and John and Nell have a few awkward moments on the couch, as he suggests that they should have an early night and he could carry her over the threshold. She tells him that she's quite fit to walk – in fact, she's quite fit for anything…
At number 22, Paul and Gail are playing backgammon and looking after Todd and Katie. Katie is asking questions about the wedding and says that she's going to miss Mrs Mangel a little bit, because she was always so kind to Bouncer. Paul says that Nell isn't a bad lady, she just doesn't have very much to be thankful for. Gail points out that marrying John and going overseas might be just what Mrs Mangel needs. Just then, Jim arrives and explains that he and Bev have worked out their differences, so Todd and Katie can come home. Katie runs off to pack her bag, but Todd tells Jim that he'd rather stay with Paul and Gail.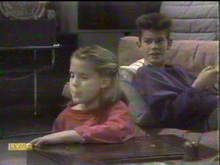 . . .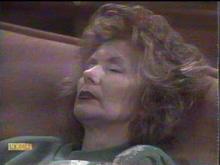 At number 24, Bev begins to hypnotise Madge. She counts to three and then tells Madge to open her eyes and take a deep breath. Madge says that she isn't convinced, as, although she had her eyes shut, she could hear everything that Bev said. Bev tells her she'll just have to wait and see, but she should find Harold's snoring soothing, rather than disturbing, from now on. Madge then jokingly asks Bev if she can show her how to hypnotise Harold into thinking he's a chicken.
Back at number 22, Jim tells Todd that he isn't going to punish him, but he really needs to get his things together. Todd explains that his parents always used to say that their problems were over, then they'd start up again. He tells Jim that Paul and Gail just seem to understand kids better and says that Paul took him to the video game parlour. Jim is shocked and Paul explains that he just took him in the hope that he might get the whole thing out of his system. Jim says that it doesn't make any difference and shouts at Paul and Gail about being irresponsible, before sending Todd upstairs to pack.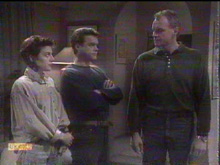 . . .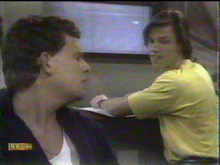 The next morning, at number 28, Joe is having a huge cooked breakfast, when Des gets up and complains that Joe kept him up all night chatting then Jamie wouldn't settle either. Mike says that Jamie's sleeping fine now, while Joe offers Des some fried food to perk him up. Des tells Joe that he should probably be getting home to help Mrs Mangel pack, and as he leaves, Des tells Mike to put the chain on the door. As Joe goes, he lets Jessie in, who's come for a tutoring session with Mike. Jessie explains that her mum is coming to pick her up later and Mike tells her that he'll have to go out shortly to say farewell to Mrs Mangel.
At number 32, Mrs Mangel has finished her packing and tells Jane that she only wishes she could have packed her too. John and Joe bring the cases out of the bedroom and, as they go out the door, Nell calls out to Joe, telling him to come and sit down for a moment with her and Jane. She tells them that they must maintain the household's standards whilst she's away in England and that they must also look after each other. Finally, she tells them to take great care of Bouncer. Joe says that he and Bouncer will be great mates, at which Bouncer gives a loud bark.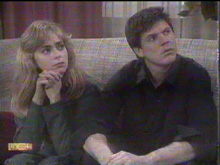 . . .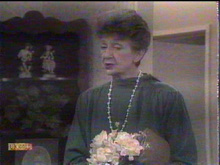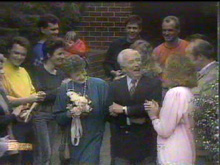 . . .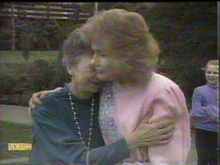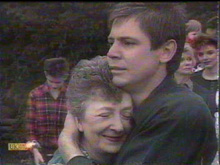 . . .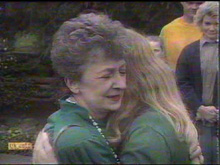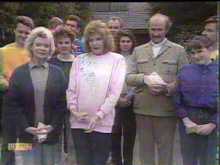 . . .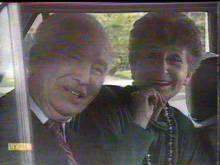 Outside, everyone is gathered to say goodbye to Mrs Mangel. She throws the bouquet and Madge catches it. Mrs Mangel is very disappointed, telling her that she can't have it as she's already married and she should have kept her hands to herself. She insists that she give it back and, as she does, she tells Madge that she's going to miss their little arguments. Madge and Nell reluctantly share a hug and everyone cheers. She then throws the bouquet again and is far more pleased when Katie catches it this time. John tells her that they must be going and she goes to hug Reverend Sampson and say goodbye. She then goes over to Joe and tells him that she won't leave it another 12 years before they see each other again. She tells him to be good. Jane then steps forward and hugs her nan, telling her how much she's going to miss her. Just before she gets into the car to leave, Mrs Mangel says her goodbyes to Bouncer. Everyone then waves her and John off and throws confetti as their favourite battleaxe leaves Ramsay Street one final time.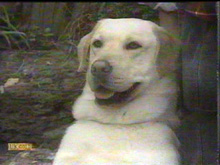 . . .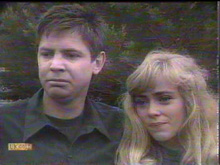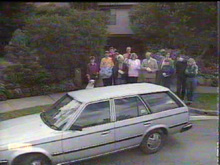 . . .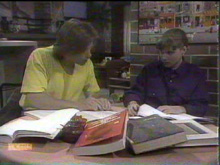 Inside number 28, Jessie is distracted from her work as she stares at Mike and he shows her what to do. Just then, Des interrupts them as comes to get some food for Jamie and then Jessie's mother arrives and sounds her horn. Des suggests that she invite her mum in for a cup of tea, but Jessie quickly tries to rush out so that doesn't happen. However, as she opens the door, her mum is standing there and she comes in and thanks Mike for all of the work he's doing. She explains that Jessie sometimes needs a little encouragement with her work. After Jessie and her mum leave, Mike notices a book that Jessie's left behind. He realises that she's going to need it, so he decides to take it over on his motorbike later.
At number 32, Jane is horrified by the mess that Joe has already made of the house. As they argue, and Joe listens to the racing on the radio, Bouncer steals Joe's lunch and his place on the couch. Joe wonders how he's ever going to get along with Bouncer, but Jane says that right now, she knows which of them she'd rather be sharing a house with.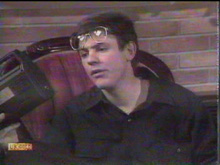 . . .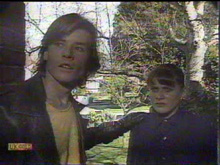 Mike arrives at Jessie's house to return the book and, as he goes up to the door he hears Jessie shouting and somebody hit her. She runs out of the house in tears and tells him that she's in trouble for leaving her textbook behind and not being able to do her homework. He assures her that her father won't be hitting her any more, but Jessie tells him that he doesn't understand. Just then, Mrs Ross appears at the door and tells Jessie to get inside straight away…
Comment: After the fairly lacklustre departures of the first few seasons, 1988 saw the beginning of the big Ramsay Street farewell scenes for major characters, first for Charlene, and then good old Mrs Mangel. All of the people important to Mrs Mangel were there, including Joe, Jane and Bouncer, and the moment where she demanded back the bouquet from Madge, only to use it as an excuse to hug her, has to be the highlight of the episode. Ramsay Street was never the same again without Mrs M's cruel tongue, but it has to be said that she got the send-off that she deserved.

Summary by Steve