.
Magic Moments > 1989 > The 1000th Episode Episode 1000

Written by Lois Booton, Directed by Steve Mann
Matt tells Hilary he wants people to know she's his mother but she is very reluctant. When he threatens to go back to Adelaide she refuses to be blackmailed but Matt tells her there's nothing left for him in Erinsborough...
Madge arrives at number 26 for Des and Jane's engagement party and explains she's late because of a potential buyer for the house. Harold is encouraged that they should sell number 24 in no time. Jim serves drinks and asks Nick to go across the road and see if Joe has a tub to put the remaining beer in. As Nick runs out the door he meets Paul and Gail arriving for the party. Next to arrive is Matt but when Helen questions him about Hilary's arrival, he tells her he couldn't care less.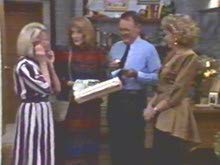 . . .
As they get ready for the party, Jane tells Des she could learn a lot about children from Mrs Kirkwood after seeing her look after Jamie and Sky. Des warns her they won't have much private time looking after Jamie but she doesn't care. She wonders if Mike is going to be at the party but Des says no and has no idea where he is. He tried Mike's friends and the police but they couldn't help. Jane blames herself but Des tells her Mike has to learn life is full of ups and downs. They couldn't help falling in love with one another. Jane just hates Mike being so unhappy but perks up in preparation for the party. Before she leaves, Des stops her and gives her an engagement ring as they profess their love for one another.
Joe and Kerry are kissing in the loungeroom at number 32 when Joe loses his patience at being kept hanging on for months. He cites Des and Jane who are in love and got engaged. Kerry remains steadfast as she has Sky to worry about but Joe thinks she needs a father figure in her life. He is annoyed when Kerry suggests he just wants someone to clear up after him now Noelene and Toby are up north. He loves Kerry and Sky and wants to be a family. Kerry admits she does too but before they can continue, there's a knock at the door. Kerry answers it to a bemused Nick who asks for a tub. Joe shouts at him, annoyed by the interruption but Kerry takes him out to the laundry to fetch it.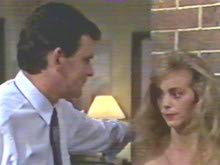 . . .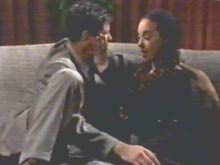 A blustering Harold storms into the Robinson kitchen complaining that he's spilt beetroot on his shirt. Jim jokes about him being on the grog which annoys him tremendously. He gets some salt from Jim to remove the stain who cracks a joke about it. Harold begins to lose his temper as he is sick and tired of being the local buffoon and is going to be glad to leave Ramsay Street. Jim attempts to deny he's seen that way and states that they respect Harold for his principles. He skirts around the idea of Harold being prissy and describes him as unique. As Harold is visibly brightened, Nick returns with the tub and reveals that Joe and Kerry were fighting. Jim hopes they can just leave their personal problems at home.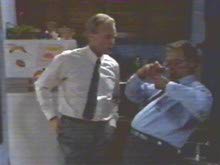 . . .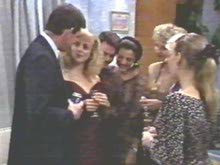 Jane shows off her engagement ring and Paul cracks a joke about how small the stone is. Jane rebukes that it's the thought that counts and Bronwyn chips in that she's the luckiest girl in the world. Jane turns the conversation to her and Henry but she is hesitant to think they might be married anytime soon. Henry approaches and pulls Bronwyn away where he apologises to her about being jealous. Madge interrupts but Bronwyn appears to accept his apology. Joe and Kerry arrive and Joe asks for quiet to make an announcement. He asks everyone to raise their glasses as he and Kerry are getting hitched too. The residents cheer except Harold who watches icily.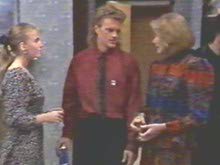 . . .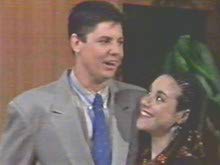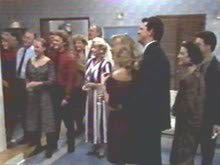 . . .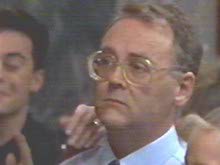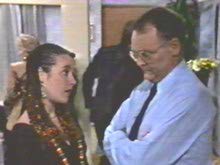 . . .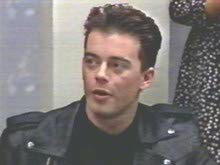 Harold is angry that Kerry didn't tell him first but they only decided themselves just now and the party seemed a good place to announce it. Harold sincerely wishes her all the best and she hugs him. Harold thinks it will be difficult to leave Erinsborough with Sky and Kerry remaining and she adds that he'll be walking away from Joe as well. Across the room Sharon enthuses about being able to buy new outfits for the weddings leading Matt to confess he won't be around for either of them. He's going back to Adelaide tomorrow. Sharon is shocked and guesses he can't stand Hilary which he doesn't deny.
At number 30, Hilary tearfully pours herself a cup of tea telling herself she won't be blackmailed.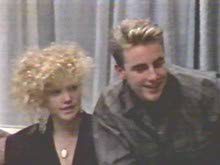 . . .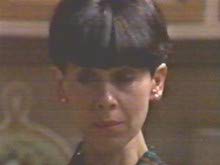 Back at number 26, Helen and Madge are busying themselves in the kitchen as Helen wonders what's wrong with Matt supposing Hilary's been stirring trouble. Madge remembers when Hilary gave Scott and Charlene baby clothes as a wedding present. The pair recall the celebrations in Ramsay Street over the years and Helen remarks that the next one will be Madge's farewell. They begin to well up as Helen tells Madge she's going to miss her. They'll be able to write and phone but it will never be quite the same. Harold comes in to fetch the ladies for the speeches and makes a comment about them moving away with enthusiasm not shared by Madge.
In the loungeroom, Joe begins to make a speech commenting on how long it took Des and Jane to get together. Jane thought she'd gotten lucky with the yank and he could have handled a rich guy in the family. As he drones on, Sharon tells Helen she's going over the road to fetch Hilary. Joe raises a toast to the couple and encourages Des to make a speech. He jokes that he must be nuts marrying into the family especially with Mrs Mangel causing shouted corrections of Worthington from the residents. Seriously though, he's got it all -- good friends and the most beautiful girl in the world.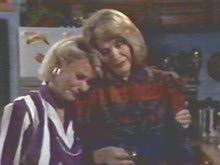 . . .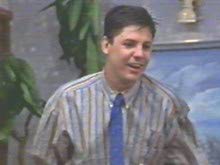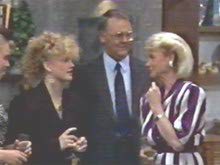 . . .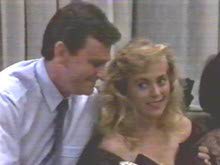 In the street Mike pulls up on his motorbike and beckons over Sharon. She tells him he looks terrible and asks where he's been but he avoids the question wanting to know what's going on. Uncomfortably she is forced to admit it's Des and Jane's engagement party. Mike angrily comments that his invitation must have got lost in the mail but he wouldn't miss this for the world.
As Des continues his speech inside, Mike arrives from the kitchen bringing him to a stop. Bronwyn tries to stop him but he pushes forwards ranting that good friends are everything. He remembers saying at his 21st that Des would be there for him no matter what. Des protectively goes to Jane's side prompting Mike to remark on how much she meant to him. Bitterly, he raises a toast to the pair of them.
Mike returns to number 28 followed by a furious Jim who accuses him of wrecking what was supposed to be a happy occasion for Des and Jane. They didn't fall in love just to spite him. Mike tells him to go back to the happy couple and Jim retorts that if they are happy it's no thanks to him. Reaching the door, Jim bumps into Bronwyn and leaves. Mike asks if she's come to blast him too but she states she's just there to keep him company.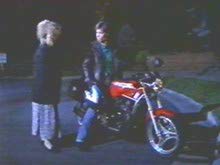 . . .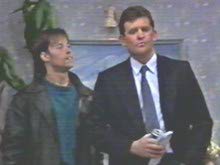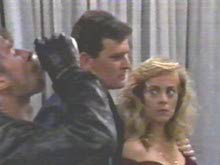 . . .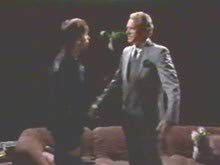 Back at number 26, Henry makes moves to follow Bronwyn but Joe stops him. Kerry chimes in that he gave his word he wouldn't be jealous and he's got to stick to it. Paul decides to get the party going again with some music as Sharon returns and tells Helen that Hilary nearly bit her head off for asking her to join the party. Beverly decides to go across and check on her. Gail gives Sharon a vague rundown of who is to blame for the drama at the party but Helen stops her from going after Jane.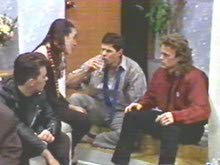 . . .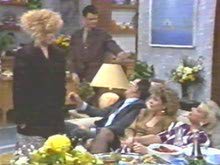 The couple are in the laundry room commiserating. Des thinks Mike carried on like a spoilt brat but Jane feels guilty about being so happy when Mike's so miserable. Des pulls her in for a hug and assures her that Mike will get over it. He may not be a smart bloke but he knows that they love each other and he won't let anyone spoil it for them -- not even Mike.
At number 28 Mike explains to Bronwyn that he loves Jane and thought Des would help him get her back. But he helped himself. Bronwyn doesn't think it was like that -- Jane's felt strongly about Des for ages and Mike probably got him thinking about her. Mike states that the two people he cares about the most have both shut him out. It feels scary, like he's got no one left. Now everyone in the street is against him too. Bronwyn thinks he's being paranoid and justifies Jim's wrath because Mike broke up a party. Mike is unmoved and doesn't think he'll have a friend left after tonight but Bronwyn tells him he's got her and hugs him.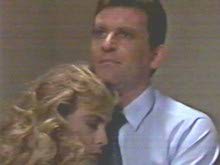 . . .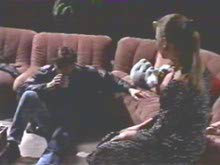 Beverly arrives through the back door of number 30 to find Hilary and asks if she's okay. She spikily replies that she's fine and has decided to go to the party. Beverly didn't think she was going but Hilary has changed her mind if that is alright with her.
At the party, Jim decides to reawaken things and make a toast. First to everyone who organised the party and to the engaged couples. Helen reminds him to include a goodbye toast to Matt as Hilary walks through the front door and takes centre stage. She wants to make an announcement of her own. Jim asks if it can wait but she says it's waited long enough already. Everyone knows Matt as a son of friends of hers in Adelaide but she misinformed them. He is her son -- Matthew Robinson. Sharon is shocked and asks for details which Hilary refuses to give and as the residents gasp in astonishment Matt assures Hilary he is no longer leaving calling her mum. Helen welcomes him to the family. Jim remarks that nobody throws a party quite like Ramsay Street and everyone raises their glasses as Matt and Hilary hug.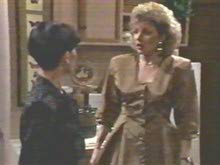 . . .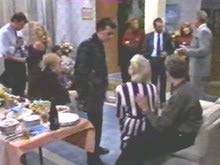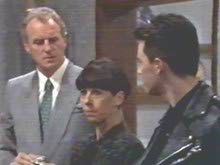 . . .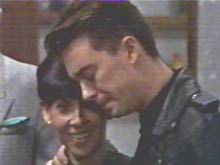 Notes: To further celebrate the show's milestone, Network 10 aired the 1000th Party Celebration. This was later aired in the UK when the 1000th episode was aired on BBC 1.
Comment: This episode was another example of how Neighbours, in its early days, managed to combine happy times with high drama effortlessly. It was also one of the last big occasions where the classic cast were altogether at once before they began dwindling down. Both Guy Pearce and Anne Scott-Pendlebury put in brilliant performances as Mike and Hilary respectively, the former deserving extra praise. The character of Mike was reaching a natural end at this point, and Guy was giving us a glimpse at what he was made of. The character of Hilary had been really fleshed out in the preceding weeks, with her son Matt arriving, and her admission that Matt was hers was the turning point at which Hilary would really come into her own, not only as the street's resident busybody, but as a woman of many complex dimensions. All in all this episode was a treat, celebrating 1000 wonderful episodes with characters like Harold, Madge, Henry, Des and Jim at their very best.
Summary and captures by Jay. Comment by Steve H