.
Magic Moments > 1990 > The 1990 Season Premiere Episode 1114

Written by Unknown, Directed by Kendal Flanagan
The kids are ready to have an afternoon hanging out in the swimming pool, but when they get into the backyard, they find Hilary and Mr. Muir playing in the pool and beat a hasty retreat. In number 30, Hilary confronts Matt about his plans to go back to Adelaide for Christmas. Matt gets angry about Hilary organising his life for him and announces that he might not even bother to come back. Debra and Adam arrive to see Beverly and blackmail her into giving them money in order to keep custody of Rhys. At the street's Christmas party, Madge realises that she and Harold have won the lotto...
Three weeks later, at number 28, Melanie is doing aerobics, when Des asks her if she's seen his shoes. He then asks for his briefcase and she ignores him. She then explains that she's set everything out with his breakfast, to help him prepare for his first day as a stockbroker. He's worried about all the lies in his resume, but Mel tells him that without those lies, he probably wouldn't even have got the job. He leaves, but then Mel tells him he's forgotten to take Jamie, to drop him off at Mrs. Kirkwood's.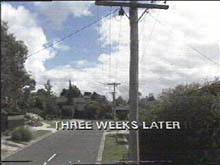 . . .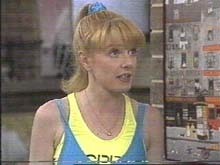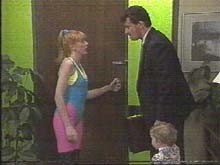 . . .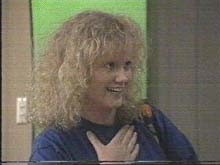 Madge is on the phone to Harold and Sharon and Bronwyn arrive. Sharon tells Madge about all the things she'd do if she won the money and Madge tells Bronwyn that she's giving each of the kids $5000 and would like her to phone Henry to tell him. Bronwyn is thrilled and hugs Madge, who insists that Henry keep the money in the bank.
Des and Jamie arrive at number 26 and give Bev the mail. Des asks Beverly about a cheque in Jim's books that he can't account for and it was in her handwriting. Bev gets annoyed and tells him it's none of his business and to mark it down against 'personal'. Des leaves and Bev slams the door, before going into the kitchen, where Helen is preparing some melon. Bev tells Helen about Des prying into her personal life and Helen tries to defend him. Nick and Todd come in, playfighting, and Helen asks Nick if he's done any more job-hunting. The kids are preparing to go to the beach, and Sharon and Bronwyn arrive. Helen asks them about their Christmas, while Todd reads a letter from Melissa and realises she got back yesterday. The others are surprised that he hasn't told her about Cody yet, and Todd realises he's in serious trouble.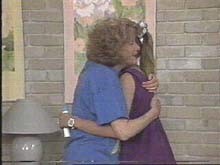 . . .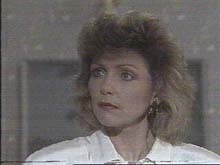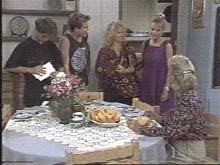 . . .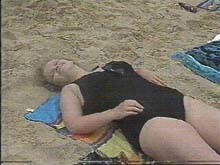 Sharon, Nick and Bronwyn are on the beach, when Bronwyn asks Sharon whether she's going to put any more lotion on. Sharon says she's hoping to turn a gorgeous shade of brown, but Bronwyn tries to warn her about burning. Nick talks about his hopes of getting some work as an artist, then he and Bronwyn go into the sea, while Sharon throws the suncream away from her.
Madge is at home, looking at brochures, when Helen arrives and they discuss the money. Madge gives Helen a gift; some of her favourite perfume. Helen then invites Madge out with her to a lunchtime concert in the park, but Madge says she's waiting at home for a new microwave to be delivered. Helen asks where they're planning to go on holiday and Madge admits that they're finding it difficult to make up their minds.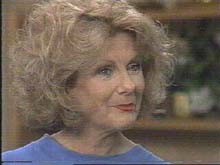 . . .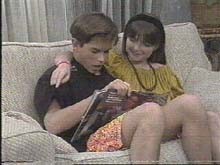 Todd and Cody are at number 26, looking at pictures of bikes in magazines. She starts talking about romantic bike rides and tries to kiss him, but he leans away. She gives him tickets to a concert and he says he has to work. He then relents and says he'll go and she kisses him.
Back at the beach, Nick and Sharon are discussing Matt coming back and Sharon stirs things up, asking how come Nick has been spending so much time with Lee over the holidays. He says he had nobody else to spend time with. Bronwyn comes running back with some ice creams and warns Sharon that she's turning red and that they need to go. She insists that they go for a quick walk, so that she can check the surfies out.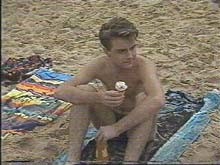 . . .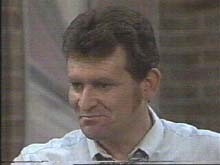 Des arrives home with Jamie, to find Mel watching cartoons. She asks him about his first day, and he says he didn't do much today, just discussed all the weekend activities of his colleagues. He says he also went shopping to sharpen up his image for work. Melanie is shocked to find that Des has spent $500 on clothes.
At number 24, Madge is showing Sharon and Bronwyn her new microwave and is shocked by how red Sharon is. Madge goes for a bath, in preparation for a romantic evening out with Harold. Bronwyn wishes she was going out for the night with Henry, while Sharon just wishes she had a tan.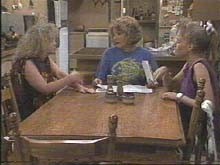 . . .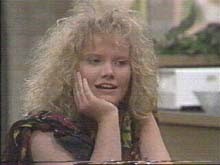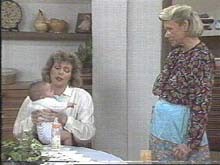 . . .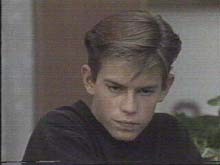 Beverly apologises for leaving a pot on the stove, which got burnt and ruined, but Helen realises that her mind was obviously elsewhere. Helen asks if she's missing the surgery and Bev says she's just tired. Nick comes in and Helen asks about his day at the beach. She tells him that he needs to be serious about getting a job and asks how many interviews he's had. He says he's had eight or ten, but no job offers. She tells him he needs an education and he promises to think about it. In the lounge room, Cody says she knows what she'd spend $50,000 on. Nick guesses correctly when he says clothes.
Mel and Jamie are waiting for Des to appear in his new clothes. She seems very impressed and he says that now all he needs to do is to get the lingo down. Melanie tells him she'll teach him and talks about 'milking a cash cow' and before long, Des is confused.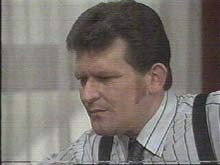 . . .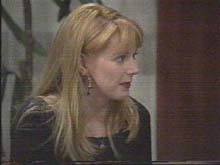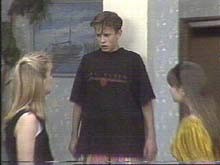 . . .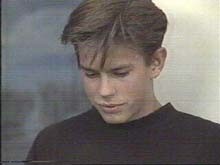 At number 26, Todd and Nick are chatting about bikes when the doorbell rings. It's Melissa and she's impressed by Todd's new braces. She leans in for a kiss and just then, Cody appears from the kitchen asking Todd when he wants to go to the movies. Cody looks at Melissa, Melissa looks at Cody, then they both look at a very worried Todd.
Summary and captures by Steve