.
Magic Moments > 1990 > Josh's Arrival Episode 1131

Written by Ian Coughlan, Directed by Kendal Flanagan
Bronwyn, Kerry and Joe are gossiping about Linda Giles, and wondering what's going to happen to her once Paul finds out about his car…
Paul calls in at number 22 to see Linda and to ask for an explanation as to why his car is wrecked and why Joe was arrested. Linda refuses to talk to him about it and he's about to go when another Linda comes in the door. The newcomer tells him that she's Caroline Alessi and the other Linda is her twin sister, Christina. Paul is confused as to why they're pretending to be one person, so Caroline tells him that nobody must know that there are twins living there. Christina tries to stop her saying anything else, but Caroline says that they might as well tell Paul everything now. Chrissie says that there was a murder, and Caroline goes on to explain that the couple who lived in the apartment next to theirs, in the city, were shot and they were the only witnesses. So, they've been placed in witness protection, as the murderer has already tried to track them down once and shot at them in their last home. Paul asks why they're pretending to be one person, and Chrissie tells him that they're just less likely to draw attention to themselves, so it's easier to hide from the criminals. He asks why they don't just split up, but Caroline says that they tried that, but they missed each other too much. She tells him that Linda Giles' papers are all the same as her own, but the police just changed the names on them. Chrissie begs Paul not to sack Caroline, as the car accident wasn't her fault, but Paul hasn't decided yet.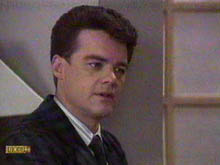 . . .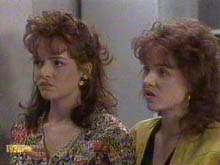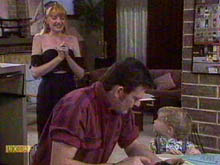 . . .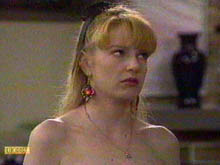 At number 28, Melanie runs in with the new answerphone message she's recorded for her secret admirer. She plays it back to Des, who tells her that they should stick to his version, as it was more businesslike. Mel calls Des a spoilsport, and he then asks her if she could entertain Jamie for a while, as he has a lot of work to do. Mel picks up Jamie and takes him into the kitchen, complaining that his dad doesn't want her to find a nice, mature man.
Back at number 22, the twins explain to Paul that the house is under constant surveillance and they have to make sure that people only think that there's one person at home at any one time. Paul agrees to maintain that confidence, and Chrissie asks about Caroline's job. Paul starts to realise all of the times when he thought that "Linda" was acting oddly and realises that it was when Chrissie was filling in for Caroline. He admits that he's concerned about keeping her on, knowing that a dangerous criminal is after her, not to mention that fact that once the criminal is caught, they'll probably have to move again. Caroline says that might not be necessary, and Paul says he'll think about the situation over the weekend and give them an answer on Monday.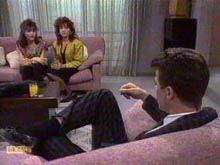 . . .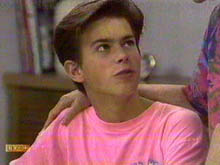 At number 26, Todd is complaining about going back to year 10, and having heaps more work, so he'll probably have to give up his gardening job. Helen tells him not to worry and to look forward to his birthday dinner instead. Todd still isn't convinced, and tells Helen that he's upset that Melissa won't be there, but their relationship is history and he'll just have to live with that.
At number 28, Des is cleaning up Jamie's dinner from the floor when the phone rings. Melanie refuses to answer it, explaining that her secret admirer might be shy and only want to speak to the answerphone. Des suddenly realises that it's his boss, Geoff, and rushes to answer, explaining that it was his flatmate playing a practical joke. He apologises as Mel looks guilty.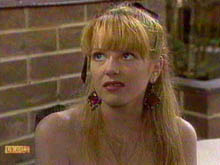 . . .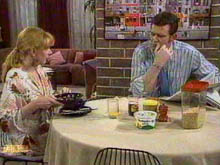 Following the weekend, Melanie is worried about what sort of mood Paul will be in at work, since Linda crashed his car. Meanwhile, Jamie turns the stereo on and Des quickly grabs him and gets him ready to go to Mrs Kirkwood's, where he's been having some trouble settling in. Mel thinks he'll be fine after a while and, as Des goes out to load the car, she quickly changes over the tapes in the answerphone.
At the Coffee Shop, Todd comes in and Gloria tells him all about her new promotion – a lucky draw to win a free meal and a bottle of Champagne. Meanwhile, another guy is filling out one of the forms when he drops his school bag and his books scatter all over the floor. Todd helps him to pick them up and spots one of his soccer magazines. He asks where he got it, and the guy says that his dad owns a local newsagent and gets them flown in from America. He introduces himself as Josh Anderson, and says that he's just starting in year 10 today. Todd introduces himself and asks Josh if he's met anyone in the area yet. Josh explains that he's met one or two people and asks Todd what the school is like. Todd starts filling him on some of the teachers, just as Melissa walks in. Todd ignores her and continues talking to Josh, with the pair of them walking out, leaving Melissa looking dejected.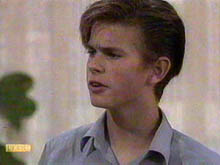 . . .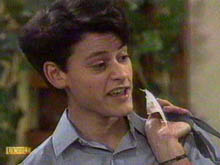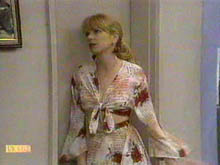 . . .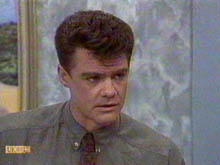 At the Lassiter's office, Melanie is watering the plants, asking Paul if there's going to be any screaming and shouting when "Linda" gets in. Paul says that there won't be, as it was an accident. Caroline then arrives for work and shoos Mel out of the office. As she closes the door, Mel tries to listen in but the phone rings so she misses out. Meanwhile, Paul tells Caroline that he's been thinking about it all weekend and he's going to have to sack her. Caroline begs him for another chance, explaining that if they leave now, the police will just have to set up a whole new identity for her and they'll have to explain everything. Melanie bursts in to tell "Linda" that there's a client waiting for her and then tries to hang around, fishing for information. Paul tells her to go, then he informs Caroline that he can keep her on for another few days, and will try to dampen down some of the gossip in the street, but then he'll have to let her go. She leaves to see her client and Paul looks upset.
At number 26, a concerned Des has dropped Jamie off to spend the day with Helen. He explains that Mrs Kirkwood called him and he was screaming his head off, but she seemed to think it was just a phase. Helen agrees with that and says that she's happy to look after him, as the pair of them wave Des off.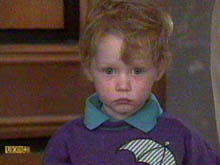 . . .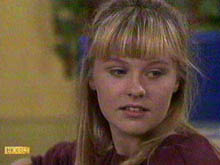 At the Coffee Shop, Josh and Todd are looking at some girls on a neighbouring table, and Josh asks Todd to introduce him to one of them, Amy. Todd tells Josh to introduce himself, but eventually agrees and goes over there to chat to the girls, just as Melissa comes in. The girls agree to let Josh and Todd join them, but Josh then asks Todd about Melissa. Josh thinks she's gorgeous, but Todd doesn't want to talk about it.
At number 22, there's a knock at the door and Caroline asks who it is. It's Paul, so she lets him in and tells Chrissie it's ok, she doesn't have to hide. Paul tells them that he'd had a call from the detective in charge of their investigation, who's convinced him to keep "Linda" on, but he makes Chrissie promise never to drive his car again. Just then, Melanie knocks at the door and Paul and Chrissie rush to hide out the back. Mel asks if she saw Paul's hire car outside, but Caroline insists that he's not there, so Mel thinks he's at the Robinson house. She tells "Linda" that she just came by for a chat.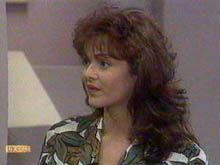 . . .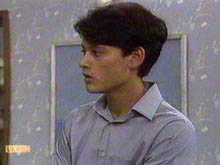 At number 26, Helen asks Josh and Todd to keep the noise down, as she only just got Jamie off to sleep. She asks Josh if he'd like to stay for dinner and he gladly accepts. He goes home to tell his parents, whilst Helen asks Todd why he's still so down. She realises that it's about Melissa and tells him that it's not to late to patch things up with her.
Back at number 22, Melanie is chatting away to "Linda" about work, when she says that she really has to get dinner started. Melanie asks what she's having and she tells her pork, at which point Mel starts telling her about a great recipe she knows…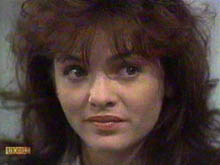 . . .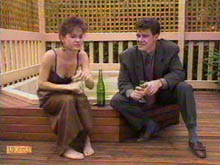 In the back garden, Chrissie and Paul are sitting by the spa, drinking wine, and he says that it must be difficult for her being cooped up in the house all day. She says that it was, but she's only ever done menial work, so Caroline has to bring in the wages to pay the rent. She tells him that talking to him has been fun, but he says that he really has to get going, leaving Chrissie dejected.
Inside the house, Melanie is leaving, reminding "Linda" about the recipe as she goes.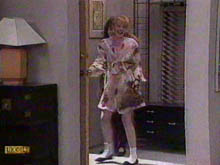 . . .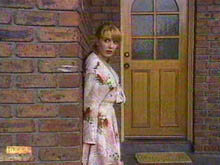 As Mel walks out the door, she spots Paul running from the side of the house and getting into his car.
At number 28, Des is checking the answerphone and is annoyed with Mel as she gets back. He reminds her that the phone is for his business use and people have been hanging up all day, thinking it's a wrong number. He plays her the tape back, then they hear a message from her secret admirer. Melanie is thrilled, but still doesn't know who it is.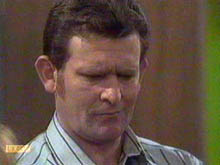 . . .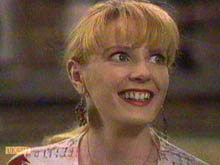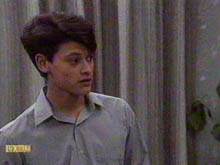 . . .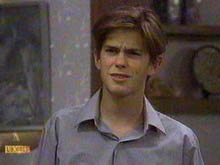 At number 26, Josh gets back and tells Todd that he's sorry he took so long, but he ran into Melissa at the shop. Todd is horrified as Josh announces that he asked her out and she said yes.
Summary by Steve