.
Magic Moments > 1990 > Sharon's Departure Episode 1219

Written by Ray Kolle, Directed by Peter Dodds
Helen is about to show Derek Wilcox some sketches, when she realises he isn't asleep, but has slipped into unconsciousness. She calls Beverly and asks her to come and to call for an ambulance...
Madge, Harold and Eddie are at The Waterhole and Madge is worried that she's getting all the good shifts behind the bar and that all the other staff are resenting her. Harold suggests that she cut her hours back, but she sees through his attempts to get her to find a more 'suitable' job. Madge mentions that they need a new barman after one left last week. Eddie puts himself forward for the position, explaining that he used to work in a bar back in London. Madge agrees to have a word with Paul. Eddie then challenges Harold to a game of darts and Harold takes offence at the comment that he has poor co-ordination.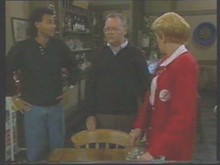 . . .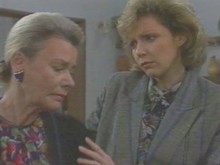 Beverly walks into the lounge room at number 26, after seeing off the ambulance, and Helen asks if Derek is going to be ok. Bev explains that she can't be sure how serious it is, and agrees to take Helen to the hospital to find out. Helen feels guilty for taking him out of the home, but Bev insists that it was Derek's decision.
Paul and Caroline are at the office and Caroline shows Paul some new software that she ordered. Paul tells her it's too expensive and unnecessary and that she should send it back. Caroline is angry about being undermined like that, but Paul insists that they don't need it. After Paul leaves the office, Caroline says she'll catch him up – then installs the software herself.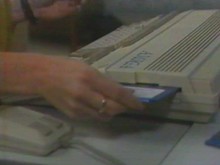 . . .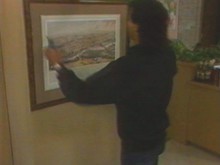 Eddie comes into the kitchen at number 24, and shows Madge and Harold an old dartboard that he found in the garage. He hangs it up on the wall, and Madge tells him that he better not make holes in her paintwork. Eddie tries to encourage Harold to join in, but Harold insists he cannot see any educational value in the game. Sharon comes in, in the midst of packing, looking for some records she nearly forgot, and says she's said goodbye to Ryan and Matt already. She then tells Madge that there's a list of phonecalls for her. Madge groans, wishing she'd get a day off from being a councillor and Harold tells her to take it easy. Madge insists she'll relax once she's made the calls, and Eddie tries to show Harold how to throw a dart – Harold scores a bullseye.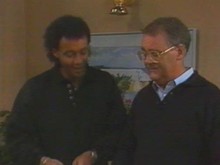 . . .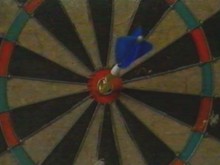 Helen is waiting at the hospital and Beverly comes out and explains that Derek never regained consciousness. Derek's daughter Diane appears and blames Helen for her father's death, explaining this would never have happened if she'd just left him alone.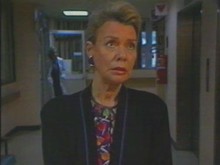 . . .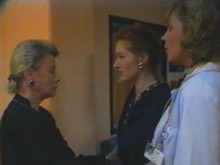 Back at number 26, Bev asks Helen if she'd like her to stay the night. Helen insists she's fine. Bev tells Helen that Diane was just in shock and she'll soon realise that all Helen did for Derek was to bring him happiness. Madge and Sharon arrive and Sharon explains that she's leaving early tomorrow and wanted to say goodbye. Helen tells her to say hi to Henry and Bronwyn and to keep up with her studies. Sharon thanks Helen for looking after her while Madge and Harold were away. Sharon hugs Bev and Helen, then leaves. Helen and Madge both say how much they'll miss her, but that she's made the right decision. Bev leaves, and Madge explains to Helen that she's got Felicity Brent coming for dinner. Since her couch is still being recovered, she asks if she could borrow one of Helen's. Helen agrees, and Madge picks up that something is wrong. Helen tells her about Derek dying, and that they'd become very close. She explains that she didn't get to finish the painting of him and bursts into tears.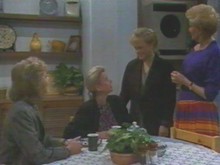 . . .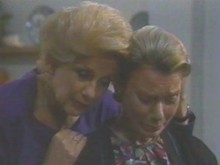 Next morning at number 24, Sharon is preparing to leave. Harold makes sure she's got everything and Sharon says she'll miss everyone from Ramsay Street so much. Madge insists that Sharon will be very happy with Bronwyn in New Zealand and that she can always come back. Eddie says they should get going and Harold makes a speech to Sharon saying that Henry must look after her like a little sister. Harold apologises if he was ever too harsh on her and Madge gives her Henry's guitar to take to him. A tearful Sharon hugs Madge and Harold and leaves. Madge, still desperate to get rid of Eddie, says 'One gone, one to go'.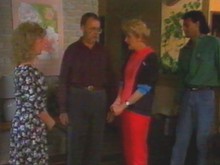 . . .
At the office, Caroline is having computer problems and asks Paul if he's done something to it. She tells Paul she can't find some important files.
Helen is looking at her sketches, when there's a knock on the door. It's Diane, who explains that Derek's funeral will be tomorrow and she is not welcome there. It will be for family only, she needn't even send any flowers. Diane accuses Helen of causing Derek's heart attack so that she could get the inheritance. Helen tries to throw Diane out, but Diane spies the painting on the wall and says that it is part of Derek's estate and Helen is a thief. Helen takes the painting down and gives it to Diane, then explains that she knows what Derek's wishes were and she will insist that they are carried out.
Eddie arrives at the coffee shop and tells Harold that Sharon got away alright. Eddie goes to take the rubbish out, while Madge comes in and asks Harold for some money so she buy an expensive dress for the dinner with Felicity Brent. Harold tells Madge that Eddie's gone (although he's still in the kitchen) and Madge says it's good that Gemma will have her own room. She goes on to say that she wishes Eddie would take the hint and if he had any decency he'd leave, which he overhears.
At the office, the computer has completely crashed and Paul can't understand it. Madge arrives and tells Paul they need a new barman and that Eddie has asked for the job. Paul says he can have it and to give Caroline the details, once she's got the computer working again.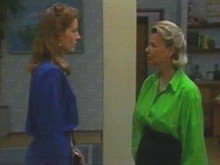 . . .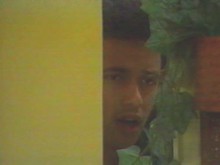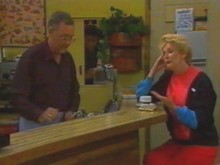 . . .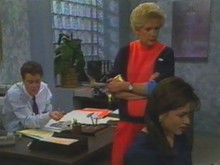 Harold gives Helen a coffee and says sorry about Dereks' death. When he asks about the funeral, Helen bitterly says that it's family only. Eddie arrives and follows Harold into the kitchen where he explains that he's found somewhere to stay and will move out tomorrow. Harold finds it all a bit sudden, but Eddie says he's already paid the deposit. Madge comes in and tells Eddie he's got the bar job. Harold is worried that Eddie isn't too happy about going.
A computer expert looks at the Lassiters computer and explains he can't understand how this could have suddenly happened. Paul insists that no new disks have been used with the computer and the technician says it looks like a virus, but without a source, it'll be difficult to trace. Caroline looks very worried as the technician explains that it could take up to a week to fix the problem…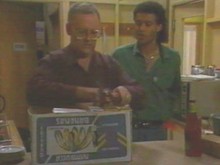 . . .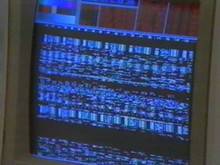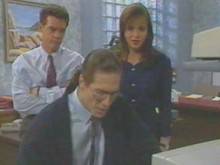 . . .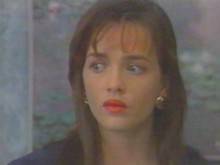 Comment: Other than seeing the final scenes of Sharon, a personal favourite of mine, this episode is also notable because it was directed by Peter Dodds, who would later go on to become producer of the show.
Summary and captures by Steve