.
Magic Moments > 1991 > The 1991 Season Premiere Episode 1351

Written by Ray Kolle, Directed by David Morgan
Jim introduces himself to the stranger on the doorstep, who presents him with a bill for a funeral. Jim wants to know why he should pay it, and the man says that he'd hoped that Jim would have a little more decency. He says that the funeral bill was for his mother and that Jim knows it was. Helen wants to know why Jim would know this, and the man says that Jim is his father.
Jim asks the man if this is some sort of joke, but he continues to insist that Jim is his father. Helen insists that he tells them exactly what's going on and Jim agrees that he'd really like to know.
. . .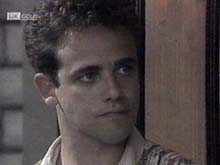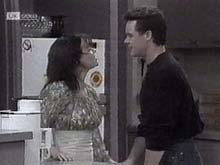 . . .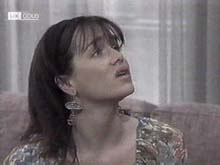 At number 22, Christina is worried that people will think they're rushing things if they become engaged so quickly, but Paul tells her not to worry about what other people think. She says that she promised Caroline she wouldn't rush it and remembers a time when Paul didn't even know that she existed. Paul tells her that he must have been blind then. She says that she does want to be with him, but thinks it's all happening so fast and maybe they don't even need to get married. He reminds her that she wanted proof that he loved her and now she's got it, she's hedging around it. He agrees to just enjoy things the way they are, for the time being.
At the hospital, Tom enters Gemma's room and apologises for taking so long talking to the doctor. She wants to know why she's in so much pain, so he tells her that although they've set her broken leg, it seems that some of the arteries in her leg are badly damaged. He tells her that she might need to have another operation when the micro-surgeon is available and she's shocked to realise that she might have to have her leg amputated before gangrene sets in.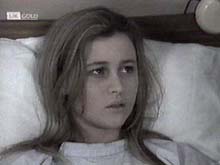 . . .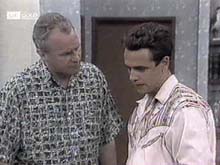 At number 26, Glen explains that his mother, Maureen Donnelly, served as a nurse in Vietnam and had a brief fling with Jim whilst he was serving out there. Jim says that it's rubbish and he's got the wrong person, insisting that he's never even heard of a Maureen Donnelly. Glen goes on to explain that his mother only told him his father's name when she was dying. Even as Glen comes out with more proof that Maureen and Jim were both in the same area during the war, Jim accuses him of being a con artist. There's a knock at the door, just as the situation is becoming quite heated, and Helen answers to find Madge standing there. She says that she's had the most awful news about Gemma and Glen waits awkwardly while Jim and Helen ask her what's happened.
Back at the hospital, Melanie arrives to visit Gemma and finds Matt sitting outside her room. She asks him what's going on and Matt explains that Gemma's being prepared for another operation. Matt doesn't know how he's going to live with himself if Gemma loses her leg, but Melanie insists that it won't come to that. Matt isn't convinced and continues to blame himself for everything that's happening.
. . .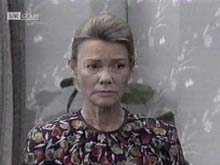 Back at number 26, Jim and Helen see Madge out the front door and tell her that they'll visit Gemma as soon as she's allowed visitors after the operation. Meanwhile, Jim tells Glen that there's obviously been some kind of mix-up and Glen says that there's no point in staying if Jim won't even admit that he knew Maureen. Helen agrees with Jim and suggests that they look at the facts again. They come to the conclusion that Jim and Maureen, or Mo as she was known, were in the same town at the same time, but Jim still insists that he never knew her. Glen shouts at him, calling him a liar and walks out, saying that he had hoped that his father would have been a decent person.
Later on, Jim and Helen are preparing dinner and Jim still thinks that Glen was a con artist. Helen wonders what Glen would have had to gain as it would be impossible to convince someone that they'd known a nurse that they didn't. Helen suspects that Glen honestly thought he's found his father and she feels sorry for him. Just then, Chrissie arrives and explains to Jim and Helen that although they both warned against rushing things, Paul's proposed. Jim and Helen are surprised, and Jim says that he's hoped Paul would have learnt something from the Isabella Lopez fiasco. Chrissie is worried that she'll lose Paul if she turns him down, but Helen assures her that that won't happen if they truly love each other. Jim suggests that they wait a year, but Chrissie isn't at all convinced.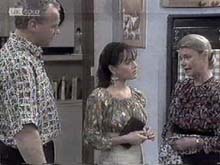 . . .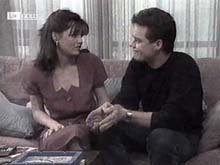 At number 22, Caroline is telling Paul that she thinks it's all a bit sudden and asks if he's on the rebound from Isabella. He is annoyed at this, saying that he wouldn't do that to Chrissie and he says that everyone seems to be trying to talk her out of marrying him. Caroline tells him that her sister is just being sensible for a change, as she's normally so impulsive. Paul then becomes worried that if Chrissie really loved him, she wouldn't have hesitated in agreeing to marry him. Caroline reminds him that he sometimes gets carried away with his emotions, bringing up Isabella again, and says that he has to be patient and this has to be Chrissie's decision and nobody else's. He begs Caroline not to put Chrissie off, and she says that when Chrissie tells her about the proposal, she'll tell her that the decision is up to her.
At number 24, Madge tells Tom that once Harold gets back, they can head back to the hospital. She says that he's currently over at number 32, trying to find out if Melanie's had any news from Joe. Tom thinks that Joe's big enough to look after himself, but Madge is worried that the police are after him and he could be in all kinds of trouble. Madge insists on going to the hospital with Tom, even if it's just for moral support and he tells her about the operation and how tricky it is. He says that it could be a few days before they know anything for certain and, in the meantime, they need to keep Gemma's spirits up as much as possible.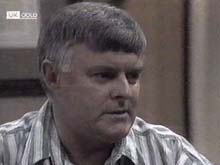 . . .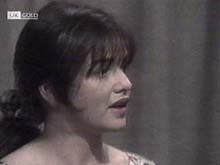 At number 22, Chrissie gets home late and explains to Caroline that she went to hospital, but couldn't see Gemma as she was still being operated on. Caroline tells her that Paul's gone to bed and suggests that they have a little chat. Chrissie says she's going to bed, so Caroline suggests looking in on Paul, but Chrissie decides that she'd rather not.
At the hospital, Matt brings a drink for Madge as they wait, and she tells him that Gemma's just been wheeled back in and Tom's with her. She says that the operation went well, but it'll still be a few days before they know anything for sure. Tom then appears and says that Gemma only opened her eyes for a few minutes, then went back to sleep. Matt asks if he can see her, but Tom tells him no and says that he blames Matt for all of this and Gemma will too if she loses her leg.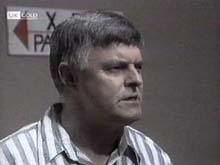 . . .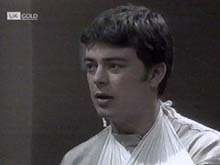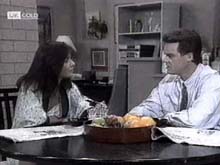 . . .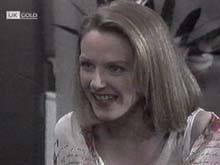 The next morning, at number 22, Paul is quizzing Caroline over breakfast, who says that Chrissie was acting very oddly and didn't want to talk. Chrissie then comes into the kitchen and is still acting very distant, turning down a lunch offer from Caroline. Melanie then arrives and Caroline and Paul both leave, so Chrissie tells Melanie about the proposal, saying that she'll be the one person who's happy for her. Melanie is thrilled, but also tells Chrissie that she should think about it properly before agreeing to spend the rest of her life with someone. They both complain about life being so complicated, before wondering how Gemma is, as she's the one with the real problems…
At the hospital, Matt is visiting Gemma and he apologises for not coming earlier, but Tom warned him off. He tells her what Tom said about her being unable to forgive him if anything went wrong, but she says that's silly and that even if she loses her leg, she won't blame him. Tom walks in and Gemma quickly shuts him up, saying that having Matt around makes her feel a lot better.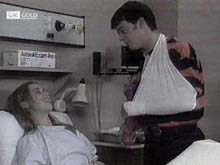 . . .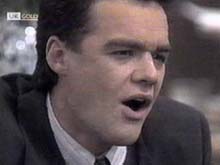 At number 26, Paul is disappointed to realise that Helen and Jim already know about the proposal. He realises that they both wanted him to take some time being jumping into another marriage and gets annoyed that even his family don't think much of him as a marriage prospect. They remind him of how much Isabella hurt him, but he insists that that's a completely different matter. Helen points out that his infatuation with Isabella was a way of getting over Gail, and now he's following exactly the same pattern with Christina. Paul insists that he really loves Chrissie and wishes that somebody could see it.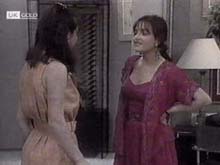 . . .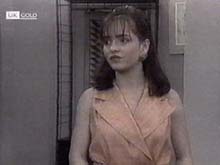 At number 22, Melanie pops home to collect her diary and mentions the wedding to Caroline as she goes. Realising that Chrissie has talked to everyone else about it, Caroline tries to coax the information about the proposal from her. When asked about Paul, Chrissie insists that everything is fine with him and goes on upstairs to get her glasses, leaving Caroline hurt and confused.

Summary by Steve