.
Magic Moments > 1991 > Helen and Michael's Wedding Episode 1488

Written by Jason Daniel, Directed by Tony Osicka
Paul, Jim and Lucy are fighting and Helen tells them that she doesn't want any of them at her wedding.
The next morning, at number 32, Mel is wondering if Helen is nervous. She says that Michael would never leave her at the altar, and Joe agrees, saying that the buck's night was a pretty dull affair. Toby and Joe then swap papers so Joe can read the cartoons. Toby starts talking about his love life, then Melanie suggests taking a camera to the wedding. Toby asks if Harold will be at the wedding, but Joe explains that he won't be better in time. Toby is annoyed that nobody told him the truth before now and walks out.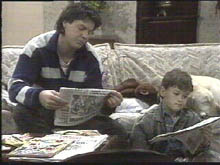 . . .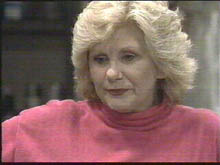 At number 24, Madge has finished off the wedding cake and Helen is delighted with it. She tells Madge that the family have now stopped fighting. Madge explains that Harold is sad to be missing the wedding. Madge says that she won't be charging Helen for the cake and she's bought her a present too, but won't tell her what it is.

Toby comes back inside and Joe explains to him that they didn't want him to be upset. Toby says that he should have been allowed to visit Harold, so he could have said goodbye. Joe apologises and says that he promises that they'll tell the truth from now on. He says that Harold will be fine, but won't be out of hospital for a while yet. Toby then thinks of a way for Harold not to have to miss the wedding…
. . .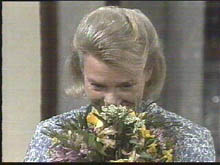 At number 26, the family see Helen coming home, so they all line up and apologise as she comes in, giving her some flowers. They all wish her a happy wedding day and she says that they're all very special to her, as the family rush off to get everything ready.

At the hospital, Madge is fussing over Harold, who is getting annoyed with her. She says that she just wants to spoil her, and he says that he could do with a decent vegetarian meal. Madge says that she's been to see Reverend Richards and explained that Harold will be resigning for the time being. Just then, Joe and Toby walk in and Harold says that he's sorry to miss the wedding. Toby then tells him that they've thought of a way for him to be there…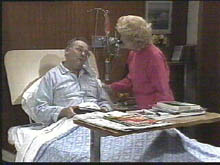 . . .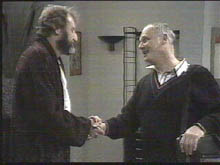 At number 22, Michael's best man, Charles, arrives. Michael introduces him to Jim, who then rushes off to look for his cufflinks. Michael thanks Charles for coming, and Charles says that he's glad to be there and see his old friend finally get some happiness.

At number 26, Lucy is apologising to Chrissie for getting the Lassiter's modelling gig over her. Chrissie says that her pregnancy is starting to show, so she didn't stand a chance. Jim comes in and asks where Helen is. Helen then walks in and Jim apologises for coming back, but says that he has a goodbye present for her. It's a brooch to wear with her dress. He thanks her for looking after the family for so many years and says that the house won't be the same without her.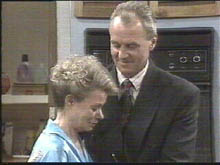 . . .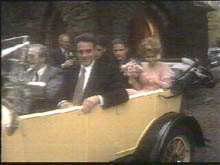 At the church, Mel and Joe run in, late, as the cars pull up outside. The vicar welcomes Charles and Michael and he seems to be more impressed with the car. Michael is worried, but Charles tells him to just relax. Jim is taking photos and chatting to Dorothy, when Glen, Lucy, Josh and Todd arrive and the guests start going into the church. Helen then arrives, accompanied by Paul and Jim takes a photo of her with Lucy and Paul.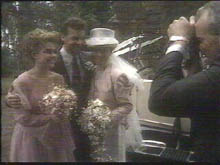 . . .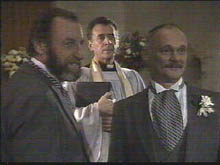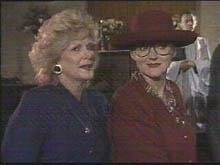 . . .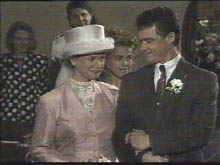 Inside the church, everyone takes their places as Paul walks Helen down the aisle. Madge says that Helen looks great, to which Dorothy says that she's glad she took her advice. Helen arrives at the altar and Joe rushes out of the church to check something.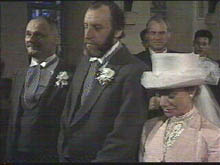 . . .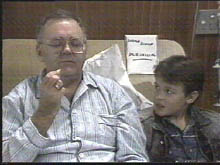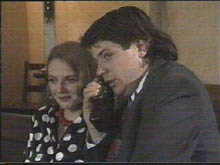 . . .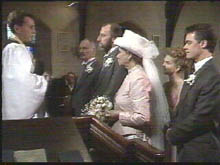 At the hospital, Toby has smuggled some chips in for Harold, while Toby and Joe chat via walkie talkies.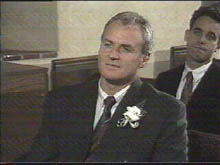 . . .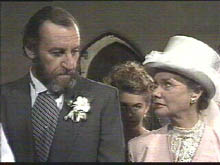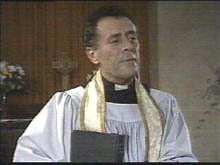 . . .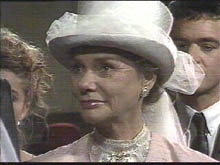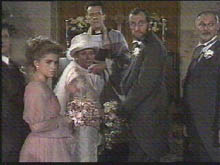 . . .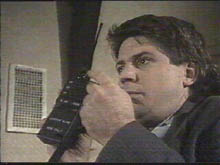 The vicar begins, while Joe gives a running commentary for Harold. He gives Mel the walkie talkie and she starts talking about the dresses when it suddenly goes quiet. As she hands it back to Joe, he realises that she wasn't holding down the button, but as he pushes it down, Harold is shouting that there's something wrong, just as the reverend asks if anyone knows of any just cause why these two people should not be married. Joe is extremely embarrassed as he tries to explain what's happened.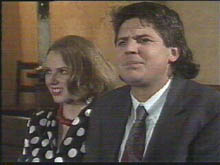 . . .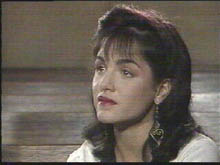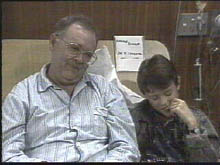 . . .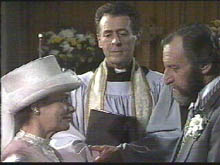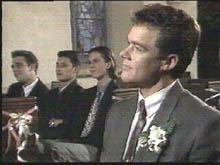 . . .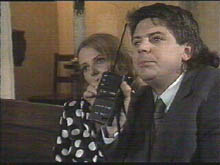 Helen and Michael are exchanging their vows and Madge starts crying, so Dorothy gives her a hankie. The vicar declares them married, and they kiss, as everyone claps and Jim takes a photo of the happy couple.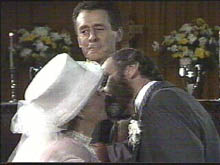 . . .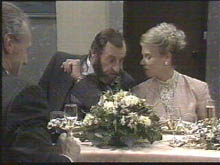 At the reception at number 26, Charles is reading out telegrams from Rosemary, and then another from Scott and Charlene, which reveals that Charlene is expecting a baby, much to everyone's surprise.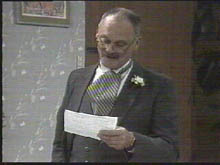 . . .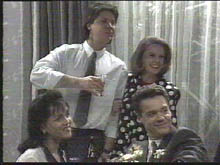 Paul is telling Chrissie that Charles is an obstetrician and has been studying the benefits of playing music to the child while it's still in the womb. Jim then arrives and takes a photo of Paul, Chrissie, Joe and Melanie.
Madge tells Helen that she's going to slip away early to see Harold. Helen tells her to wait until after they've cut the cake, so she can take a slice to him. Dorothy then comments that she should leave before the bouquet is thrown, as she can't take any risks of getting married again, with her history.
. . .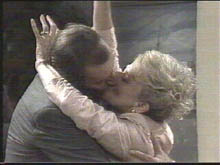 Helen and Michael cut the cake and everyone claps for them as they kiss.

Michael thanks everyone for coming and says that he hopes to make Helen as happy as she deserves to be.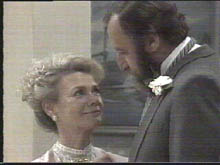 . . .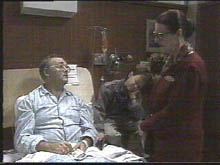 At the hospital, Harold tells Dorothy that he's being discharged the following day and Dorothy is impressed by his progress. She goes to find Madge, who's outside in the corridor and explains that Harold isn't being discharged, he's discharging himself. Madge is worried about him eating junk food and not obeying the doctor's orders.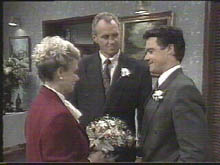 . . .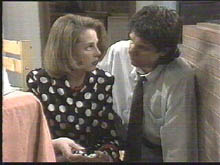 Back at the reception, Helen and Michael are preparing to leave. Helen thanks everyone and is about to leave when she runs back to throw the bouquet, which Melanie catches. Jim tells them all that they're welcome to stay. He asks Paul to stay, but Paul says that he'll see what Christina wants to do. In the kitchen, Mel notices that the bride and groom from the cake are broken on the floor and she announces that this is a terrible omen for Helen's marriage…

Summary by Steve