.
Magic Moments > 1991 > The 1991 Season Finale Episode 1585

Written by Barbara Angell, Directed by Ian Watson
Helen walks in the door of No. 32 to find Todd there with Bob, and she demands to know what is going on...
Helen warns Todd that Bob had no respect for anyone and accused Bob of having a bare faced audacity, reminding him of how he let Jim down by absconding after he had put up his bail. Bob tried to assure Helen that he had returned to Ramsay Street to make things up with Todd, especially with it being Christmas. Todd pleads with Helen to let Bob stay, and Helen agrees on him staying for one night, so that he can spend Christmas Day with Todd. Bob tells Helen he's grateful, and won't forget it. Helen looks on concerned and doubtful.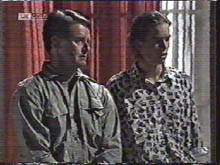 . . .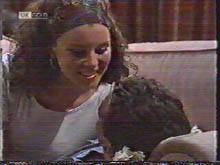 At the Willis house, Gaby and Glen kiss, and Gaby admits she gets scared when everything goes well for her. Glen jokes with Gaby that he doesn't know the date of his wedding, and Gaby agrees that it should be very soon.
At No. 30, Dorothy is merrily singing "Good King Wenceslas" as she tidies the house, and Toby laments how every other house on the street is celebrating Christmas. Dorothy ignores Toby's sadness, and points out that the correct day to celebrate Christmas is on January 6, when it was celebrated in Ancient Rome. Toby wants to know if he had to wait until January 6 for his presents. Dorothy continues to wind him up, suggesting they have their Christmas dinner on the real St. Stephen's Day - in August. Toby is horrified, and asks Dorothy if this means Santa won't be coming that night. Dorothy assures Toby that he probably will come that night, and they should leave out some cake just in case.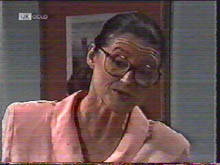 . . .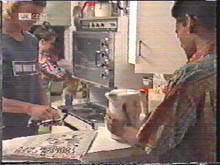 Up in Queensland, Brad, Lucy and Josh return to the holiday home after a day of surfing and sun at the beach. Lucy is confused when she goes to put the kettle on and feels it is still warm. Josh and Brad tell her not to worry, pointing out its been a very warm day, and also that the kettle may be on a timer switch. Lucy agrees its no big deal, and they get on with preparing tea.
Back on Ramsay Street, Todd and Helen lament that Christmas won't be the same this year with Jim, Lucy and Josh away. But Helen assures Todd that they'll make the best of it, since its not the first Christmas the family have been all over the place, with Scott and Julie having their own family and friends to be spending Christmas with. Glen breaks the news to Helen that he won't be at the family Christmas dinner either, as Gaby has asked him to dinner at her place. Helen assures Glen it doesn't matter, but tells him to bring Gaby, and Doug and Pam, over for some drinks after the dinner. Todd answers the door, and Paul comes in with presents for the family. Helen asks him to wish Christina's parents a Merry Christmas, and Paul says he's looking forward to a traditional Italian Christmas dinner. Glen is surprised to find a present for him from Paul, but Paul brushes it off, remarking that Christina always goes overboard at Christmas getting caught up in the hype. Glen tells him to thank her for the thought anyway. They then all go into the living room to put the presents under the tree. While Helen and Todd sort through the gifts, Paul congratulates Glen on his engagement, before asking if he'll be moving out now. Glen annoys Paul by saying he's not sure since its pretty good at the Robinson house and there's plenty of room. Paul then decides to leave, and kisses Helen and wishes Todd a Merry Christmas. Glen yells "Compliments of the Season" after Paul as he's walking out the door, to which Paul replies "yeah". Helen asks Glen if he really did want to stay on at No. 26 after he and Gaby are married, but he says he was just saying it to wind Paul up. Helen tells Glen he's more than welcome, assuring him Jim would love to have him stay. But Glen says he's actually worried about being too close because Doug is a bit possessive of Gaby. Helen suggests that Glen thinks Jim is a bit protective of him too, but Glen says he doesn't mind. Helen then tells Glen that she and Todd won't be on their own for dinner after all because his father has turned up and is over at the Mangel house.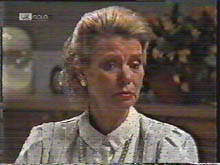 . . .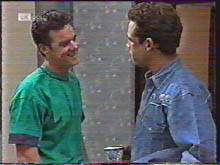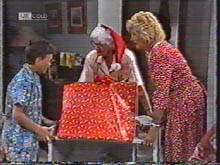 . . .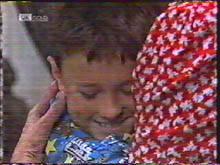 Christmas Day arrives, and Toby runs around No. 30 with Bouncer searching for presents, but with no luck. Dorothy appears wearing a Santa hat on her head, and ringing a bell crying "Ho! Ho! Ho!" Toby looks unimpressed. Dorothy gives Toby a present, and a bone to Bouncer. Toby opens the gift from Dorothy, and is disappointed to find its a book on soccer, from Joe, Melanie, Sky and Dorothy. When he glumly tells Dorothy it's great, she suggests he won't be interested in his other present, before making way for Madge to come into the room. Toby is thrilled and runs to hug her. Madge explains that she wanted to keep her return a surprise until Christmas morning, and Toby tells her its the best gift, other than Joe and Melanie being here too. Dorothy wheels a huge gift into the room, and jokes that she better return it to Santa. Toby pulls off the wrapping paper, and is thrilled to discover its a brand new computer. And Madge also gives him a set of roller blades. Toby is thrilled and hugs Madge.
Later, Toby is roller blading out on Ramsay Street and shows off his presents to Glen, who is on his way up No. 22's driveway. Paul opens the door to Glen, who cries "Merry Christmas Big Brother" to him. Paul frowns, and says there's no one around to hear him. Glen produces some gifts and Paul says he shouldn't have. Glen leaves presents down on the coffee table for Andrew, Christina and Caroline, and Paul is surprised when Glen gives him one too. Paul asks why he would want to give him a Christmas present, and Glen tells him that although it won't make them hate each other any less, its Christmas, before leaving. Paul calls Toby in off the street, and gives him the unopened present from Glen. Toby is initially delighted, and thanks Paul, but is confused when he opens it to see its a tie.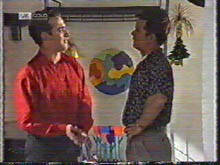 . . .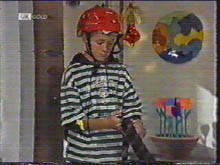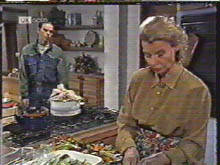 . . .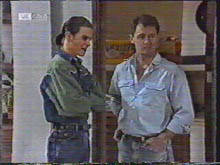 Todd and Helen disagree about whether or not Bob will show up for dinner, and Helen warns Todd not to be disappointed if he doesn't. Todd is vindicated when Bob knocks on the back door, and Bob explains he hopped over a few back fences to save everyone any embarrassment. Todd is thrilled by his father's presence, but Helen reminds Bob that they could be arrested for harbouring him. Bob tells Helen that he really appreciates everything she has done, and he gives Todd a Christmas present. He apologises to Helen for not getting her anything, but she assures him she wasn't expecting anything from him. Todd is thrilled to find its Bob's old army watch, and proudly shows it off to Helen, telling her it had been through Vietnam with him. Bob goes to wash up, and Todd asks Helen what she's going to do about Bob. Helen tells Todd they should just enjoy the day for now.
In Queensland, Lucy, Brad and Josh are enjoying their Christmas dinner in the sun. Josh makes a toast to everyone in Ramsay Street and his parents. Brad asks where his parents are, and Josh tells him they're visiting his mother's side of the family in England. Lucy goes inside for a nap, claiming she's worn out. When she gets inside, her bed covers are all messed up and she calls for Josh and Brad. After asking them if either of them had messed it up, Lucy tells them that she had definitely made it which meant someone else had. Brad and Josh tried to convince Lucy she was just tired and confused, and they suggested she lie down and relax for a while. Josh walks past a wallet on the floor as he helps Lucy down to sleep, and he and Brad leave for a surf.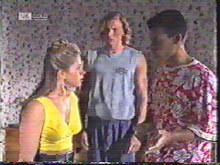 . . .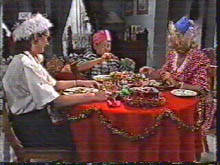 Madge and Toby are pulling a cracker during Christmas dinner at Dorothy's. Madge thanks Dorothy for having her for dinner, and Toby tells her to try not to miss Harold too much. Toby even says church wasn't so bad this morning, and Madge tells him his granddad would have been proud. Toby tells Madge she was the best Christmas present, and he thanks Dorothy for making the day so special.
At the Robinson house, Glen pops in after dinner at the Willis house. Bob runs out of the room to hide when there's a knock on the door. Glen answers the door and it is Paul, who is dropping a gift in for Helen from Margaret and Frank. Just as he is about to return to the Alessi's, Paul's mobile phone rings. The banner on the roof of Lassiter's has come loose and he needs to re-hang it himself since all the maintenance men are off today. Todd offers to help, and Glen offers too. Helen is relieved because she doesn't want Todd on the roof himself. And Helen persuades Paul to go on home for a nap because he had been drinking red wine and wouldn't be able to go on the roof. Before he leaves, Glen asks Helen what she is going to do about Bob, and she tells him she'll have to call the police. After Glen leaves, Helen calls to Bob that he can come out now, and he tells her he heard what she said. But before she calls the police, Bob hands Helen a wad of cash to give to Jim as a repayment for the money he owes him. Helen says it won't make a difference to her decision to call the police but Bob tells her not to say anything to Todd yet because he wants to give him the whole story. Helen suggests Bob turn himself in, and he agrees - but not until he's had some time to psych himself up.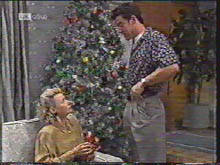 . . .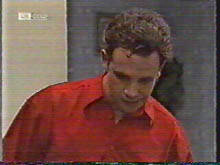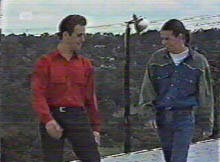 . . .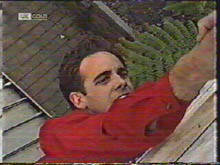 Todd and Glen are walking along the roof of Lassiter's chatting about Helen's Christmas dinner and Jim missing it. When they reach the edge of the roof where the banner is hanging off, Todd leans over to try and fix it. Glen makes his way down a sloped part of the roof to try and reach the banner but slips. Todd grabs him by the hand, and Glen is left clinging on to him in desperation.
Lucy turns her light out to go asleep in her bedroom, and a hand is seen coming out of the wardrobe.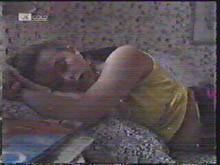 . . .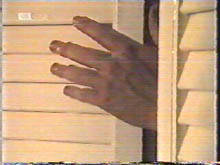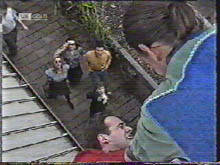 . . .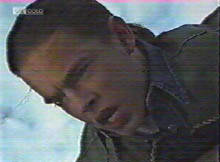 Todd yells for help as he hangs on to Glen's hand, and some guests finally see what is happening. But just as they are about to go for help, Glen loses his grip on Todd's hand and falls...
Notes: The exterior shots of Todd and Glen on the roof of Lassiter's Hotel were filmed on the roof of the Global Television Studios, where Neighbours is recorded.
To read the next episode in this sequence, click here.
Summary by Moe