.
Magic Moments > 1992 > Todd's Death: Part 1 Episode 1721

Written by Margot Knight, Directed by Steve Mann
Todd dashes across the road to try and hail down a taxi so he can get to the clinic to tell Phoebe not to abort their baby, but is struck down by a van. He lies there in agony...
At the clinic, Dorothy is in the waiting room, anxious. The nurse comes out and says that Phoebe shouldn't be too long. She says Phoebe will be fine and can go home within the hour. The nurse goes to get her a cup of coffee. Dorothy sits down to wait for the abortion to be over.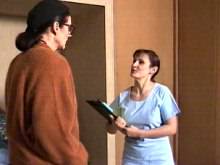 . . .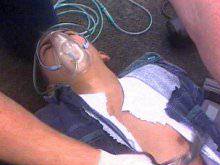 At the roadside, a crowd of people have gathered, and a policeman is questioning the driver, who says that she didn't see him until it was too late. Todd is lying on the crowd, and the paramedics cut off his clothes and put on an oxygen mask and neckbrace, while Todd has flashbacks to the accident. He is carried into the ambulance on a stretcher and taken to the hospital.
Jim is sitting on the couch in 26, telling Paul that if Todd and Phoebe decide to keep the baby, he'll support them. Paul says it will be nice for Andrew to have someone to play with, and Jim asks him if he's had any more thoughts on having more kids, and Paul says that Christina is still convinced that he's a traitor. Jim tells him to be patient. The phone rings and Jim gets up to answer, with his mouth full of food. He hears that Todd's been run over, and is in the hospital. He hangs up and frantically looks around for his keys, whilst telling Paul that the accident is serious. Paul says he'll drive.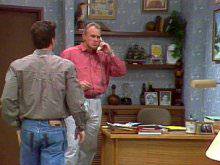 . . .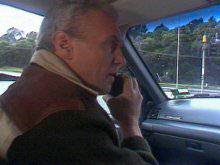 In the car, Jim is trying to reach the clinic using Paul's mobile to tell Dorothy and Phoebe what has happened, but the line is engaged. He tries again and is successful, he asks to speak to Dorothy, saying it's urgent. Dorothy takes the call and Jim tells her what's happened. Dorothy asks to speak to Phoebe, and the nurse tells her that she can't because she's in theatre. Dorothy begs her to get Phoebe, and the nurse goes to see what she can do.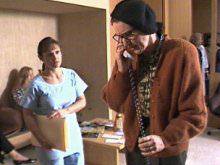 . . .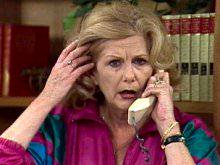 Madge and Lou are in 24 reading the brochure for the holiday they are about to embark on. They go to leave when the phone rings. Lou tells her not to answer it, but she does. It's Jim -- he tells her what's happened. Madge says she'll make sure Helen finds out, and Madge says she can't go on the holiday.
At the hospital, Jim is trying to ring Annette, Todd's mum, but no one's answering. Just then, Dorothy and Phoebe arrive. Jim tells them that Todd is in theatre, and that his condition is very serious. Dorothy tells Phoebe that Todd's a fighter, and that he'll be fine.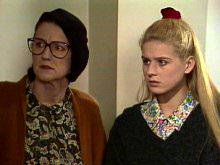 . . .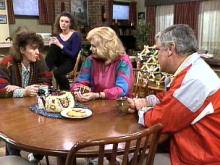 Madge, Lou, Pam and Gaby are at 28, discussing what's happened. Pam assures them that Todd is in good hands. Madge and Lou leave to go to 26 to wait for Helen. Madge offers the holiday to Pam, but she says that Doug's too busy. She then asks Gaby, and she says it wouldn't feel right. Gaby then decides she will after Pam talks her into it. Madge and Lou leave, and Gaby and Pam hug each other.
Back at the hospital, Jim tells Phoebe that he wanted to keep the baby. Paul adds that Todd was too scared of losing Phoebe, and thought he would if he pushed her into keeping the baby. Phoebe then excuses herself, and Dorothy comes back with some coffee, and Jim says he put his foot in it.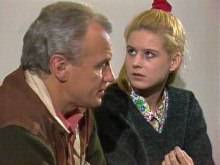 . . .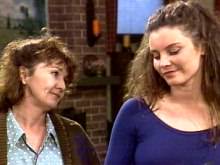 At 28, Pam and Gaby talk about Gaby's new boyfriend, Simon. Pam says that she should be careful and not give Simon the wrong signals. Gaby says she'll ring the guest house and ask them to change the booking to two separate rooms. Gaby feels guilty about going away whilst Todd is in hospital, but Pam pushes her to go ahead with it.
Back at the hospital, Phoebe says that if anything goes wrong, she will never forgive herself. Dorothy tells her not to blame herself. Paul says it's been ages since they last heard anything, when suddenly Todd is bought out on a stretcher. The doctor says Todd will be fine, and that he is a lucky man. Jim says Todd means a lot to them, and the doctor says he should be fine in a few weeks. They all go in to see him.
. . .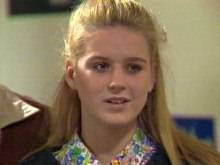 Phoebe is by Todd's bedside with Jim, when he suddenly wakes up. Todd says he's glad to see them, and Todd says it'll take more than a lousy car to get rid of him, and then tells Phoebe he's not going anywhere, because he loves Phoebe too much. He asks Phoebe to stay a while longer.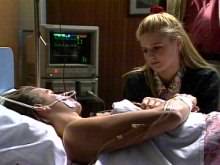 . . .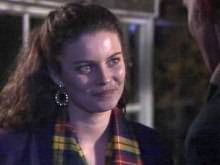 Gaby and Simon arrive at the guest house, and realise the place is deserted. Gaby apologises for being anxious about Todd, and says she's glad she knows Todd's okay. Gaby reminds Simon about her "take it slowly" policy. Simon goes to take a look around outside.
Paul, Pam, Lou and Madge are at 26. Paul is on the phone to Annette, saying that fortunately Helen missed the whole ordeal. Pam and Lou talk about how much they worry as parents, and Pam says that when they're young, you can at least keep them by your side. Paul reacts badly to that, given the fact that all his children live away from him. Madge says they should plan a welcome home party for Todd, and Lou goes to write a speech.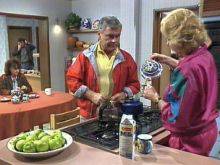 . . .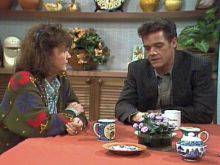 Phoebe, Dorothy and Jim are at Todd's bedside, and Dorothy leaves with Jim to give them some time alone. Phoebe says she feels so ashamed for being so selfish over the baby, and she explains she didn't realise how much he wanted the baby. She says she is still pregnant, because she stopped the abortion the moment she heard of his accident. Todd says that Phoebe is beautiful, when tragedy strikes as he suddenly has a heart attack. Alarm bells ring, monitors beep, and nurses come running in telling Phoebe to leave. Phoebe screams Todd's name whilst the doctors try to revive him. Dorothy, Jim and Phoebe stand in the doorway, looking in. Phoebe yells at the doctor to help him, but nothing can be done, and Todd flatlines.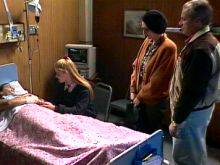 . . .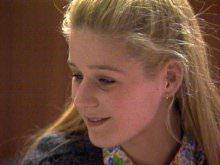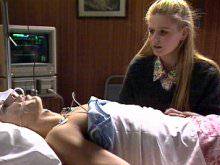 . . .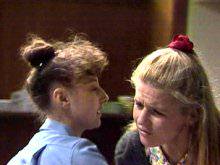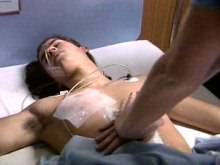 . . .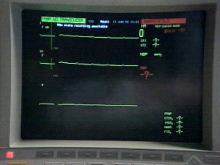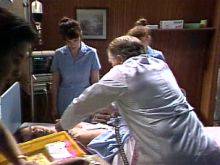 . . .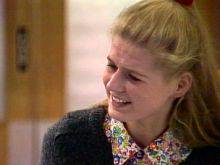 Comment: This was the first death I ever saw on Neighbours, and was devastated because Todd was my favourite character back then. I was really impressed with Simone Robertson's (Phoebe's) performance throughout, especially at the end. The writing was spot on too. A great episode – one of the best deaths on Neighbours.
Multimedia
Episode 1722: Todd Tribute Credits Realvideo: 1950k
Summary by Billy. Captures by Karl