.
Magic Moments > 1994 > Ren's Arrival / Beth's Return Episode 2224

Written by Helen MacWhirter, Directed by Michael Sergi
Gaby tells Pam about her plans to have a naming day for baby Zac and Pam is happy that she'll still be able to invite everyone. Cheryl is worried that Danni has set Marlene up for a fall with her cosmetics demonstrations. Hannah spies on Lynette and realises that she is a burglar...
Mark is serving in the Coffee Shop when a woman asks for home-made muesli, cinnamon toast and a freshly-squeezed orange juice. Mark asks if she wants anything else and she asks for a kiss and a hug. He's shocked, until she reveals herself to be Serendipity, his sister. He asks what she's doing back from Amsterdam and she says the family she was nannying for got sent to Africa and she got homesick. She asks where Dave is and Mark explains that he's just gone off travelling. Ren asks if his room's vacant and Mark explains that he's just rented the room out, but she can have the couch. He then asks her if she brought him a present…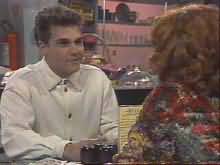 . . .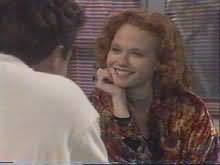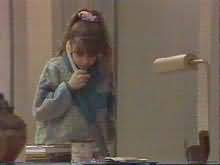 . . .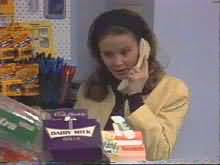 At number 26, Hannah is trying to call Julie to tell her about Lynette stealing from Mark. Julie tells her it's probably just her moving in and not to call the police. She tells Hannah to stop playing with her spyscope and hangs up. Marlene asks Julie if she'd like to come to her cosmetics demonstration that evening, but Julie tries to talk her way out of it. Marlene tells her to bring Debbie and Helen, so Julie says she'll think about it. Marlene leaves and Julie is speechless.
Rick and Cody are having coffee outside the Coffee Shop and he tells her about his modelling shoot for the Face of Lassiter's. Rick explains what a slave-driver Gaby is and Cody says she should have warned him about the Willis women. She leaves and they bump into Marlene. Marlene tells them about her party and they Rick says he's prefer to have surgery. Marlene is hurt by this and starts listing all the products and the conversation ends with Rick and Cody going to the party and Rick receiving a complete makeover…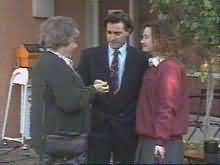 . . .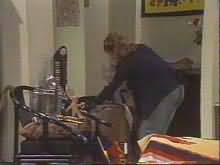 Lynette is packing up all the belongings of Rick and Mark at number 30.
Marlene is thrilled with Mark's food for the party tonight. Mark introduces Marlene to his sister. He says her name is Serendipity but Dippy for short and Ren insists that Marlene calls her Ren. Marlene says it's a very pretty name either way. She then invites Ren to her Roxanne Marie party and Mark says it would be a great opportunity to meet some of her new neighbours. The phone rings and Mark answers to Hannah, who is insisting that he's being burgled. Ren is confused by the conversation and Mark explains that it was the kid next-door thinking that Lynette is a burglar. Ren asks if Mark checked out her references and he realises that he didn't…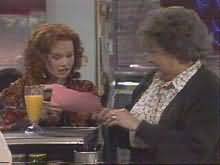 . . .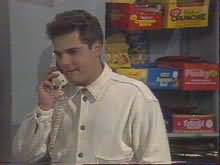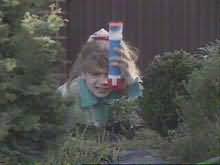 . . .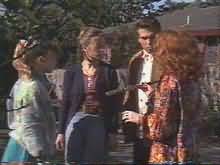 Hannah continues to watch Lynette and then sees an opportunity to stop her. She runs over to the truck with Holly and grabs the keys out of the front. Lynette stops her, dropping a flute in the process. Mark and Ren pull up and see Lynette attacking Hannah. They asks what's going on and then Ren spots the flute and realises that it used to belong to her mum…
At number 24, Sam comments to Marlene that the perfume she's demonstrating would be enough to stop a whole army in its tracks. She says she'll just be happy if everyone turns up and lists everyone she invited. Sam is surprised to hear that Rick will be coming and he tells her that her display looks great. She sends him down to the pub to pick up some wine and tries to spray him with the perfume as he goes…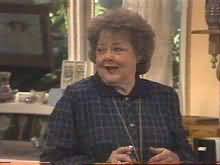 . . .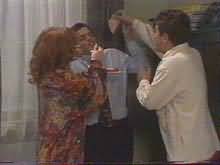 Rick, Mark and Ren are arranging everything back inside number 30. They wonder how many times Lynette has got away with that con before today. Rick asks if he can call her Dippy and she says Ren will be fine. Mark is shocked to find out that Rick will be going to Marlene's make-up party, and he insists that it would normally be the last place you'd find him, but he has the modelling shoot tomorrow. Mark and Ren aren't convinced and start attacking Rick with cucumber and mayonnaise, insisting that it's good for the skin.
At number 28, Cody is annoyed to be disturbed during her studying, until she realises that it's Beth. Beth explains that Brad couldn't get time off work, but she wouldn't have missed Zac's naming day for anything. She asks where Zac is and Cody explains that he's at the office with Gaby. Beth's very amused at the thought of the baby answering phones and taking meetings. Cody explains that everyone's out at the moment and they'll be disappointed that they weren't there to meet her, but she says there's plenty of time for that and asks Cody what she's been up to lately…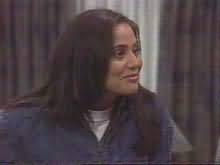 . . .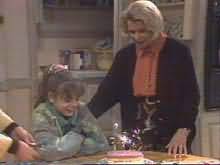 At number 26, Helen and Julie have made a cake for Hannah to congratulate her for catching the burglar. Julie tells her that although she managed to catch out the woman in the end, she still took a very silly risk and shouldn't go around telling tales. Hannah is annoyed that she's gone from being a hero back to being a tattletale. Helen explains to her that people will believe her if she always tells the truth. Helen asks Julie if she's going to Marlene's party, but Julie says she's too tired. Helen says she might pop over to get out of the house.
Marlene is waiting for everyone to arrive. Sam comes in the door and Annalise tells her not to worry and that they're probably just finishing off dinner. Helen arrives at the door and apologises for being late, but Marlene tells her she's the first to arrive and ushers her to sit down next to the display, telling her she can be the model. Helen says she'd be honoured and Marlene sends Annalise to get some towels, tissues and a mirror.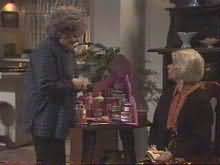 . . .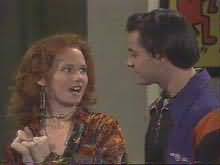 Rick tells Ren to hurry up as they're already late. There's a knock and the door and it's Cody with Beth. Mark is amazed by all the surprise visitors in one day. Beth says that number 30 has hardly changed at all, but Mark and Rick tell her how they almost lost everything to a con woman earlier that day. Ren appears and Beth introduces herself, while Mark introduces Cody and Beth to his sister. Cody asks what they'll do about a housemate now, and they say they'll put an ad in the paper. Ren says that they might not have to, as she was thinking about sticking around.
Back at number 24, Marlene is worried that everyone else got a better offer. She then decides to have a party without everyone, but Cody, Beth, Rick and Ren turn up and Cody introduces everyone who doesn't know each other. Beth asks Annalise what's going on with her and Mark, but Annalise is a bit stuck for words. Rick tries to leave the party, but Marlene tells him that he'll be modelling Roxanne Marie's wonderful range of male products. He's worried that it'll hurt and reminds Marlene that his modelling career is in her hands.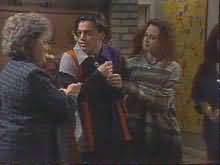 . . .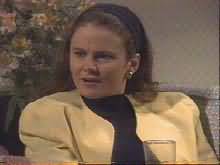 At number 26, Hannah asks Julie if she can join a pony club and Julie says she'll have to ask her father, as they can be expensive. Hannah says it would be fine and they could all go to watch her ride at weekends, except Gran. Julie asks why she wouldn't want her Gran there, and Hannah replies that she doesn't think Helen would want to be there if Julie was. Hannah explains that she gets the feeling that Helen doesn't like Julie anymore and Julie tells her that she says the strangest things sometimes.
Sam and Mark are at number 30, gluing together a model ship. Sam tells Mark that Annalise said she's missing him and then Rick bursts in with moisturiser all over his face and says he needs his beauty sleep before the modelling shoot.
Back at the party, Marlene finishes off applying make-up to Helen and everyone is quite underwhelmed with the final result. She then tells everyone that she'll start taking orders and goes to the kitchen to find her book. Helen can't find the mirror, so she goes to the bathroom. The girls all say they can't face buying anything and Ren says she's seen better make-up on clowns. Marlene asks for the orders and Ren says she can't buy any unless she's absolutely sure that it hasn't been tested on animals. Everyone orders an eyebrow pencil as it's the cheapest item in the brochure and then Marlene convinces Beth to buy some delirium lipstick. Cody suddenly gets up and says she has to go home and do some study, Ren says she hasn't slept in 48 hours so should really go and Beth says she has to catch up with her in-laws. Helen suddenly comes rushing out of the bathroom and says she must leave, before throwing the towel back through the door. The towel lands on Marlene's head and suddenly everyone is gone and she's left standing on her own, not very happy with Roxanne Marie.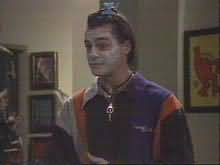 . . .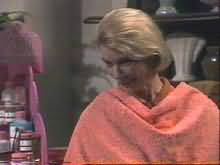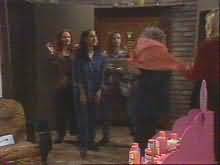 . . .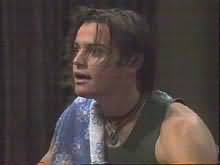 Ren arrives home and twists Mark's arm around his back, telling him that he must promise never to trick her into going to another one of Marlene's make-up parties ever again. She asks where Rick is, and Mark explains that he's in the shower, getting rid of the last traces of Roxanne Marie beauty products. Mark tells Ren how great it is that she's moving in, suddenly Rick screams. He comes running out and his face is all red and blotchy. He asks them what he's going to do, as he's got the modelling shoot in the morning…
Summary and captures by Steve