.
Magic Moments > 1995 > Lucy's Departure Episode 2423

Written by Craig Wilkins, Directed by Philip East
Marlene accuses Sam of moving the gnome and making her think she's senile, so she asks Sam and Annalise to move out. Rosemary introduces Helen to her assistant, Joel. Lucy tells Mark that she's accepted a job in New York and is leaving tomorrow. Mal and Danni are having dinner with the Kennedys, when their cardboard box table collapses.
Lucy tells Mark that it's too late for them now. She says that she's not sure that he'll change his mind again after a few months, but he says that he loves her and asks her to stay. She refuses and says that she's only a flight away, and that he could always come with her. He says nothing, and she kisses him on the cheek and leaves.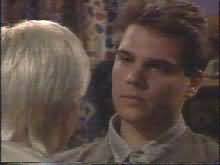 . . .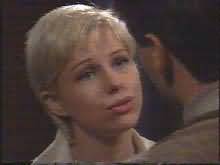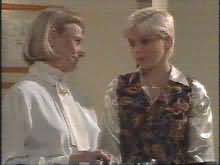 . . .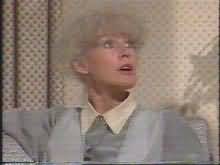 Lucy arrives back at number 26. Helen asks her if she has any second thoughts, and she says she's said all of her goodbyes, and now all she has to do is to pack. Rosemary asks if she'd rather wait and make her mind up, but Lucy says that the sooner she leaves, the better. She says that she doesn't feel rushed, just sad.
Karl is watching number 32, worrying about how Mal and Danni are coping. He tells Susan that he's worried about them failing year 12. Susan tells him not to worry, then asks if maybe she should take over some groceries…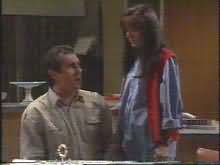 . . .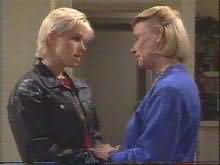 The next morning, Lucy thanks Helen for saving her from her old life. The cab then arrives, and Helen looks out and sees Mark outside, so she says she won't come down. The hug and say goodbye, and Lucy takes her cases and leaves.
Outside, Mark takes Lucy's cases from her, and gives her a teddy as a going away present. He tells her she'll always have something to hug, but he'll be with her one day. They say that they love each other, and she gets in the cab and leaves, telling Mark that she's sorry for what could have been. The cab drives away as Mark watches with tears in his eyes.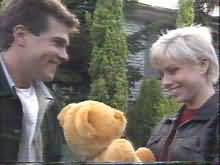 . . .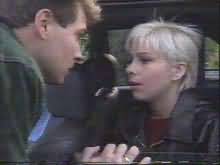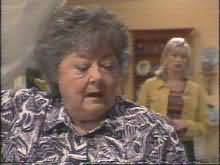 . . .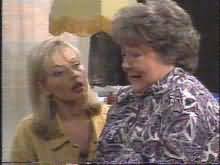 Marlene is watching from her window, and Annalise asks her how she's feeling today. She says she's not bad, considering she's supposedly losing her mind. Annalise asks when she wants them to move out, and Marlene says she doesn't. She asks if they're playing tricks on her, and Annalise assures her that they would never do something like that. Marlene starts to cry and Annalise tells her that they can work all of this out. Marlene says that Colonel Parker does exist, and somebody has been moving the gnome, but she can't seem to convince anyone else.
Rosemary is on the phone in the pub, when Joel comes in, saying that they need to talk. Danni brings Rosemary her drink, and Rosemary tells Joel how important he is to her. He says that she keeps him hidden away like a dirty secret, and Rosemary tells him how difficult it is to broach the subject with her mum. The phone rings again, quickly ending their conversation.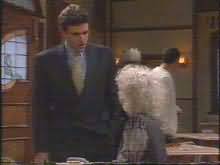 . . .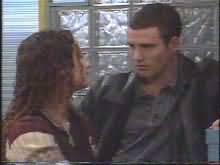 Stonie is at the surgery, putting Cody off her work, when Karl emerges from his office and Cody says that Stonie is just leaving. Karl says he's going too, to do house calls.
Brett and Billy are searching for lost golf balls at the golf course, when Billy sees one. They realise that it's not Brett's, but they decide to keep it anyway, to sell it on. He says that he's saving up to buy a leather bomber jacket.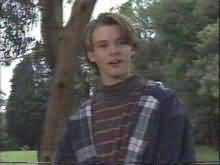 . . .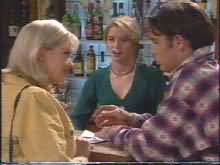 At the pub, Danni and Mal are making lists of everyone to invite to their party. Stonie comes in and Mal gives him an invitation and says it's only $5. Danni explains that the party is for their own personal charity. Annalise comes in and Stonie tells her about the party, she asks Danni and Mal where all the money is going to. She goes on to explain that their parents only let them move out to make them realise that they couldn't cut it as adults.
Brett and Cheryl are out on the veranda of number 22, and she's depressed that despite all of her hard work, she's still failed. She says that it really sticks in her throat that she's been forced to sell to Rosemary, and Brett tells her that life's too short to worry about it. She tells him that it's going to get harder, but he tells her that she's a born survivor.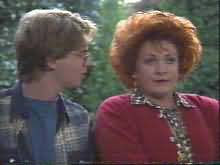 . . .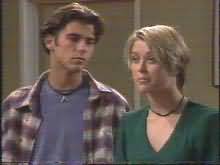 Mal and Danni arrive at number 28 to talk to Karl about his plan. He says that he may have thought about it, and Mal says that he's never going to move back home now. Karl tells him that it would make more sense for them to live at home for free, but they say that Marlene has gone garantor for them to rent proper furniture. They leave, and Susan congratulates Karl on alienating them further.
Cheryl arrives at number 26 to see Rosemary, and asks her for a fair price for her property. Rosemary tells her that it's a fair price, and Cheryl realises that she has no choice in the matter. Helen then interrupts and invites Cheryl and Lou over for dinner. Helen then invites Joel, but Rosemary says that he'll be too busy then. Joel is annoyed by this. Cheryl then leaves, with Rosemary assuring her that she'll have a contract drawn up.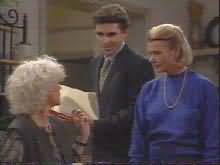 . . .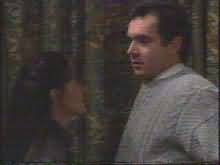 Billy is watching a comedy show, when Susan comes in and turns it off. Karl is busy watching number 32 through the window and says that Mal and Danni are charging admission for their party. He decides to go out for a walk, assuring Susan that he won't go near number 32. Susan decides to follow him.
Susan watches from outside number 28 and then spots Karl on the other side of the street, as he runs into Marlene's garden and steals the gnome. Susan calls out, causing him to drop the gnome on his foot, and she asks what the hell he's doing.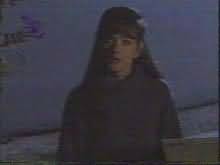 . . .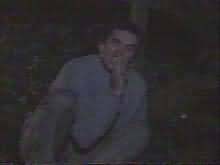 Stonie arrives at the party, and tells Mal and Danni that the music needs to be louder. Packo offers to help him. Brett says it's lucky that they have no furniture to wreck.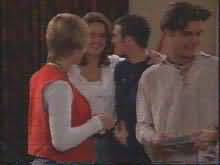 . . .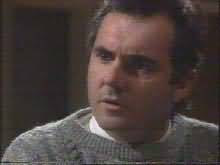 Susan is telling Karl how his pranks have made Marlene think she's going senile. He tells her how boring he's become and how he used to play pranks like this in uni. Susan is horrified and reminds Karl how worried Marlene has been lately about her health. Karl says that all he wanted was a bit of fun, and Susan says they'd all like to be young and free again, but middle age is creeping up and they all need to get used to it.
Notes: After two stints as a regular cast member, and one in a guest capacity, this episode marked Melissa Bell's final appearance as Lucy Robinson.

Summary by Steve