.
Magic Moments > 1995 > The 1995 Season Finale Episode 2530

Written by Karyn Noble, Directed by Geoff Hunt
Lou asks Cheryl if she's jealous of Linda but she tells him she's just puzzled. Marlene warns Jo that they must not interfere in Sam and Annalise's relationship. Karl and Kate share a passionate kiss. At the beach, Libby says nothing when Sonny tells her she only needs to tell him no if she doesn't want to have sex...
Billy storms into number 28 to find a distant Karl and reminds him that they were supposed to meet at Chez Chez for the party. Karl makes an excuse before realising that he is late for Susan's plane. Billy doesn't want to go if Mal isn't but before Karl can berate him, Libby rushes in needing $10 for a taxi. Karl is suspicious that Sonny didn't drive her home but Libby brushes it off as a silly argument. He tells the kids to pull themselves together before their mother gets home and leaves. Billy wants to know if Libby's okay but she asks to be left alone and walks away.
Sam is cleaning his boots at number 24 as Annalise arrives home, surprised that he's not at work. Sam is distinctly cold and asks if "Suzy" is any better. Annalise replies yes leading him to ask if it was from the ankle or the flu. Sighing, Annalise tells him that Suzy needed some company and she needed some time to think. She tries to hug him but Sam tells her not to if she's going to break up with him. Annalise denies this but they just don't have fun anymore. Sam blames it on Jo moving in but Annalise counters that living with his grandmother doesn't help. He thinks she doesn't want to spend any time with him at all but Annalise replies that he's being ridiculous and storms off to her room.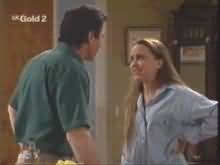 . . .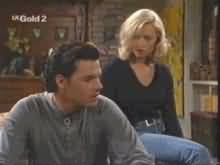 At The Coffee Shop, Angie gives Mal his order on the house to congratulate him for good exam marks. Danni wants to shout him instead and Angie becomes flustered for her tactlessness before Stonie shooes her away. Stonie apologises but Danni wants to drop it. Suddenly she perks up when she sees Michael Martin arrive and runs over for a welcome hug. Stonie fills Mal in on their former relationship as Michael kisses Danni on the cheek.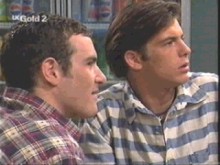 . . .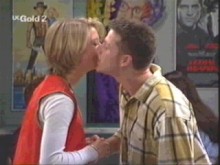 Karl and Cheryl are at the airport watching the plane land. Cheryl is glad they're back safe and sound.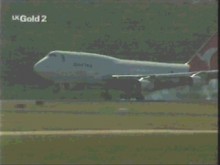 . . .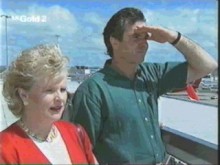 Susan and Brett have joined the pair as they leave the airport making strained conversation about the flight. In the car park, Brett and Susan exchange knowing glances before Cheryl heckles Brett to get in the car.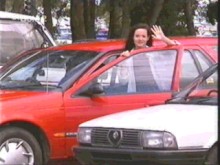 . . .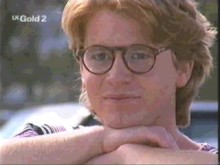 Michael has joined the group in the Coffee Shop as Danni shows enthusiasm over his having his own house. Mal makes a snide comment about him being in a school for ex-offenders but Michael changes the subject to exam results. He's surprised that Stonie passed but Danni offers that some haven't done so well. Mal wants to change the subject but Michael cheers Danni by telling her that he has heaps of mates with careers and you don't need Year 12 to be successful. Mal accuses him of advising that everybody drop out of school and Stonie tells him to chill. Michael cites himself as an example leading Danni to say how he's changed for the better. Lou arrives to send Danni to the pub and greets Michael. As the teens head off for the party, Linda walks in and tells Lou they need to talk in private.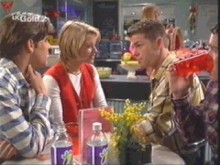 . . .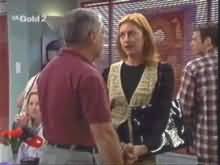 Hannah pokes her head out the door of Chez Chez to check for the arrivals before asking a distracted Billy if Brett and Susan will be suss at being brought there. Angie offers Libby food and tells her not to worry about her weight because her boyfriend loves her just the way she is. Libby excuses herself angrily as Stonie tries to steal the food. Sam comes over and Stonie mentions needing to tell Annalise about his exam result. "Oh lordy yeah, she's got a big thank you coming," Angie exclaims and Sam says she's probably still at home deciding what to wear. Seeing as he's got to pick up Angie's camera, Stonie figures he might as well see her now and gets ready to leave. Just then Danni spots Brett and Susan approaching and they arrive for the surprise party. Susan remarks to Brett so much for a quiet drink.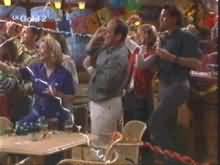 . . .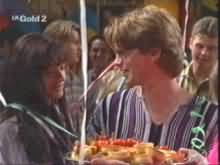 Annalise answers the door to Stonie and tells him that if it's about his tape, she's not in the mood. Stonie lets her know that he did okay in his exams and thanks her for her tutoring. She is ecstatic and he decides to give her a lift to the pub after picking up Angie's camera. Annalise agrees to go over to number 32 with him to see his results when he assures her it's not a line.
It is evening and Karl and Susan are back at number 28 where Karl blames the party squarely on Cheryl. He prescribes a long bath and an early night as Susan struggles to muster up enthusiasm. Karl asks for some travel stories but she tells him there's too much and tries to change the subject by asking how things have been at home. He thinks his stories can wait but Susan is cagey. She apologises and says that she needs sleep before they catch up. There's a lot to catch up on.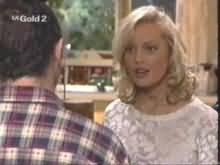 . . .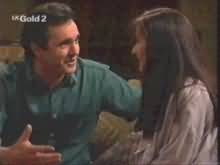 At number 22, Cheryl gives Brett his exam results and is excited that they are brilliant. Now they can both start planning his fabulous career starting with an Arts-Law course. Irritated, Brett interrupts telling her he's decided to defer and take a year off. Cheryl thinks he'll be itching to get back into it after a 2 month break but Brett exclaims that it's nothing to do with her. He did some thinking in Africa and things are going to change. Cheryl yells that if he picked up that rude and selfish attitude in Kenya, then that's what's going to change. Brett accuses Cheryl of trying to control him but she tearfully denies it, telling him she loves him and has big plans for him. Brett warns her that if she doesn't let go, he'll have to move out.
Back at the party, Angie wants to know where Stonie has got to. Sam is looking for Annalise so Angie decides to head back to Ramsay Street with him on the bike before dumping her food platter in Mal's hands. Linda warns Lou that they need to talk to Cheryl so he asks Danni to close up and leaves. Danni asks Hannah to come and dance with her and Michael but Billy is unenthusiastic. Hannah asks Libby a question about Sonny causing her to run out followed by Billy. Angrily, Mal splits up Danni and Michael demanding to know if she wants to be with him. Danni admits that you can't turn feelings on and off but assures Mal that she loves him. Mal decides to give her a push in Michael's direction and walks out.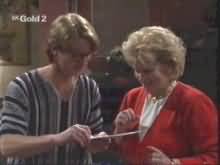 . . .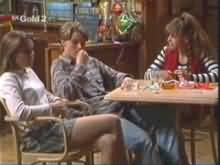 . . .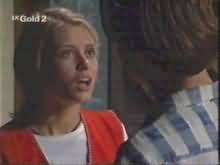 Lou and Linda arrive at number 22 and cut Cheryl off by starting a conversation about Linda's Auntie Mavis. They tell a stunned Cheryl that Mavis left Linda a lot of money in her will but she will only receive it if she remarries Lou. Cheryl says they can't be serious and laughs but Linda proposes that she remarry Lou for business purposes, divorce and split the money. Lou asks Cheryl what she thinks and she shakes her head.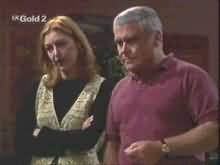 . . .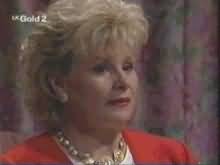 Karl is at home reading Jane Austen's Emma as Billy and Libby arrive. Karl tries to find out what happened between Libby and Sonny earlier but Billy warns him to leave it. They hear Cassie making noise outside and Karl asks them to check on her before going to bed. As Billy looks for food, Libby walks outside and pets the sheep. Out of the shadows, Sonny appears and tells her he thinks it's explanation time.
Angie returns to number 32 to find clothes and champagne in the living room. Laughing, Stonie enters in his boxer shorts and stunned begins to pull on his clothes as he greets he. Angie tells him there's no need to shout and laughs at him being such a 'Romeo'. She's glad he and Kerry have patched things up and decides to pop in and say hello before leaving them to it. As Stonie tries to stop her, Annalise walks in wrapped in a bed sheet before Sam comes through the front door. All stunned, the group stands in silence.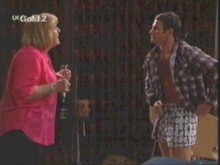 . . .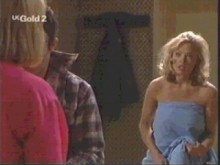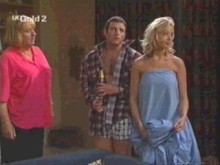 . . .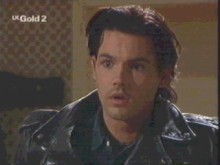 Notes: In this episode the role of Cheryl Stark was played by Collette Mann who filled in for Caroline Gillmer while she was absent from the show. Although they do not have any lines, Phil Martin and Helen Daniels both appear in the background of the party at Chez Chez. It is believed that the original intention was to have Libby being a victim of rape at the hands of Sonny. However due to the risky nature of the story, it was changed.
Comment: Given the woeful year that this episode was a finale to, it was surprisingly effective and dramatic. Several stories reached their peak injecting some much needed drama into the show with which to start the next season. The strain in the Kennedy house was particularly well observed given Karl and Susan's respective secrets but the episode was perhaps let down by giving the final scene to Stonie and Annalise. This was an entirely unbelievable story that ruined Kimberly Davies' final six months on the show.

Summary and captures by Jay