.
Magic Moments > 1996 > Annalise's Departure Episode 2538

Written by Clare Mendes, Directed by Tony Osicka
Annalise and Joanna hug as she tells her that she's leaving town for good...
At the pub, Lou comes running in and Cheryl asks who's chasing him. He says his speech went down a treat and she says she's glad he isn't going to marry Linda. Jen comes in and starts talking about how she's just applied for the dole. Cheryl tells Jen about how she's just had to sack someone for stealing a bottle of scotch and offers the job to Jen. Cheryl tells her to come in for a trial tomorrow morning and that some people aren't cut out for bar work.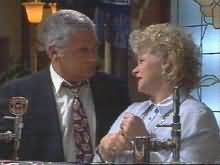 . . .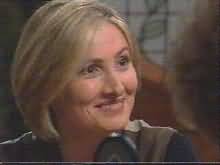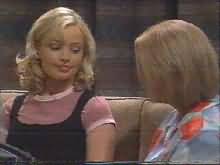 . . .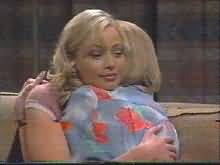 At number 26, Annalise tells Helen that she's leaving tomorrow. Helen asks if it's really necessary for her to leave the country, but Annalise explains that she only stayed last time because of Jo and Sam. Helen tells her to go for it, but Annalise says she's worried about Jo thinking she's deserting her. Helen agrees to keep an eye on her and then offers to give her a lift to the airport in the morning. They hug, and say how much they'll miss each other.
Marlene gets up in the middle of the night to find Sam sitting on the sofa. He's reading Annalise's letter and tells Marlene that he can't move on. Marlene says that although what Annalise did was terrible, it doesn't change all the good times they had together. He says it's all a nightmare, he hates what she did, but he can't hate her. Marlene tells him not to hate her, as he'll find it easier.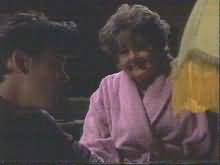 . . .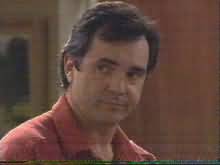 At number 28, Karl is preparing to go to Cairns for Kate's funeral. Melissa arrives at the door with her books, ready to cover them with Billy. There's an obvious tension between Susan and Karl.
In the street, Phil says goodbye to Annalise as she gets into the car with Helen and Jo. He then goes over to Sam and asks him about paint suppliers for Michael, but Sam is distracted by the car leaving with Annalise in it. He asks where she's going and Phil tells her she's leaving for overseas today. They continue the conversation, but then Sam suddenly starts up his bike and goes.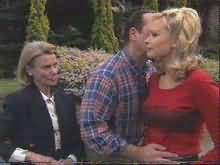 . . .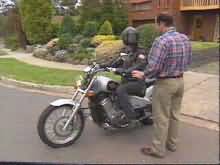 . . .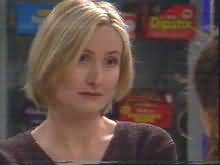 Jen is in the Coffee Shop, practising making drinks for later. Cody comes in and Jen explains what she's doing. Cody asks why she didn't just do it at home, rather than sneaking round to get the keys to the shop from Angie. Jen explains that she was embarrassed, and was worried that she'd just stuff up again and wouldn't get the job. Cody assures her she'll be fine and that if she knows how to pull a beer, she'll be fine. Cody says that Rick gave her a few tips, and then shows her how to make a West Indian Yellow Bird cocktail.
Melissa and Billy are talking about the school year ahead, when he asks her about a book. She says it's her diary and that it's private, as it contains things about him.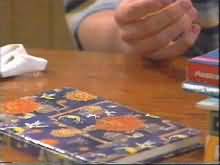 . . .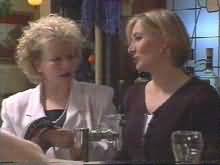 Lou is impressed with how Jen's trial is going, then Cody comes in and orders a West Indian Yellow Bird. Cheryl reaches for the cocktail guidebook, but Jen reels off a list of ingredients, claiming that Cody was ordered one at a uni party. Cheryl and Lou are very impressed and tell Jen that she can start straight away.
Helen, Annalise and Jo have stopped at a service station and the girls are getting some magazines while Helen fills the car up with petrol. Annalise admits she's starting to worry a bit, but Helen tells her to focus on all the exciting things she's going to see. Just then, Sam turns up on his bike.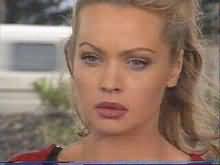 . . .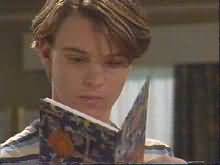 Melissa and Billy are finished with their books, when her mum turns up and beeps her horn. Melissa runs out the door and Billy notices that she'd left her diary behind. He stares at it for a while, before picking it up and opening it. He quickly changes his mind, but then looks at it again.
Sam tells Annalise that he can't believe she would leave without saying goodbye. He tells her that he can't stop thinking about her, despite all that's happened, but she tells him that it's too late. He insists that it isn't, but she says that they'll just end up fighting again. She says she'll always love him but they both know deep down that they want different things. He wants to settle down and she doesn't. He says that it can't be that simple, but she says it is. They hug and she promises that she'll think of him and send him the odd postcard. Helen beeps the horn, so they quickly kiss and she gets in the car and goes. He watches her leave and starts crying.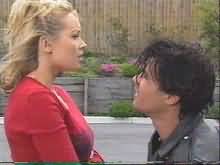 . . .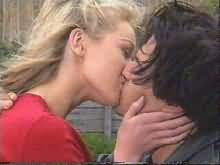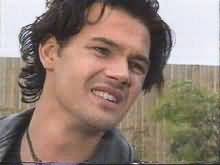 . . .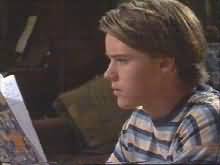 At the Kennedy house, they've just finished dinner and Susan asks Billy is everything's alright, as he seems to be very distracted. He says he just has a few things on his mind, then Susan suddenly remembers that she has to pick up Mal and Libby, and leaves Billy to do the dishes. Once she's gone, Billy goes over and starts to read the diary.
Michael is at number 26, trying to convince Jo to join him, Luke and Stonie on a big night out for his last night in town. She doesn't want to go, and Jo asks Helen if she talked Michael into asking her. Jo admits that she's thinking of going back to live with her dad, as at least she'd have somewhere to stay and a job to fall back on. Helen convinces her to continue running Anna-Jo on her own and agrees to do the books, since she did the ones for Home James a few years back.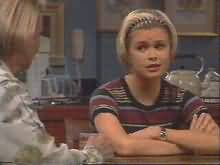 . . .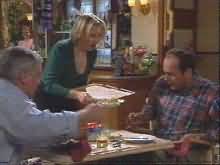 Phil and Lou are having dinner at the pub, and are just finishing their starters. Lou tells Phil that Jen's just started work at the pub, but Phil says there are no hard feelings there. They talk about Michael leaving tomorrow and how Phil will miss him, then they have a toast to 'sons and daughters'. At the bar, Cheryl asks Jen to take the main courses over to Lou's table. Although she's reluctant, Cheryl tells her she has to do it, and so she goes over. Everything is going fine, and they're all being very civil to each other, until Jen accidentally tips the meals into Phil's lap. Fortunately, Lou makes a joke of it and everyone ends up laughing at the situation.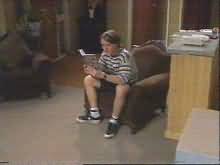 . . .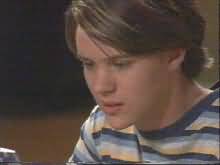 Billy is sitting reading Melissa's diary. He finds an old entry about himself and how Melissa kissed him for the first time. He's pleased to find that she enjoyed it, and that she finds him more attractive than Mal. He then finds an entry about her arriving at the caravan park, and reads that she saw Duncan there and they kissed, and that he's a much better kisser than Billy.
Summary by Steve