.
Magic Moments > 1997 > Lisa's Depature Episode 2905

Written by Louise Le Nay, Directed by Gary Conway
Lisa tells Sarah and Ben that she scored the research job in Hobart. Sarah and Ben worry about the rent, so Lisa offers to have a garage sale. Toadie decides to go to the bank for a loan for the jukebox. Tommy encourages Harold to play tuba in the street. Ben overhears Lisa chatting to her mum and thinks that Lisa is in love with him...
Tommy and Harold are marching up and down the street playing the tuba and trumpet, while Lisa sets up for her garage sale. Harold stops, saying he can't walk and play at the same time, so Tommy gets him to pat his head and rub his stomach. Harold gets confused, while Ben and Lisa laugh. Harold starts playing again, while Ben tells Lisa they could do with a break and a chat. She tells him she won't forget to say goodbye and he tells her he's sorry she's leaving. He says it's often when you say goodbye to someone that you realise how much they mean to you and she looks at him strangely. Just then, Sarah comes out and interrupts their intimate conversation.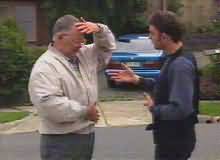 . . .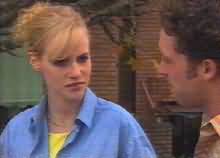 Inside number 26, Hannah is about to cut off Toadie's ponytail, in order to give him a more neat appearance for the bank manager. He's very nervous about it and keeps stopping her. She says she'll do a small bit at first, but he tells her just to do it all at once. She says she can't, but he tells her to do it. He grabs the scissors from her and goes to cut it himself…
At number 28, Toadie appears from the bedroom, looking like he has short hair, but when he turns around, his hair is plaited at the back. Hannah is impressed with his smart clothes and they head off to the bank for their appointment with Mrs D Stevens. Hannah says she hopes it stands for Mrs Daglover Stevens, but Toadie tells her that they've got to take this seriously.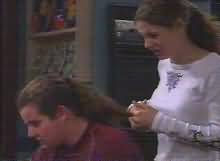 . . .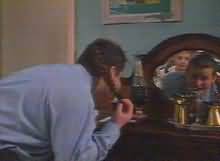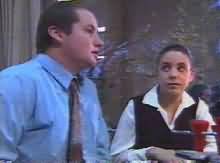 . . .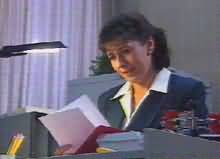 At the bank, Toadie and Hannah are told to wait in an office. A woman walks in and is surprised to find that they're both under 18. She tells them that it's highly irregular, but will listen to their proposal, since they've tried so hard. They tell her about the jukebox and she reads through their proposal.
Lisa and Sarah need the esky for some ice for the party, but Ben says he has an engine head in it. Sarah heads off to pick up the ice, leaving Ben and Lisa alone. He asks how long she'll stay in Hobart and she says it depends how things stand when her contract ends. She wonders if she'll have anything to come back for, but they're interrupted again, this time by Lou. He tells Ben he has a business proposition for him. Ben tries to get rid of him, but Lisa leaves to pack her clothes. Lou says he has an offer that Ben won't be able to refuse.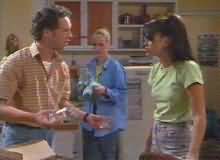 . . .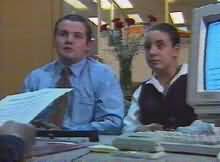 Dorothy finishes reading and asks Toadie and Hannah how often they'll need to update the CDs in the jukebox. They explain the rotation and how much it will cost and she admits that it's a great proposal, but since they're both too young, she can't lend them money. She suggests asking a parent or adult to go guarantor and they consider it.
Lou and Ben are discussing his proposal, when Sarah walks in with the ice. Ben admits he's surprised by Lou's offer and will need to think it through. Lou leaves him to do that and tells him that he'll be in charge of a fully-functional garage. Lisa comes in and Sarah tries to grab Ben's attention. He admits that he's surprised that Lou's offered him a partnership. Sarah tells him to say yes, but Lisa says he needs to be sure that he's ready to settle down.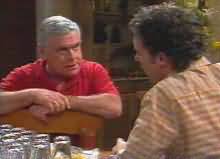 . . .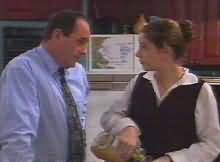 Phil is at home working when Hannah and Toadie walk in. Phil asks why they're all dressed up and Toadie says he doesn't want to talk about it and goes home. Phil says he's just spoken to Dorothy Stevens and she thought their proposal was so good, it was worth discussing further. Phil says that he's going to look at the proposal and consider going guarantor. Hannah gets excited, but Phil tells her not to get too carried away just yet.
The party is in full swing at number 30 and Kev the barman is hunting everywhere for a bottle opener. Ben asks Sarah if Lisa has ever mentioned fancying him and she says that she hasn't. He tells Sarah about the phone conversation he overheard and he wants to know where he stands before it's too late.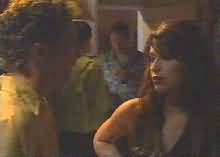 . . .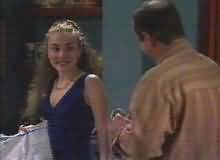 At number 26, Debbie is leaving for the party and Phil asks her about the jukebox. She tells him that the old one was really popular and she'd take Toadie and Hannah's if they converted it to CDs. Debbie says it gives a good vibe, causing Phil to start talking about everything being groovy. Debbie leaves and Hannah comes in. Phil says he's considering the proposal very seriously now.
Debbie arrives at the party and Sarah quickly drags her away from Lisa and Ben. Ben tells Lisa how much he'll miss her and she asks him to come and visit. He asks if she means it and she says she does. He says he had no idea she felt like that and leans in to kiss her.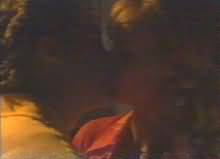 . . .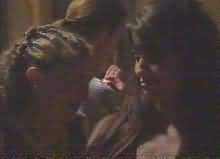 Moments later, Ben is very embarrassed about Lisa's reaction to the kiss. He asks her about the phonecall and she says she was telling her mum how great Ben is with cars. She kisses him again and drags him off, just as Debbie and Sarah come in. They wonder what's going on.
The next morning, Sarah, Ben and Lisa are having their garage sale but are all hungover. Lisa says she'll have to leave soon and will phone her mum. Sarah tells her not to do it in front of Ben, or he might get the wrong impression. Toadie is selling stuff at one end of the table, until Susan comes outside and realises that it all belongs to members of the Kennedy family. She sends Toadie inside with it all. Susan and Lisa have a heart-to-heart and Lisa thanks Susan for making her realise that she's not cut out for teaching.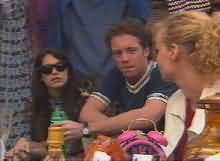 . . .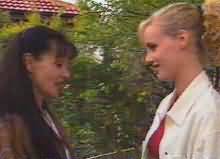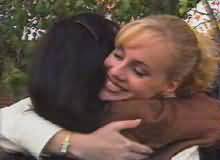 . . .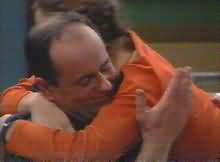 At number 26, Hannah wants to know whether her dad is going to go guarantor or not. He says that he will, as long as they put it all in writing and that Toadie pays all the money back. Meanwhile, Debbie rushes out to say goodbye to Lisa.
Lisa is preparing to go. She hugs Sarah and Ben, telling him to take good care of himself. Debbie rushes out as Lisa is getting into the car and Lisa drives off, waving and tooting her horn as she goes. Hannah rushes out and tells Toadie that Phil has agreed to go guarantor. Meanwhile, Lou walks up and tells Ben to come with him, as he's got something to show him.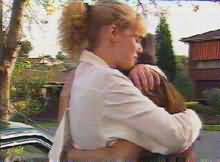 . . .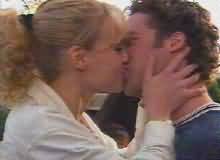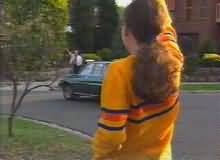 . . .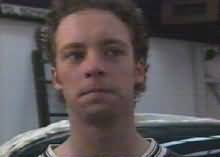 Lou and Ben are at the garage. Lou says they can build on the existing client base and Ben is impressed that the garage even comes with a load of cars. Lou tells Ben that he hopes he'll say yes…
Summary by Steve