.
Magic Moments > 1997 > Caitlin's Arrival Episode 2951

Written by Lois Booton, Directed by Philip East
Ben explains to Matt and Sarah that his sister Caitlin is coming to stay while their parents are in the Middle East. At the racetrack, Ben is racing Jimmy Drane, when he tries to overtake, loses control of the car and it spins off the track…
As the car comes to a stop, Matt tells Ben that he's an idiot and he shouldn't have taken such a stupid risk. They both get out of the car and Jimmy's car turns around and comes back to join them. Jimmy tells Ben that he's lucky he isn't banned from ever setting foot on the track again and says that he won't be allowed to get in another car until he has his racing licence. He walks away and Sarah, who was Jimmy's passenger, takes her turn to shout at Ben, telling him that his behaviour lately has been juvenile and he could have killed himself and Matt – something she won't be forgiving him for in a hurry.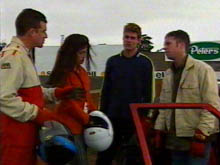 . . .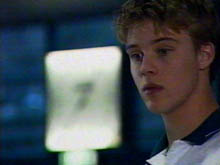 At the pool, Billy is at work and is busy watching a girl swimming up and down one of the lanes, constantly checking the time after each lap. He's impressed with the times she's clocking up.
At number 28, Libby is looking for Susan, as she promised to read over her women's studies essay. Karl explains that she's gone to an emergency meeting at the school, as plans have been announced to merge Erinsborough High with Elliot Park. Libby is shocked at the prospect of yet another merger, and Karl admits that they're not sure yet whether Susan will even have a job at the end of it all. He tries to be positive about it, but Libby can't really see what good it's going to do anyone.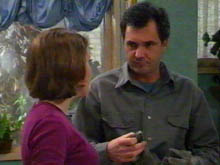 . . .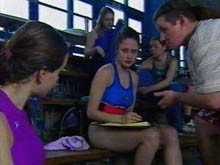 Back at the pool, Billy is complaining that Toadie is following him around. He asks why he can't hang out with Hannah and Claire, or Lance, or even Anne, but Toadie then spots the swimmer from earlier as she gets out of the pool. He races over to her and says she was very impressive in the pool. Another girl then comes over and joins them and says that the first girl could make the regional finals with times like that. She says that she already did, and goes to get back in the pool, as Toadie is left behind, trying to chat up any woman he can find, much to Billy's amusement.
At number 30, Sarah, Ben and Matt get back and she's still angry with him about the incident at the racetrack. He says that enough is enough and they should just forget about it, and Matt agrees. They find some bags inside, with a note from Caitlin, explaining that she arrived early and found the spare key, so she dumped her stuff and went exploring. Sarah goes to make them all some tea, but Ben decides to go out and try to find his sister, as he wants to look out for her while she's staying.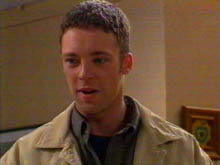 . . .
At the pool, Toadie and Billy watch the girl swimming. Toadie thinks she's hot, while Billy is just impressed with her sporting prowess. Anne then turns up for a swim and jumps right into the lane the girl is swimming in. Billy apologises as they bump into each other and have an angry confrontation, and tells Anne to get out. Anne thinks the other girl has a serious problem, but Toadie says he likes a woman with a bit of spirit.
At number 28, Susan is hanging the washing in the back garden, with Libby following her around, asking about the merger. Susan explains that after it's all done, they probably won't even have any money left for books, let alone any other facilities. And there's talk of streamlining the administrative side of things, so she may have to take a demotion too. Karl comes past them with a wheelbarrow, and asks when it'll be going ahead. Susan says that it won't be until the end of term, as even the school board aren't stupid enough to merge in the middle of the academic year but she's going to fight it all the way, as Erinsborough High has already been through one merger and it took two solid years of hard work before things were back to normal. She leaves Karl and Libby to finish with the washing as she goes inside to make some calls.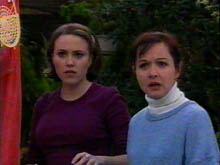 . . .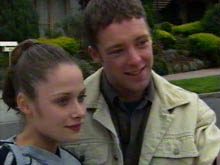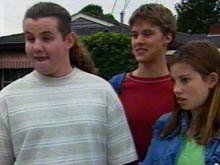 . . .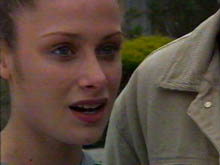 Billy, Anne and Toadie walk back along Ramsay Street with their pizza and about to go into number 32, when Ben runs over to them. He explains that his sister's coming up from Adelaide to stay for a few weeks and he wondered if they'd all hang out with her and make her feel welcome. They're happy to oblige, though all Toadie cares about is whether she's cute. The girl in question then appears and they're all surprised to realise that it's the girl Anne argued with at the pool. Ben is pleased that they've all met already, but formally introduces everyone and fails to pick up on the obvious tension that's forming between Anne and Caitlin. Caitlin quickly excuses herself, saying that her hair's still wet and she needs a shower, with Toadie telling her to call in on him at any time if she needs anything. Once Ben and Caitlin have gone, Anne says she looks like a spoilt brat and she can stay away until she's ready to apologise.
At number 30, Caitlin has been introduced to Sarah and Matt, and Ben asks if she'd like to go and see Anne and the boys. Caitlin doesn't seem too thrilled with the idea, and Ben admits that he noticed that look on her face earlier when he introduced Anne. Caitlin explains about the incident at the swimming pool, and Sarah and Matt quickly excuse themselves, "to do laundry". Caitlin says that Anne was rude, but Ben asks her to make an effort as he'd really like it if both of his sisters could get along.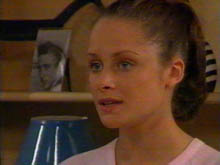 . . .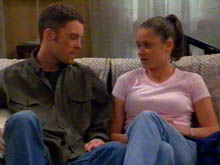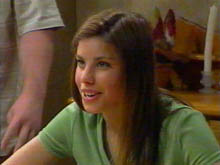 . . .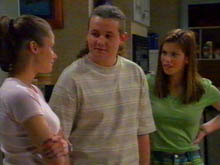 At number 32, Caitlin is apologising to Anne and Ben is pleased when the two girls make up, and he leaves them all to it. Caitlin starts petting the dog and asks what his name is. Anne says that it's a girl, her name's Bonnie and she bites. Caitlin asks why Anne has such a problem admitting when she's wrong, but Anne says that the pool is for everyone. She looks to Billy to back her up, but he says that Anne did just jump straight into the fast lane without looking. Toadie supports Caitlin too, saying that he hates when anyone interrupts his training regime and he takes her out for a tour of the local area. Billy laughs as they go, saying that Toadie will say anything to impress a good-looking girl. Anne is not happy to hear Billy describe Caitlin as good-looking.
Outside, Toadie is telling Caitlin that Anne and Lance are twins, but are completely different. He then points out number 28, where he and Billy live, and explains that his family moved away to open a roadhouse, and the Kennedys took him in. He introduces Caitlin to Susan, who is trying to get support for her campaign against the school merger. Toadie says that he's only got a few more weeks of school left and he's really not that sentimental about a bunch of bricks and mortar. Susan isn't happy.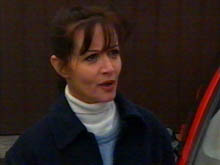 . . .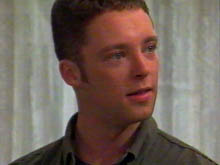 AAt number 30, Sarah is annoyed to hear that Matt has been called into work on his day off. He says that his sergeant wants to see him urgently and he hopes he's not in any trouble. As he leaves, Jimmy arrives to see Ben, with an application for a racer's licence. Sarah storms off, sick of hearing about racing, while Ben is pleased that Jimmy's giving him another chance to prove himself. He asks for another form, for Matt, and Jimmy hands it over, though he isn't sure that Sarah will be too impressed.
At number 28, Caitlin is talking about her swimming and how she met Mandi at the pool, who wants to be her training partner. Toadie is impressed, but says that she still needs some time off, she can't spend the whole holidays training. She agrees that he could maybe take her to a movie. He asks where her parents are, and she explains that her dad's looking at a job in the Middle East and, if he takes it, she'll probably end up in boarding school. She doesn't mind the idea, as long as she can still train, and says that her coach thinks she could make it to the next Commonwealth Games, it's just a pity her parents don't understand her passion for it.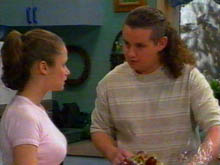 . . .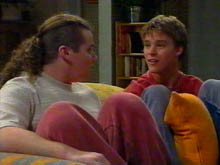 At number 32, Toadie is trying to talk Anne into giving Caitlin another chance, as she's a really nice girl. Billy and Anne think that Toadie is only saying this because he fancies her, and Billy isn't sure it's worth it, as Caitlin will only be around for a few weeks. After more persuasion from Toadie, he reluctantly agrees to make an effort, but Anne still refuses.
Outside, Susan is showing Karl that leaflets she's had printed. He's very impressed with her passion for it all, but thinks that she might be disappointed with the response. Libby then gets back and, after pointing out that the street sign's been stolen, looks over her mum's leaflet and says that she can't help as she has too much study to do. Anne, Billy and Toadie walk over and Susan is annoyed that Toadie didn't even mention the merger to the others. Billy isn't really worried, as he'll be finishing with Toadie, but Anne can't believe that her VCE year could be threatened by this and offers Susan her full support.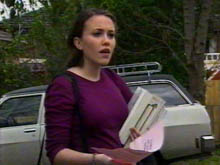 . . .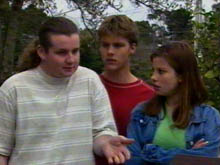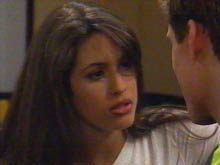 . . .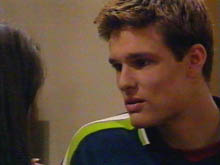 At number 30, Matt gets back and tells Sarah that they need to talk. He asks if Ben and Caitlin are home, but Sarah explains that they've gone down to Calder to hand in Ben's application, and he got one for Matt too. He says that he won't be filling it in, and Sarah is pleased, until Matt explains that he can't, as he's being transferred to Port Campbell. Sarah is shocked, as it's so far away, but Matt says that he has to accept, as it's basically a promotion, but it doesn't have to be the end, not if she comes with him.
Summary by Steve