.
Magic Moments > 1997 > Helen's Death Episode 2965

Written by Ray Kolle, Directed by Chris Adshead
Madge claims Jack Ramsay was a wonderful man... Phil, reading from the Robinson diary, exclaims Jack Ramsay is a "liar and a cheat". Hannah thinks Ramsay Street should be called Robinson Street, and changes the street sign accordingly. Madge goes to see Phil with Harold, and accuses Hannah of altering it. At Erinsborough High, Jacinta snipes at Lance, but he gets his own back by insulting her in front of the class. Jacinta sneaks back into school at night and sabotages Lance's magazine, with a crude drawing of Susan inside. Susan sees the drawing and tells Lance that it is way out of line, and that she can't think of any reason why she shouldn't suspend him...
At Erinsborough High, Lance and Amy are in the classroom, wondering how the drawing got into the magazine. Lance says that someone must have switched the pages when they weren't looking, and wonders why they did it. Lance reminds Amy that Susan said she was going to have to suspend them both over it. Amy says she shouldn't be suspended, because she didn't draw it. When Susan comes in, Lance says that the newsletter had nothing to do with Amy. They explain to Susan that the original page didn't have the drawing of "Kinky Kennedy" in it, and that someone must have switched it. Amy remembers that they left the photocopier when they took the first batch to Lance's locker, and that someone must have switched it then. When asked who, the best Lance can come up is the cleaner. Susan says that because Lance was in charge of the newsletter, and because Lance handed it out, he is responsible, and suspends him for a week.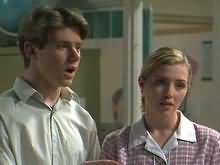 . . .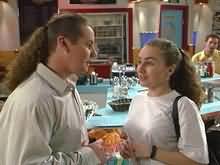 At the Coffee Shop, Debbie asks Toadie if he'd like to work for her again, and he says that he would, provided he can have time off to study. He says he needs to concentrate this year – Debbie agrees and asks if he can start tomorrow, and he says he can and heads outside. Just then, Madge comes out of the kitchen and Debbie says that Helen is home from hospital, and that she's heard about the feud her and Hannah are having over the street name. Debbie says Helen gave her instructions to dig out an old video and have them watch it later on. Amy, Lance and Toadie burst in and sit with Amy's friend. She says how the picture is hilarious, and that the teacher's will "spew" when they see it. Amy says that they already have, and that Lance has been given the blame. She says it's "bad luck", and Amy and Lance probe her as to how she knew he wasn't to blame – all she reveals is that Jacinta might be able to tell them something about it.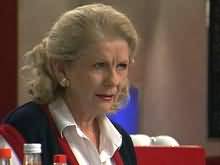 . . .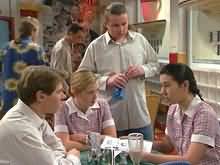 At Erinsborough High, Lance and Amy quiz Jacinta over what happened, and she says she knows nothing about it. As she goes to leave, Lance grabs her arm, not letting her get away. Susan sees and tells them to break it up, and that Lance shouldn't be on school property. Lance says to Susan that he's only trying to find out what Jacinta knows about the page, and Susan orders the three of them into the classroom to get to the bottom of the argument.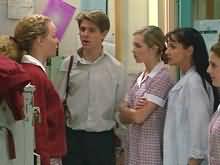 . . .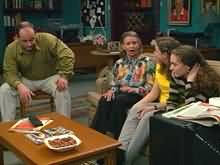 At Number 26, Phil, Helen, Debbie, Hannah, Madge and Harold are sitting in the living room arguing about the Ramsay/Robinson feud. Helen asks Phil to play the video, and Scott and Charlene's wedding is played. Harold remarks how Helen is a wise woman, and Phil agrees to bury the family feud. Harold suddenly realises that he remembers the wedding.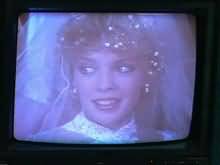 . . .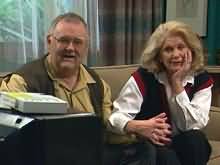 Susan asks Jacinta about what has happened, and Susan says he has no reason to accuse her. Jacinta leaves and Susan says Lance has no evidence to suggest Jacinta was behind the sabotage.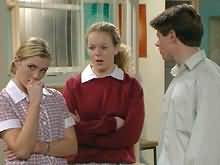 . . .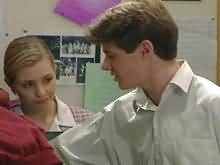 Afterwards, Lance and Amy stand in the corridor, discussing Jacinta, and Lance says he's disappointed in Susan for not believing him. Lance says Amy can help him out by tricking Jacinta into telling her what happened.
Back at Number 26, the group are still watching the wedding. Madge teases Harold about mishaps that apparently befell him in the past, and Harold refeuses to believe any of the things she lists. Debbie goes to get the birthday cake, and Hannah says she's glad Helen's home. Helen says it's great to be home.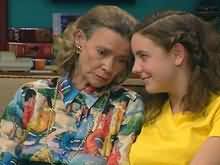 . . .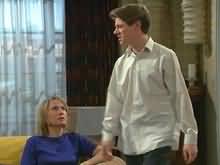 Ruth and Lance argue over his suspension, and Lance tries to tell Ruth the truth. Ruth tells Lance to get some evidence and then take the matter up. He says he will.
Jacinta and her gang are in the Coffee Shop, and Amy asks to speak to her in private. They go over to the drinks counter and Amy begs Jacinta to tell her the truth. Toadie listens in on their conversation. Amy says Lance doesn't deserve what has happened, and Jacinta says the group isn't the same and that Lance has broken everyone up. She asks Amy to join their group again and ditch Lance.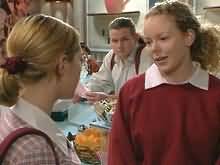 . . .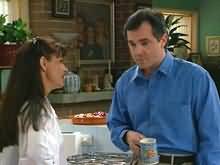 At Number 28, Susan explains to Karl what has happened. She says she believes Lance is innocent, and said she acted the way she did because the school inspector was there. Karl reassures Susan that she acted correctly and cheers her up by making her laugh, and he leaves to go to work.
Back over at Number 26, Hannah puts the wedding on again. Helen says how she's feeling tired, and says she'll be alright on the couch with Hannah when Phil suggests she takes a lie down. As the group watches the video, she falls asleep.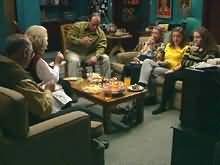 . . .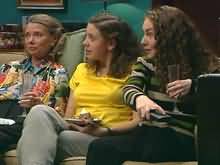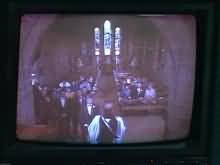 . . .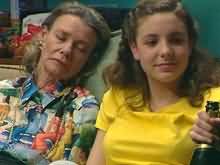 Amy and Lance are wonder what to do about Jacinta, and Amy promises that she is commited to Lance. Toadie hatches a plan to get Jacinta back. Amy and Lance then stage a mock break-up, which Ruth walks into the middle of, believing that they are having a real fight. Toadie predicts that if they managed to convince Ruth, they'll have no trouble convincing Jacinta.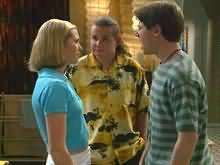 . . .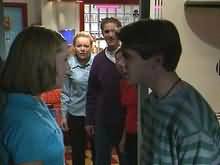 At the Coffee Shop, Jacinta's friend comes in and tells her group that Lance and Amy are fighting outside. Jacinta witnesses the argument, and Lance leaves once Amy apparently dumps him.
Over at Number 26, the wedding finishes for the third time, and the group teases Harold about his patchy memory. Debbie and Madge head to the kitchen to wash up, and Hannah tells her dad she's glad to have Helen home. Harold says how he always planned on marrying Doris Day, and - when asked how he can recall that vow - smiles and says there are some things you just don't forget. Hannah looks at the sleeping Helen and smiles, before returning her attention to the video.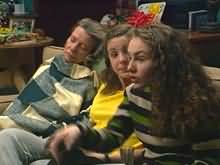 . . .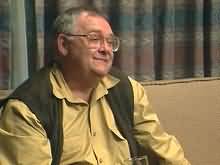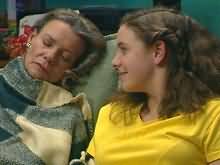 . . .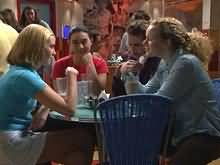 At the Coffee Shop, Amy apologises to Jacinta and says things can get back to the way they were before her relationship with Lance.
Back at Number 26, Madge and Harold leave as Karl comes in to check on Helen. Hannah says Helen's not asleep, and Karl solemnly confirms that Helen has died. Breaking down into tears, Hannah admits she knew a while ago, but didn't know what to do. Phil hugs Debbie, who is unable to comprehend the news, as Karl explains that Helen peacefully slipped off whilst she slept.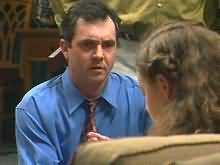 . . .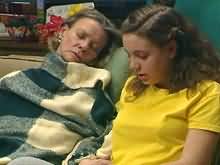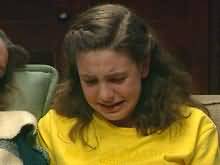 . . .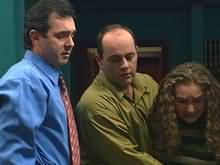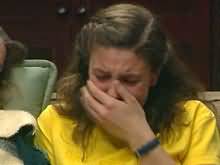 . . .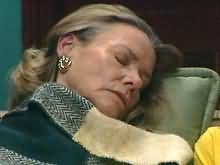 Notes: The "sad" theme tune was used to finish this episode, with a montage of stills from Helen's reign on the show. This is the only episode of Neighbours to feature no closing actor or production credits. In the UK, the scene with Lance and Amy at their lockers was cut for timing reasons.
Comment: The Lance and Amy storyline aside, this was a very moving episode, and Helen's death was, I feel, handled well. I'm glad she died at home rather than in a hospital, and that her friends and family were with her. Watching this episode is all the more poignant, now that Anne Haddy, who played Helen, has passed away.
Multimedia
Closing Tribute Credits Realvideo: 1300k
Summary by Billy