.
Magic Moments > 1997 > Helen's Memorial/Debbie's Departure Episode 2968

Written by David Allen, Directed by Gary Conway
Phil asks Harold to write the eulogy for Helen's service, but he admits to Madge that he's finding it difficult. Amy gets a tape of Jacinta confessing but it gets ruined, so Toadie videotapes it from a tree, but then he slips.
Toadie is hanging out of the tree, videoing Amy and Jacinta's conversation. Jacinta admits to everything she did to set Lance up, then the bell rings and they leave, just before Toadie falls out of the tree. They turn around, and Toadie tells Jacinta that she's just confessed and they got it all on tape. Jacinta is shocked.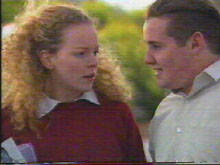 . . .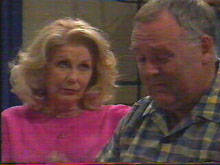 At number 24, Harold is reading out his eulogy, but isn't happy with it. Madge tells him to calm down, and reminds him that it doesn't need lots of fanciness and formality, he just needs for it to flow naturally. She tells him that he's trying too hard and he says that he only has pleasant memories of Helen, and they're lucky to have known her. Madge starts to cry as she remembers that if it hadn't been for Helen, they may never have been reunited.
At the surgery, Karl compliments Sarah on how hard she's working, and she says she needs extra work for extra Christmas money. Susan comes in and says she'll have to cancel dinner as she has too much on. She explains that she needs to get her application in for the Wangaratta job so she doesn't miss out. He tells her it's ok, and she leaves, while Karl complains to Sarah. Sarah says that she also has to wait until the weekend before she sees Matt.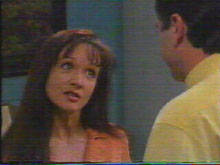 . . .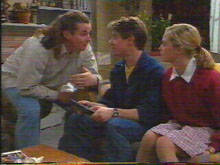 Toadie is showing the video to Lance and Amy at number 32. They are amazed by how good the admission is and Toadie gives the tape to Lance to give to Susan. Amy is worried about the part where Jacinta calls Mrs Kennedy a cow, and says that she wants to tell Jacinta about it first, so she can own up. Lance agrees to this idea.
At number 26, Debbie asks Michael how long he's staying. He says he can't leave the farm for too long, and Debbie says that it sounds wonderful. He asks her to come back with him, but she says there's too much going on for her to leave. He says she doesn't have to stay for too long, but warns her that she needs some time to herself before she burns out.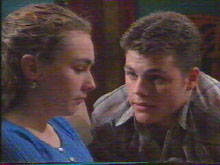 . . .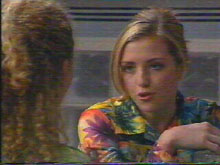 Jacinta meets Amy at the Coffee Shop and is worried that there's another secret camera filming them. Amy explains that she just wanted to give her a chance to own up so that Mrs Kennedy doesn't have to see the video. Jacinta says that she'll get suspended, but Amy says that things will be worse if Susan sees the video. She explains that she wants them to be friends again.
Hannah finishes preparing her clothes for the memorial, and she asks Phil what happens to Helen after the ceremony. Rosemary tells her about the hymns, but Hannah wants to know what happens to Gran's body. Phil explains that they'll scatter them over the lake, and Hannah becomes upset. Michael suggests that they go out and buy a jewellery box to keep all of Helen's things in, and that they could go to the mall now. Hannah agrees to this idea and they leave.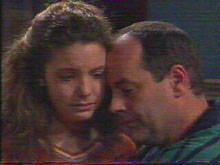 . . .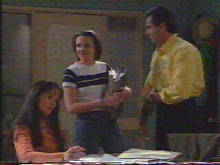 Karl arrives home to find Susan busy working at the kitchen table. She's annoyed that he didn't phone to let her know he'd be late, and he says that he and Sarah went out for a bite. Libby arrives home too and Susan is also annoyed at her for not phoning. Karl tells everyone to calm down and take a couple of hours off, but they don't listen to him.
Michael and Hannah get back from the mall, and Hannah shows Phil and Rosemary the jewellery box, which Michael says will have to be insured as it was so expensive. Phil tells Michael he'll reimburse him for it, and Rosemary says it's exactly Helen's style. Michael accidentally lets slip that Debbie's coming to stay with him, and Hannah becomes upset about this. Hannah says that everyone's leaving her and she wants Debbie to stay.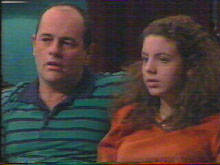 . . .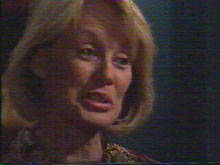 It's the middle of the night, and Debbie gets up to find Hannah eating ice cream in the kitchen. She says that she couldn't sleep, and tells Hannah that she would feel the same way. Debbie explains that she isn't running away, but she just needs some time to herself. She reminds Hannah that Helen always told them to make the most of their lives, and with Helen dying, she feels like she needs to move on and not mope around. Hannah says that she can hear Helen saying all that stuff, but she's allowed to be upset, but Debbie tells her that it will get easier in time. Hannah tells her that if she wants to go, she can go. Rosemary turns the light on, and says she was listening, and Helen would be so proud of them. Rosemary gives Helen's wedding ring to Hannah and they all hug.
The following day, everyone is gathered by the lake, throwing roses in to remember Helen. Harold then reads his eulogy. He stops at the beginning, and decides to simply talk about her. He says that she was a lovely person, and everyone went to her for advice. He sends his deepest sympathies to her family, and talks of her talents as an artist, and of her strength of character. He says that those memories of Helen will always be with them all.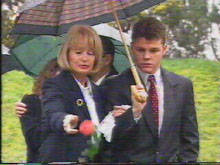 . . .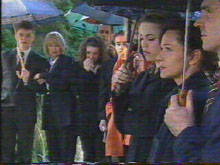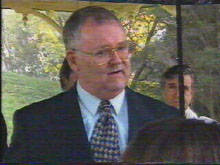 . . .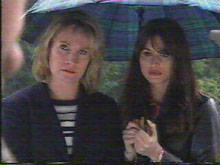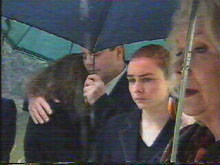 . . .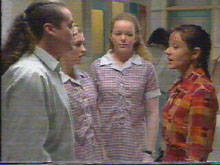 Toadie and Amy are waiting for Jacinta to come out of Mrs Kennedy's office. Susan and Jacinta then appear and Susan says that Lance will be reinstated straight away and Jacinta will receive one week's suspension. Jacinta gathers her things, and Amy says that they can all just forget what happened and go back to being friends.
Susan arrives at the surgery and Sarah tells her to go straight into the office. She tells Karl that she's come to a decision and is going to accept the Wangaratta job if she gets it.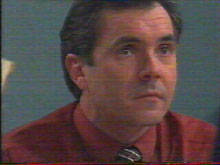 . . .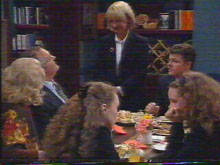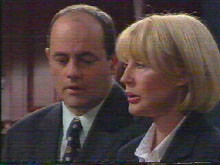 . . .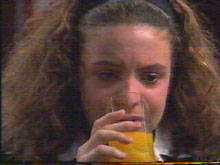 At number 26, Rosemary thanks Harold for his moving eulogy. She then hugs Phil and thanks him for everything, saying that she has to fly out tomorrow, but is grateful for all the friends that the Martins have on Ramsay Street. He then asks Rosemary to say a few words. She says that she's glad that everyone has pulled together in this sad time, and all of their support and love has made all the difference. She proposes a toast to Helen.
Notes: Although she received no proper farewell scene this time, this episode marked Marnie Reece-Wilmore's final appearance as Debbie. The song played during Helen's memorial by the lake was Stay by Leonardo's Bride.
Summary by Steve