.
Magic Moments > 1998 > The 1998 Season Premiere Episode 2996

Written by Lois Booton, Directed by Chris Adshead
Ben is taking part in the race, when a car pulls out of the pits, directly in front of Ben. His car hits it and flips upside down and bursts into flames. A hysterical Ruth runs down onto the racetrack...
The racetrack crew battle to extinguish the flames surrounding the wreck of Ben's car...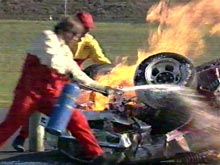 . . .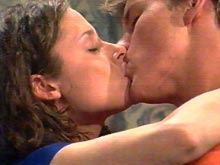 Mandi tells Anne that Billy will be pleased to see her, but as they walk into the room, Billy and Caitlin are standing there kissing. Despite Billy's attempts to explain Anne is shocked and runs off, Billy tried to go after her but Caitlin stops him, demanding to know why he claimed they'd split up. He says he's sorry and goes after her but can't see where she's gone.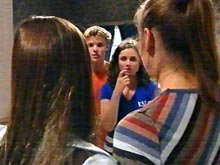 . . .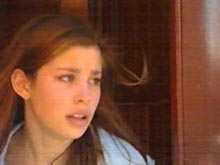 Karl breaks off his kiss with Sarah and says that it's insane. Sarah says they just got carried away, Karl says he feels terrible and that he was only trying to comfort her. She says he shouldn't feel bad for trying to support her and that it was just a silly mistake. She says it's in the past and walks out of the office, saying they should just get on with some work. Karl looks very guilty.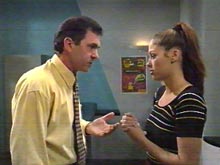 . . .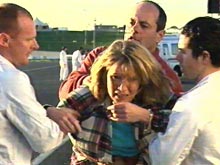 Lou, Phil and Ruth arrive down at the site of the accident. Various paramedics try to stop Ruth getting too close and she collapses onto them. Meanwhile, the emergency staff get Ben out of the car and onto a stretcher. Steve Van Eck looks very guilty as Ben is carried into the ambulance. Meanwhile, Phil and Ruth are taken to the hospital in a police car. Ruth still can't stop crying and Phil tells her not to think the worse. Ruth is worried that she'll lose him again after only just getting to know him. Phil tells her she has to be strong, for Ben's sake.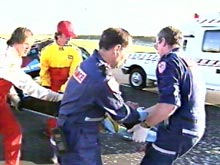 . . .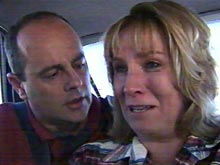 Sarah is deep in thought, when Karl appears from his office and attempts to make small talk with her. Neither of them are very comfortable talking to each other, and he tells her she should go home, have dinner and relax. He wonders how Ben got on today and starts rambling, so Sarah tells him to calm down and put the mistake behind them - it meant nothing. She gives him his case and tells him to go home.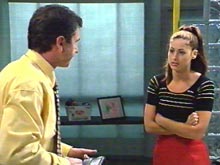 . . .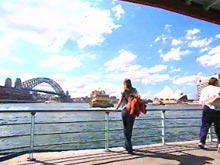 Anne wanders around Sydney, wondering what to do. She heads down to the harbour where she takes off her ring, thinks for a moment about throwing it into the water and then puts it back on.
Back at the hotel, Mandi tries to get Caitlin to go out with the rest of the gang, who are going to the Imax cinema. Billy arrives back, saying he didn't find Anne and Mandi leaves. Caitlin wonders if Anne finally got the message, but Billy admits he's really worried. Caitlin asks if he wants to get back with Anne and admits she's confused after he kissed her. Billy says he doesn't know what he wants any more and Caitlin tells him he'd better make up his mind.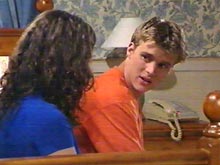 . . .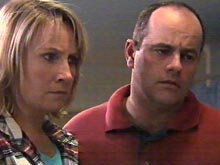 Ruth and Phil wait at the hospital for news of Ben. Suddenly, he is brought out of the cubicle on a stretcher and the doctor explains that Ben has had a serious blow to the head and suffered a depressed fracture of the skull. They're going to take him to theatre now. Phil asks if he'll be alright and the doctor explains that they'll know more if and when Ben regains consciousness.
Karl arrives home and Susan is there waiting, surprising him in the process. He explains that he wasn't expecting her back so soon and she says she missed him and that she doesn't know how she'll cope when school goes back. She tells him she's realised the repercussions of what she's doing after looking for somewhere else to live. However, she also realises she'll be able to sleep with the window shut and eat in bed. She tells him she loves him so much for allowing her to be so single-minded about pursuing her career. He tells her how much he loves her and will miss her.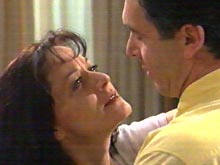 . . .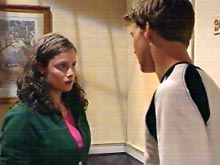 Caitlin knocks on Billy's door, asking if he's packed yet. He says there's time before they go, but she says Simon is taking them out for dinner. Billy suddenly jumps up and says he's got to find Anne, Caitlin is unimpressed. She tries to talk him out of it, saying Simon won't be impressed, so he asks her to cover for him. She makes him promise he'll be back and on the bus.
Susan is showing Karl the plans of the house she's renting in Wangaratta. He tells her they should get some nice plants for her back porch and encourages her to take the tool-kit up with her. She gets suspicious, claiming he never lets her touch the tools. There's a knock at the door and it's Sarah. Karl tries to get rid of her, but Susan invites her in to show her the house plans.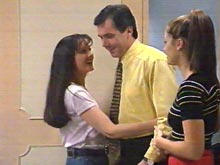 . . .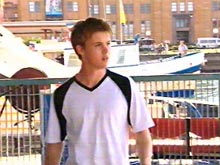 Billy searches for Anne, even walking past her at one point. He sees a girl on the phone and knocks on the window, thinking it's her, but it's not and he continues his search.
Back at No. 28, Susan asks why Sarah came over in the first place and Sarah says it can wait. Susan says it would be silly to leave it now and Sarah quickly makes up something about her nursing course. There's an urgent knock at the door and Lou bursts in, saying there's been an accident and he's been trying to contact Sarah. He explains about Ben and that it's very serious.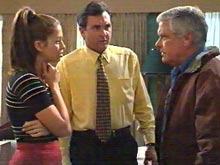 . . .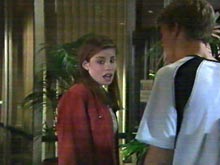 Anne is boarding the coach back to Melbourne when Billy arrives, asking her to just wait and talk to him for a minute. He says he's been trying to find her all day and she says she didn't think he wanted to find her. He says he's sorry and she starts crying. She says she needs to think about it for a while, but the bus is about to leave. He asks her to go on the coach with him, but she says she doesn't want to be there with Caitlin. She boards the coach and goes, leaving Billy distraught.
Phil, Ruth, Lou and Sarah are waiting at the hospital. Sarah and Lou start to snap at each other about who's to blame for the accident and Ruth tells them to stop. Lou apologises, explaining that the waiting is very difficult. The doctor then appears and explains that Ben is breathing on his own, which is positive, but he'd like to see more sign of returning consciousness. He tells Ruth she should go home and they'll contact her if there's any news, but she insists on staying. Phil tries to encourage her to go, but realises that Anne and Lance will need telling. Lou explains that Toadie's with them and they'll be fine.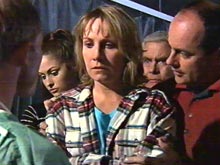 . . .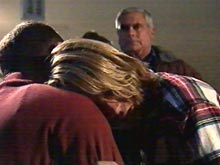 Billy and Caitlin arrive back in Ramsay Street and Caitlin asks him what he's going to do. He says he needs to talk to her, but Caitlin discourages him, saying she's probably asleep, having arrived home just before them. He says he'll go home and crash, then come back later. After he goes, Caitlin knocks on Anne's door. She tells Anne that she should give up on Billy, because he doesn't want her anymore. Anne tells Caitlin that she's been after Billy ever since she arrived in Erinsborough, but she's not going to get him, not without a fight.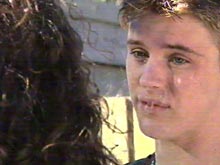 . . .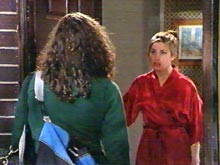 Summary by Steve. Captures by Karl