.
Magic Moments > 1998 > Hannah's Departure Episode 3189

Written by Ian Coughlan, Directed by Robert Meillon and Mark Hancock
Toadie tells Lance that he has a telephone gambling account. Lance later overhears Toadie's account username and password. Lance rings the account, giving the information that he overheard.
At number 26, Lance is putting a bet on, using Toadie's telephone account, when Hannah comes in with Rosemary, showing off about her new passport and traveller's cheques for her trip to France, then asking Ruth if Paul can come over for her final dinner before her trip. Lance looks awkward after finishing his call and he gives the phone to Hannah so she can call Paul.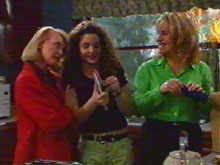 . . .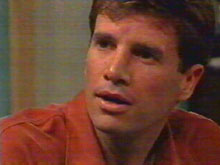 At number 28, Karl's locum, Jeremy Lindstrom, calls by and Karl tells him about a complaint he had from one of his patients, Deidre Kaufmann. It seems that Jeremy refused to prescribe sleeping pills, telling her to get some counselling instead. Karl wants to know exactly what's going on and why he would compromise the surgery's reputation.
At the Coffee Shop, Drew is complaining to Phil about how Lou doesn't appreciate all of the work he does at the garage, probably because he's from the country, so he's going to start up his own business. He asks Phil if he'll give him a hand and go through his business plan with him, to which Phil agrees. Drew also mentions that he's not going to say anything to Lou until he's got some solid plans, then he'll give him some notice.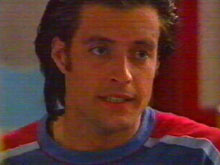 . . .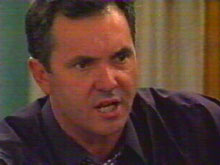 At number 28, Karl is getting angry with Jeremy, who doesn't believe that sleeping pills should be the first option for most patients. Karl tries to explain the situation, and that he has treated Deidre for years and she only uses the pills as a back-up but Jeremy disagrees, so Karl tells him that he'll no longer be requiring his services. Jeremy angrily leaves, just as Susan returns and she asks Karl if everything's ok.
At number 26, Rosemary is telling Anne all about New York, and even invites her over to stay whenever she wants, when Paul arrives, and Hannah introduces him to her Aunt Rosemary. Ruth is clearly stressed by the dinner party and is annoyed when Anne tries to calm her down. Lance suddenly gets very over-animated as he listens to the radio, clearly having won his bet, but he lies to a suspicious Anne that he's listening to UniFM and somebody he knows won a prize on Toadie's show.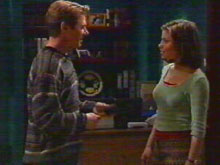 . . .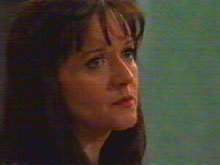 At number 28, Susan tries to tell Karl that there might not necessarily be a right and wrong answer to the situation with Jeremy, as things aren't always that clear cut in medicine, comparing it to different teachers having different teaching styles. Karl is still very angry about the whole thing and tells Susan that he wants nothing more to do with the locum.
At number 26, everyone is giving Hannah farewell gifts. Rosemary offers to buy her a camera at the duty free shop at the airport, Anne gives her vegemite, Ruth gives her a make-up kit and Lance a money belt, with Phil throwing in some money to go in it, but Paul says that his gift isn't ready yet and he'll give it to her the next day before she goes.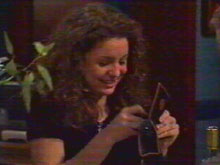 . . .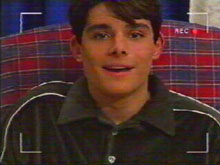 The next morning, at number 24, Paul is making a video tape of him for Hannah to take with her, so that she won't forget him during her six months away. He says that it was meant to feature everyone from the street, but the camera broke, so it's just him. He says his piece, then goes to check that it's worked this time.
At number 26, Philip is on the phone to Claire's father and Ruth and Lance are trying to help him to translate, when they realise that it's 2am in France – Lance messed up with the time differences and they've woken Monsieur Girard. Lance, Anne and most of the family, then sits on Hannah's over-packed case in an attempt to get it to close. She pretends to have forgotten something, just as they get it closed.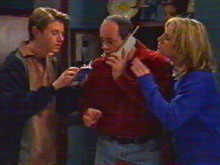 . . .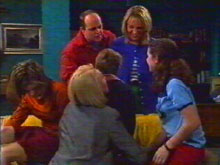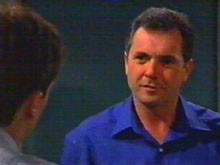 . . .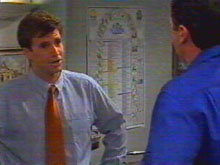 At the surgery, Jeremy comes to speak to Karl and admits that Karl was right, as he would know his own patients much better than a locum would. Karl also apologises for the way he reacted as he'd rather have a locum who uses their own mind than one who simply follows the rules. They decide to meet up later at the pub for a drink.
At number 26, the family are preparing to leave for the airport and Hannah is worried that Paul hasn't come to say goodbye. Everyone tries to convince her that he'll be there and Philip says that they'll have to go or else she'll miss her flight. As everyone else is leaving, Lance makes an excuse to stay behind briefly and phones in another bet.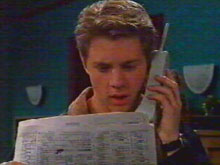 . . .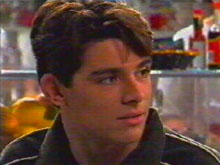 At the Coffee Shop, Paul is with Drew, who asks him why he hasn't gone to the airport. Paul says that he didn't want things to get slushy as it wouldn't be cool, but Drew tells him that being cool doesn't matter – Hannah is going to be very upset if Paul isn't there to say goodbye. Drew then calls a taxi for Paul and gives him the money to get him to the airport.
At the airport, Hannah is worried about Paul not being there, as she doesn't want to leave without seeing him first.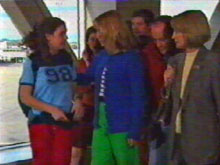 . . .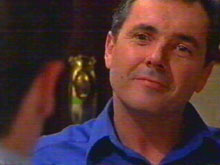 At the pub, Karl and Jeremy are chatting about past cases and other hypothetical cases and finally getting along with each other, when Susan comes in and is surprised by the scene that confronts her. Karl accuses a shocked Susan of making a drama out of the whole thing.
At the airport, everyone is looking for Hannah as her plane is boarding, when Paul arrives and Hannah returns from the bathroom to find him there. Everyone else makes themselves scarce so they can be alone. Hannah admits to Paul that she was worried that he wouldn't come and he says that he just wanted to look cool. She says that she's glad he came.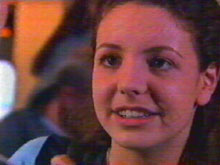 . . .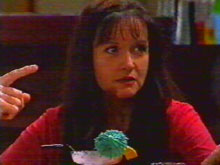 Back at the pub, Karl and Jeremy are completely ignoring Susan, deep in conversation. She complains and Jeremy apologises. Drew then enters and complains about a cramp and Karl and Jeremy try to diagnose the problem, before Drew admits that he's made an appointment with Ruth. Susan is amused, but Karl tells her to shut up.
. . .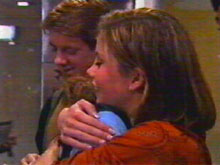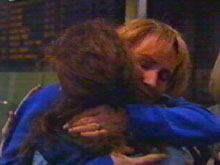 . . .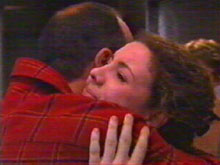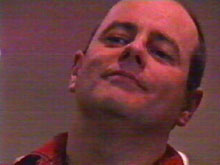 . . .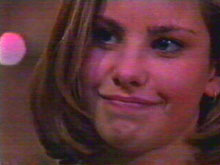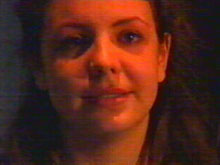 . . .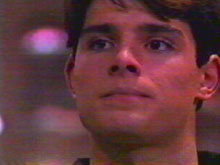 Hannah says tearful goodbyes to her family and Phil starts to cry and calls her Button as he says goodbye. Hannah hugs Lance, Anne and Ruth, then shares a kiss with Paul, before Rosemary accompanies her through the departure gate. She looks back and smiles as the doors close.
Summary by Steve