.
Magic Moments > 2001 > The Hancocks' Arrival Episode 3749

Written by Michael O'Rourke, Directed by David Myles
Tad tells Jess that her dad was just on the phone, and she goes crazy. He demands the truth from her. Evan tells Matt he's found the perfect house, and Tess says that they would be neighbours, if the house he'd bought hadn't been hers...
Dee and Tess are standing in an empty number 32 with the last few boxes ready to go. They promise to stay in touch and Lou comes in and says that the house seems fine. Darcy arrives and says the removal van has just pulled up and he offers to take the last of the boxes outside. Dee notices that Lou is having trouble with his back, but he gets snappy, insisting that there isn't a problem.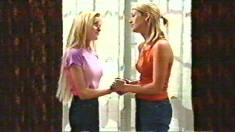 ..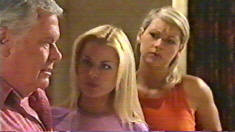 Lou comes outside and finds Evan and Matt unpacking. Evan apologises to Dee and Tess and they start chatting about the rest of the family. Dee says she'll be just next-door if they need anything.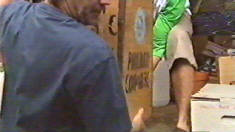 ..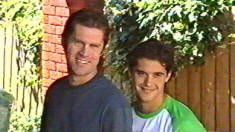 Meanwhile, a young boy is walking through the park and hitting cans with a stick.
Jess tells Tad that things at home have become a nightmare, especially since the thing with Susan. She asks him to say she's not there if they call again. Dee, Tess and Darcy arrived with Dee's stuff and she apologises for the inconvenience and says she'll tidy up, but Tess is sceptical.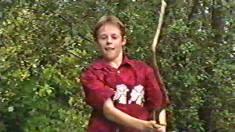 ..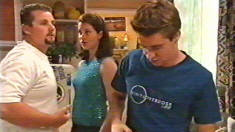 Toadie goes outside and sees the rest of the Hancocks arriving. He goes over to the youngest to help with her dolls and she says her name is Emily. Maggie comes over and introduces herself and says she's also studying law. Darcy waves as he goes past and Maggie says that everyone's so friendly. Maggie is impressed that Toadie's representing himself in his case against the radio station and she offers help. Evan comes outside and asks where Leo is – they all realise that he didn't come with any of them.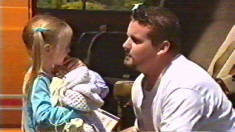 ..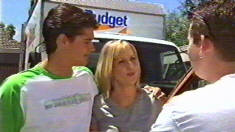 Meanwhile, Leo is at the park when he finds a five dollar note.
Toadie arrives at the pub and Lou has a go at him for being a few minutes late. Toadie is worried about Lou's bad mood, but he says his best friend's just died and he's coming down with something.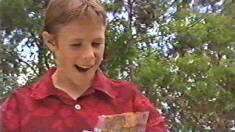 ..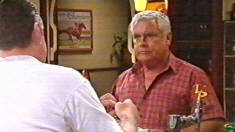 Maggie and Evan are at their old house looking for Leo. Maggie is panicking but Evan says that they can check a few of his friends then the sports oval. Matt is at home, taking a call from one of Leo's friends' mums, who's going away and leaving her son with the Hancocks. Evan then calls him and Maggie takes the phone and asks for Matt to get some more numbers for her.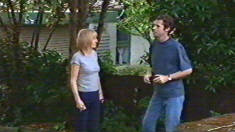 ..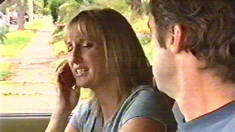 Lou is at the pub, on the phone, making enquiries about painkillers, when Toadie walks in. When Lou sees him he hangs up and tells Toadie to knock next time. Toadie offers his help, but Lou tells him to mind his own business. Leo comes in to see Matt and Toadie tells him he needs an adult with him. Toadie offers to drop him off at home.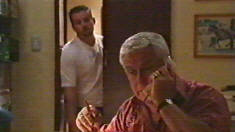 ..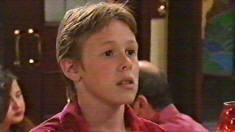 At the Hancock house, they're still searching for Maggie's teledex, to find some numbers. Just then they hear someone outside, it's Toadie with Leo. Maggie is extremely grateful to Toadie and Emily offers him a biscuit. They offer for Toadie to stay, but he has to go back to work. Matt goes to phone the police to report Leo home safely.
Meanwhile, at Hemisfear, Jess is suggesting tracks for Tad to play. She suddenly tells him that she loves him and kisses him.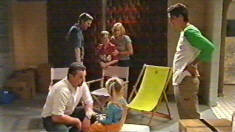 ..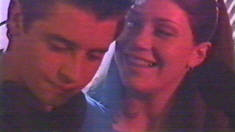 Dee and Darcy are at the pub, talking about how nice Tess' new housemate and house are. Dee is worried that Jess and Tad are at number 30. Dee asks Darcy how he is and he admits things with Alice are difficult. He says he's looking forward to being single for the first time in seven years.
Evan and Matt have finished their take-away, and decide to unpack a few more boxes. Maggie comes in and says Emily wants her daddy to read her a story. They all seem happy with the new house and the new neighbours. Matt says he's very impressed with Dee from next-door.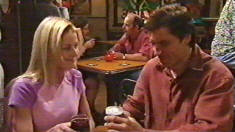 ..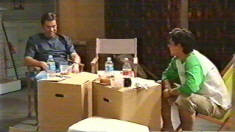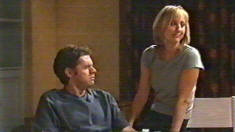 ..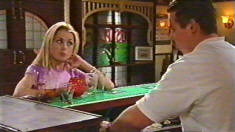 Lou is closing up and Dee waits with Toadie while he clears up. She asks how long Jess and Tad are staying and Toadie says it won't be much longer at all. She's relieved, and compares number 30 to a juvenile detention centre. They're both worried about Lou as he leaves and Toadie says it'll be fine in a few weeks. She's worried that in a few weeks, Joel will be back.
Jess tells Tad she might try for a job at the club. They head off and he encourages her to try talking to her parents to resolve things. She asks him for a dance, but he's worried about getting home late. She eventually convinces him.
At the pub, Dee and Toadie find the takings left on Lou's desk. They decide to drop them in on the way home.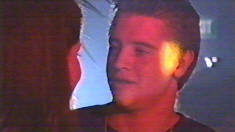 ..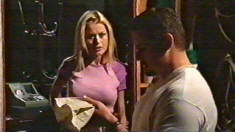 Evan is upset that Chris didn't move with them, but Maggie changes the subject to Evan's first day at Erinsborough High tomorrow. She says she wishes she had a job to go to, and he says he can't wait until she's raking it in as a fully-qualified barrister. Emily comes out and says she can't sleep, so Evan offers to read her another story.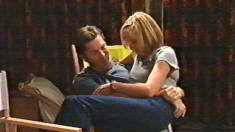 ..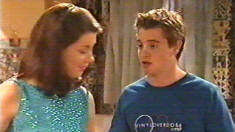 Tad offers Jess a mistake, but she can't decide which one to have. She agrees she'll talk to her parents, but if it doesn't work out, she's blaming Tad. Toadie and Dee get home and Jess explains that she might be gone soon. Dee is worried that Lou didn't answer the door and Toadie wonders what his problem is. Dee thinks she might know what's wrong…
Evan appears and says Emily's fast asleep. They toast their new home.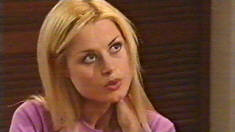 ..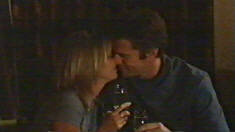 Summary by Steve