.
Magic Moments > 2001 > Tess' Departure Episode 3857

Written by John Hanlon, Directed by T Grant Fenn
Dee arrives to speak to Tess, who doesn't want to see her.
Dee begs Tess to listen to her, and says that she owes her at least that much, to which Tess replies that she'll give her two minutes.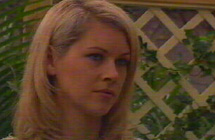 ..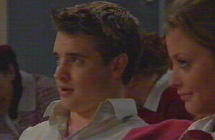 Tad is joking in class about doing his project on The Attack of the Killer Scorpion, which everyone finds amusing, but Susan tells him that she had hoped that recent events would have changed his attitude. She tells him to take a long, hard look at himself. Tad tells Flick and Paul that Susan will come around eventually. Susan then talks to the class about their exams, and says that she'll be starting to set test questions as practice.
Tess asks Dee if she's finished, and Dee reminds her how they used to be so honest with each other. Tess reminds Dee of when Alice tried to ruin Dee and Darcy's relationship. Lyn then arrives to speak to Tess, and Dee walks out. Lyn apologises to Tess, who says that she's not at all upset.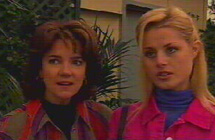 ..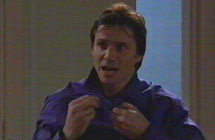 At number 28, Darcy is preparing for the wedding, and thanks Karl for helping him to get through the last few weeks. Karl tells him that they make a great couple, and that he's glad to have Darcy as a friend as well as a partner. Karl then goes to help Darcy with his tie and gets toothpaste all over his shirt. Karl goes to get some salt to remove the stain.
Lyn is doing Tess' hair and make-up, and wonders if Dee is jealous of seeing her ex-boyfriend marrying someone else. She tells Tess that the basis of a true relationship is trust, and that Joe makes her mad sometimes, but he's never given her any reason to doubt him. Lyn finishes off by putting the veil in Tess' hair, and tells her she looks magnificent, but has to rush off to a meeting at the school. She tells Tess that honesty and trust are the most important things.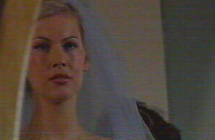 ..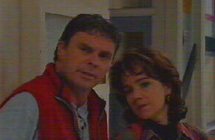 Lyn, Joe and Harold are gathered with the kids at the school to speak to Susan, and they're all annoyed by the severity of the punishment. Joe claims that the power is going to Susan's head, just as she appears and overhears the conversation. Susan tells the kids that they'll be set work, and can always phone the school, and she'll see them again in a week. She leaves them, and Flick starts chatting to Tad and Paul. Joe is worried that his family is falling apart, with Steph also having just seen her boyfriend die.
Darcy is panicking that Karl won't be able to get the stain out of his shirt, and sees that the stain seems to be getting bigger. Karl tells him to wear one of his shirts, then Susan gets home and sends Karl off, telling him that salt won't work. Darcy thanks Susan for all of her support, and she tells him that she just wants him to he happy. He says that he is happy, thanks to Tess.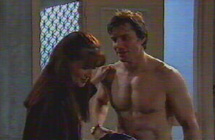 ..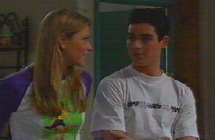 At number 24, Paul says that his suspension works out fine, as he's got plenty of free time to practice for the football finals. Tad and Flick remind him that they've still got work to do, and they're worried that this will stuff up their VCE. Flick says that they just need to work out a study plan, but Paul says that football is more important to him anyway, before leaving for a run. Tad is happy that he and Flick have the place to themselves.
Various residents are gathered at the registry office, and Karl tells everyone that there's just a small hitch, with Tess being late. Darcy introduces everyone to Donna White, the marriage celebrant, he points out Karl and Susan, Joe and Lyn, Harold, and Lou and Lolly.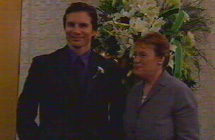 ..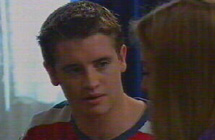 Tad and Flick are working out their study plan, and decide to just get started while Paul is out. Flick suddenly has to leave to get the washing in, and Tad wonders why she's taking off so suddenly. She says it's better for them to study alone.
Lou is taking photos of the wedding party, while Lyn says she has a bad feeling about all of this. Darcy thinks there's been an accident, and tries to phone her. Lolly asks when the bride will be arriving, and Susan says that it'll be soon. Lyn then tells Karl about Dee visiting Tess…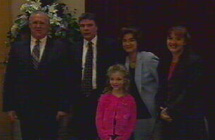 ..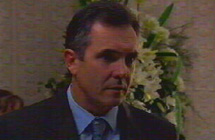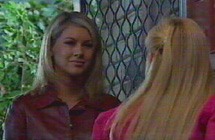 ..
Tess arrives at number 30 to see Dee. She tells her that she's left letters for Susan and Darcy, and for the education department. She explains that there isn't going to be a wedding, as she phoned Alice. She says that she can't marry a man she doesn't know, and that she's going to Sydney to stay with her mum, then maybe on to England. She tells Dee that she did the right thing, and she had to see her and thank her. Tess apologises for everything she did, and that she wrote a letter weeks ago which Darcy made sure she didn't get. They both realise that Darcy has been manipulating them, and Tess asks Dee if she can forgive her. Dee says that if it hadn't been for Tess, she'd probably have ended up marrying Darcy herself. Tess promises to keep in touch, and they hug one last time.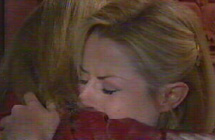 ..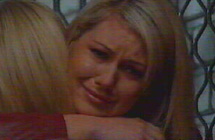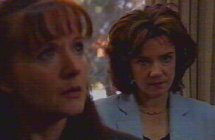 ..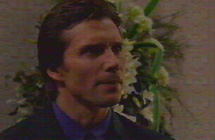 Karl is on the phone to Dee. He tells Darcy that there's bad news, and that Tess has gone to the airport, and isn't going through with the wedding. Everyone tells Darcy how sorry they are, and he's confused about what Tess is playing at. He says he needs some time on his own. Everyone leaves and Darcy is left alone.
Lou is telling Tad and Paul about what happened, and they're not very surprised. They think that it's something to do with Dee. Tad then asks Paul what's going on with Flick, and why she's acting so weird. Paul says that it was probably the truth or dare game during the camping trip. Lou gives Lolly some ice cream, and Harold asks when the DNA tests are back. Lou says that it'll be tomorrow, and the waiting is killing him. He says that he knows he's her father, but he's on tenterhooks.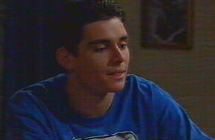 ..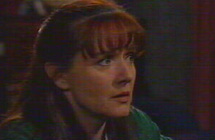 Darcy gets back to number 28 and explains that he's been at Tess' place, and read her note. He says that she called Alice. He asks what Dee said on the phone, and Karl says that she was very vague. Darcy is confused about why Tess did this, and Susan says that it's probably best that this happened now rather than later. Darcy thinks she was just nervous about the speed things were moving, and says he's going to find Tess and win her back.
At the Coffee Shop the next day, Paul gets in from a run and Harold thinks he should be studying. Lou comes in and says that Karl has just phoned him, and has the DNA result. He says he's going to the surgery now, but is very nervous. Harold says that it'll be a weight off of both of their minds.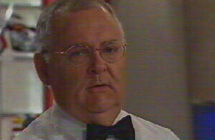 ..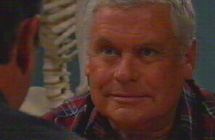 Lou is waiting in the surgery, when Karl calls him in. They chat briefly about Darcy, but Lou just wants to know the results of the tests. He says that everything's been checked and double-checked, and the results are highly accurate…
Summary by Steve