.
Magic Moments > 2002 > Nina's Arrival Episode 4022

Written by Chris Hollow, Directed by Jovita O'Shaughnessy
Marc reminds Flick that they still have each other and they kiss. Stuart is told that Marc Lambert has filed a complaint against him and wants him charged with assault.
At the pub, Karl asks Lou if he's had the calendar photos developed yet. Susan is quite unimpressed, but Lou says that he has the photos and they're "hot", to which Karl replies that he's still got some of his old magic. Lou goes to get the photos, while Susan decides that she'd rather go and get the car. Joe comes in to get a six pack, while Karl reminds Lou about the photos. He asks Joe if there's any word on Flick, and Joe explains that he hasn't seen her, but wouldn't know what to say to her if he did. In the office, Lou answers the phone and explains that he needs to get in on something that's going to make him some quick money. He then gets the photos and goes back out into the bar…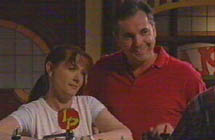 ..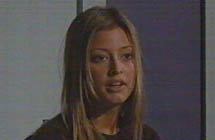 At the flat, there's a knock at the door and Flick realises it could be a member of her family, so she quickly pushes Marc out into the bedroom. Lyn is at the door with some food for Flick, and Flick says she she's too embarrassed to invite her in, as the flat is so revolting. Lyn says that it's fine, as she needs to rush home before Joe realises where she is. She hugs Flick, and tells her to get in touch if she needs anything at all. Flick closes the door and Marc appears from the bedroom.
At the Coffee Shop, Karl is looking through the photos, raving about how great they look, while Susan continues to be unimpressed by the whole affair. She tells Karl that she's managed to book them a beautiful little beach house for the weekend, but Karl barely acknowledges this, and continues to admire himself in the photos. Susan tells him that the depth of his vanity knows no bounds, and puts the photos away, telling him that it's not healthy. Karl suggests dinner with Joe and Lyn, to try and cheer him up. Susan takes back what she said about Karl being self-obsessed, but says that they won't be getting the photos out during dinner.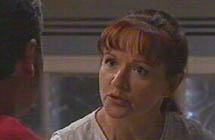 ..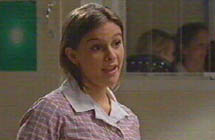 Stuart and Connor arrive at the school to do some building work, and bump into Tahnee and Michelle in the corridor. In the classroom, Tahnee starts raving about one of the guys, and Michelle thinks she's talking about Stuart. When Michelle realises that Tahnee actually fancies Connor, she reminds her that he's taken. Tahnee says that they'll have to see about that.
Later on, a girl is coming down the stairs at the school and looks confused. She stands around while Tahnee and Connor literally bump into each other and he helps her to pick up her stuff. She introduces herself to him. Michelle comes down the stairs and the other girl asks Michelle where the principal's office is. Michelle directs her, then quickly calls Connor over and suggests that they start to make their relationship a bit more public. Connor isn't so sure, and when Joe comes down the stairs, he runs off. Tahnee witnesses this and realises exactly what's going on.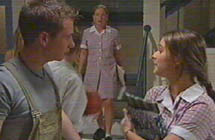 ..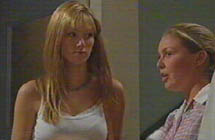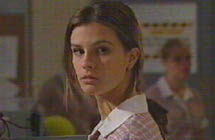 ..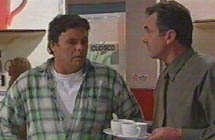 At the Coffee Shop, Karl invites Joe for dinner with him and Susan that night. He seems a bit perplexed as to why, but agrees to go along. Meanwhile, Connor and Stuart are having lunch and Tahnee is watching them. Karl notices this and Susan tells the girls to go straight back to school. Connor watches Tahnee leave, and Joe warns them to stay clear of any of the young girls at the school. He tells Susan that Connor and Stuart won't give them any trouble at the school.
Susan is telling the girl from before, Nina Tucker, that she'll introduce her to a few of the other girls in the year. She asks Nina if she's looking forward to going to China with her parents, and Nina says that she doesn't mind, but sometimes she wonders who are the parents and who is the child. Suddenly, Tahnee bursts into the classroom and tells them all that there are a bunch of guys outside posing for photos. All of the girls, except Michelle, run outside, as Nina and Susan appear at the door. Susan asks what's going on, as Tahnee stands and glares at Michelle.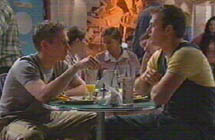 ..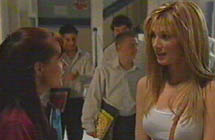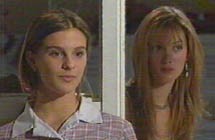 ..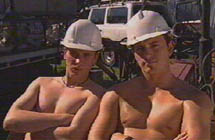 Outside the school, Stuart and Connor are posing as Lou takes photos for the calendar. Stuart is worried about what Joe's going to say. The boys take a break and notice all of the girls watching them. Suddenly, Susan comes outside and they all run off.
Inside the classroom, Michelle is chatting to Nina, who explains that she's starting at the school in a month. She says she's going travelling, and Michelle says that she's never been, but hopes to one day go and see her boyfriend's parents in Ireland. Tahnee laughs at this, then sends Nina out of the room. Tahnee says that if Connor was her boyfriend, she wouldn't let any other girls near him. She then asks Michelle why the relationship is a big secret, and Michelle tells her that it's none of her business, and that they're a happy couple. Tahnee tells her that she thinks Connor could be pretty easily swayed.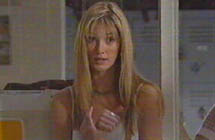 ..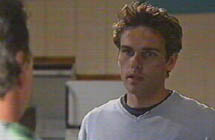 Marc answers the door at the flat, and Joe is standing there. He explains that Flick is in the bathroom, and Joe notices all of the new furniture, which Marc explains that he bought today. Joe is about to leave, when Flick appears from the bathroom. She tries to explain to Joe and tell him that the furniture doesn't mean anything, but he seems really disappointed and leaves.
At the pub, Stuart is telling Joe that men like Marc never win. Joe then asks what Susan was on about at the school, and he drags in Lou and Connor who try to explain. Flick comes into the pub and the others make themselves scarce. Flick says that she didn't know anything about Marc getting her that stuff for the flat. Joe asks her if she thinks that Marc really cares about her, and she says that he does. Joe then points out that Marc cares so much, that he's filed charges against the one friend that Flick has had through all of this. Flick looks round at Stuart, who's standing by the door, and tells him that she had no idea, but that hitting Marc was out-of-line.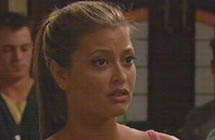 ..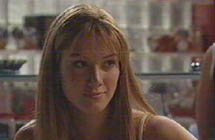 Michelle walks into the Coffee Shop and sees Nina sitting there. She goes to say hi, and apologises about what Tahnee did earlier. Nina is very quiet, so Michelle asks if she's living nearby. Nina says she lives just around the corner. Michelle comments that Nina doesn't seem too excited about her travelling, but Nina says that they do it all the time. When Michelle suggests that she get a coffee and they can have a chat, Nina suddenly has to leave, and she rushes out the door.
Tahnee arrives at number 26 to see Michelle. Joe and Lyn are just leaving for dinner, but they tell Tahnee that Michelle isn't home. They suggest that she wait with Connor. Connor tells Tahnee that she was pretty brave to be flirting with him at the Coffee Shop, but Tahnee says that she thinks he was a lot braver to be parading around outside the school with his shirt off. She asks him what the chances are of him taking her to the school formal, and he tells her that he's with Michelle. Tahnee says that Michelle's just a kid, and he says that he just couldn't do that to Michelle.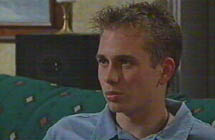 ..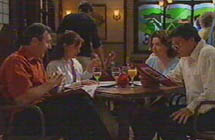 At the pub, Karl mentions the beefcake calendar, and says that it's a shame Joe missed out on his chance to strut his stuff. Joe says that he prefers to leave that sort of thing to the young… and vain. Susan is about to mention the photos when Karl stops her. Joe apologises to Susan, and hopes there weren't too many problems at the school. There's an awkward silence, and they all start to discuss what they're going to have. Karl tells Lyn and Joe that the reason they invited them was because they were worried about how they're coping in the wake of the Flick and Steph problems. Susan says that they're not prying, but they'd like to help in any way they can.
At the end of the meal, Lyn is explaining how close Flick and Steph always used to be. Joe mentions that he went to see Flick today, but she was with Marc. Lyn then confesses that she also went to see Flick earlier. Karl asks if they want Flick to come home, but Joe admits that he thought he'd seen it all, but now they don't know what to do.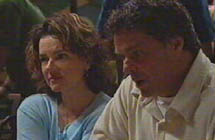 ..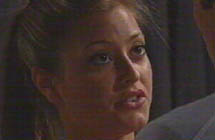 At the flat, Flick arrives home and tells Marc to take all of the stuff back. He tells her that he thought it would make her happy. She says that it makes it feel like they live together, and she's not ready for that. She tells him that if he wants to make her happy he has to drop the charges against Stuart.
Summary by Steve