.
Magic Moments > 2002 > Jack's Arrival Episode 4133

Written by Megan Herbert, Directed by Tony Osicka
Joe tells Max that he hasn't seen Michelle all day even though it's her last in the country. Chloe is on the phone to John, and tells Darcy that John knows all about them...
At the hospital, Chloe meets with Darcy, and tells him that her children aren't taking her relationship with him well, and want her to reunite with John. Chloe says she can't help feeling that they're right.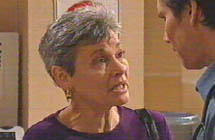 ..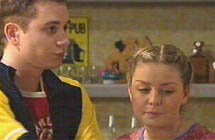 At the Scully house, Michelle tells Connor that she can't believe it's less than 24 hours before she leaves. Connor says as long as he gets some time alone with Michelle he will be happy. Flick comes in and tells Michelle she shouldn't be nervous, as she'll be with her two weeks after Michelle arrives. Lyn announces what she's planned for the farewell dinner, and Joe remarks that the kids should leave the country more often, which Lyn does not find amusing. Back in the lounge room, Connor and Michelle realise they might not get any time alone at all.
Still at the hospital, Darcy asks Chloe if she's doing anything that night, but she's having dinner with John, as they have to discuss things. Darcy tells Chloe she can call him at any time to talk about anything. When Chloe leaves, Toadie arrives and realises Darcy must be down because John is back in town. Darcy isn't happy everyone is talking about it behind their backs.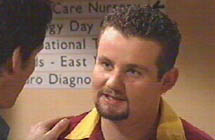 ..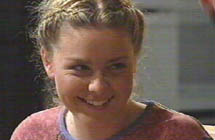 Arriving at the Scully's, Nina tells Michelle that American cheese is orange because they put food dye in it. Nina has bought a farewell present for Michelle – a jar of vegemite. Michelle asks Nina how her secret admirer is going, and Nina explains she is meeting him at Grease Monkey's tomorrow, which Flick says is a bit creepy. Joe comes in and tells everyone that Steph can't make the dinner. Joe asks Stuart where he and Flick are off to tomorrow, and he says they're off to Wonnangatta Valley, where there was a double murder case. Stuart explains it's safe, but quite a distance off, and Flick says the isolation is the purpose. Connor turns the talk to Michelle, and asks her to make a speech.
At the pub, Darcy asks how Toadie is going with Dee. He explains that she's a home with a headache, and Darcy says that she's been very busy at work. Jordan, Chloe's daughter, comes in. Jordan says she isn't looking for her mum, but for him.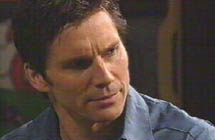 ..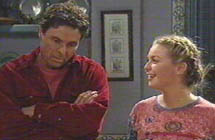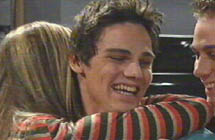 ..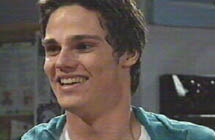 Back at the farewell dinner, Lyn makes Stuart promise he'll call them as soon as they're back in range tomorrow. Joe gets up to make a speech, and explains that he's very proud of Michelle and always knew she'd be off on an adventure. He says that he was looking at a map, and noticed that New York is almost exactly opposite to Erinsborough, and with her, and soon Flick to be there, and Jack just in London, he wonders if the kids are trying to tell him something. As if on cue, there's a knock on the door, and Stuart answers it and comes back with a visitor – it's Jack. The family are surprised to see him.
Darcy and Jordan talk at the pub, as Toadie listens on. She explains that Darcy has no right in Chloe's life, and that he should stay out of it, amidst Darcy's claims that Chloe is a grown woman who can make her own choices. Jordan says he will pay for it, and leaves, and Toadie asks what the confrontation was all about.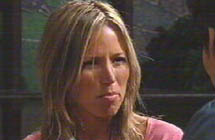 ..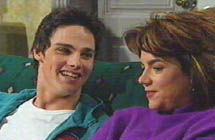 In the lounge room of number 26, Jack explains his Kiwi accent is from his New Zealand girlfriend, Lori, and he picked it up. Lyn is so glad to have him back, and he jokes that Connor has replaced him at the house. Joe wonders that his soccer is halfway through the season, but Jack says he has been on the bench most of the games from a knee injury, so he used his time off to visit his family. Nina asks Connor if Jack plays professional football…
Later on in the night, Connor and Michelle are raiding the fridge, and quickly sneak out the back with doonas. Even though Lyn sees, she lets them go, and when Joe comes out she tells him the noise was just a possum.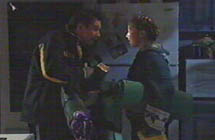 ..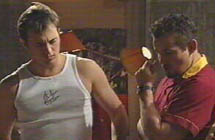 At number 30, Darcy is asleep on the couch. Stuart wonders what he's doing there, and Toadie explains that Darcy is having a hard time and made a 'tragic bar confession' before ending up back on the couch.
At the Lassiter's Park rotunda, Michelle and Connor camp out by a fire. They promise to stay faithful to each other, and reminisce about their first meeting. Connor has made a tape for Michelle, and tells her to listen to it every second day. Michelle and Connor say they love each other, and begin kissing as the camera pans away to the fire.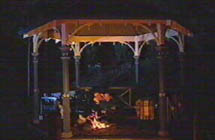 ..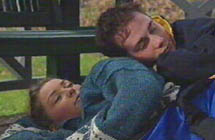 In the morning, Michelle wakes up and asks Connor what time it is. It's 6:30am, and they're both worried when they see Joe jog past. He hasn't seen them, but they realise they have to get home before he does.
Back at 26, Lyn has made lunch for Flick and Stuart, who are both looking forward to a weekend of freedom and isolation. Michelle and Connor rush in, and say they were at the supermarket. Flick says if she had been caught with a boyfriend 'at the supermarket' at her age she would have been killed, to which Jack also associates with. Flick and Stuart leave, and Flick says she'll see Michelle in New York…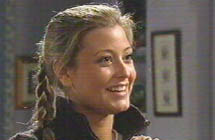 ..
At The Coffee Shop, Chloe meets up with Darcy. Chloe tells Darcy that she won't reconcile with John as she doesn't love him anymore, and Darcy tells Chloe about his night. Jordan walks in, and Chloe asks her to join them, much to Darcy's chagrin. After they've finished, Jordan apologises to Darcy about last night as she was out of line, but Darcy says it was alright, and Chloe tells her no one is judging her and she knows it's hard. Chloe leaves, and Jordan changes her tune, saying she'll make sure Chloe and Darcy won't last.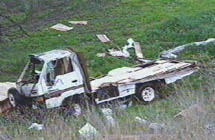 ..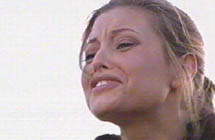 Out on the road, Flick is talking to Stuart, who is asleep. She is worried about it because she's only a new driver. She asks how much longer there is, and he says 2 or 3 more hours. She isn't very happy about it, and asks if they can change over. He says there won't be any more stopovers, as their last stop was their last stop until they arrive, but they've got each other for company. Flick agrees and smiles at Stuart, unaware there are road works ahead on the road. Stuart quickly tells her to look out, and she swerves off the road, the car hurtles through some trees before stopping right on the edge of a cliff, with the front two wheels hanging over. Stuart guides Flick to get out the back of the van, and she does, jumping out of the vehicle. Her jump causes the van to tilt until it falls off the cliff, with Stuart still inside. As it rolls down, the van completely falls apart. Flick, at the top of the cliff, is distraught. She looks over the wreckage and screams out Stuart's name…
Summary by Joe