.
Magic Moments > 2002 > Felicity's Departure Episode 4144

Written by Drew Tingwell, Directed by Chris Adshead
Michelle and Nina eye up Taj Coppin on the football field. At Lassiter's lake, Stuart asks Flick to marry him...
Stuart tells Flick that he's not trying to stop her from going overseas and that the wedding can wait until she gets back. She says that she'd love to marry him and he presents her with the ring. She is delighted with it and he puts it on her finger, then they kiss.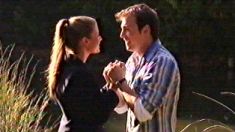 ..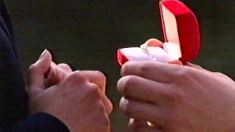 Nina is closing her locker when she drops her books all over the floor and Taj comes over to help. Taj apologises for being so rude to her over the text messages and explains that he doesn't even have her number. She said she had just assumed what with him coming to her gigs and everything, then walks away quickly.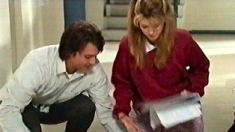 ..
Steph and Lyn are preparing dinner and worrying that Flick will be late for her own farewell dinner. Stu and Flick arrive, explaining that they had to stop and buy champagne - Flick then shows them her ring. Lyn is thrilled and bursts into tears. Jack and Lori then walk in and ask if they've missed something. Everyone laughs.
Karl is busy practising his song for the wedding. Susan watches on from the breakfast bar and frowns, then stops him mid-flow, encouraging him to take a break because dinner is ready. Then Harold arrives and Susan tells Karl to put his guitar away and put the kettle on. They ask about Harold and Ruby and he tells them that he's concerned about her family. He then asks them about the wedding plans and Karl explains that he's going to sing. Karl goes to play, but Susan encourages him to put the guitar away and then confides in Harold that she's worried about how awful Karl's song is.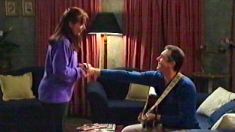 ..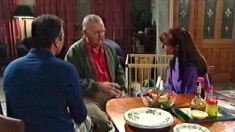 Stuart thanks Lyn for dinner and explains that they'll be waiting until Flick returns before getting married. Lori tells them they should get married in Las Vegas with an Elvis impersonator. Flick goes into the kitchen to make coffee and Steph follows her. Flick asks Steph how she feels about the engagement, Steph says she's thrilled about it as she already loves Stu like a brother. Steph says she'll miss Flick, but Flick promises she'll be back.
Later on, Flick thanks Stu for letting her spend her final night with her family. Joe asks them to come into the lounge room for a speech - he says they'll all miss her. Lyn adds that she's glad that there's Stuart for her to come home to. Joe says that he's proud of the love that has held the Scully family together and that it'll go all the way across the world. Flick becomes tearful.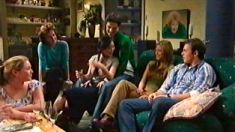 ..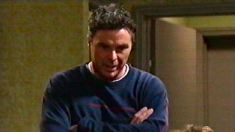 Next day, at the Coffee Shop, Karl tells Susan he can't believe how quickly he got his songwriting talent back. He says he'd do anything for Susan - she asks him to not do something, but he misunderstands and says he can't skip work, then sings as he leaves. Susan speaks to Harold, saying she can't cope with much more. Harold tells her that he needs someone else to sing, as a favour and that he knows just the person.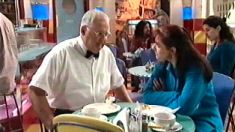 ..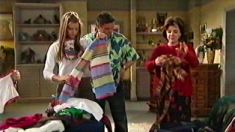 Flick is busy packing and Joe tells her she's got too much. Stu says he can't believe how finely she's cutting it, but Joe says that it's typical of Flick. Susan then arrives in despair at the wedding plans, Joe says he'll make them a cuppa and asks if Susan's ever heard Lynnie sing!
Nina tells Michelle about the embarassing situation with Taj yesterday. Taj walks past and Nina cringes, Michelle says she's hopeless and should talk to him. Nina tries to call him over but he doesn't hear. Eventually she shouts and he comes over where she finally gets the courage and asks him out on a date. He agrees and says he was going to ask her yesterday but she ran off.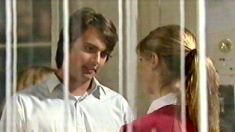 ..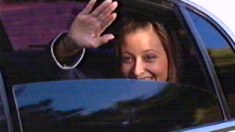 The Scullys are waiting for Stu to arrive and give Flick a lift to the airport. He arrives in the limo and everyone is impressed. Susan and Karl come to say their farewells to Flick, telling her she'll be missed but will have a great time. She then gets into the limo and pulls out of Ramsay Street for the final time...
At the Coffee Shop, Susan has told Karl he hasn't really got what it takes to write a song for the wedding. He's thrilled that she's finally remembered that she hates his music. She goes on to mention that she may have accidentally booked Harold. Karl tells Harold he's sorry, but it's not appropriate, although Harold says he was actually talking about Nina, who is very keen to sing.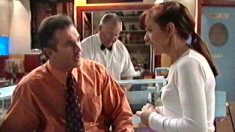 ..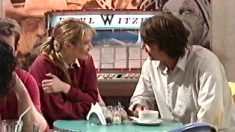 Meanwhile, Nina and Taj's date is going well - he tells her she has a beautiful smile.
At the airport, the Scully family, plus Lori and Connor, all arrive to say their goodbyes. Flick checks in and is preparing to go, when Stuart notices she's left the ring at home. She says she can't leave without it, so Stu says he'll have to go and get it. He rushes off but finds he's been blocked in, so goes back to get Joe's car keys. He speeds away and arrives back at Number 26, where he finds the ring.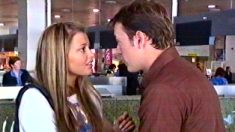 ..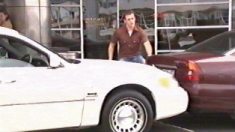 Flick is looking at her watch, panicking as her flight is boarding. Stu gets pulled over for speeding.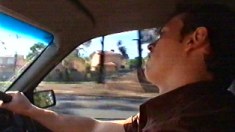 ..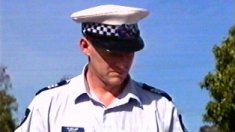 Flick's flight is called again and Lyn says she needs to go. They all make their way to the gate while Stu's ticket is written. He quickly drives off, while the Scullys all begin their goodbyes. Flick says goodbye to Michelle, Jack, Lori, Connor, Steph, then her final call is made. Lyn is in tears as she says goodbye, and Flick hugs her father then walks off through the departure gate. She waits a few moments, hoping Stu will arrive, but he's still driving. She goes through, but then comes back and says she can't go without the ring.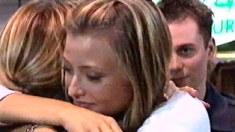 ..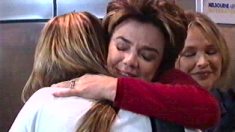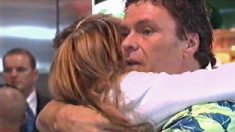 ..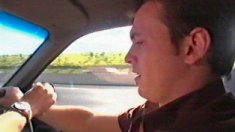 Just then, Stuart comes running in with the ring, puts it on her and they kiss. She walks through the gate for the final time and boards her plane. Stuart walks off, as Flick looks at her ring and kisses it, before taking off to a new life in New York.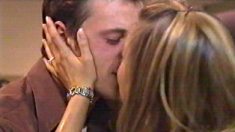 ..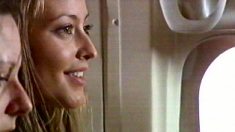 Notes: The aeroplane interior seen at the end of this episode was actually a mock-up, used for training airline staff. The song One Word was played over the final few scenes of this episode as Flick left for good.
Comment: After three years in the show, Holly Valance got a very impressive departure. She was reported to have said that she wanted something a bit more dramatic, although getting most of the cast to a location shoot at the airport was surely a big enough drama for Neighbours?
Summary by Steve. Captures by Karl