.
Magic Moments > 2002 > The 2002 Season Finale Episode 4155

Written by Jeff Truman, Directed by Tony Osicka
Susan is given a copy of her original wedding certificate, and when asked to remember the vows she will be making the next day she has problems. Joe assumes Michelle is pregnant after finding a positive pregnancy test...
The phone at the beach house isn't being answered so Karl tells him to keep calm. Joe says he's got nothing to be calm about - Steph hasn't got a boyfriend so the test must belong to Lori or Michelle. Karl doesn't think it would be Lori as he had recently talked to her in the surgery, but can't say anymore about it due to patient confidentiality. Joe is furious and thinks that Michelle's pregnancy must have something to do with his bad parenting. Karl apologises to Joe, saying that Michelle will have him and Darcy if needed, and goes to his room to get ready.
..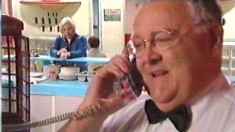 Harold gets off the phone from Derek at The Coffee Shop. He seems a little confused, and tells Rosie that Derek was calling to thank Harold for the $1500, but Harold gave Ruby $2000 to give to Derek. They both wonder what happened to the other $500.
Michelle rings Number 26 to tell Joe that although she has a queasy stomach, they will all make the wedding on time.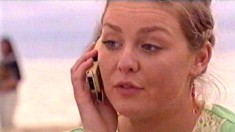 ..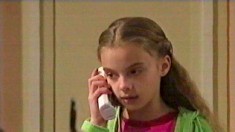 At the Kennedy house, Lyn is doing Susan's hair when Dee arrives. She collects Ben off Libby to look after him for a while. Summer walks in and asks if Susan has a flower girl prepared, prompting Susan and Libby to pretend they have forgotten to organise one and give the position to her. Joe calls on the phone, which is answered by Summer. He urgently needs to speak to Lyn but she brushes him off as she is too busy.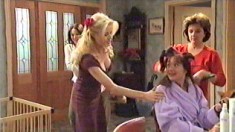 ..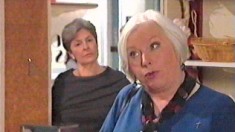 Back at the Coffee Shop, Rosie and Harold are talking about Ruby. Rosie tells Harold that she's sure there's an explanation and that she should give Ruby the benefit of the doubt. However Ruby has overheard them and she asks what doubts they are talking about her. Rosie leaves Harold to talk to her.
Heather is at Number 32 collecting a jumper she has left there. When she gets up to leave, Boyd presents her with a street sign of 'Heather St.', before admitting that he was busted for trying to steal the real one and so had it made Max's friend in a workshop. Heather thanks him and says it's even more special that way. He apologises for everything he's done and asks if they could get back together.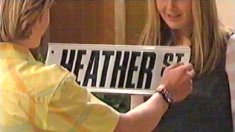 ..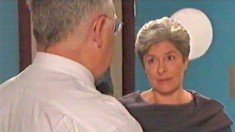 Ruby tells Harold she gave the other $500 to her other son who is out of work, saying she would not have done it if she knew she was going to be audited. Harold tells her that it is no problem as the money was given with no conditions. She tells him she won't make it to the wedding as she is meeting Derek who will be paying the money back.
Karl, Darcy and Joe are dressed in their suits at Number 26. Joe is finishing listening to Michelle's message, shocked that she apparently has morning sickness! Karl motions them all out the door.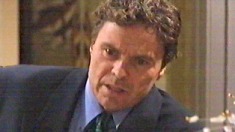 ..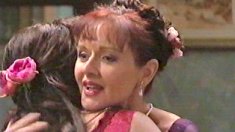 Libby is waiting for Susan in Number 28, and when she emerges, she is told how beautiful she looks. Susan thanks Libby for everything she's done for her, and that she wouldn't be here if it wasn't for her. They stop the speeches realising they will cry and ruin their make up, and so make their way out.
At the Lassiter's reception room, Lyn is nervously walking around pouring out her heart on the day's stresses to a puzzled Boyd and Heather.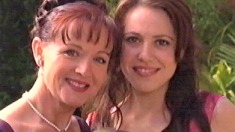 ..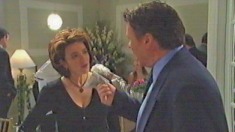 Outside, Summer suggests Max and Stephanie sit together but Steph is sitting with her family and Max. Susan and Libby get out of the limousine and Harold takes some photos, while inside Joe tries to talk to Lyn but changes his mind at the last minute. Michelle, Nina and Connor finally arrive, but tell Lyn that Jack and Lori are not coming, as neither knows Karl or Susan too well. When Connor greets Joe he gets a cold reception, confusing him, Lyn and Michelle. The Bridal March begins and Libby, Susan, and Summer walk down thorough the guests as Dee and Toadie blow bubbles.
Rosie begins with a reading from the bible, and passes on to Susan who begins her vows. After only a few words, she stops, and it appears she has forgotten, however she continues with a new set of vows: "Karl, you are my love. I can't imagine a future without you. I want to live with you, to have children with you, to grow old with you. I can't imagine not being with you. And I make this vow in front of everyone here today that I will love you forever." Teary, Karl tells the others that they were their original wedding vows. Susan asks him if he remembers his, he does so as if it were yesterday: "Susan, I adore you with a love that knows no bounds. You are the sun, I am the moon. You are the words, I am the tune." The couple exchange rings and kiss in the applause of their guests.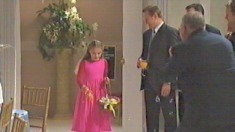 ..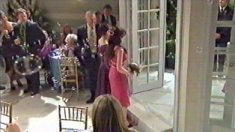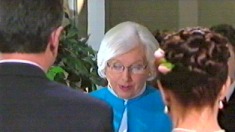 ..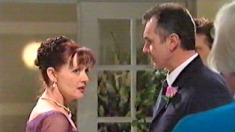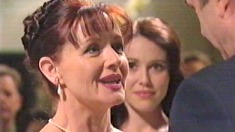 ..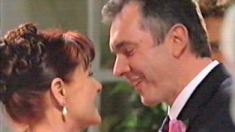 Susan has just finished making a speech and thanks everyone for his or her support over the months. She then asks her "second husband" Karl to throw the bridal bouquet and garter. He does so, and Max and Steph catch them, much to the pleasure of everyone else, and the pair joins Susan and Karl for the first dance. Summer comments to Boyd how good a couple they make, and Boyd agrees that he's glad that Susan and Karl are back together, however Summer tells him she was talking about Steph and Max.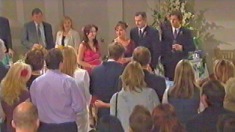 ..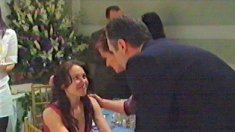 Libby, alone, is asked by Karl and Susan what is wrong, and tells them that "I just miss him," recalling Drew's recent passing. Karl invites her to dance, and Susan briefly talks to Steph.
Max and Steph are talking, and realise that almost all of their friends and family are getting some sort of perverse pleasure in guessing whether or not they'll become an item. They agree that ignoring it doesn't seem to be working, so agree to go out on a date. Through the window behind them, Summer takes a picture of the two, while over at the Scully table Joe drags Michelle and Connor outside.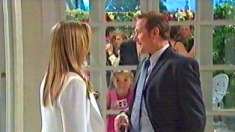 ..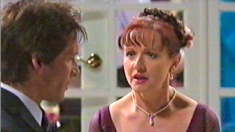 Susan goes over to talk to Darcy, sitting alone at a table, commenting that it isn't like him to be a 'wallflower', and he tells her that he and Chloe have split up. He says that she knew he would one day want kids and she wouldn't be able to give him that, saying she was right. He adds that he had that chance once-staring behind Susan, she looks behind her and realises he Is talking about Dee, who is with Toadie. Karl arrives on the scene with a bottle of champagne and tells Susan that he left an iron on at home so he has to rush home. She tells him he's being ridiculous, but when he says he's "left something on", she quickly catches on and rushes after him. Toadie comes inside and introduces the guests to Nina Tucker, who begins to sing.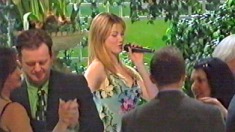 ..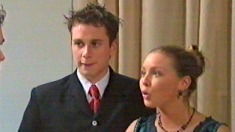 Just outside the reception, Michelle tells Joe that she isn't pregnant, but Joe tells her not to lie as Karl says the tests are accurate. She continues, along with Connor, to plead her case to Joe and he asks about her morning sickness, but it turns out that she had eaten too much of Connor's chocolate cake. Lyn comes out and asks what's going on, and Michelle tells her that Joe has some crazy idea that she is pregnant. Joe says to Michelle that someone in the house took the pregnancy test and it wasn't him, which brings Lyn to say it was her -- she was going to tell them before, and they're going to have a baby, leaving Joe and Michelle shocked!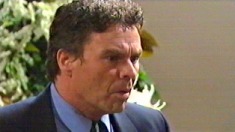 ..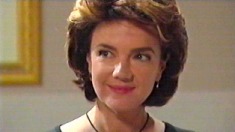 Notes: Lyn's pregnancy was not the scripted cliffhanger to this episode, but was rethought after the decision was taken to shift the orginal ending, Sarah's phonecall to the Kennedys, forward to the following episode, 4156, the 2003 Premiere. In Australia, a special montage set of credits was used at the end of this episode. Featuring Nina singing 4 Your Love, while various couples appeared on the screen in slow motion - Karl and Susan, Steph and Max, Michelle and Connor, Toadie and Dee, Heather and Boyd, and Joe and Lyn. In the UK, the same set of credits was used although reduced to a shorter amount of time, losing some of the shots.
Multimedia
BBC Closing Credits featuring Nina Realvideo (937k)
Summary by Joe. Captures by Karl