.
Magic Moments > 2003 > Izzy's Arrival Episode 4316

Written by Sarah Mayberry, Directed by Tony Osicka
Steph tells Karl that she hasn't been able to stop worrying about the lump. During her scan, Steph becomes very worried and demands to see Roberta Marley...
Karl arrives at the hospital and asks Steph why she's still there. She explains about the scan and he tells her that she shouldn't get distressed. Steph asks him to look at her scan, but he explains that it's not really his area. She tells him she has another appointment this afternoon and can't stop worrying. He offers to wait with her.
At Lassiter's, a taxi pulls up and a glamorous blonde woman gets out and puts her sunglasses on before walking over to the pub.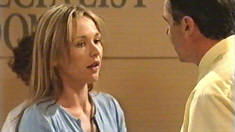 ..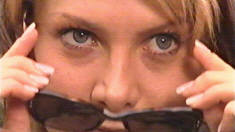 Stuart and Lou see her come in and they're both blown away by her. She comes over and explains she's looking for Max Hoyland. Lou says Max is out on a delivery and offers her a drink. Stuart wonders how he can get her number, while Lou wonders how Max knows her. They both think she's an ex of his and Lou challenges Stu to get her number and find out all about her. Stuart takes her a drink and sits down with her.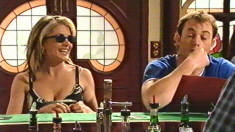 ..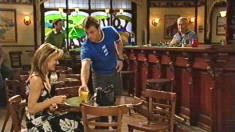 Sky is looking through the personal ads and finds one about someone looking for someone they bumped into at the fruit stand last week. She convinces Boyd to phone up and answer the ad. Summer tells them it's just mean, but Sky says it's up to them to stop the dregs of society from breeding.
Stuart is telling the woman about the situation with Toadie and Dee. She tells him he's a lovely guy and that the world needs more men like him, women like sensitive men like him. He tells her he's felt a bit lost lately and she tells him it's only human. Stu goes to get more drinks and report back to Lou, but realises that he knows nothing about her, so Lou decides to go over.
Boyd is preparing to phone the number, but doesn't know what to say, so Sky tells him. He tells her that a guy wouldn't talk like that, and Summer tells Boyd that Heather would never do something like this. Boyd phones and leaves a message for the woman – Candy – saying that he'll meet her at 2.30 at the Coffee Shop.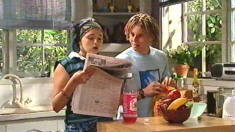 ..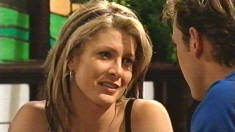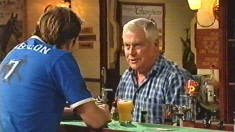 ..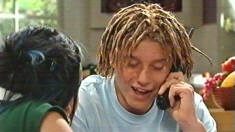 Steph and Karl are still waiting, when Roberta arrives. They are just going into her office when Steph races back and asks Karl to go in with her. Roberta asks why Steph became distressed during her ultrasound and Karl explains that she thought she saw something. Roberta explains that the lump will need further investigation with a needle biopsy. Karl says it shouldn't hurt and Roberta says the results should be back within a couple of days. Roberta also gives Steph the number for a breast care nurse.
Sky and Boyd arrive at the coffee shop and he's wearing a disguise. A blonde woman comes in and they wonder if it's her, but she has no red rose. Just then, Candace Barkham walks in with the rose and Boyd's worried that he'll get busted.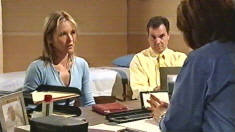 ..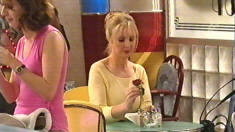 Lou and the woman are flirting and she tells him he should tell his friend Valda exactly how he feels about her.
Sky and Boyd are still watching Candace and wondering why she placed the ad, when Candace gets up and leaves. They follow her outside and Boyd is worried he'll be spotted. They watch her get in her car and start crying, before throwing the rose out of the window and driving off.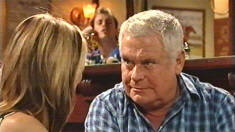 ..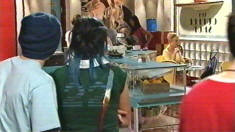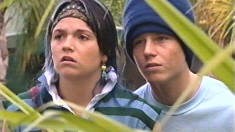 ..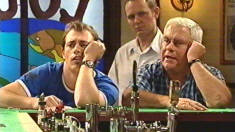 Stu and Lou are watching the woman from the bar when Lou says she reminds him of Annalise. Max then appears and introduces them to his little sister, Isabelle. He drags her off to see Boyd and Summer, while Lou and Stu pretend that they knew all along that she was his sister.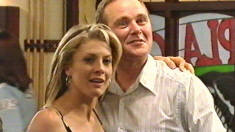 ..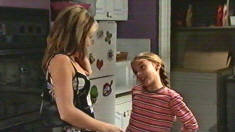 Steph arrives back at number 32 and tells Summer that she's bought her a new badge for her jacket. Just then, Max arrives with Izzy and Summer is thrilled to see her aunt. Izzy explains that she's here for a long visit. Max introduces Steph and Izzy mistakes her for the childminder. Max explains that Steph's his girlfriend and Izzy is embarrassed. She says she's brought presents for everyone, except Steph and tried to give her some perfume. Steph says she doesn't wear perfume and Max explains that Steph's a mechanic. Izzy seems quite taken aback by the whole thing.
Sky asks Boyd where the Midpoint shopping centre is and he explains that they went there last week to the movies. She wonders how many fruit stands there are, and he tells her he doesn't want to get involved. She tells him it's bad karma if they don't help Candace now, but he just thinks she's mad.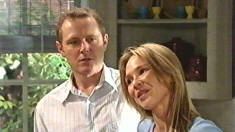 ..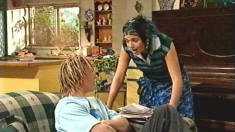 Izzy and Summer come out of the Coffee Shop and Izzy is fishing for gossip about Steph. Summer seems a bit reluctant and admits that it's not been great having Steph around as she's more interested in sucking up to Boyd. Izzy says she might be able to help with the situation.
Steph is making dinner and has pains in her arm from the biopsy. Max comes in and tells her not to worry about Izzy, as she had an intense friendship with Claire and he was worried about telling her. He hugs her and she yelps in pain, but passes it off quickly. He suggests they get an early night but she tells him she's feeling ill and would rather take a hot water bottle. Izzy and Summer come in and apologise for getting in late. Steph rushes out to get some milk and Izzy feels awkward.
Steph sees Karl in the street and rushes over to him, saying that she didn't take into account Lyn's natural father when considering the history of cancer in the family. She starts asking Karl questions about the operation and tells him she just got her life on track and she doesn't want to die…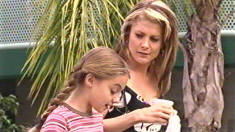 ..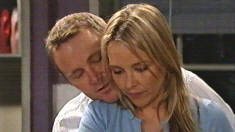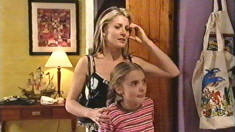 ..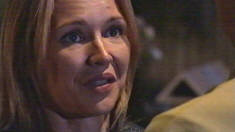 Summary by Steve. Captures by Karl