.
Magic Moments > 2003 > Christmas 2003 Episode 4394

Written by Jeff Truman, Directed by Gary Conway
Connor tells Carmella that he is terrified of her father. Chris the photographer arranges to pick up Serena at a prearranged time so her parents won't find out. Susan is worried that she and Karl are still drifting apart despite him giving up drinking…
It's Christmas Eve and Harold, Liljana and Sky watch David turn on his full, spectacular display of fairy lights on the house. Across the street, the Hoylands greet Lou and Trixie as they walk out of their house. Izzy quietly says the street looks a little like Las Vegas. The group is joined by Lyn and Valda. Trixie produces some carol song books and as Harold conducts, they all sing 'Good King Wenceslas' together.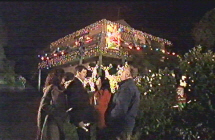 ....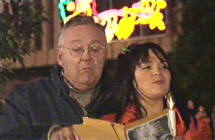 Karl peers out the window of number 28 and tells Susan about the carol singing. He asks if she wants to join them, but she says she wants to get ready for Adelaide. Karl isn't in the mood either.
At the coffee shop, Chris gives Serena a Christmas present and tells her to open it discreetly. It's some sexy nightwear and he asks if she'd like to model it for him. Serena tentatively agrees.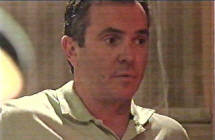 ....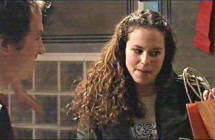 Susan is rummaging through a pile of clothes and going on about some bargain socks she bought Karl a while ago. Karl realises she's just making strained conversation and tells her to stop. He says they both know the trip to Adelaide isn't going to work out and they might just need some time apart.
At Chris's studio, Serena is putting her clothes back on when Chris says she was fantastic. He kisses her on the lips. Serena's a bit freaked out so she hurries to leave. Chris says the best Christmas present she could give him would be to spend the whole night with him and wake up in his arms on Christmas morning. Serena says it would be nice but she has to go.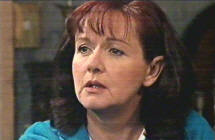 ....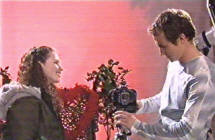 The Bishops come in from the street still singing carols. Liljana starts making some egg nog for David. Harold suggests they sit down and watch 'It's a Wonderful Life' on television, and asks Sky if she's ever seen it. Sky gives a vague answer and Harold realises something is wrong. It's the first Christmas she's spent away from her Dad and Toby. Harold tries to cheer her up by saying she can call them later if she likes. Serena arrives home and lies to her parents about where she's been - Sky knows it's not the truth but covers for her.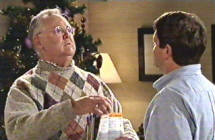 ....
It's still dark on Christmas morning when Summer sneaks out of bed and starts shaking her Christmas present to guess what's inside. A little while later the sun has risen and Boyd gets up to see Summer still waiting by the Christmas tree. Soon, Izzy arises and Summer excitedly asks if it's time to open presents yet, but Izzy says she'll have to wait for Max and Steph, to which Summer grumbles "humbug!" Max and Steph finally get up and they all start opening their presents. Izzy gives Steph a cookbook while Steph gives Izzy the DVD of 'Legally Blonde'. Steph has gotten Max an expensive watch inscribed with "You'll always live in my heart, love Steph".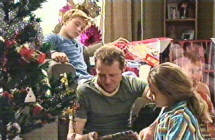 ....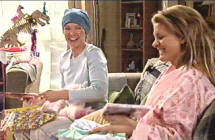 Lyn is on the phone to Joe who is going to drive home from the farm the following night. She tells Valda that the bushfire is now completely extinguished. Valda gives Lyn her present - a photo album of all the photos she's gathered over the years. Lyn's gift to Valda is a locket with a picture of Lyn as a baby inside.
Izzy sits on a deck chair on the front lawn mumbling "There's only so much Christmas cheer a person can take". Lyn and Valda walk up on their way to number 32 and say good morning. The three of them watch as a taxi pulls up outside the Kennedys' - but only Susan gets in. Susan tells Karl she'll make an excuse for the kids and tell them a patient was too sick to leave. The taxi drives off and Karl looks over at Izzy who appears worried.
Inside number 28, Karl walks slowly inside as Dahl starts squawking. He angrily tells her to shut up before slumping onto the side of the sofa. When he sees that Susan has left her present from him on the table, he puts his head in his hands and breaks into tears.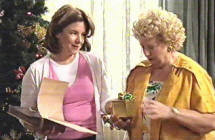 ....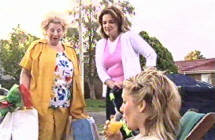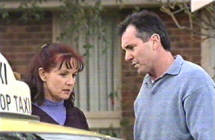 ....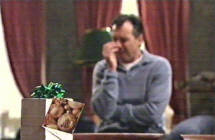 The Hoylands and the Scullys are gathered around number 32's living room having their seafood Christmas lunch. They toast Steph for preparing the feast and Max shows Summer how to shell a prawn. Izzy and Lyn offer to help with the cooking but Steph snaps and tells them she's fine. Valda starts gossiping about Karl and Susan which prompts Izzy to make an excuse to leave.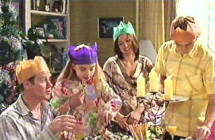 ....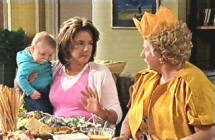 Connor is having Christmas at Lou's house and answers the door to Rocco and Carmella. Rocco's bought an expensive suit for Lou's wedding. When they leave, Connor looks flustered and Trixie guesses that he's infatuated with Carmella. Lou says he wouldn't be that stupid.
Karl opens the door to Izzy who's brought over a big plate of seafood for him. Izzy says she saw Susan getting in the cab and hopes it wasn't her fault the she left without him. The phone rings and Karl starts speaking with Malcolm and Billy, and waves at Izzy as she leaves. Izzy lingers by the door staring at Karl.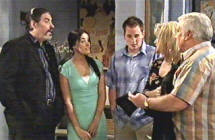 ....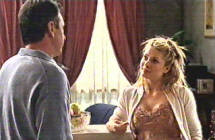 Harold, Liljana and David are lazing around the living room after Christmas lunch as Sky and Serena wash up. Sky is mad with Serena for lying. Serena receives a phone call - it's Chris, who asks if she'll spend the night with him at a posh hotel with champagne on ice. He says he hasn't been able to get her out of his head. She smiles at his compliments and agrees to come.
....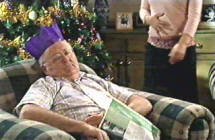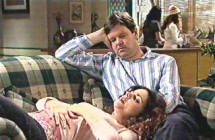 ....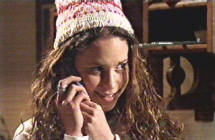 Summary by Aaron Captures by Karl