.
Magic Moments > 2004 > Darcy's Return Episode 4526

Written by John Hanlon, Directed by Julie Bates

Episode Title: What The Cat Dragged In

Serena needs to find out what Stingray's tattoo says, and Boyd's attempts to look at it fail, so Sky pulls down his pants and Serena is shocked to find out that it says Shazza. Lou is sentenced to three years in prison.

Lou is in a state of shock as he's taken away from the court. Toadie, Sindi, David and Harold follow him out and promise that they'll do everything they can to make sure he's out of prison as soon as possible. David offers to start up a petition while Harold tells Lou to be strong.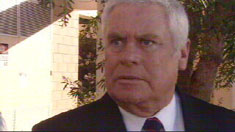 ..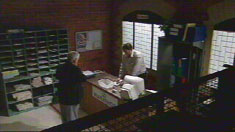 ..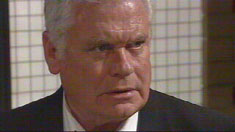 At Warrinor Prison, Lou is led in and the officer tells him to empty his pockets and remove his watch. He is then given his prison uniform and told to remove his clothes. He asks for some privacy, but the officer tells him to just get on with it, and that the prison runs on rules, something he'll need to get used to.
Outside the pub, Toadie, Sindi, Harold, David and Max are discussing the situation with Lou. Toadie realises that Lou has been made an example of because of his standing in the community and wishes that Tim had taken on the case. David says he's going to enlist public opinion with a petition, while Sindi says she'll organise a letters to the editor at the newspaper. Max hopes that Lou will be ok in prison, and Harold says that Lou is a fighter and will be fine.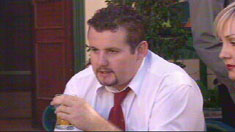 ..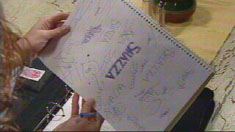 Serena is busy at home trying to work out what the tattoo said, while at number 28, Stingray is attempting to use bleach to remove the tat. Boyd walks in on Stingray, while Sky walks in on Serena. Serena is concerned that he's never even mentioned a Shazza, while Boyd tells Stingray that he's insane. Sky suggests to Serena that Shazza might have been a friend or something, but Serena isn't convinced. Boyd wants to know who Shazza is, but Stingray isn't willing to talk and is more worried about Serena's reaction. Boyd tells him that he'll need laser treatment to remove it, and suggests that he distracts Serena.
Serena is still going on about the tattoo when Liljana gets home. She explains that she ran into Father Popovich at the supermarket and has invited him to dinner as she felt guilty about missing so much church. Lil enlists Serena to help with the cooking.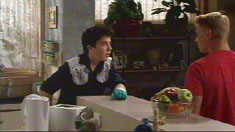 ..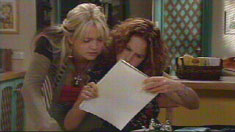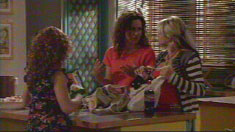 ..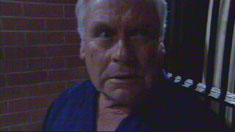 Lou is shown to his cell. He asks the officer if Rocco is in the prison, but he can't be told. He explains that Lou's cellmate is assisting in the infirmary overnight, but will be back in the morning, so he'll have all night to get his bearings. A stunned Lou sits down.
At number 28, a shocked Sindi listens to a conversation between Boyd and Stingray, eventually bursting in on the two of them…
..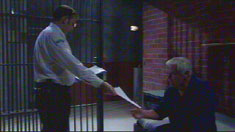 The officer gives Lou his schedule and tells him that they need to make sure he's fit enough to carry out his duties. The alarm sounds and the prisoners go to the mess hall for dinner. Lou is told that he has to go now, and he asks if he can just stay in his cell. The officer tells him that this is his new life, and he needs to get used to it.
Stingray is showing Sindi his new 'Serena' tattoo that Boyd was doing for him. Sindi tells him that although it's sweet, he can't keep getting new tattoos everytime he got a new girlfriend. Sindi warns him to just tell Serena who Shazza is. Serena then arrives and Stingray shows her his new tattoo, but she realises that it's not permanent and storms out. He follows her, asking if she likes the style…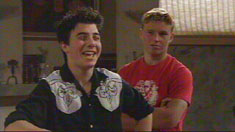 ..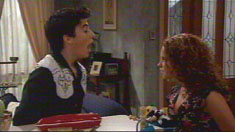 At number 24, Liljana confesses to David that she told Father Popovich that she was having marital problems, as an excuse for missing church. Meanwhile, Harold is on the phone to the prison enquiring about Lou, but he's getting nowhere. Sky then arrives and Max asks her if she and Serena would be ushers at the wedding. Serena and Stingray burst in, with him trying to show her his tattoo, when David suddenly recognises the bum that's been mooning him recently, and Stingray is forced to make a quick getaway.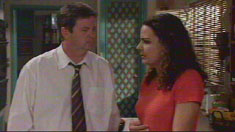 ..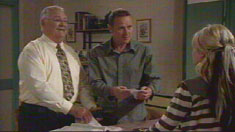 Later that evening, at number 28, David arrives to see Susan, but she's not in, so he decides to discuss the situation with Sindi instead. When he explains that Stingray's been mooning him, Sindi seems confused, so David explains what mooning is. Sindi asks how he recognised it, and David explains that he has two very distinctive marks on his bum, but Stingray suddenly appears from the sofa and explains that one of the tattoos came off with turps. Stingray tries to make a joke of the whole situation, and Sindi warns him that David is very upset, so Stingray apologises…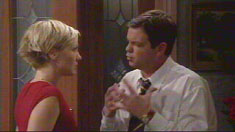 ..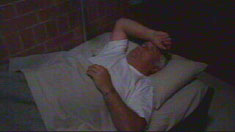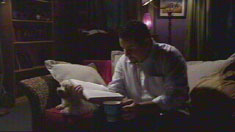 ..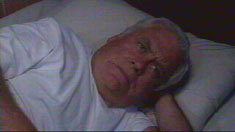 Toadie is up late trying to find a legal loophole to help Lou, who is in his cell, unable to sleep. Toadie wakes up the next morning and runs off for his meeting with Lou…
In the prison yard, Toadie meets up with Lou and tells him that he's found a cause for appeal, while the whole community is up in arms about the whole thing. Lou tells him to hurry up and sort things out, because he should have done his job properly in the first place. The officer takes Lou off, while he shouts at Toadie to get him out of there.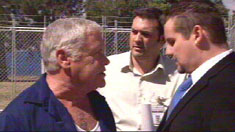 ..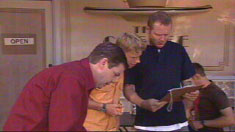 David and Harold are outside the Coffee Shop arranging some petitions. Max offers to take one for the pub, and then goes to ask Harold if he knows someone who can do the wedding cake. Max is reluctant when Harold offers him a coffee, and Harold is confused about what's going on with the coffee lately.
At number 28, Stingray is worried that Serena isn't going to forgive him this time. Sindi warns him to be honest with Serena and imagine things from her point of view. She tries to get him to tell her who Shazza is, but he refuses. He tells her that the truth is too weird.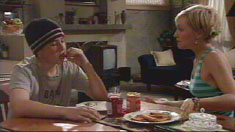 ..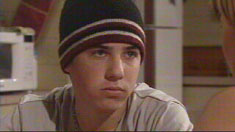 Toadie is on the phone to Tim, trying to work out how to handle the case. Sindi arrives and tells him he looks terrible. He explains that he went to see Lou, who was really scared and starting screaming at him. Sindi tells him that it's just the stress of the situation and that they'll get him out..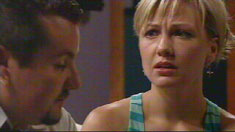 ..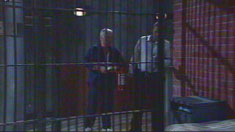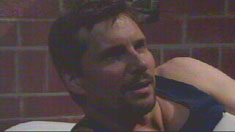 ..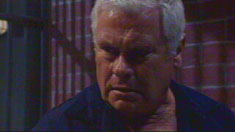 Lou is taken back to his cell, and he sees his cellmate in bed. The guys says hi to him, and Lou is shocked when he turns over and realises that it's Darcy…
Summary by Steve