.
Magic Moments > 2004 > Nina's Return Episode 4561

Written by Linda Stainton, Directed by Ali Ali

Episode Title: Father's Day

Serena tells Svetlanka that she can't be her go-between anymore, and she'll have to talk to Liljana herself. Sindi introduces her cousin Lana to Sky and Serena. Dr. Olenski tells Steph and Max that their fertility tests were inconclusive, and they'll need to do some more.

Nina arrives back in Ramsay Street in an open top car with her personal assistant, Krishneel. He tells her that they shouldn't deviate from their schedule, but she says that she's been away too long, and this won't take too much time. Meanwhile, Jack is on the phone, worried that the wasp infestation has returned. Nina knocks on the door and Harvey starts barking. She calls out to him, asking if there's anybody home. Jack is shocked to hear her voice and runs to the door. He apologises, claiming not to have heard the door. She says she came back last night and is staying at Lassiter's. She tells him that she was feeling a little homesick and invites herself in for a coffee.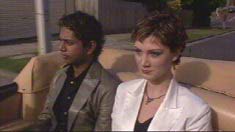 ..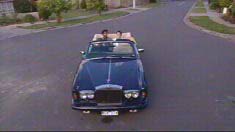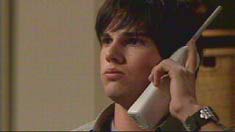 ..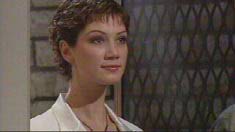 At number 32, Steph and Max are worried about the tests. She says that if she can't concieve, it's because if the chemotherapy. Summer then appears, complaining that she's got the flu that Serena had last week. Steph feels her forehead and agrees, so she offers to stay home and look after her. Max then leaves for work.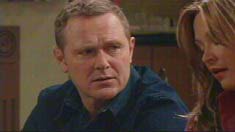 ..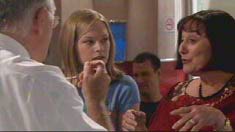 At the Coffee Shop, Boyd is waiting to pay, and Lana comes out to serve him. They make a joke about him running off without paying, and Lana seems very taken with him as he leaves. Svetlanka then comes in with some slatko she made in Lassiter's kitchen. Harold is very impressed, and she tells him that he deserves to be treated well. Lana asks if she can go, and Harold sends her off, with Svetlanka explaining that she can't offer her any slatko, as it's only for a woman to give to the man on which she's set her heart.
At number 24, Liljana is telling David about Harold's suggestion for them to go to a jazz festival as a family night out. Serena complains about hating jazz, while David is only concerned that it might cost him money. Sky appears in a very good mood, but everyone else is depressed, and she realises that they're all still annoyed about Svetlanka.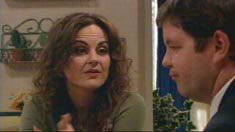 ..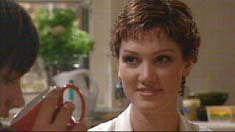 Jack is taking the mickey out of Nina's Bollywood career, but she says that she has a manager in the USA and has a few auditions lined up over there. He congratulates her and tells her that she deserves all of the success, and she then asks him what he's been up to for the past few months…
At the school, Lana is pleased to see that Serena is back after her illness. Sky is rude to Lana, but Serena tells her to ignore it. Serena and Lana agree to go to maths together, while Serena shows Lana a quiz in a magazine about her ideal man. Lana explains that she saw a guy in the Coffee Shop that morning, and she thinks he might like her. Serena is amazed that Lana has met someone so quickly, and Sky mocks them for getting so excited about it.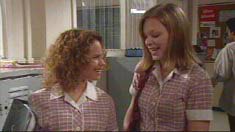 ..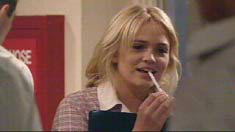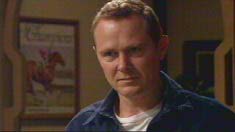 ..
At the pub, Max gets off the phone from talking to Summer and tells Lou that she sounds fine. Lou admits that he wishes he could get a few more days off himself. He asks Max about the tests, and he explains that it's not looking good, but he's staying positive for the sake of Steph. He says that even without kids, it won't stop them from living their lives to the fullest.
Liljana is at the garage to drop her car off, when she notices that Steph has been crying. Steph apologises, and explains that she might not be able to have kids. Lil comforts her, and Steph says that she's already had her quota of good luck, after beating cancer. Lil explains that she went through a similar thing, when her first baby was still-born, and she thought she might not manage to have a baby after that. Lil gives Steph a hug, and tells her that nature can be an amazing thing.
David goes into the Coffee Shop to get lunch, and Harold is acting oddly, when David notices that Svetlanka is sitting at one of the tables. She asks him to sit down with her while he waits, and David decides to have it out with her. He tells her that he's used to her only doing things for her own benefit, and she wants to know how she benefits from giving them $100,000. She tells him that it's just a gift from her heart, and he tells her to give them the money, then go back to Perth and never contact them. She tells him that it would break her heart, but he is unmoved and tells her that he's told her his terms.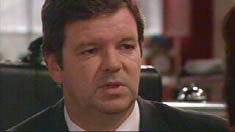 ..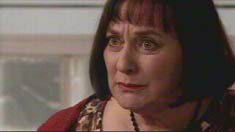 At the school, Sky is telling Boyd about her new business with Sindi, selling lingerie. She suggests that they go home later for a private showing of some of the merchandise. They bump into Lana and Serena, and Boyd says hi to her, explaining to Sky that they met that morning in the Coffee Shop…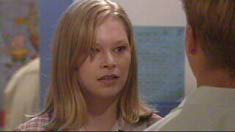 ..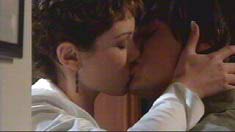 Nina asks Jack about girlfriends, and he says that he never gets to meet anybody. Nina says it's the same for her, as she's never in one place long enough to meet anyone. She tells him that she should get going. He tells her that he's free if she wants to stay, but she explains that she's pretty tired from the jetlag, and she's still on Indian time. He asks if they'll see each other again before she leaves, and she says that she hopes so, before suddenly kissing him. She tells him it was really good to see him, before leaving him slightly confused.
Boyd and Sky are in a classroom, discussing the situation with Lana. He explains that all that happened was that she served him when he bought a drink, and she must have got confused over her definition of flirting. Sky says that Lana's tragic, and explains that she and Serena have become friends since they both started working in the Coffee Shop. Boyd is still impressed to hear that Lana thinks he's hot, and thinks she could probably pull most guys. Sky asks why she couldn't pull them herself, and he kisses her to show her why.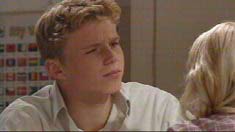 ..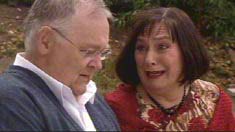 Harold finds Svetlanka in the park, crying and humming a tune. She tells Harold about what David asked of her, and Harold tells her that he's sure it won't come to that. She says that she only did things in the past to protect her daughter, and if they keep on shunning her, she'll be dead within a year. She starts humming again, and Harold asks her about the tune. She explains that it was something she sang to Liljana as a child, when she used to hold her in her arms. She starts crying again and leans on Harold's shoulder.
At the pub, Steph is explaining to Max that Summer's currently at home trying to get through to a radio phone-in to win soccer final tickets, but she's been on hold for an hour. She tells him that she's struggling to keep positive. Max tells her that he would love to have children with her, but if it's not to be, then they have to accept that. She says that it's fine for him, but he already has kids, and as much as she loves them, it's not the same for her. He tries to talk to her, but she thinks he's accusing her of over-reacting and walks out of the pub.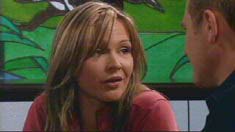 ..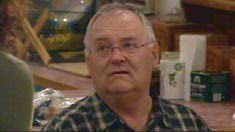 Harold is humming the tune from earlier, and Lil recognises it. He says that he heard it earlier from Svetlanka, and Lil suspects that her mother probably taught it to him. Harold tells Lil not to paint her mother as some kind of wicked witch, but she's just terrified of losing her daughter for good. He asks Lil to entertain the notion that Svetlanka might be doing this for the good of her family, but Lil refuses to.
The police bundle a young guy into the van and he's insulting the cops. Steiger tells Stu not to let the kid out of his sight, while they go back and try to stop the riot that's ensuing. The kid shouts at some fans from the van and then starts talking to Stu about his career in the force and how he's got the look of a dumb hick.
Lana is embarrassed about the mix-up with Boyd, but Serena tells her not to worry, as there are heaps of other guys out there. Sky comes over and tells Lana to stop making up stories if she wants to get on at Erinsborough High. She tells Lana that they should keep away from each other, and Lana should keep her eyes off Boyd. After Sky's gone, Lana says that Boyd was flirting with her. Serena says that she's never known Boyd to look at anyone else, but Lana maintains that he did.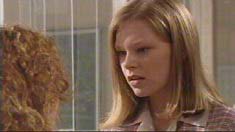 ..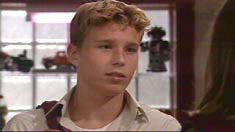 At the Coffee Shop, Boyd apologises to Lana for the mix-up earlier. She says it's fine and it's been forgotten, but as soon as she sees Sky come in, she changes her tune. She tells Boyd to watch out for his green-eyed girlfriend, before leaving. Sky asks Boyd what was just said, and he admits that he doesn't have a clue.
At number 24, Serena and Lana are reading magazines together, looking at clothes. Lil tells Serena to get ready, as they're leaving for the concert in ten minutes. Lana says she should get going, and Serena gives her the magazines to take home. Sky arrives home as Lana leaves, and she accuses Serena of being disloyal. Serena tells Sky that she doesn't know what Lana has been through, and tells Sky to get real.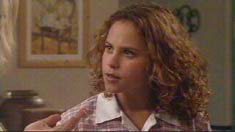 ..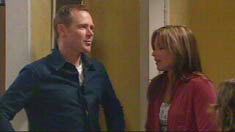 At number 32, Steph and Max are leaving for the hospital. Boyd is trying to get rid of Summer, so he and Sky can have the house to themselves, but she says that she's sick and isn't going anywhere. Max tells Summer to stay in her room and do her extra homework.
The Bishops are at the pub, getting some wine to take with them to the concert, when they see Svetlanka sitting on her own. David offers to wait outside while Lil talks to her, but she says she has nothing to say, and they all leave.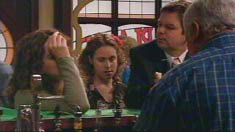 ..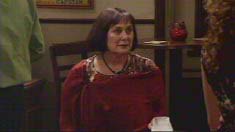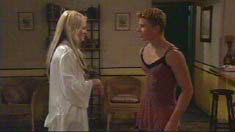 ..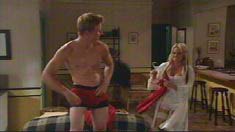 At number 24, Sky is wearing some of the lingerie, when Boyd appears from the bedroom, wearing some of it himself. Sky suggests that she should phone Serena or Stingray, but he tells her not to, before performing a striptease for her.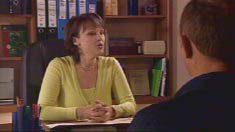 ..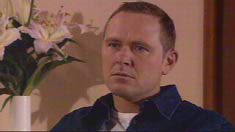 Max and Steph are at the hospital, and Steph is told that her latest tests show that she is clear and is fine to have a baby. Max is then told that his tests show that he has a very low sperm count, which explains why they've been unable to conceive. He is shocked, and says that he has two kids, but Dr. Olenski tells him that the count can sometimes drop as a man gets older. Both Steph and Max look shocked.
Notes: After being forced to leave suddenly in 2003, having been diagnosed with cancer, Delta Goodrem returned to the show in May 2004 to film a handful of scenes in order to give Nina a proper farewell. Because of her tight schedule, she only returned for a couple of days, and filmed enough scenes for Nina's storyline to be spread over 5 episodes. Delta's Born To Try was played over the opening scene.

Summary by Steve