.
Magic Moments > 2004 > Serena's Confession: Part 2 Episode 4593

Written by Helen MacWhirter, Directed by Gary Conway

Episode title: Oh, What A Tangled Web...

Serena breaks the news to Luka that Liljana is his mother, and they're brother and sister.

Svetlanka explains that some friends of the family were childless and wanted a baby so much, so she gave the baby and paid a doctor to tell Lil that it had been stillborn. She tries to justify her actions, saying that Lil was too young to be a mother and Luka deserved so much better in life. David accuses her of only acting in her own interests, while Lil asks Svetlanka to just leave and give her some space. Svetlanka picks up her bag and goes, with David and Harold following…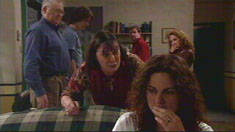 ..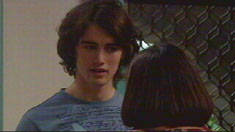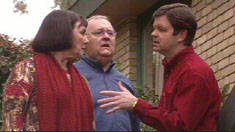 ..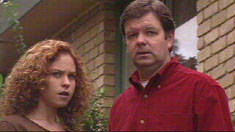 Outside, David asks Svetlanka what sort of person could do this to their own family. Harold tells him to stop, and that when they've all calmed down a bit, they can discuss things rationally. Serena watches them from the steps, as Svetlanka and Harold leave. She tells David that her grandmother can keep on walking. David says that Serena has no reason to feel guilty, and he asks her exactly how close she got to Luka. She runs off, saying that she doesn't want to talk about it.
At the school, Lana and Sky ask Stingray if he'd like to help them with their cartoon strip in his free period. He runs off and Lana says that when she first met him, she thought he was a bogan, but now she thinks he's sweet. Sky asks about Lana's date with Buffy, whose real name is Denise, but Lana says that it was a disaster.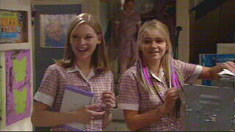 ..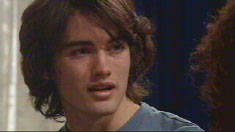 ..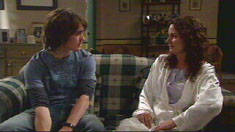 Luka tells Liljana that when they first met, he felt a connection, but she admits that she didn't. He asks if she was curious about how he would have turned out, and she says that she was at first, but then it started to hurt too much. She says that now, she looks at him and she keeps thinking that he's her son, but it just doesn't seem real.
At the school, Lana and Sky are drawing, while Stingray poses as a superhero. They tell him to stand up and get him to pose as a teapot. He claims that he's Camp Man, while Brendan and his mates start mocking them all, asking if it's a meeting of the gay brigade. Stingray starts flirting with Brendan, before putting on a cape and flying away.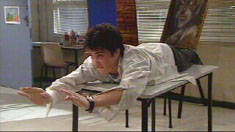 ..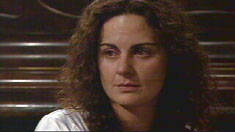 Luka says that he always felt like part of his life was missing, but now he doesn't know what to do. Lil says that they need to take things slowly and get to know each other. Luka says that he can't believe he's finally got a mother after 18 years. Lil reminds him that he also has a sister, and she asks him what happened. He says that they kissed, and she tells him how sorry she is, but neither of them are to blame for what's happened. She assures him that they'll get through it.
At the pub, Karl arrives to find Lou selling old car parts. Karl sees a Thunderbird hubcap and says that Lou must be raking it in, but Lou is offended, so Karl takes the hubcap for free.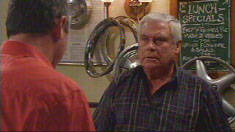 ..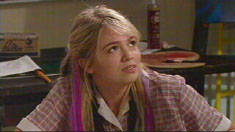 At the school, Sky answers Lana's phone, while she's out getting lunch. She speaks to Buffy and says that Lana is going to be busy tonight, so can't go out with her. Lana then comes back, and Sky explains that she put Buffy off to save Lana the embarrassment of doing it herself. Lana is annoyed and says that she was hoping for another chance, and walks out, telling Sky not to interfere again. Stingray claims that Sky was jealous, at which Stingray walks out.
Stingray walks into Grease Monkeys and sees Serena sitting alone in a booth, crying. He asks if he can help her, or even just listen.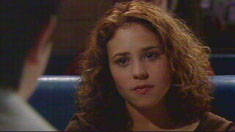 ..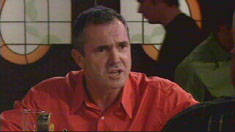 Lou apologises to Karl, and says he was selling the spare parts, and feels like he's become desperate to make money. Karl tells him he's underestimating the market, and he should start selling on the internet. Karl offers to make a website for him, but Lou is slightly concerned as Karl has never made one before.
Serena finishes telling Stingray the situation and he is surprised, but tells her that it was perfectly natural for her to feel a connection with Luka. He tells her to look on the bright side, as she's now got an older brother, and he might have friends who are hot. She asks if he'd be jealous, and he says that he just wants her to be happy. He asks her not to let this change the way she thinks about herself, as she's a good person.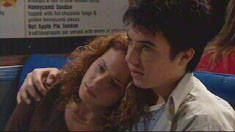 ..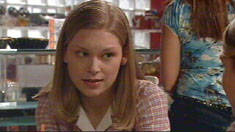 Sky finds Lana in the Coffee Shop and says that she wants to apologise. Lana lets her sit down, and Sky says that she had no right to put Buffy off. She says that she honestly thought she was doing her a favour. Lana asks how long it was before Sky knew that Boyd was the one. Sky says that it was pretty quick, but their relationship seems to survive everything that's thrown at it. David comes in and asks Sky if he can have a word with her, as there've been some developments at home.
In the pub office, Lou asks why his computer is beeping. Karl says he may have picked up a virus, and tells Lou that his inbox is full of ham, so it's no wonder he picked up a virus. Lou says that he thinks it's called spam, but Karl tells him that spam is something that comes in a tin.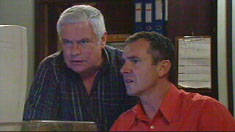 ..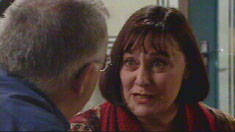 Harold and Svetlanka are at the Coffee Shop, and she realises that there's going to be a price to pay for all the years of deception – she will lose Lil and Luka's love. Harold tells her not to jump to any conclusions just yet, and that their reunion is a reason for celebration. Svetlanka says that this isn't a fairytale, it's real life. He tells her that she's probably underestimated people's ability to forgive, and could be in for quite a surprise.
The Bishop family is gathered at number 24, and Lil announces that Luka is going to stay in Erinsborough, with a Serbian family. She says that she hopes Luka will one day be a proper member of the family. David welcomes him. Lil tells Serena that nothing that's happened was her fault and apologises to David for everything she's put him through. David says that this should be a time for celebration, and Harold tells Svetlanka that he knew everything would be alright. Lil tells him not to get carried away, as she hasn't finished yet. She says that this is a time for celebration, but what her mother did was beyond forgiveness. She tells Svetlanka to leave, and never contact the family again. Svetlanka gets up to leave, and Harold goes after her.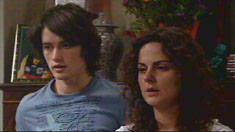 ..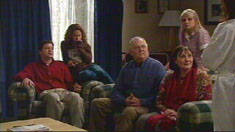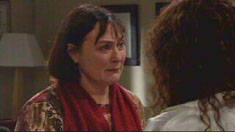 ..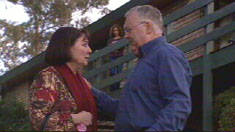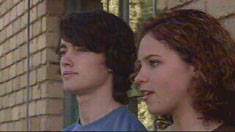 ..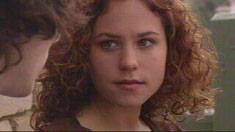 In the driveway, Harold chases Svetlanka, who says that there's no going back this time. He tells her that she can't just leave. She apologises, and he walks her back to the hotel. Luka and Serena watch from the balcony, and he says that it looks like the celebrations are off. She says that she isn't sure how to feel right now, with her boyfriend becoming her brother. He thinks he should go back to Perth, but Serena says that it would break her mum's heart. Luka says that they're brother and sister now, and the rest never happened.

Notes: A small scene, shown in the Australian broadcast, was edited out of this episode when shown in the UK. It featured Lana and Stingray trying to contact Joan Crawford with a ouija board, but the BBC felt that this depiction of young people dabbling in the occult may have been offensive to some viewers.

Summary by Steve